UFC on FX 2: Predicting the Inaugural UFC Flyweight Tournament
February 10, 2012
Fans may have to wait until March 3 for the UFC on FX 2 card, but they will finally see the arrival of the flyweight division. 
Most casual fans won't care or even have known it was coming, but longtime MMA fans are excited. Flyweights bring exciting bouts just like bantamweights and featherweights. Now, even the smallest men in MMA will get a chance to make money in the sport.
The only question is, who will end up winning the tournament? There are four participants, and though some serious names have been overlooked, the winner will have a claim to being one of the best at 125 pounds.
But who is going to win?
The competitors are former bantamweights Joseph Benavidez and Demetrious Johnson with UFC newcomers Yasuhiro Urushitani and Ian McCall. While Urushitani and McCall are great choices for the tournament, Benavidez and Johnson got spots out of convenience.
After all, it made it so the UFC didn't need to sign two more fighters for their roster.
Both UFC fighters will be squaring off against the new talents and who wins will determine who fights for the title.
Demetrious Johnson and Ian McCall is a fight of two men who were both beaten by bantamweight champion Dominick Cruz. McCall lost to Cruz at WEC 38 while Johnson lost to him on UFC on versus card.
McCall is a bit of a jack of all trades while Johnson is a bit sharper in submissions, but against top opposition, both men usually go the distance.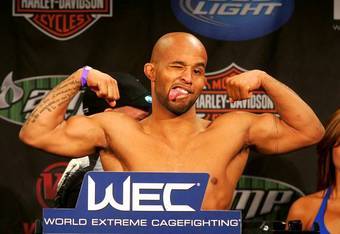 As much as Johnson was able to overwhelm Cruz in striking, he is now facing someone who is his size, and McCall won't have to try to adjust to Johnson's speed. He will match it.
McCall is best known for beating top flyweight Jussier Da Silva, but he didn't really have any notable wins before that and he hasn't had any since then either.
Johnson may have lost to Cruz, but has beaten top competitors at bantamweight like Miguel Torres and Japanese star Norifumi Yamamoto. Coupled with the fact that McCall will be fighting in the UFC for the first time, something that has tripped other fighters up in the past, Johnson will win a decision with superior wrestling.
The fight between Joseph Benavidez and Yasuhiro Urushitani is a bit more difficult to predict. While Benavidez has beaten every bantamweight he's stepped into the cage with other than Cruz, he isn't facing someone unknown.
Urushitani has beaten Ultimate Fighter winner John Dodson, Mamoru Yamaguchi and even has a draw with the top flyweight, Shinichi Kojima. The only problem with Urushitani is his lack of finishing power, with 14 of his wins coming by decision, and the fact that few of his fights have been in a cage.
Urushitani has fought in a cage before but never with someone who has the amateur wrestling credentials that Benavidez brings. Benavidez isn't a finisher himself, but he has gotten used to the Octagon and knows how to manipulate it.
While Urushitani could pull out the win, it doesn't seem likely. It may sound boring, but just like the Johnson fight, this should end in a decision victory for Benavidez.
It may not be a dangerous bet, but both UFC veterans should sweep their fights and meet in the finals making one of them a successful UFC champion.
Who that will be is the interesting part.
Matthew Hemphill writes for the MMA and professional wrestling portion of Bleacher Report.  He also hosts a blog elbaexiled.blogspot.com that focuses on books, music, comic books, video games, film and generally anything that could be related to the realms of nerdom.