Wesley Sneijder: Why He Should Give the Premier League a Try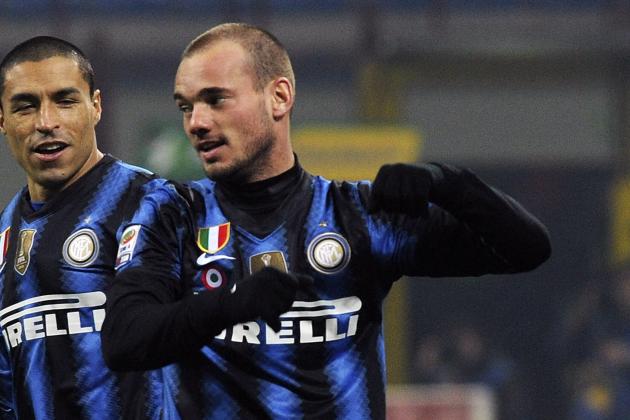 Dino Panato/Getty Images

The number 27!
Interesting number isn't it? It brings with it a glow of certain lineage. It's the number Sacramento Kings Hall of Famer Jack Twyman represented in his heyday that included six All-Star appearances.
It's deemed the "lucky number" for the WWE Royal Rumble.
Its mathematical aspect was even used by Robbie Fowler when what was thought to be the last time he left the Shankly gates and went to Leeds United in 2001; he split the numbers into 2+7=9 to in order to replicate a number he would then go onto wear once again in 2006 back on Merseyside, the No. 9 shirt.
But most importantly, it's the age where a soccer player enters their peak. Step forward, Wesley Sneijder. With the rumour mill swirling with possibilities of his departure from Inter Milan, you would have to think where could he end up?
With him now entering his peak, this could be his real chance to really enhance his already impressive resume, and where better to do it than in the English Premier League? Here's five reasons as to why Wesley Sneijder should consider the English Premier League, if he were to depart with Milanese life.
Begin Slideshow

»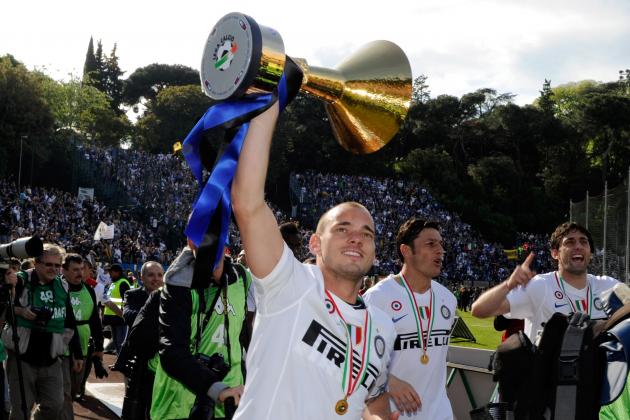 Claudio Villa/Getty Images
Two down, one to go?
La Liga...check.
Serie A...check.
Two of the biggest leagues in the world there and Mr Sneijder has finished at the top pile in both of them. With a clamour from Sneijder's former boss, Jose Mourinho, wanting to be successful in all three leagues, this shows the prestige in winning league titles in all three of these leagues.
Sneijder must really be intrigued by the opportunity to immerse himself into Dutch footballing folklore in this fashion by achieving this.
Another Dutchman Clarence Seedorf was the first player to win the UEFA Champions League with three different clubs. Sneijder can follow that distinction by winning titles in three major leagues, furthermore acclaiming the achievements of Dutch players on a European scale.
Sneijder ignored the disputed claims by an English teacher branding Sneijder's aspirations to become a footballer as a "pipe dream" and sought him to project more realistic targets. Sneijder evaded this and thought big and became big. A testament of his sky-high ambitions and this opportunity immerses perfectly with his ambitious demeanour.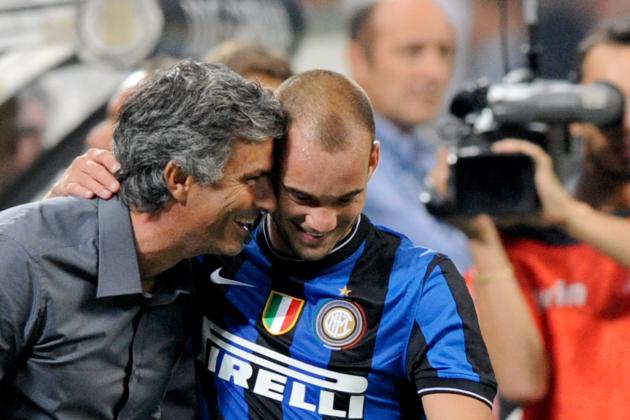 Claudio Villa/Getty Images
Could their possible reunion spearhead them into success and become the soccer version of Tom Brady and Bill Belichick?
Look at that metaphorical door in your life. Look at it. There will be times in the future when people walk into it for the first time and there may even be times when people have walked out and stroll back in. That's life; people come and go, some return.
That brings me to Jose Mourinho and the Premier League. He came; he had the media eating out his Setubal hands and enjoyed a successful tenure until Thursday, September 20th, 2007; he abruptly went and has never come back since.
However, with his claims he will return, this is the perfect chance for Wesley Sneijder to reunite with the manager who steered him and Inter Milan to a treble, which included the UEFA Champions League.
With Mourinho historically using a vastly large budget as a predication of his success, you can imagine that money being invested in the same way he invested in Ricardo Carvalho on two occasions to bring along his former stewards of success to his next adventure.
Mourinho considers players like his children as if he was a father figure. He brought two sons from his UEFA Champions League winning exploits in 2004 to Chelsea, and it wouldn't be surprising to see him bring a member of his UEFA Champions League win volume two in order to continue his managerial adventure.
Mourinho's relationship with Sneijder has always been a great one. From his constant persuasion to ensure he joined him on his Milanese adventure, Mourinho and Sneijder adventure two could see them strike a partnership in the mould Tom Brady and Bill Belichik have in the NFL.
Sometimes whether you open the door or not, some people do return through it, and it's safe to say Sneijder can feel that silvery emblazed draft from Jose's open door.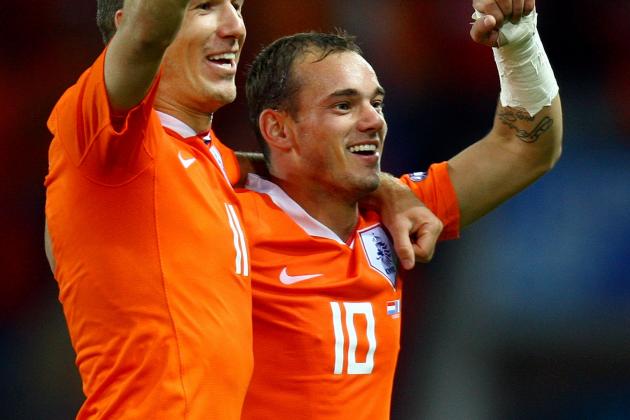 Ian Walton/Getty Images
Arjen Robben is a template to Wesley Sneijder that Dutch players can win the Premier League
Bergkamp, Van Nistelrooy, Overmars. They have all lit up the Premier League, and there is no reason as to why Sneijder couldn't also.
Sneijder's willingness was what brought him to the fore of Ajax's illustrious academy, therefore, that commitment would surely be monumentally maximized in order for him to successfully integrate into the Premier League. Players like the three Dutch players mentioned along with Jaap Stam and Arjen Robben have won the Premier League, so the sky really is the limit for Sneijder.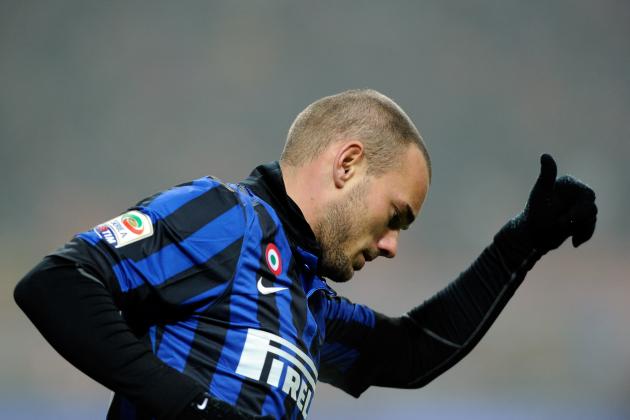 Claudio Villa/Getty Images
Imagine how great Wesley Sneijder can be in the Premier League at the peak of his career
Wesley Sneijder is now entering the prime of his career. Therefore, at this stage of a player's lifespan you will witness arguably the best form of their career.
Therefore, with the Premier League dubbed "the greatest league in the world" Sneijder can be showcased at his finest in the best years of his career at the highest level. With the vast array of talent spread throughout the league, a Sneijder in his prime can go to battle for and against the world's best at the peak of his talents.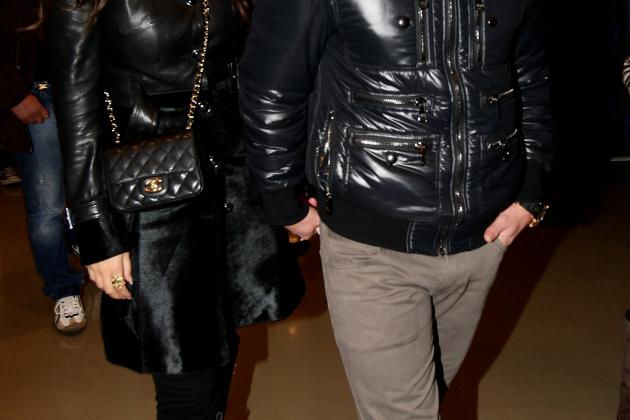 Vittorio Zunino Celotto/Getty Images
Sneijders charismatic demeanour will fit perfectly within the glitz and glamour of the English Premier League
Sneijder is known for his volatile demeanour over the years. His spat with Robin Van Persie at Euro 2008 may seem controversial but also showed that he is not afraid to speak out.
From calling a referee "a blind flea ridden dog" to boasting how his wages were 20 times higher than Netherland's reserve goalkeeper Piet Velthuizen, Sneijder is always in the headlines. What a better place to be where drama is what has made its name.
Despite the controversy that may surround his actions at times, one Mario Balotelli always seems to create headlines regardless of what he does.
It's safe to say from his pompous wink at Rio Ferdinand to the "Why always me" t-shirt that he embraces this attention and fuels it to enhance his game. Imagine all the possible drama that the charisma of someone of Sneijder's rhapsodising demeanour could ignite. Let alone him embracing the attention of the English media and fuelling it onto his performance on the pitch.
After all, his brash demeanour would ooze at the drama of the "the greatest league in the world," and if there's one person that can transmit that into his performances to set the league alight, it is one Wesley Sneijder.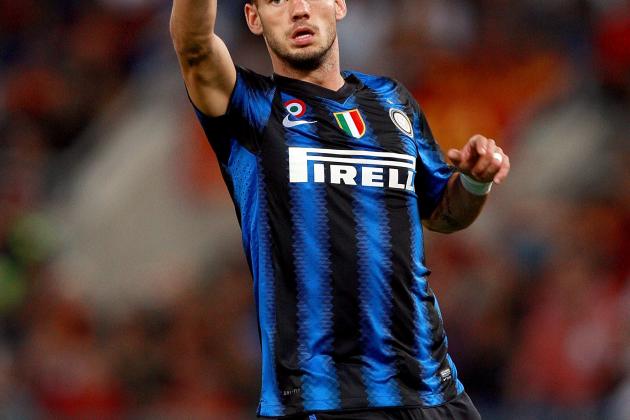 Paolo Bruno/Getty Images
He's pointing towards the comments section, but which side of the fence are you on?
So, after digesting those five points, what is your take?
How do you think one Wesley Sneijder would fare in the drama of the English Premier League? Is it a bad move at this stage of his career? Or is his persona and the EPL the perfect fit that should have transpired earlier?
Do you think Sneijder would even leave Internazionale at all? Place your thoughts about what you think.
After all, Wesley Sneijder is at the grand age of 27 and about to embark on his peak, and the possibility of him being showcased at the height of his talents in England is a mouth-watering prospect, or is it?