2012 NFL Free Agents: 10 Players Set to Strike It Rich
Ezra Shaw/Getty Images
On March 13, hundreds of players across the National Football League will find themselves back on the market and available to the highest bidder as the annual feeding frenzy known as free agency begins.
For many players, this is a time of great stress and uncertainty. But for others, free agency in 2012 may be the opportunity of a lifetime, as these NFL stars are set to land contracts with more zeroes on them than there have been Peyton Manning stories this week.
OK, maybe not that many, but still a lot.
Drew Brees: QB, New Orleans Saints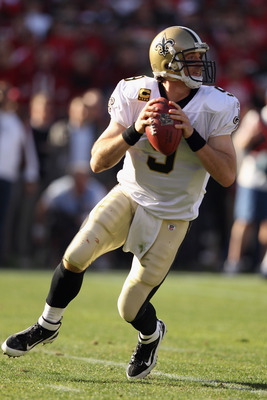 Ezra Shaw/Getty Images
New Orleans Saints quarterback Drew Brees had a fairly productive 2011 season, completing 468 passes for 5,476 yards and topping the 300-yard passing mark in 13 games—all National Football League records.
Just for kicks, Brees tossed in 46 touchdown passes, a passer rating of over 110 and won the NFL Offensive Player of the Year Award.
Yeah, that didn't completely suck.
There is absolutely, positively, unequivocally no chance that Brees leaves the Big Easy. Right now, the only question is if the Saints and Brees can hammer out a long-term extension before the deadline to tag franchise players, which the Saints will certainly do with Brees if a megadeal can't be reached.
Mario Williams: DE/OLB, Houston Texans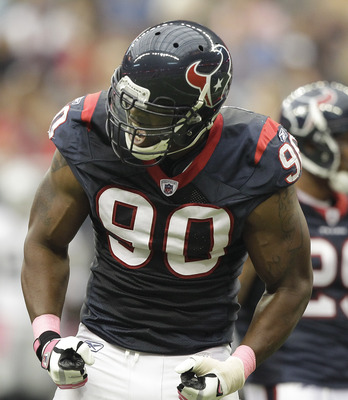 Bob Levey/Getty Images
The 2011 season was a rocky one for Mario Williams of the Houston Texans, as the 27-year-old's first season as a 3-4 outside linebacker was cut short after only five games due to a pectoral injury.
However, the six-year veteran has 53 sacks in his career. Although the Texans would love to bring him back, they can't slap the franchise tag on Williams, as his tag number would be a staggering $23 million.
That means that the game-changing talent is going to hit the open market, and whether it's as a 3-4 outside linebacker or 4-3 defensive end by the time the dust settles, Williams may well find himself the highest-paid defensive player in the National Football League.
Michael Bush: RB, Oakland Raiders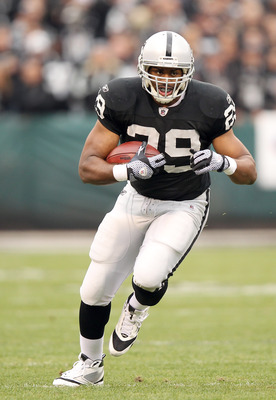 Ezra Shaw/Getty Images
After Darren McFadden went down with a foot injury in Week 7 last year, the Oakland Raiders turned to fourth-year running back Michael Bush to carry the load in the Oakland backfield. Bush responded, racking up over 1,400 total yards and scoring eight times.
There are rumors circulating that Bush is a candidate for the franchise tag in Oakland. Should the Raiders allow Bush to test the open market, though, he'd likely be the top player available at his position, especially since it's highly unlikely that the Chicago Bears and Baltimore Ravens will let Matt Forte and Ray Rice walk.
Carl Nicks: OG, New Orleans Saints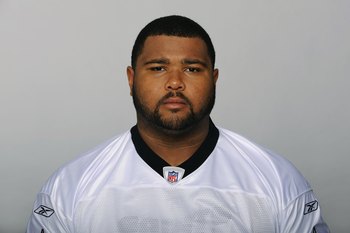 NFL Photos/Getty Images
Offensive guard Carl Nicks of the New Orleans Saints is a two-time Pro Bowler. He and fellow guard Jahri Evans form arguably the best interior tandem in the National Football League.
The Saints would love to be able to bring Nicks back, but with other free agents such as Brees and wide receiver Marques Colston also on the docket, New Orleans may have no choice but to let hit Nicks hit the open market.
If he does, the Saints may not be able to afford to retain the fourth-year pro's services.
Cliff Avril: DE, Detroit Lions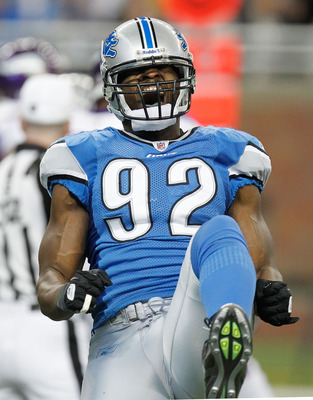 Gregory Shamus/Getty Images
Detroit Lions defensive end Cliff Avril had a breakout season in his fourth year in the National Football League in 2011, tallying a career-high 11 sacks and forcing more fumbles than any other defensive end in the NFL with six.
The Lions are in a precarious salary cap situation, given that they have over $60 million invested in quarterback Matthew Stafford, wide receiver Calvin Johnson and defensive end Kyle Vanden Bosch for 2012. So, it will probably take some monetary monkey-move-up to free up the $10 million-plus per season it will take to keep the 25-year-old Avril in Motown.
Tyvon Branch: SS, Oakland Raiders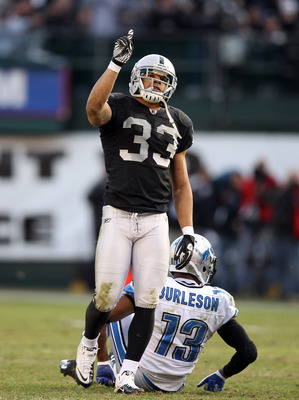 Ezra Shaw/Getty Images
Safety Tyvon Branch of the Oakland Raiders has quietly emerged as one of the better young players in the NFL at his position over the past three seasons, topping 100 total tackles each of those years and adding six sacks and three forced fumbles.
Branch is a prototypical in-the-box "thumper" strong safety and is probably the best free agent at his position this season.
Unless the Raiders lock the 25-year-old up, he'll likely generate plenty of interest on the open market from teams with a need at the position, such as the Philadelphia Eagles or Denver Broncos.
Vincent Jackson: WR, San Diego Chargers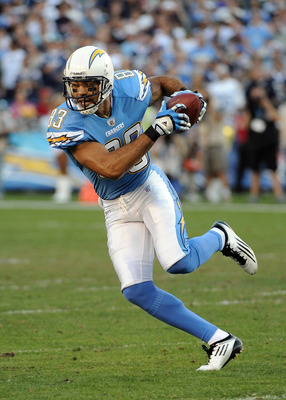 Harry How/Getty Images
It's free-agency time again in the National Football League, which means it's time for the San Diego Chargers' seemingly annual, usually contentious negotiations with wide receiver Vincent Jackson, who held out in 2010 and was franchise-tagged a year ago.
This season, there are reports that the Chargers are set to move on from the 29-year-old wideout.
With three 1,000-yard receiving seasons under his belt and a tantalizing combination of speed and 6'5" size, there will be no shortage of suitors for the seven-year veteran. So Jackson will probably finally get that big payday he's been grousing about for years.
DeSean Jackson: WR, Philadelphia Eagles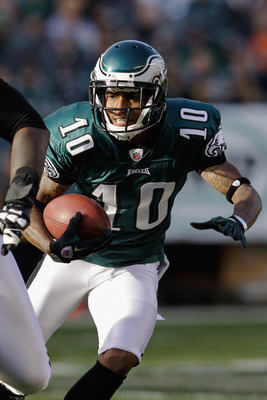 Rob Carr/Getty Images
Speaking of grousing.
Wide receiver DeSean Jackson of the Philadelphia Eagles spent much of last season doing just that in regards in to his contract situation, and it showed in the fourth-year pro's play. For the first time since 2008, Jackson failed to top 1,000 receiving yards.
Jackson's petulance last season didn't do him any favors, but should the Eagles decide they've had enough of the tempestuous pass-catcher, Jackson's age, blazing speed and considerable talent should be more than enough to convince a team to overlook his sometimes questionable attitude.
Curtis Lofton: MLB, Atlanta Falcons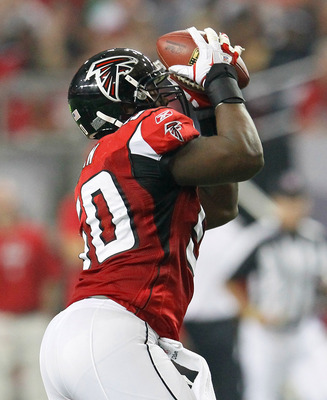 Kevin C. Cox/Getty Images
Fourth-year middle linebacker Curtis Lofton enjoyed a career season in 2011. The 25-year-old racked up the fifth-most tackles in the National Football League (147) while pitching in a sack, a forced fumble and two interceptions.
The Falcons will likely make a strong push to get Lofton inked to an extension before free agency begins. If they can't, there are quite a few teams either with a need at the position (such as the Philadelphia Eagles) or making a defensive scheme switch to the 4-3 (such as the Buffalo Bills) that would line up to make Lofton a very rich man.
Matt Flynn: QB, Green Bay Packers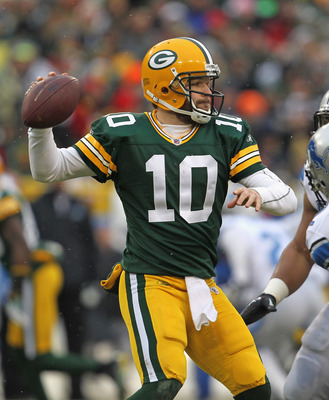 Jonathan Daniel/Getty Images
Before Week 17 of last season, Green Bay Packers quarterback Matt Flynn was one of the more highly-regarded backup signal-callers in the NFL headed into a mop-up start against the Detroit Lions while the Pack rested Aaron Rodgers.
Now, after lighting up the Lions for a franchise record 480 yards and six passing touchdowns in that "meaningless" game, Flynn has a number of suitors prepared to give him a chance to start in the NFL.
The fourth-year pro (noticing a trend with those four-year guys?) could now be looking at a monster payday similar to the five-year, $63 million deal the Arizona Cardinals gave Kevin Kolb a season ago.
Keep Reading