13 UFC Fighters in Desperate Need of a Victory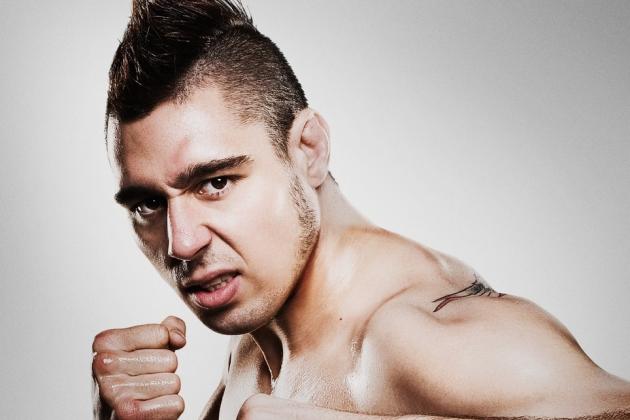 Photo courtesy of roxy-inspired.blogspot.com
For any fighter plying their trade in the Ultimate Fighting Championship, being victorious isn't just a need, it's a prerequisite.
As the UFC is resident to over 300 active fighters and is expanding all the time, no one combatant is guaranteed permanent residency there—unless, of course, they're successful on a regularly basis, which is a hard feat to achieve given the company's talent pool of fighters.
Once a fighter loses twice in a row, it's more or less the UFC's status quo that a third defeat is tantamount to the fighter in question being given his marching orders.
However, that hasn't always been the case, as certain fighters who have lost consecutive bouts still end up with their jobs intact, whilst some have been released after just one defeat.
Here we'll take a look at the fighters who are in dire need of a victory.
Begin Slideshow

»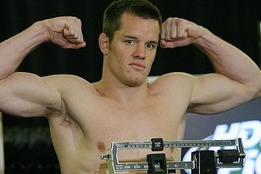 Photo courtesy of MMAValor.com
Dollaway first came to prominence as a cast member of the reality television series The Ultimate Fighter 7. Though he would lose to the eventual winner, Amir Sadollah, in the finale of the show, the middleweight was given the opportunity to face off against Jesse Taylor at UFC Fight Night: Silva vs. Irvin.
That was his second fight for the Zuffa-based promotion and he didn't disappoint, winning the bout via Peruvian necktie, which earned him Submission of the Night honors.
"The Doberman" won his next outing, but came up short against Tom Lawlor, losing by way of TKO. He would, however, go on a three-fight winning streak, defeating Jay Silva, Goran Reljić and Joe Doerksen.
That said, Mark Munoz brought a halt to the streak and Jared Hamman made it two defeats in a row, which has now left Dollaway with a 5-4 record in the company and the possibility of being fired if he doesn't come up trumps in his next fight.
The Doberman had better hope that 2012 is kinder to him than 2011 was.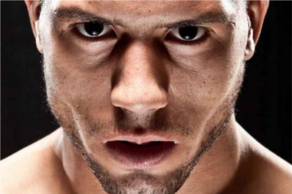 Photo courtesy of FightingInsider.com
The former Cage Rage lightweight titlist crossed over to the UFC on the back of an 8-3 record, of which he had mostly compiled in his native England—that, and a notable victory against Abdul Mohamed.
Though, thus far, the 24-year-old Jason Young is 0-2 in his tenure for the promotion—two unanimous decision losses to both Dustin Poirier and Michihiro Omigawa.
The "Shotgun" is next slated to lock horns with Swedish combatant Akira Corassani in his native country Sweden at UFC on Fuel TV 2, a fight which he needs to win or else there could be serious consequences.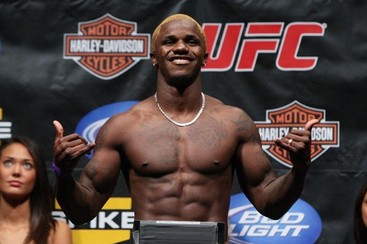 Photo courtesy of MMAValor.com
It's amazing that at only age 28, Melvin "The Young Assassin" has already competed in 42 events—winning 29, losing 10, with two draws and one NC.
Guillard has the potential to go places, however potential is just not enough if he ever wants to be ranked alongside the elite of the lightweight division or, better yet, vie for the coveted belt.
It's become something of a running joke when submissions and Chael Sonnen are mentioned in the same breath (Uncle Chael has been submitted eight times), however one look at Guillard's record would suggest that he has the same problem—all but one of his 10 defeats have been attributed to submissions.
That said, in his last two outings he was upended by both Joe Lauzon and Jim Miller via what can now be called his Achilles' heel.
If his next opponent, whomever that might be, possesses good wrestling and moderate jiu-jitsu skills, Guillard is in trouble.
Though, whatever the case may be, Guillard is in dire need of a victory (0-2 will not suffice) or he could be seeking employment elsewhere.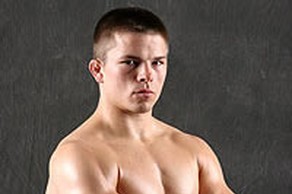 Photo courtesy of FiveKnuckles.com
After losing his debut bout for the Zuffa-based promotion, Rick Story went on a mini-tear, racking up six straight victories which included wins over the likes of Jon Fitch's conqueror Johny Hendricks and the strongly-built Thiago Alves.
It's safe to say that several more successes in the Octagon would have firmly placed "The Horror" in the enviable position of contesting for the 170-lb crown.
That, however, never came to fruition, as he went on to lose his next two fights via decision (Charlie Brenneman and Martin Kampmann).
As a result of those defeats, Story has now fallen out of title contention, and another loss would be catastrophic for all the wrong reasons.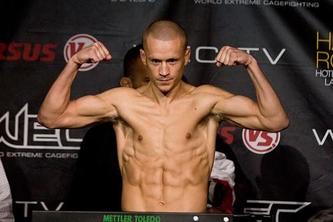 Photo courtesy of CagePotato.com
The Canadian mixed martial artist fought the fight of his life when he gave reigning featherweight kingpin Jose "Scarface" Aldo all that he could handle, and then some.
However, Mark Hominick's reward for the five-round epic was a unanimous decision loss and, to boot, a hematoma-like bump on his forehead.
Prior to that outing, Hominick had successfully debuted for the UFC, defeating George Roop via TKO. As such, his loss to arguably the greatest MMA 145-pounder was nothing to be ashamed of.
The future seemed somewhat bright for "The Machine," and as a way of thanking him (an assumption on my part) for his brave display, the UFC pitted him against "The Korean Zombie" Chan Sung Yung, of the twister submission.
In one night, Hominick went from being on the cusp of greatness to nearly an also-ran, when he self imploded in seven seconds, courtesy of a rush of blood to the head followed by the Zombie's knockout punch.
Hominick is expected to throw down with Eddie Yagin at UFC 145, which is a fight that he needs to win—not for fear of being released, but more as a confidence booster.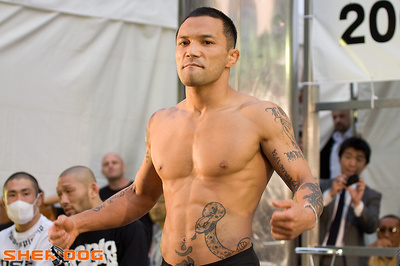 Photo courtesy of Sherdog.com
Before signing to the UFC, Kid Yamamoto fought mostly in his native Japan where he compiled a respectable record of 17 wins with only three defeats.
Yamamoto, who is adept at both wrestling and Muay Thai, also scored the fasted KO in K-l Hero's history, when he knocked out Kazuyuki Miyata in four seconds flat via flying knee.
Though he garnered success in promotions likes Shooto and Hero's, Yamamoto is presently 1-4 in his last five outings (the last two of those defeats took place in the Octagon, giving him an overall UFC record of 0-2).
That said, the Japanese mixed martial artist could redeem himself when he faces off against Vaughan Lee at UFC 144 Japan. However, a third straight defeat wouldn't go down too well with neither Dana White nor his countrymen.
These are desperate times for the Kid, and so desperate measures are required to ensure he gets back in the win column.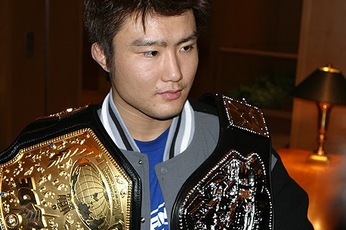 Photo courtesy of MMASucka.com
Another Japanese exponent of MMA who has it all to do is Takanori "The Fireball Kid" Gomi.
The former Shooto welterweight and Pride 155-lb titlist began his tenure at the Zuffa-based organization back in March of 2010. Since that period he's only been able to register one win whilst losing three.
His last two defeats came by way of submission—Clay Guida by way of guillotine choke and Nate Diaz via armbar.
Though, prior to that, he'd lost to Kenny Florian in the manner of a rear-naked choke—a pattern Gomi will not want repeated when he goes head to head with fellow Japanese native Eiji Mitsuoka in the main card of UFC 144 Japan.
Like his countryman Norifumi Yamamoto, victory is a necessity, though Gomi needs to be wary as Mitsuoka has11 submissions on his résumé.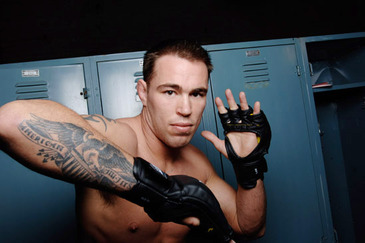 Photo courtesy of Fiveouncesofpain.com
Following a successful defense of his Strikeforce middleweight title against Dan Henderson, Jake Shields subsequently relinquished the crown and headed straight for the gates of the Octagon.
On his debut, he won a close split decision win over Martin Kampmann, a win no less that propelled him to the No. 1 contender's spot and an eventual shot at Georges St-Pierre's 170-pound title.
Though he wasn't victorious in his attempt to usurp the Canadian legend, he did hold his own.
The jiu-jitsu practitioner was then pitted against "The Juggernaut" Jake Ellenberger in his third outing for the company, where he was knocked out in 53 seconds of Round 1.
That said, the recent passing away of his father might've played a major part in his defeat.
Still, he's now got the opportunity to set the record straight when he next sets foot in the Octagon at UFC 144 against Japanese fighter Yoshihiro Akiyama.
Prior to those two defeats, Shields was riding an incredible 15-fight winning streak spanning a five-year period, so a win for the Cesar Gracie fighter is paramount—it will do more for his self-belief than anything else.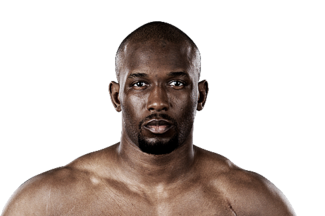 Photo courtesy of UFC.com
The Muskogee graduate signed a four-fight deal with the UFC in March of 2010; however, prior to his stint in the company, Daniel "Ninja" Roberts had fought for several other promotions such as Extreme Fighting League and Bricktown Brawl whilst compiling a 9-0 record.
Nonetheless, in his Octagon debut Roberts was on the receiving end of a vicious KO, courtesy of John Howard.
Following his baptism of fire in the steel cage, the welterweight went on to register three wins, one of which included an anaconda-choke submission over Mike Guymon, an execution that won him Submission of the Night honors.
However, after three straight victories, it was all downhill for the Californian resident, losing decisions to Claude Patrick, Rich Attonito and, most recently, to Charlie Brenneman at UFC on FX: Guillard vs. Miller.
Roberts now has one fight left on his contract, and if he wants any chance of a renewal, a win is imperative—a fourth defeat in succession will be a sure-fire way to a swift exit from the Zuffa-based promotion.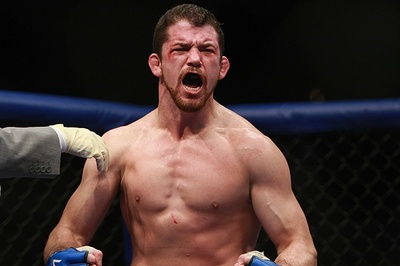 Photo courtesy of Gatewaymma.com
For the former NCAA Division-l standout and WEC resident, his tenure in the UFC hasn't been anything to shout about, though, initially, Shane Roller did show some promise when he knocked out Thiago Tavares in his Octagon debut.
That, however, was all she wrote, as the Oklahoman followed that up with a dismal run of three losses in succession (Melvin Guillard, T.J. Grant and Michael Johnson at UFC on Fox 2).
Roller is in that precarious position where another loss will send him packing whilst a win could guarantee his safety—he's now got it all to play for.
Photo courtesy of Sherdog.com
"Sexyama" completes the trio of Japanese combatants who are not only in desperate need of a victory, but will also be the focal point of UFC 144 Japan where his next bout will take place.
Yoshiro Akiyama is an accomplished Judoka and former K-I Hero's 205-lb tourney champion, and like Takanori Gomi and Norifumi Yamamoto, has mostly plied his craft in "The Land of the Rising Sun," where he and the aforementioned have been the most successful.
Before signing with the Zuffa-based company, Akiyama was riding a 13-fight undefeated streak, making it 14 with a split decision win over Alan Belcher in his first foray in the Octagon.
However, three outings later, having suffered losses to Chris Leben, Michael Bisping and a KO defeat at the hands of Vitor Belfort at UFC 133, Akiyama's record reads 1-4.
Dana White might cut his losses if Akiyama fails to come up with the goods come fight night and, with that in mind, Sexyama is in critical need of a win.
Photo courtesy of MMAConvert.com
Steve Cantwell could've easily made the No. 1 spot, but that slot has already been taken by its rightful owner.
The former WEC light heavyweight champion has been nothing short of a nightmare since the UFC absorbed the World Extreme Cagefighting promotion.
In his first bout, Cantwell defeated Razak Al-Hassan via armbar submission, dislocating Al-Hassan's elbow in the process, a feat he later boasted about—comments nonetheless that left him open to criticism.
That debut was Cantwell's crowning glory, as his injuries, or lack thereof, resulted in the cancellation of two UFC bouts, UFC 108 and UFC 120. The former prompted Dana White to intimate that Cantwell's days in the Octagon were as good as over.
When he did finally step in to the steel cage, he lost decision after decision—to be exact, four on the trot.
Though, funnily enough, Cantwell wasn't fired and is next scheduled to throw down with Riki Fukuda at UFC 144.
To say Cantwell is in desperate need of a win would be an understatement—obligatory should be the appropriate phrase and nothing else.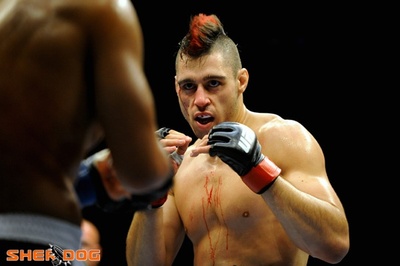 Photo courtesy of Sherdog.com
What is there not to say about the cocky Brit with the Mohawk and the moniker "The Outlaw?"
Well, for one, Dan Hardy blasted his way onto the UFC scene on the back of three stoppage victories and continued that win streak with three decision wins and a KO to boot.
It was his unanimous point's victory against Mike "Quick" Swick at UFC 105 that put him in prime position to unseat the perennial welterweight and pound-for-pound linchpin Georges St-Pierre.
By the time The Outlaw faced off with St-Pierre, he was riding a seven-fight winning streak. However, that was abruptly ended at UFC 111, as was his missed opportunity of capturing Ultimate Fighting Championship gold.
From thereon out, and apropos to his Octagon exploits, Hardy was on a one-way ticket to palookaville.
It began with a first-round knockout loss to Carlos "The Natural Born Killer" Condit, followed by a unanimous decision defeat to Anthony "Rumble" Jackson. And, for the coup de grâce, the Outlaw was left high and dry in Brew City courtesy of Chris "Lights Out" Lytle's guillotine-choke submission.
The writing was on the wall, or so it was thought, but any notions of Hardy being released from the Zuffa-based promotion were firmly squashed when the company's CEO, Lorenzo Fertitta, tweeted "Will not cut @danhardymma I like guys that WAR!!!"
That said, if Hardy were to lose in his next outing, it's highly doubtful that Fertitta or Dana White will keep him on their books, but crazier things have happened.
Still, with four consecutive defeats, Dan "The Outlaw" Hardy is desperately in dire need of a win, and for two reasons: his self esteem and, more importantly, to justify his continued tenure in the world's biggest and most lucrative MMA organization—the UFC.
For additional information, follow Nedu Obi on Twitter.