Minnesota Vikings Mock Draft: How Vikings Can Acquire 5 Dream Targets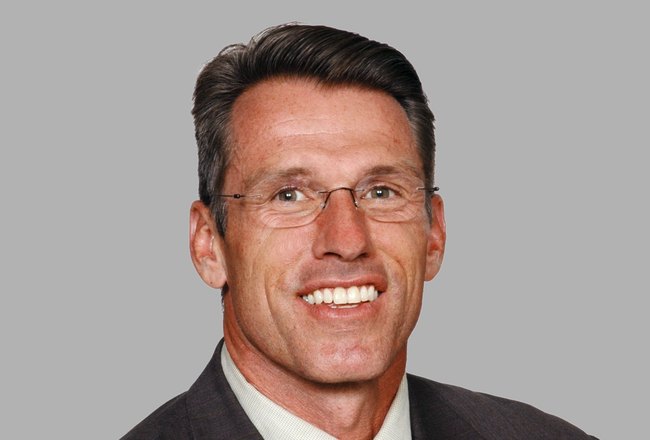 Vikings general manager Rick Spielman needs to acquire a second first round pick in order to add any of these players.
Getty Images/Getty Images
Needs are plentiful for the Minnesota Vikings as they prepare for their offseason. But, one way they can help themselves is by doubling up on first-round picks this season.
In my lifetime, the Vikings have never traded back into the first round and acquired a second first-round pick, nor have they traded back into the first round, period.
This year, that should change, especially given Minnesota's questionable drafting skills in the later rounds. It's all well and good to have an abundance of picks, but what's the point if you can't find the diamond in the rough in the later rounds?
The Vikings should have at least seven picks in the 2012 NFL Draft. Couple some picks with a veteran, or trade back from No. 3 to acquire more picks (only if USC left tackle Matt Kalil is unavailable at No. 3).
If the Vikings do that, then these are five players that would make a great deal of sense to select.
Mark Barron, Alabama Safety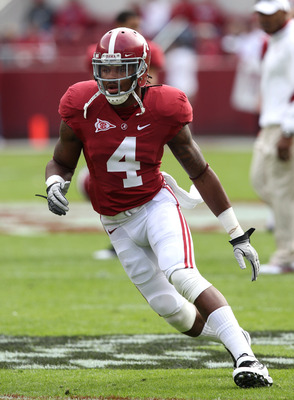 Mike Zarrilli/Getty Images
Different mock drafts have Mark Barron slipping and sliding into different portions of the draft. But, one thing is certain: Barron can flat out play and play at a higher level than any safety currently on Minnesota's roster.
The safety position is Minnesota's second-weakest position on the roster, behind the offensive line that suddenly became very decrepit.
Barron is 6'2" and 218 lbs. It's the near-perfect stature for a safety. And Barron is a strong open-field tackler who shows good range in coverage.
Michael Floyd, Notre Dame Wide Receiver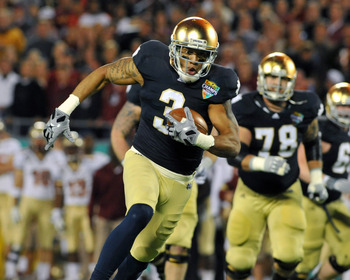 Al Messerschmidt/Getty Images
The Vikings missed out on Minnesota's last great wide receiver to enter the NFL, Larry Fitzgerald, which means they should do all they can to get Michael Floyd into purple and gold.
Yes, Floyd does have a DUI problem. But, so did defensive end Jared Allen before he became a Viking. With Allen and other veterans on the roster, I don't think that is anything to worry about.
Beyond the DUI problem, there's a lot to like about Floyd. He's 6'3" and around 225 lbs. He's big. He's fast. He can beat defenders short or burn them deep.The guy is a multidimensional threat.
As a senior, he recorded 100 receptions, nine touchdowns and 1,147 yards receiving.
He's projected in the late teens or early 20s—a window Minnesota should be able to reach into.
Vontaze Burfict, Arizona State Linebacker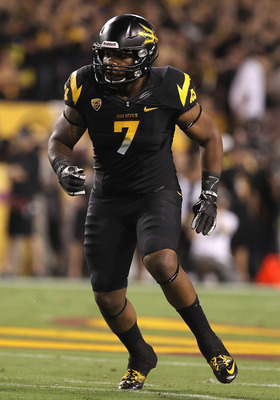 Christian Petersen/Getty Images
The man is drawing comparisons to Ray Lewis, yet most recent mocks have him slipping into the late 20s and (in some) even the 30s of the first round.
If Vontaze Burfict is still on the board and Minnesota has an opportunity to trade back into the first round, then the Vikings would be foolish not to.
The boy is a big 6'3" and 250 lbs. He knows how to hit. And he's got plenty of experience as a three-year starter at Arizona State.
Given that E.J. Henderson looked really old in 2011, Minnesota could use an heir apparent.
Dre Kirkpatrick, Alabama Cornerback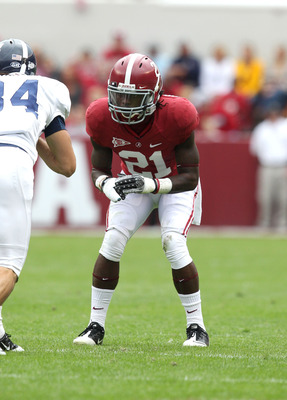 Mike Zarrilli/Getty Images
Nick Saban must put something in the water down in Alabama because the school breeds defensive backs.
Dre Kirkpatrick is a big, big cornerback. He's 6'3" and 192 lbs. He's a big corner that can match up against the likes of Detroit's Calvin Johnson or Green Bay's Greg Jennings. Even better, the size he possesses does not limit his quickness much (if at all).
He's big and can run with the best.
Kirkpatrick is all over the place when it comes to slotting him somewhere in the draft, but if Minnesota already has a guy like LSU cornerback Morris Claiborne on its roster (if they were to draft him third overall), then trading back into the first round to get Kirkpatrick would make little sense.
Cordy Glenn, Georgia Guard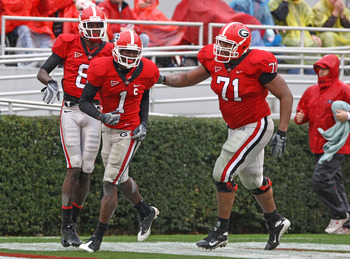 Cordy Glenn (No. 71) has experience as a guard and a tackle.
Mike Zarrilli/Getty Images
As I mentioned earlier, Minnesota's biggest void in need of filling this offseason is the offensive line. Cordy Glenn is a talented and large offensive lineman that could be a huge addition to the Minnesota offense if paired with Matt Kalil.
Even if the Vikings get Kalil to be their future left tackle, it would be amazing for them if they could trade back into the first round to snag Glenn.
Glenn is 6'5" and 348 lbs. He has experience as a tackle and a guard, versatility Minnesota could use given their offensive-line injuries in 2011.
Glenn and Kalil would go a long way towards repairing the line.
Keep Reading

Minnesota Vikings: Like this team?