Oklahoma Sooners Football: 7 Chilling Revisionist Histories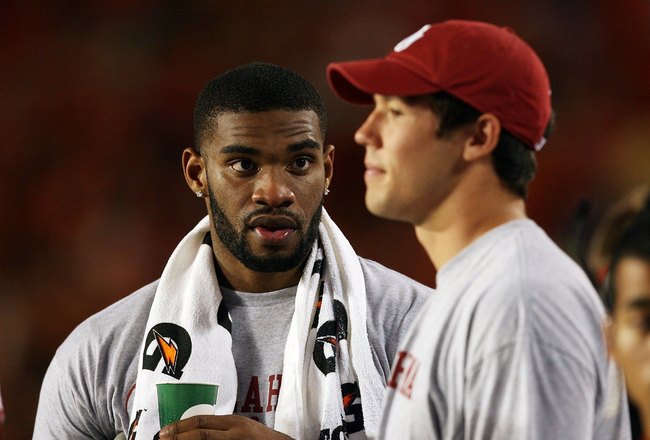 Sam Bradford and Jermaine Gresham
Doug Benc/Getty Images
It's best to accentuate the positives, right? We could choose to waste our lives away thinking about missed opportunities or what might have been. Why not look at the bright side?
In reality, however, it's in our nature to dwell on failures. In a weird way, we sometimes find a kind of pleasure in fantasizing about things transpiring differently.
Even for a program as steeped in tradition and success as Oklahoma, there are plenty of disappointments, instances when things didn't work out quite the way a Sooner fan hoped they would.
If you ever get sick of thinking about Oklahoma's seven sparkling national championships, here are seven episodes that haunt the halls of the Switzer Center and the minds of Sooner fans all over Sooner Nation.
What If Billy Sims Hadn't Fumbled?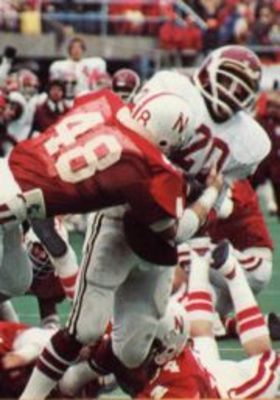 http://cdn.bleacherreport.net
Long-time Sooner fans can never forget this one. The 1978 Oklahoma Sooners were sensational, cruising to a 9-0 record thanks to the poetry of Billy Sims (who would win the Heisman Trophy that season).
After escaping northern California with a 35-29 victory over Stanford, OU rolled. The Sooners beat Rice 66-7, Texas 31-10 and Kansas State 56-19, setting up a date with No. 4 Nebraska in Lincoln on Nov. 11.
The game was a nail-biter, that's for sure. Entering the fourth quarter, the foes were tied at 14. The Cornhuskers kicked a field goal to go up 17-14. Eventually, the Sooners looked poised to win, driving deep into Husker territory with little time remaining.
It ended up being about as close as it could get. Instead of the Sooners reaching the end zone and celebrating a momentous win, Billy Sims, who would be deemed the best player in college football that season, fumbled at the Nebraska 3-yard line with 3:27 remaining, killing OU's chances. Game over.
Oklahoma's loss would only be more painful when the Sooners beat the Huskers 31-24 in the Orange Bowl, finishing the year at 11-1. If OU had escaped Lincoln with a victory, they would have played undefeated Penn State for the national championship. Instead, one-loss Alabama beat the Nittany Lions and split the championship with USC, which also had one loss.
Of all the chances Barry Switzer had at four titles, this one may sting the most.
What If Marcus Dupree Hadn't Left?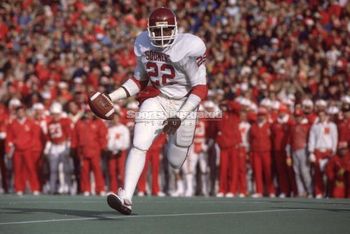 http://www.6magazineonline.com
Marcus Dupree dazzled in his brief time as a Sooner. The phenom from Philadelphia, Miss., described by Barry Switzer as "maybe ready for the NFL" as a freshman according to the Tulsa World, showed immediately that he was not your typical tailback.
Dupree, at 6'3" and 230 pounds, became the starter in the seventh game of his freshman season yet still accumulated 1,144 rushing yards. He had runs of 63, 70, 75, 77, 80 and 86 yards.
He topped his freshman campaign off with a record 239 yards against Arizona State in the Fiesta Bowl despite having to leave the game multiple times due to hamstring and rib injuries.
Despite his success, however, Dupree had been publicly criticized by Switzer for being overweight and not displaying a good work ethic. He returned for his sophomore year, but left OU after a rough outing against Texas that resulted in a concussion.
After going 8-4 in 1983 and 9-2-1 in 1984, the Sooners won the national championship in 1985. But one can't help wondering what might have been (more like what would have been) if Dupree had stayed at OU.
If he had fulfilled his potential, Dupree would likely be remembered as the best Sooner tailback of all time.
What If Jason White Hadn't Thrown the Pick?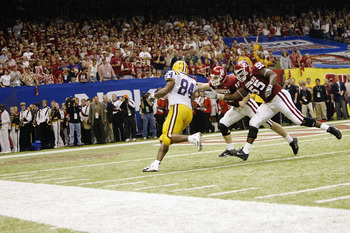 Brian Bahr/Getty Images
The most memorable play of the 2004 Sugar Bowl for Sooner fans is one they would like to have back. After an eventful yet low-scoring first half, the Sooners entered the locker room down 14-7 but very much in the game.
Ironically, Heisman-winner Jason White, who had made so many plays to get the Sooners to New Orleans, helped LSU seize the momentum that would ultimately propel them to victory.
On the second offensive play of the second half, White dropped back and fired a pass over the middle. Mammoth defensive end Marcus Spears snagged it and rumbled 20 yards for the touchdown, putting LSU up 21-7 and turning the tide in the Superdome.
Oklahoma was by no means out of the game; the Sooners fought valiantly until the bitter end, coming up just short and losing 21-14. The Sooners seemed to be wearing the Tigers down, and they may have won if the game went to overtime. But if White hadn't thrown the interception, the Sooners would have had a great chance to swing the momentum their way in the crucial early period of the second half.
If not for an ill-timed pass and a hulking defensive end, Bob Stoops may have captured his second national championship as head coach in as many tries. Oh, how the times have changed.
What If Mark Bradley Hadn't Fielded the Punt?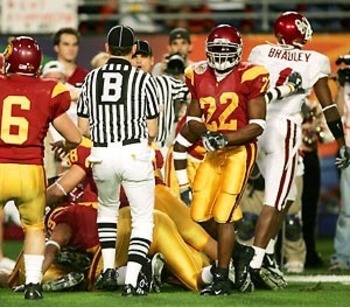 http://i.a.cnn.net
Believe it or not, the 2005 Orange Bowl title bout between Oklahoma and USC was a game at one point. In fact, the Sooners put together a 12-play 92-yard touchdown drive on their first possession to go up 7-0.
If not for a crucial lapse by Mark Bradley as the first quarter wound down, the game could have progressed very differently.
With the score 7-7 and USC forced to punt from the Oklahoma 47-yard line, Tom Malone initialized what would be a fateful play.
After hitting the turf just inside the 15-yard line, the ball rolled toward the goal line ominously. The Sooners would have a long way to go for a score, but at least they would have the ball.
Mark Bradley, however, saw an opportunity. He approached the ball ominously. Hoping to make a play yet demonstrating disastrously clouded judgment, he picked the ball up amid a pack of USC defenders.
It was like watching a horrible accident that you know will happen but are powerless to stop. Bradley fumbled; USC recovered. On the very next play, LenDale White bulled into the end zone to put the Men of Troy up 14-7. Oklahoma was effectively toast from that point on and went on to lose 55-19.
It's difficult to say what would have happened if Bradley didn't field the punt, but his gaffe catalyzed a waterfall of misfortune and folly that plagued the Sooners in South Beach. It's likely that the game would have been closer if he had made the right decision. Who knows, maybe Adrian Peterson breaks loose on the would-be Sooner drive, putting OU up 14-7 and swinging the momentum to the Sooners?
Unfortunately, we'll never know.
What If Marcus Walker Had Stepped out of Bounds?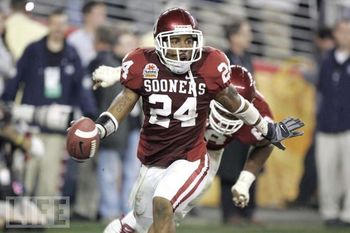 http://cache3.asset-cache.net
Boise State's 2007 Fiesta Bowl victory over Oklahoma capped one of the best finishes of all time. The masterfully-executed trick plays overshadow the fact that OU, down 28-10 in the third quarter, put on an impressive comeback of their own to tie the game at 28 late in the fourth quarter.
The resiliency and perseverance seemed to pay off greatly the Sooners when Marcus Walker intercepted a Jared Zabransky pass at the Boise State 34 and raced to the end zone, putting the Sooners up 35-28 with 1:02 remaining. The game was effectively over, right?
We all know what happened after that. But let's say Walker, caught up in the excitement as he raced down the left sideline, inadvertently stepped out of bounds before reaching the end zone. The Sooners would be in prime field position with little time left. They could have wound the clock down and kicked a game-winning field goal, or at least scored and left very little time for Zabransky and Co.
In any event, it's very likely the Sooners would have scored, leaving the Broncos little, if any, time to try to score. Boise State would have more field to cover after a hypothetical kickoff and less time to get in position for a trick play.
It's probable that OU would have won the game. But if that happened, we wouldn't have seen three sublime trick plays, a marriage proposal and one of the most thrilling upsets of all time.
What If the Sooners Had Converted in the Red Zone?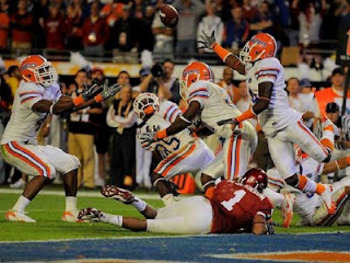 http://3.bp.blogspot.com
One of the most painful things in life is coming to terms with missed opportunities. Granted, the Florida Gators deserve a lot of credit for their masterful defensive effort against the Sooners, but OU had plenty of chances in the 2009 BCS Championship.
After Tim Tebow threw his second interception straight into Gerald McCoy's chest early in the second quarter, the Sooners were in business at the UF 26. They had a chance to break a 7-7 deadlock and take the lead for the first time.
Sooner tailback Chris Brown closed the gap quickly, gaining 17 yards on the first play from scrimmage. He then gained five yards on the new first down, followed by a three-yard gain to take the Sooners to the Gator 1-yard line.
But, amazingly, Brown was stuffed on third and fourth down runs, and Florida breathed a sigh of relief. Inexplicably, the Sooners came away empty-handed again inside the 10-yard line right before haltime as Sam Bradford's pass to Manny Johnson was tipped and bobbled into the hands of Major Wright.
Oklahoma should have scored touchdowns on both those possessions, which is what one would expect an offense with a monstrous O-line, a 50 points per game average and a deadly red-zone attack to do.
If the Sooners had capitalized on these possessions, they could have been up 21-7 at hafltime. The game would have been fundamentally different, and OU and would have been in good position to beat the Gators.
Tim Tebow's legacy would be dramatically different (rendering "The Promise" a forgettable oration). Bradford would enjoy an even higher place in the Sooner pantheon. And Bob Stoops, not Urban Meyer, would have been the first coach to capture two BCS titles.
What If Sam Bradford and Co. Hadn't Gotten Injured?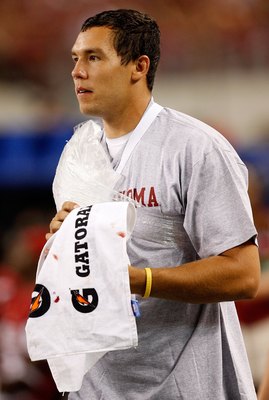 Ronald Martinez/Getty Images
Granted, injuries are part of football. Luck is a definite characteristic of championship teams. But the 2009 Sooners would have done great things if they had the chance to reach their full potential.
But an uncanny amount of injuries derailed their hopes. Jermaine Gresham and Sam Bradford highlighted the losses, which also included Brody Eldridge, Brian Simmons, Jarvis Jones, Ryan Broyles, Brandon Caleb, Auston English, Quinton Carter, Tom Wort and DeMarco Murray.
If Bradford alone had been healthy for all of 2009, OU would likely have beaten almost all if not all of their opponents. Even so, they lost four games by a total of 12 points.
If OU hadn't suffered this inexplicable number of injuries, they probably wouldn't have lost a game, considering the potency of an offense featuring Bradford, Murray, Gresham and Broyles, who thrived anyway with Landry Jones.
We probably would have seen Oklahoma vs. Alabama instead of Texas vs. Alabama in the Rose Bowl, and it would have been a great game.
Also worth noting, Bradford would have shattered most NCAA career passing records.
Keep Reading

Oklahoma Sooners Football: Like this team?