Dwight Howard to the Chicago Bulls: Derrick Rose, Adidas, and the Power of "God"
February 10, 2012

In Chicago, Michael Jordan is widely recognized as a "god."
His Airness won six NBA championships, accumulated five MVP awards and appeared in 14 NBA All-Star Games. Nike recognized his "deity" potential in 1984 and his Air Jordan shoes sold nearly $130 million that year.
Overall, Jordan products have grossed about $2.6 billion for Nike and footwear analyst Jennifer Black believes that Jordan's overall impact on Nike's image is closer to $5 billion. Even now, 13 years after his (second) retirement from the Bulls, Air Jordan shoes generate about $1 billion in sales annually, outpacing sales of active Nike-endorsed players like Kobe Bryant, LeBron James and Kevin Durant. Writer Allan Brettman surmises that "Jordan Brand shoes are largely responsible for Nike's dominant position in basketball shoe sales."
Although it is unlikely that any other player in Chicago will ever overtake Jordan's legendary status, his legacy is finally being challenged by a lightning-fast guard named Derrick Rose.
At 23, Rose's moves toward the basket and ability to hit difficult shots are reminiscent of Jordan, and he already has one league MVP title under his belt. But he needs help—a Scottie Pippen to Michael Jordan—in order to ensure a reign of dominance for the Bulls.
That help could be just a trade away; a trade that would convert the Bulls into a new dynasty that could last a decade or longer. According to the Chicago Tribune, Dwight Howard, who has inexplicably ignored the Bulls thus far in his search for a new home, recently expressed that he is now open to playing in Chicago.
This news should come as no surprise—analysts have been forecasting for months that Chicago is both the best match for Howard's talents and the team with the strongest trading potential, which Orlando could use to meet their own needs. The problem? In a city that is dominated by Nike, Rose and Howard both wear Adidas.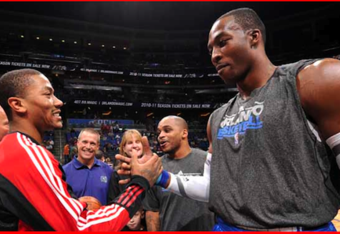 Adrian Wojnarowski has compellingly argued that "Adidas simply cannot have its two signature players on the same team in the same market." Howard, however, recently denied this claim, saying that ""It has nothing to do with Adidas…In fact, Adidas would love that because me and Derrick have the same guy." So Adidas doesn't have any problems with the trade.
But what about Nike?
While Rose's impact has probably already begun to erode the Jordan profits in Chicago, Rose doesn't (yet) have a championship, a dynasty, or the long-term, international appeal that would solidify Adidas sales in a way that Jordan's dynasty solidified Nike. However, if two marquee players from the same team were to begin winning championship after championship while wearing Adidas shoes, the folks at Nike might begin to feel a little threatened.
When discussing the trade, Howard recently made a cryptic comment: "If I could play with Derrick Rose right now and God wanted that to happen, it will happen." Is this just another affirmation of religious faith from a stalwart devotee, primed by the country's current fascination with Tim Tebow?
Or is it possible that Howard was making reference to another Higher Power, with ties more closely linked to Chicago? How does Michael Jordan feel about the prospect of seeing his Chicago dynasty overshadowed by a new regime, Nike shoes replaced by Adidas on teens throughout Chicago, or the potential loss of $1 billion per year in Air Jordan sales?
God only knows.