Big Ten Recruiting: The 2012 All-Name Team
February 10, 2012

Recruiting season is about building the foundation for future success. It is about retooling a football team in the immediate future while bringing in the starters and stars of tomorrow. It is about hope and expectation and the belief that this group of kids is going to be the one to ______ (dominate a rival, win a conference championship, win a national championship, win three games*).
*(Only applicable in Bloomington, IN)
More than all of that, the recruiting season is about a bunch of kids with totally kick-ass names, and the jokes we can make about them.  Below, enjoy the 2012 All-Name Team.
Quarterback: Bart Houston (Wisconsin)
Houston and fellow Wisconsin recruit Reggie Love will spend the offseasons playing minor roles in gritty Vietnam movies where they are wisecracking soldiers who help lighten the mood as the protagonist deals with the emotional strain of war and the brutality of mankind.
HM: Let's hope neither Steven Bench (Penn State) nor CJ Beathard (Iowa) get what their names say is coming to them (Puns, we have 'em).
Running Back: Dami Ayoola (Illinois)
"What are we going to do with all of these extra vowels?"
HM: If Drake Johnson (Michigan) doesn't grow up to be a private detective, he is wasting a perfectly good name.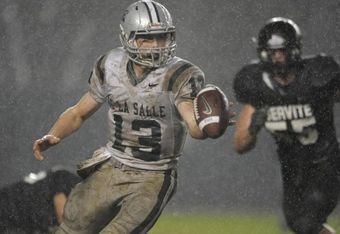 Fullback: Sione Houma (Michigan)
There aren't many fullbacks coming in as Big Ten recruits, but Sione makes sure the position is well represented on the All-Name Team.
Wide Receiver: Macgarrett Kings Jr. (Michigan State) and Frank Epitropoulos (Ohio State)
Macgarrett King Sr. must appreciate a sweet name when he sees it, because he made sure his son was set for life. Meanwhile, Frank Epitropoulos is too Greek to function.
Tight End: Maxx Williams (Minnesota)
Hopefully, the Williams family didn't do the old "double consonant" when naming any of the many daughters we will imagine they have for this joke to work, since we all know a double consonant is about the same as naming your daughter Candy or Jazmine—they all end up at the same place.
Offensive Line, Isaac Hayes (Minnesota)
Hello children.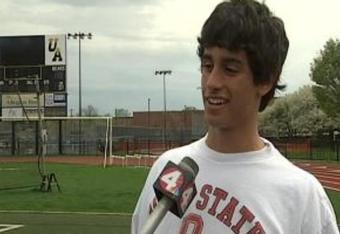 HM: Robbie Bain (Illinois), Jacob Bailey (Indiana), Eric Simmons (Iowa), Benny McGowan (Michigan State), Joey O'Connor (Ohio State) AKA: the starting offensive line for a Boston, MA prep school (W/SG DT Connor Mahoney, Northwestern).
Defensive End: Faith Ekakitie (Iowa), Ifeadi Odenigbo (Northwestern), Mario Ojemudia (Michigan) and Daumantas Venckus (Iowa)
Announcers all across the Big Ten are going to be rooting for less sacks for the next four years with these four unpronouncables roaming the field.
HM: Luckily, Kingsley Ike (Purdue) has no such problem. I'm totally naming my first-born child Kingsley.
Defensive Tackle: Vincent Valentine (Nebraska), Yoshoub Timms (Minnesota)
Vincent Valentine is a smooth name, but it doesn't roll off the tongue like Yoshoub.
Linebacker: Jared Afalava (Nebraska), Nyeem Wartman (Penn State) and Vince Biegel (Wisconsin)
Probably the least inspiring group of names, but it is hard to look down on any list that includes the last name Wartman.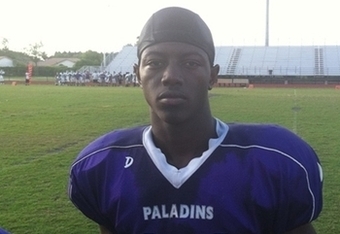 Secondary: V'Angelo Bentley (Illinois), Martez Shabazz (Minnesota), Mohammed Seisay (Nebraska) and Hugs Etienne (Wisconsin)
I am just in awe of these four names. Magnificent. Best of the bunch.
HM: I am old enough to know that laughing at Demetrious Cox's (Michigan State) name is childish, but I'm young enough to do it anyway.  
Kicker: Connor Kornbrath (Iowa)
I like to imagine it was a tough battle between Iowa and Nebraska for the obvious school which Kornbrath would attend, but he eventually decided that Kornbrath the Cornhusker was just a little too heavy-handed.