2012 MLB Spring Training: 6 New York Yankee Players to Watch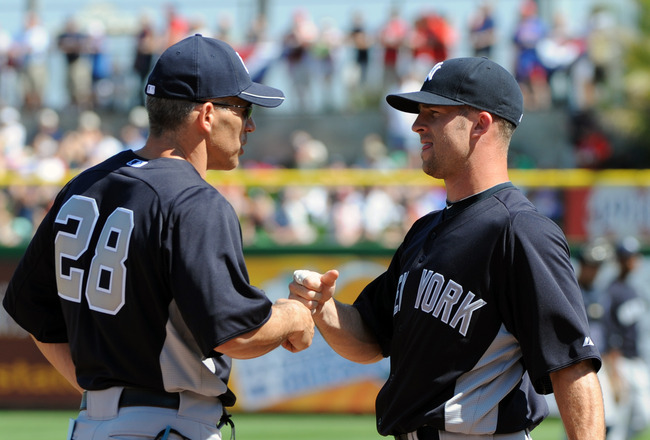 Al Messerschmidt/Getty Images
Spring training 2012 just started and players are beginning to settle in. Games do not start up for another couple days, but in the meantime why don't we pick some players to keep an eye out for?
As always, the New York Yankees have many interesting players, but which should you keep a keen watch on?
Let's find out.
Manny Banuelos
Manny Banuelos showed everybody he was the real deal by posting a 2.20 ERA in Spring Training 2011. On top of that, future Hall of Famer Mariano Rivera called him the best pitching prospect he'd ever seen.
The 20-year-old lefty was promoted to Triple-A Scranton/Wilkes-Barre this season and showed flashes of brilliance, but was inconsistent and had control issues. Banuelos will start the season in Triple-A but expect him to be in New York when rosters expand in September.
Banuelos used to have excellent control, but his recent control issues stem from his jump in velocity over the last year. He should have his pinpoint control back within no time.
He has three plus pitches—a fastball, slider and changeup—that should propel him to stardom wants he reaches the majors.
Banuelos was recently ranked as the second best left-handed pitching prospect, behind only Matt Moore, by MLB.com.
He projects to be a No. 1 or No. 2 starting pitcher in the majors in a few years.
Cesar Cabral
Elsa/Getty Images
New York Yankee fans, I want to introduce you to your new No. 1 left-handed specialist: Cesar Cabral.
You may not have heard of Cesar Cabral, but the Yankees traded up in the Rule V Draft and gave him a 25-man roster spot in order to grab him.
Why would the Red Sox leave Cabral eligible for the Rule V Draft if he is so good? Their 40-man roster was full but they could have cleared a space for Cabral. Whatever the reason was the Yankees took advantage of a mistake and grabbed a valuable prospect from their hated rival.
Cabral is a 22-year-old lefty from the Dominican Republic and he had a very good 2011 season. In High-A Ball and Double-A he posted a 2.95 ERA and an 11.5 K/9 in 55 innings pitched.
The Yankees have another very good Rule V Draft selection on their roster: Ivan Nova. Am I saying he will be that good? No, but Cabral has a good chance of being an impact arm in the Yankees' bullpen in 2012.
SoxProspects.com gives him high praise by saying this about him:
Lefty with a solid frame and a smooth delivery. Pitches exclusively from the stretch. Fastball sits between 88-92 mph and tops out at 95 mph. Secondary pitches include an excellent 81-83 mph circle changeup, a mid-70s slurvey curveball, and a sharp 79-82 mph slider. Gets a lot of swings and misses with his changeup, which has nice downward movement. Excellent command and control, attacks hitters.
That sounds like a pitcher I would want at my disposal if I was Joe Girardi. He will not challenge Rafael Soriano for the seventh inning, but I could see him as a Joba Chamberlain-type pitcher while Chamberlain is out until at least the All-Star break due to Tommy John surgery.
Gary Sanchez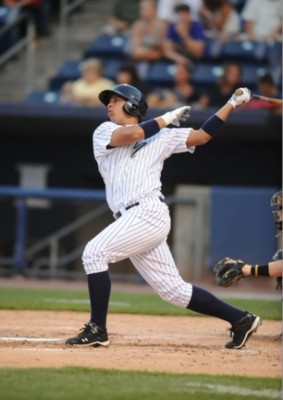 With the departure of Jesus Montero Gary Sanchez becomes the top catching prospect in New York.
Sanchez has been cited for immaturity and a lack of focus at and behind the plate.
There is no doubt Sanchez has the raw talent to become an All-Star catcher for over a decade in the majors, he just has to grow up and learn to use his talent effectively.
He is only 18 years old, so his immaturity will likely improve as he gets older but he will have to work on his plate discipline and lack of focus behind that plate that caused him to lead the South Atlantic league in passed balls.
Sanchez will work with Russell Martin behind the plate and will catch for pitchers such as CC Sabathia and Mariano Rivera this Spring Training. He is in good hands to greatly improve.
Alex Rodriguez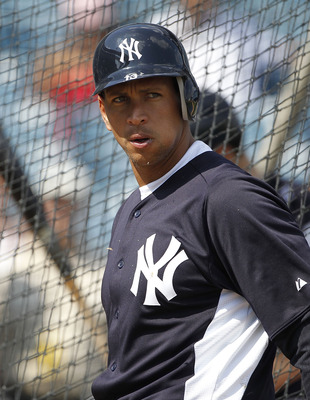 Leon Halip/Getty Images
Alex Rodriguez should be back and ready to go after his offseason experimental knee surgery in Germany.
That being said he did have a knee procedure, Rodriguez described it as only injections of his own blood into his knee. Whether it was a surgery or a procedure is an important distinction but either way it will be interesting to see how he plays on his knee.
If it was successful, like it was for Kobe Bryant who had the same knee procedure, Rodriguez should be back to his 2010 form. That would allow him to play third base for about 120 games and DH for another 20 games.
It will be very important that Rodriguez has no setbacks this spring training, or he might be in for another sub-100 game season.
Jorge Vazquez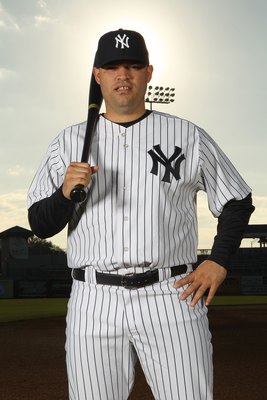 Nick Laham/Getty Images
The New York Yankees signed Andruw Jones and Raul Ibanez to DH on days Alex Rodriguez does not need a day off. That being said they do have another internal option if either Jones or Ibanez goes down with an injury or does not perform at a high level.
Vazquez is not exactly a prospect, he turns 30 years old before Opening Day, but he has yet to reach the majors.
In 2011 Vazquez showed his incredible power by hitting 32 home runs, which was good enough for first in the International League (Triple-A). If he has so much power, why isn't he already in the majors? In 2011 he hit a measly .262 with a .314 OBP and struck out 166 times compared to only 30 walks.
If Jorge Vazquez can shine in Spring Training by keeping his power while also getting good contact he could be a dark horse to make the 25-man roster.
Michael Pineda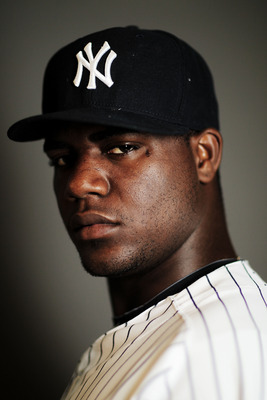 Nick Laham/Getty Images
The New York Yankees gave up their most prize prospect—Jesus Montero—for Michael Pineda, so they must see him doing great things.
Most of the questions about Pineda are how he will adjust to Yankee Stadium, the pressure of New York and the transition to the AL East. Unfortunately, we will not see those questions answered just yet.
So far, Michael Pineda's spring training has been up and down. Pineda entered camp 20 pounds over his 2011 listed weight of 260 pounds. C.C. Sabathia had a similar problem when he reported to spring training last offseason, but he got back into shape.
On the bright side, Pineda has found an elusive third pitch: a changeup.
Here are Pineda's thoughts according to the New York Daily News.
"I'm working hard on my change-up," he said. "I know I've gotta command it. It's my third pitch but I need it. It's getting better."
Michael Pineda is not the only optimistic Yankee; his catcher, Russell Martin, made a point to work with Pineda to develop his changeup.
"Joe (Girardi) gave me a call this offseason and said, 'We've got to get this guy to work on his changeup,' " said Martin, "but obviously he has worked on it because I saw a good one.

"The first couple, he was on the side of them, which made them hard to control, but after that he got on top of the ball, throwing it on the same plane as the fastball, and that's what gives it deception. He's a quick learner and able to make adjustments on the mound, and that's pretty impressive for a young guy."
Only time will tell if Michael Pineda will develop into an ace, but any pitcher that has good command of three pitches, can reach 100 mph and has a devastating slider has a very good chance of succeeding in the majors.
Keep Reading

New York Yankees: Like this team?