2012 AL West Preview: Sleepers and Prospects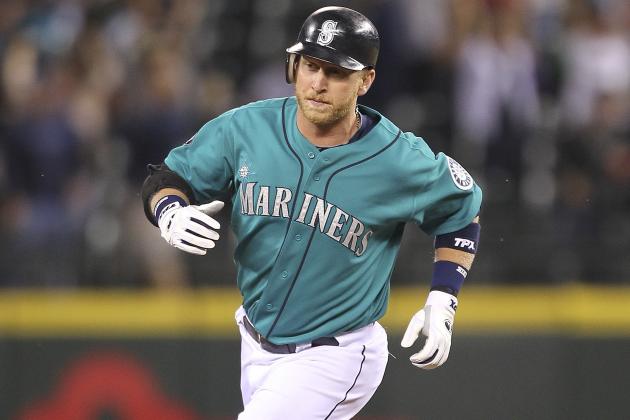 Otto Greule Jr/Getty Images

Despite having just four teams, there are plenty of big-name players in the AL West—Albert Pujols joins names like Josh Hamilton, Felix Hernandez, Jered Weaver, Nelson Cruz, Dan Haren, Ian Kinsler and Adrian Beltre.
While it's nice to have as many of these types of players as possible, it is also imperative that you spend your later picks on guys that will far exceed their draft value.
In this preview, we'll look at some of these late-round players as well as some minor leaguers that have a chance to help your team this season as well.
Begin Slideshow

»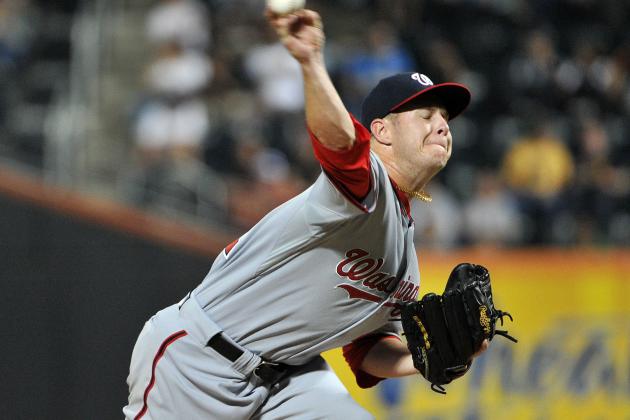 Christopher Pasatieri/Getty Images

Peacock, a 41st-round draft pick in 2006, seemingly came out of nowhere last year to dominate the high minors. In 146 2/3 innings in Double-A and Triple-A, he sported a 2.39 ERA, a 0.99 WHIP and a strikeout ratio of 10.9. Those are numbers to get excited about!
His success continued for the Nationals, as he only gave up one run and 13 base runners in 12 innings.
Peacock could be the Brandon Beachy of 2012, but it will be hard for him to have a winning record playing for Oakland. Still, he could easily have a rotation spot right out of spring training, and that would make him a name to keep track of.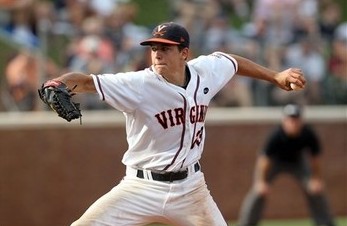 Hultzen was the second pick of the 2011 draft and made his professional debut at the Arizona Fall League. In 19.1 innings, the 22-year-old struck out 18 batters with a 1.40 ERA and a 1.09 WHIP.
In November, SI.com reported that Hultzen will be given a chance to make the Mariners' rotation out of spring training this year. While that seems like a long shot, don't be surprised to see him in the majors at some point in 2012.
With Hultzen and fellow elite pitching prospects James Paxton and Taijuan Walker in Seattle's minor league system, it's easy to see why they were willing to part ways with Michael Pineda.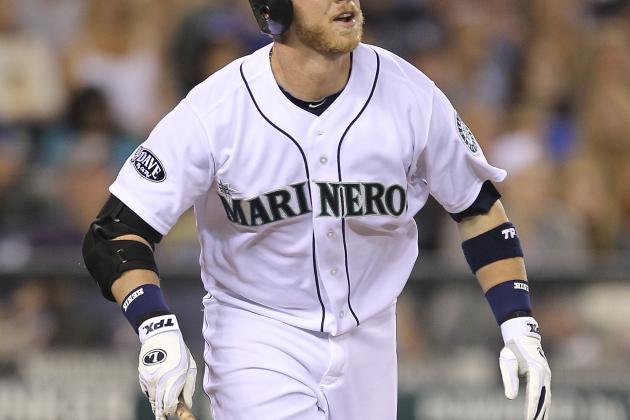 Otto Greule Jr/Getty Images

Between Triple-A and the majors last year, Carp hit 33 home runs. In 2010, he hit 29 home runs in only 409 Triple-A at-bats, so we know he has some pop in his bat. He hit .276 for the Mariners last season and has a career minor league average of .277, so he's not going to kill your team's batting average.
Carp should have left field all to himself and will be in a lineup that is not as bad as it has been in recent years. The recent acquisition of Jesus Montero and the assumed progression of youngsters Dustin Ackley and Justin Smoak can only help Carp's run and RBI potential.
Carp is currently going 224th, according to Mock Draft Central, and could turn out to be an absolute steal there.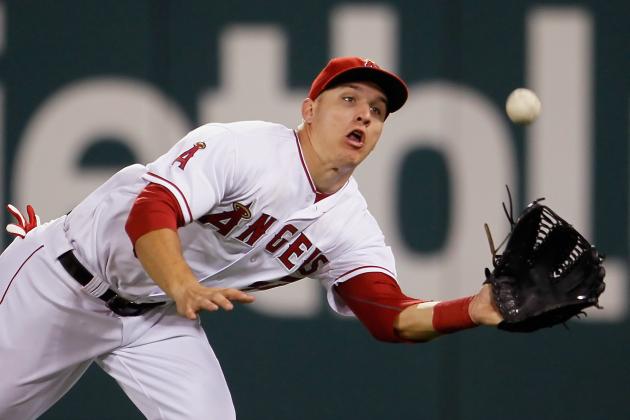 Jeff Gross/Getty Images

Trout, Baseball America's second-ranked prospect heading into 2011, hit 11 home runs and stole 37 bases between Double-A and the majors. Most of those numbers were from Double-A, where he slashed .326/.414/.544.
He only hit .220 with five home runs and four stolen bases in 123 at-bats for the Angels. Despite that, he is still the third-best prospect for 2012 according to MLB.com.
Trout is not guaranteed playing time, so don't invest too much in him for 2012 unless you're in a long-term keeper league.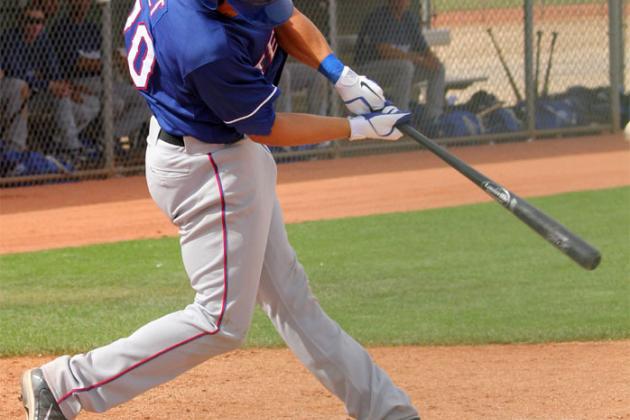 Olt is a premier power-hitting prospect. Despite missing half the season with a broken collarbone, he hit 15 home runs between rookie and High-A ball last year.
He then led the Arizona Fall League with 13 home runs in just 106 at-bats. The next highest home run total in the AFL was seven. He slashed a ridiculous .349/.433/.764 as well.
The 23-year-old is a third base prospect but has been getting work at first base to try to speed up his major-league ETA. He could make his debut in 2012 and would be an immediate must-add.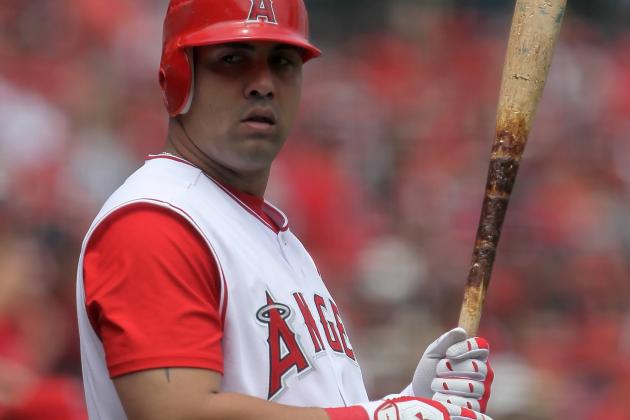 Jeff Gross/Getty Images

Morales is a big injury-risk sleeper for 2012. The risk isn't too high, though, considering he is being drafted 215th, according to Mock Draft Central.
He is currently taking batting practice, which is as far as he got last season. If the "Cuban Missile" can be ready to go for the start of the season, the Angels will be hard-pressed to keep Morales out of lineup.
I see him as the team's DH, and a .285/75/25/90 stat-line is a possibility.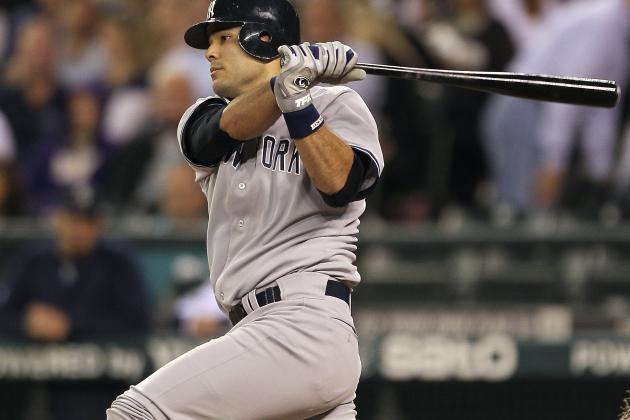 Otto Greule Jr/Getty Images

Montero, 22, has been in the top-four of Baseball America's preseason prospect lists each of the last two years, and we're about to see what he can do over the course of a full season at the major league level.
Over the past two seasons at Triple-A Scraton Wilkes-Barre, Montero hit .289 with 39 home runs in 873 at bats. He surprisingly put up even better numbers for the Yankees last season after he was called up on September 1. He slashed a ridiculous .328/.406/.590 with four home runs in 61 at-bats.
Those numbers were helped significantly by an unsustainable .400 BAbip and a 17.4% HR/FB ratio, so don't expect to see them from Montero in 2012.
Before investing too much in Montero, make sure he has catcher eligibility in your league, as that has a huge impact on his value.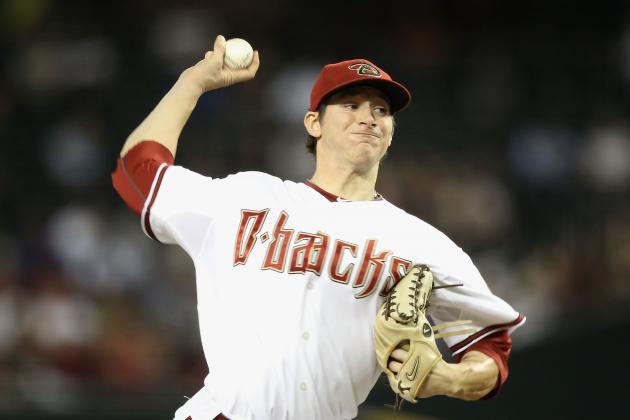 Christian Petersen/Getty Images

Parker was the main piece heading back to Oakland in the trade that sent Trevor Cahill to Arizona.
The 23-year-old has been in the to 50 each of the last four years in Baseball America's top prospects list. After missing 2010 due to Tommy John surgery, Parker posted a 3.79 ERA and a 1.28 WHIP while striking out 7.7/9 innings for Double-A Mobile.
He won't be drafted in mixed leagues, but he's worth keeping an eye on in case he starts the season in the A's rotation.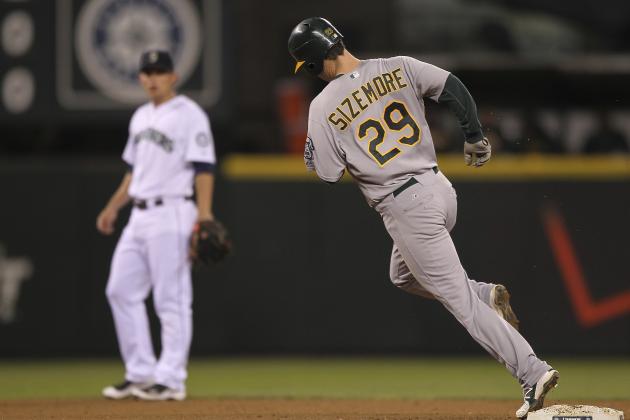 Otto Greule Jr/Getty Images

Sizemore was a buzzy rookie heading into the 2010 season because he had just hit .308 with 17 home runs and 21 stolen bases between Double-A and Triple-A the year before. Unfortunately, he has been a disappointment in his first two big-league seasons.
He picked it up, however, at the end of 2011, when he hit six home runs and stole three bases in his final 108 at-bats. Going 324 overall (MDC),
Sizemore is more of a deep league sleeper but could gain mixed-league relevance playing at a talent-scarce position.
What other late-rounders do you like from the AL West?
For more fantasy baseball insight, visit us at www.fantasysportskings.com.