2012 NBA Draft: Juniors on the Cusp of the First Round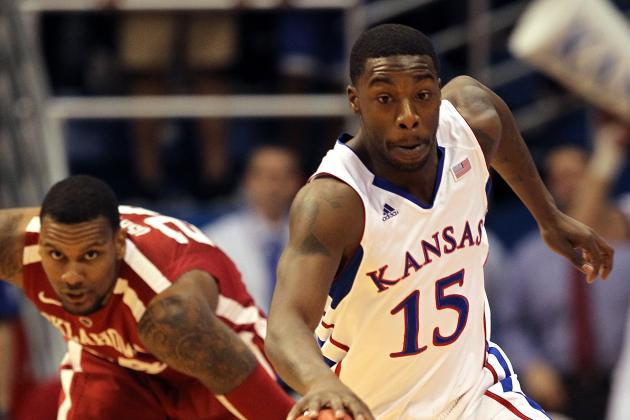 Jamie Squire/Getty Images
Kansas PG/SG Elijah Johnson
Take a peak at various 2012 NBA mock drafts, and you will notice how loaded it is going to be with freshmen and sophomores. These youngsters are going to be the center of attention leaving the juniors and seniors on the outside looking in.
If you ask me right now, I would tell you that only three juniors merit an early first-round pick.
UNC PF John Henson
Kansas PF Thomas Robinson
Mississippi State PF Arnett Moultrie
Besides the three individuals listed above, I believe no other junior warrants a Top 20 pick until you hit the later selections of the first round.
Many times if a junior isn't guaranteed a first-round selection by a team, they will make the decision to go back for their season year.
These are the five juniors who may be able to sneak into the first round of the 2012 NBA draft.
Begin Slideshow

»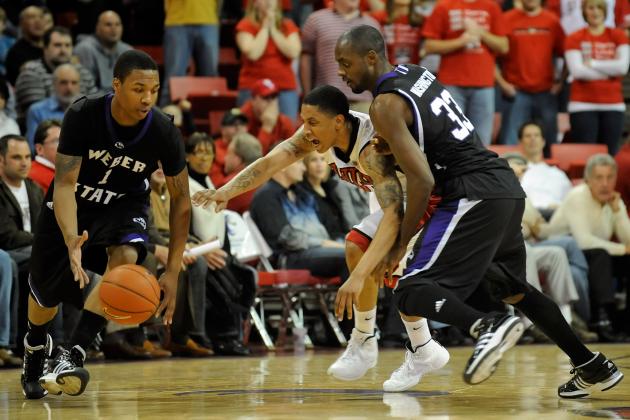 Ethan Miller/Getty Images
Weber State PG Damian Lillard
Weber State Point Guard Damian Lillard-6'2", 190 pounds, 21 years old
The little known point guard from Weber State has begun to make a name for himself this season.
Currently leading Weber State to an 18-4 record while leading the nation in scoring at 25.5 points per game; Damian Lillard has his name buzzing.
At 6'2" his body and frame meets the mold of your prototypical PG in the NBA.
His explosiveness with the ball, strength and lack of turnovers are only a few aspects of this young man's game that has everyone raving.
Lillard's knack for hitting three-pointers (46.3 percent) and consistency from the free-throw line (88 percent) are also phenomenal assets to his ball on the court.
NBA Comparison: Eric Snow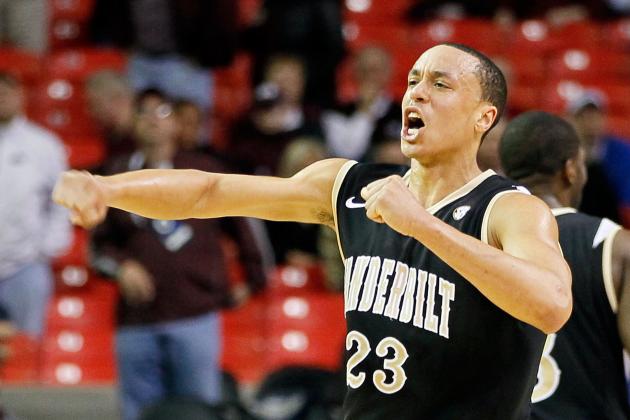 Kevin C. Cox/Getty Images
Vanderbilt SG John Jenkins
Vanderbilt Commodores Shooting Guard John Jenkins-6'4", 210 pounds, 20 years old
The leader scorer of the Commodores for the second season in a row, John Jenkins, can sure put the ball in the hoop.
That's really all he can do, though. He doesn't rebound or log many assists.
A liability on defense, his shot is the only positive thing on this guy's platter.
He does a tremendous job of getting open and putting himself in position for easy jump shots or three-pointers.
Solid athlete who needs to add some muscle to battle at the next level.
NBA Comparison: Courtney Lee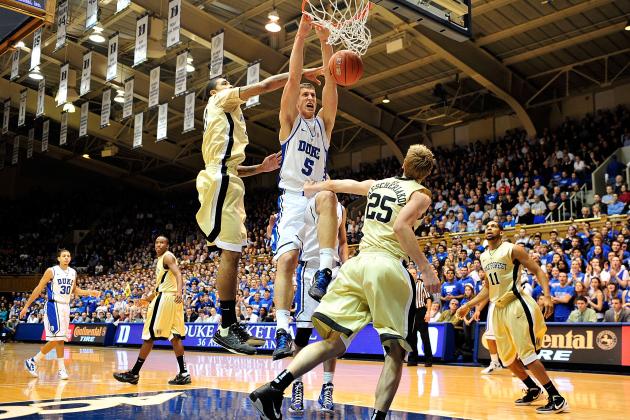 Grant Halverson/Getty Images
Duke PF Mason Plumlee
Duke Blue Devils Power Forward Mason Plumlee-6'10", 235 pounds, 21 years old
The Blue Devils' leading rebounder is a monster on the glass. Grabbing eight-plus boards in 17 out of 24 games, Plumlee dominates underneath.
This former McDonald's All-American is exceedingly quick and athletic for a player with his size.
His lack of upper body strength allows other big men to throw him around.
Plumlee is deficient in the area of toughness and production on the offensive side of the ball.
NBA Comparison: Chris Anderson Without the Motor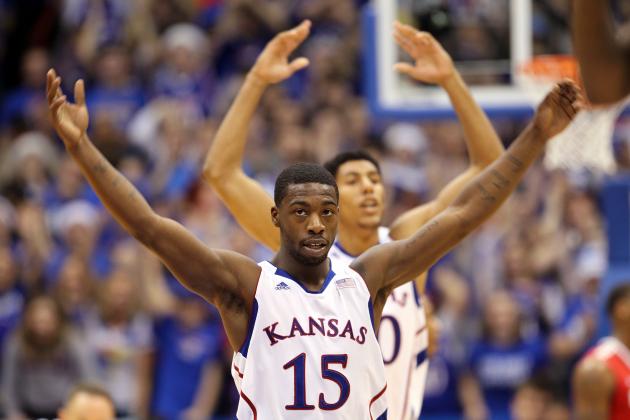 Jamie Squire/Getty Images
Kansas PG/SG Elijah Johnson
Kansas Jayhawks Point Guard/Shooting Guard Elijah Johnson-6'2", 190 pounds, 21 years old
After having a breakout game against UCLA earlier in the season, Elijah Johnson has had an up-and-down season since then.
Averaging 8.8 points and 3.7 assists per game, the point guard playing shooting guard for the Kansas Jayhawks owns the physicality, size and strength to be a successful PG in the NBA.
After shooting 40 percent from beyond the arc last season, the 21-year-old from Las Vegas, NV, has seen his three-point shot drop to 28 percent.
Some nights he is a phenomenal defensive stopper; other nights he doesn't attack with the same mentality and aggressiveness. He has to bring the same defensive proficiency to every game.
NBA Comparison: Earl Watson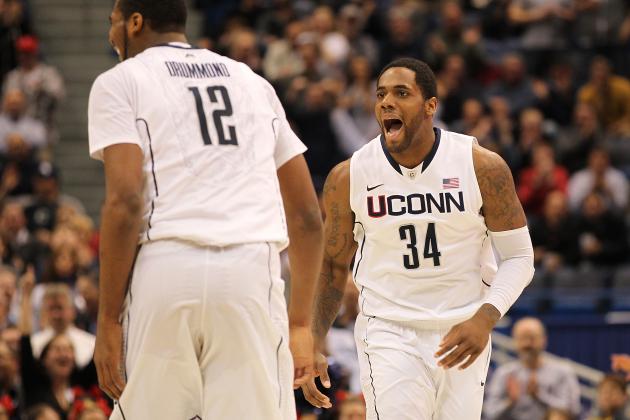 Jim Rogash/Getty Images
UConn PF/C Alex Oriakhi
UConn Huskies Power Forward/Center Alex Oriakhi-6'9", 240 pounds, 21 years old
Stuck behind Andre Drummond in the spotlight and recently demoted to coming off the bench, Alex Oriakhi doesn't have much going for him.
Every statistical category of Oriakhi's has drastically declined since last year's national championship season.
What this UConn star does have is an NBA body.
For a big man, he is mobile and takes advantage of his muscular build and physical tools to position himself on the block.
Will be able to defend both the 4 and 5 in the NBA because of his superior strength and size.
NBA Comparison: Jordan Williams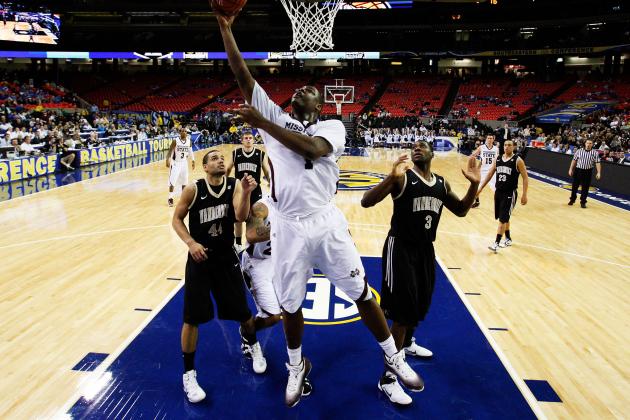 Kevin C. Cox/Getty Images
Mississippi State PF Renardo Sidney
Power Forward Renardo Sidney (Mississippi State Bulldogs)
Rumor has it this is Renardo Sidney's last season in Starkville. If he can lose weight and improve his conditioning, Sidney could be a beast in the NBA. Will his ego and character issues allow him to do that, though?
Point Guard J'Covan Brown (Texas Longhorns)
Considered to some a combo guard, J'Covan Brown is the leading scorer for the Longhorns at close to 20 points per game. Brown's ability to hit his free-throw and three-point shots, to go along with a consistency to get to the basket, make him a solid NBA prospect.
Point Guard Maalik Wayns (Villanova Wildcats)
Fourth in the Big East in scoring, Wayns is the certified leader on a slumping Wildcats squad. This point guard has established himself in the Big East as a quick and physically gifted guard. Will need to improve upon his inconsistent jump shot if he wants any chance at slipping into the first round.