UFC: Anderson Silva vs. Chael Sonnen Breakdown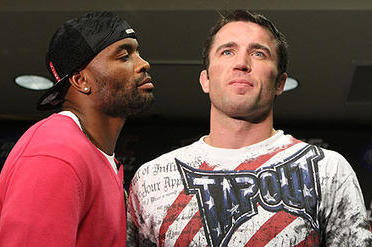 Anderson Silva (left) with Chael Sonnen/ Scott Petersen for MMAWeekly.com
This June, fans will be treated to a highly anticipated rematch as Chael Sonnen will be taking on UFC middleweight champion Anderson Silva.
Recently, Sonnen earned back his No. 1 contender position with a close decision win over The Ultimate Fighter Season 3 winner Michael Bisping.
Silva will be making to further solidify his legend, should he prove successful against his arch rival, this will make a record-setting 10 title defenses for the Brazilian.
It's a clash of opposing styles, though who will come out on top in the second go-around?
Anderson Silva (left) with Chael Sonnen/ Scott Petersen for MMAWeekly.com
Begin Slideshow

»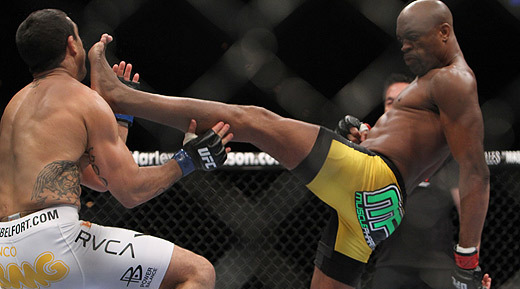 Silva (right) kicking Vitor Belfort/ Scott Peterson for MMAWeekly.com
Is that too lofty a claim to make?
"The Spider" has been unmatched in the striking realm, stopping formidable opposition along the way.
In his first battle inside the Octagon, Silva proved that his technical prowess rivals even the most heavy-handed of foes, to which Chris Leben can attest to. Silva deftly stopped "The Crippler" with an array of punches, kicks and knees, which called a halt to the bout in less than one-minute's time.
Since then, Rich Franklin (twice), Yushin Okami and light heavyweight's James Irvin and former champion Forrest Griffin have all felt the brunt of the blows of the Black House fighter, who's only been downed by his adversary in Chael Sonnen.
An Anderson Silva at 100 percent is unrivaled by any man in his division, including Sonnen, who allegedly met the pound-for-pound great under less than ideal circumstances.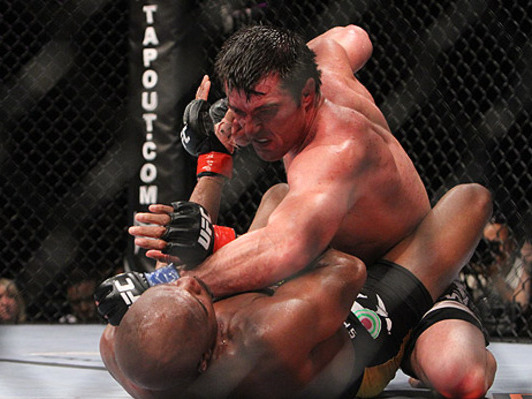 Sonnen atop Silva/ Scott Petersen for MMAWeekly.com
In their initial encounter at UFC 117 in August of 2010, Sonnen shocked the MMA world when he was able to dominate his foe for four-plus-rounds of action.
Sonnen's stifling top game and double leg takedowns gave Silva cause for concern, as the middleweight great was not able to mount much offense against the former NCAA Division I All-American.
The Team Quest product kept a relentless pace throughout, though the moment he let his guard down and took the foot off the gas, Silva capitalized by stunning the Oregon native with a hard shot from the bottom, cinching in a tight triangle-armbar combination and earning the tapout in the waning moments of their fight.
Silva's underrated jiu-jitsu prowess is not to be overlooked, however, Sonnen has shown that his wrestling skills are enough to carry him to victory, it's just a matter of remaining focused and vigilant.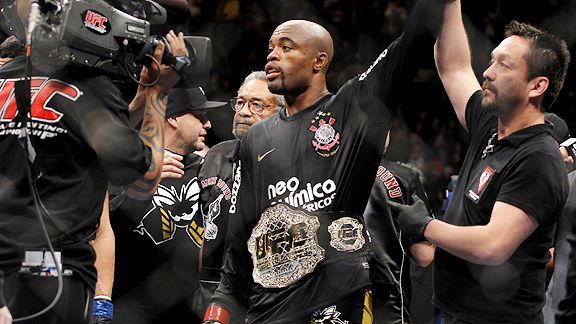 Silva reigns supreme/ Ric Fogel for ESPN.com
It's crazy to think that it will be almost two years that the dynamic-duo first tangled inside the Octagon when they finally meet again this June.
Since then, Silva has continued to plug away in his takedown defense, which was evident in his battle with the powerhouse that is Yushin Okami. Locked in the clinch, Okami was able to hold Silva against the fence, though the Brazilian answered with powerful knees to the body, finally stopping the touted Japanese fighter in the second round.
Sonnen will give Silva a more stern test than that of Okami, however, with a fire of motivation lit inside of Silva, the world's greatest fighter will look to end this fight in emphatic and dramatic fashion.
Expect Sonnen to land a few takedowns here and there, though Silva will be much more active from within his guard, making the wrestler weary of toying too long on the ground with him.
On the feet, it's a no-contest—Silva will find his range and finally land that telling blow. Whether it's a knee, kick or punch, the fight will be decided by the Brazilian, who will walk away with his 15th straight victory in the UFC.