Will Jeremy Lin Be a Modern-Day John Starks for the New York Knicks?
February 9, 2012

It's only natural for people to be comparing New York Knicks sensation Jeremy Lin to the storied John Starks.
Both Lin and Starks went undrafted out of college and both became crowd favorites at Madison Square Garden despite not being the most talented players on the court.
In Lin, who has racked up a combined 76 points and 25 assists in his last three games with the Knicks, you see the same fiery player as the Starks who ignited Madison Square Garden in the '90s. He essentially could become the glue that Starks was in New York.
Lin isn't a particularly explosive player, but he's extremely intelligent (after all, he did go to Harvard). He has a way of capitalizing on opportunities and his aggressiveness makes him a good rebounder for his size and helps him force numerous fouls (he has 22 free-throw attempts in his last three games).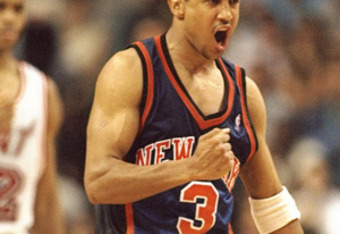 In that sense, yes, Lin has the potential to become the next Starks, at least as far as the type of player.
However...
Although Starks never won an NBA championship, let's not forget how important he was to those Knicks teams in the postseason throughout the years. The Knicks came very close to winning a title, and if it wasn't for Michael Jordan's Chicago Bulls or Hakeem Olajuwon's Houston Rockets, they probably would have come away with a ring.
Does Lin have the potential to be the next John Starks? If he keeps playing like this, anything's possible. But you simply can't put him in the same sentence right now, especially after just three games.
We've seen numerous players throughout the years go on mini runs. Plenty of these players turned out to be mediocre. I will say I've been surprised by Lin (as has the rest of America), but he not only has to play like this for the rest of the season, he needs to play like this in the playoffs if we can legitimately compare him to Starks, or any of the Knicks' historic players.
All I'm saying is, hold off on the comparisons for now, people, and keep in mind it's only been three games.