UFC Heavyweight Collision Path: Frank Mir vs. Fabricio Werdum
February 9, 2012

When Frank Mir shocked the world and broke Antonio Rodrigo Nogueira's arm at UFC 140, not only did it bring him massive amounts of attention but also raised the question of who really is the best heavyweight submission artist in the world today.
The most notable names in that category belong to Nogueira, Fabricio Werdum, Josh Barnett, Gabriel Gonzaga and Mir.
Mir has earned the distinction of owning the second-most submission victories in the history of the UFC, winning nine of his fights by submission. Most astonishingly, he has won using seven different types of submission techniques, the most in UFC history. With Mir's devastating victory over Nogueira, whom many considered the absolute best submission specialist, many now believe Mir has taken that crown.
Yet the one man who hasn't bought into this hype is none other than Frank Mir himself. Mir has openly stated that when it comes to having the best jiu-jitsu game in the heavyweight division, the title belongs to Fabricio Werdum.
Werdum is coming off a dominant win over Roy "Big Country" Nelson and put himself into the top five fighters inside of the UFC rankings. Werdum has numerous awards in grappling matches and is the first man to ever clearly defeat Fedor Emelianenko, earning the victory by submission.
As Dana White always says in interviews, "Timing is everything," and what better time is there than now to set up a No. 1 contender fight between Frank Mir and Fabricio Werdum?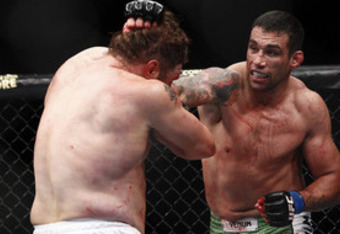 Both competitors are ranked inside of the top five and seem to be only one fight away from a title shot. More so, this would go one step further in proving not only who is the better fighter but possibly who is the better MMA submission grappler.
Not only is the timing perfect for this particular fight but it also would coincide with the UFC Heavyweight Championship fight between the challenger Alistair Overeem versus current champion Junior dos Santos. This, of course, would make for an easy target date to schedule the winners of each respective fight.
The important question is who actually would win this fight.
Werdum seems to be at the pinnacle of his career. He displayed much-improved striking in his lopsided victory over Roy Nelson at UFC 143, but it appeared very similar to the fight Mir had with Nelson at UFC 130. Werdum is dangerous off his back, but with an opponent as disciplined as Mir on top of you, finding a weakness in that armor would prove extremely difficult. Even though Mir said Werdum's jiu-jitsu is better, would it allow him to secure a victory inside of the Octagon?
Mir has a distinct power advantage and fares extraordinarily well against fighters he is larger than. He has demonstrated the ability to secure takedowns easier and impose his will against his smaller opponents. When on the ground, Mir is dangerous from his back or on top. With submission wins over Nogueira and Roberto Traven, it isn't out of the question that he could muscle Werdum into tapping out. If the fight would remain standing, Mir would be able to control the clinch while wearing down Werdum very quickly, allowing Mir to punish Werdum.