2012 Post Super Bowl Mock Draft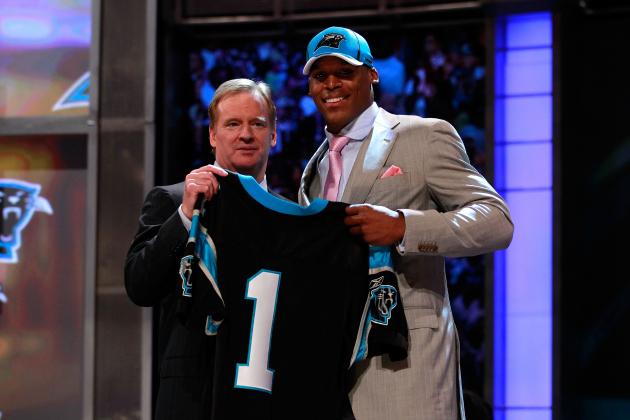 Chris Trotman/Getty Images

With the 2011 NFL season in the books, the focus of NFL fans has already shifted onto next season. The 2012 NFL Draft will be held in Radio City Music Hall in New York City on April 26-28. From now until then, every top college prospect in the country is going to have his strengths and weaknesses analysed over and over again by countless scouts and media members. Each teams roster will be analysed as fans try to determine where these players will begin their professional careers.
Most of the top senior players have already come together at the Senior Bowl in Mobile, Ala., on Jan. 28. The NFL Combine is scheduled to be held In Indianapolis on Feb. 22-28. Many players stock will rise and fall between now and the draft as scouts, media and fans try to establish where these players will land.
Here is an early look at each strengths and weaknesses entering the 2012 season and where they might be able to find help in the draft.
Begin Slideshow

»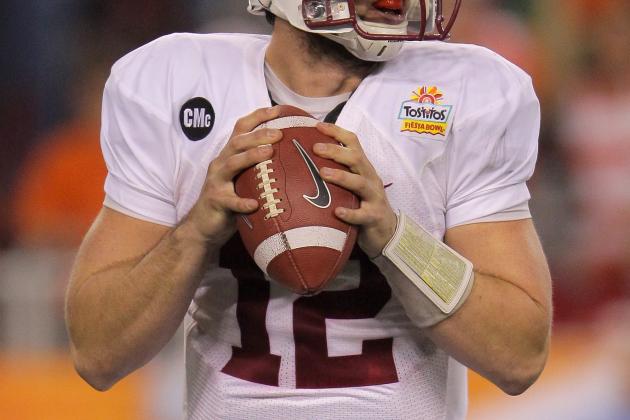 Doug Pensinger/Getty Images

The fact that the Colts are going to draft Andrew Luck with the first overall pick is the worst kept secret in the NFL. Jim Irsay has already declared as much by firing coach Jim Caldwell and general manager Bill Polian. Peyton Manning is likely to be released before March 18 due to the fact he is due a massive $28 million roster bonus as part of the deal he signed prior to last season. There are concerns his neck injury may force him to retire from the NFL.
The Colts are in rebuilding mode after a disastrous 2-14 season. Luck is the perfect building block with which to begin the overhaul. He is perhaps the most highly-rated quarterback prospect to come along since Manning himself in 1998. He possesses all the attributes a top quarterback should have.
He has played in a pro-style offense for the duration of his college career. This should ease his transition into the NFL. He was afforded a lot of freedom at the line of scrimmage to adjust plays based on what he saw on game days, which speaks to his intelligence and the trust his coaches had in him. His accuracy, arm strength and athleticism are all top notch.
Alternative selections - No. 1 Robert Griffin, No. 2 Matt Kalil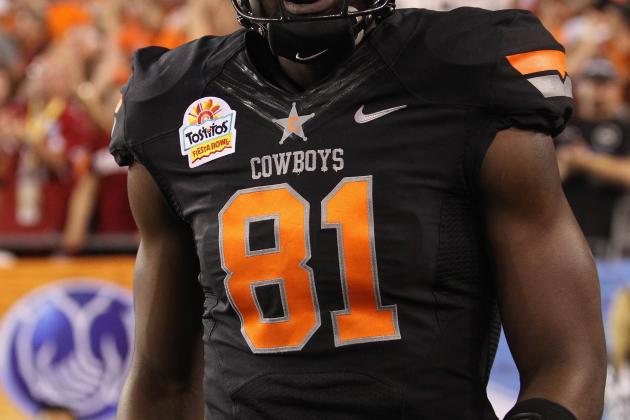 Christian Petersen/Getty Images

Jeff Fisher has made it clear since taking over as coach of the Rams that the main reason he chose St. Louis over the Miami Dolphins was the presence of quarterback Sam Bradford. Bradford, the No. 1 overall pick in 2010, enjoyed a fantastic rookie campaign for the Rams but was derailed last season by a combination of injuries and a lacklustre supporting cast.
The offensive line struggled and there was a revolving door at receiver. Brandon Lloyd, the Rams most talented receiver, is a free agent and it is uncertain whether he will be back. Fisher knows he must provide Bradford with the tools to succeed.
Justin Blackmon has had a fantastic career at Oklahoma State. He is an extremely well-rounded player. He is excellent at picking up yards after the catch, is adept at route-running and excels in jump-ball situations. This makes him a dangerous deep threat.
Alternative selections - No. 1 Matt Kalil, No. 2 Morris Claiborne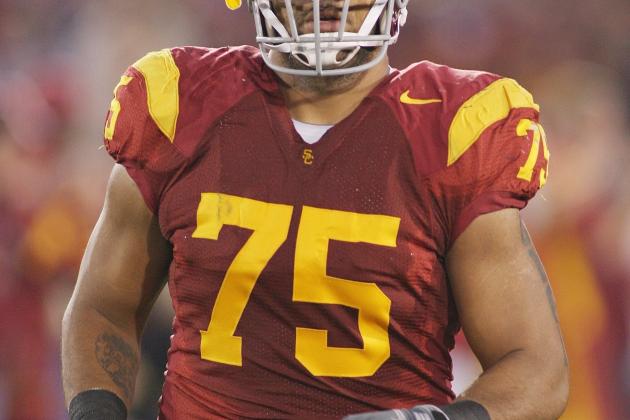 Jeff Golden/Getty Images

The Vikings are an aging team that has many pressing needs. It remains to be seen whether Christian Ponder is the long-term solution to the team's woes at the quarterback position, but it is important that the team puts him in the best possible position to succeed. Charlie Johnson struggled badly at left tackle in 2011 and needs to be upgraded.
Matt Kalil, brother of Carolina Panthers Pro Bowl centre Ryan Kalil, is an elite left tackle prospect who has enjoyed a very successful career at USC protecting Matt Barkley's blindside. An indication of his talent level is the fact that he forced Tyron Smith, the ninth overall selection in the 2011 Draft by the Dallas Cowboys, to play right tackle when both players lined out together at USC. He is an excellent all-around prospect, excelling in both pass protection and run-blocking. His addition would provide a big boost to the Vikings struggling offense.
Alternative selections - No. 1 Morris Claiborne, No. 2 Riley Reiff
Sarah Glenn/Getty Images

The Cleveland Browns struggled massively on the offensive side of the ball in 2011. Colt McCoy did not take the leap forward some envisioned in his second season. The Browns play-calling was extremely predictable and as a result they were perhaps the most boring team in the league to watch last season. McCoy's lack of arm strength and a less than stellar supporting cast were two of the main reasons for this. Cleveland as a city, and the Browns in particular, are in need of a star name to get people excited.
Enter Robert Griffin III. The Baylor product was electric during the 2011 college season en route to winning the 2011 Heisman trophy. He possesses a fantastic combination of a rocket arm, excellent accuracy and elite athletic ability. He is perfectly suited to run the West Coast offense, which head coach Pat Shurmur and general manager Mike Holmgren are looking to implement.
I am not projecting trades in this mock draft, but if I was, I would advocate Cleveland moving up in the draft if needs be to land Griffin. It has been a while since a true franchise calibre quarterback has called Cleveland home. The Browns have the ammunition to trade up (they also possess No. 22 pick) so they should not let this opportunity pass them by.
Alternative selections - No. 1 Morris Claiborne, No. 2 Trent Richardson
Kevin C. Cox/Getty Images

Tampa Bay endured a very disappointing season in 2011 losing their final 10 games. It led to the firing of head coach Raheem Morris and highlighted some big needs for the Buccaneers on both sides of the ball. With multiple needs, the Buccaneers can afford to look to the best player available, which in this scenario is Morris Claiborne out of LSU.
Claiborne is coming off a phenomenal junior season in which he was the best player on a defense that carried the LSU Tigers all the way to the National Championship game. He has a great blend of size, speed and ball skills, which he used to great effect in shutting down receivers all season long. He is perhaps a more technically polished player at this stage than former teammate Patrick Peterson, who was selected fifth overall by the Arizona Cardinals in the 2011 Draft.
Alternative Selections - No. 1 Trent Richardson, No. 2 Dre Kirkpatrick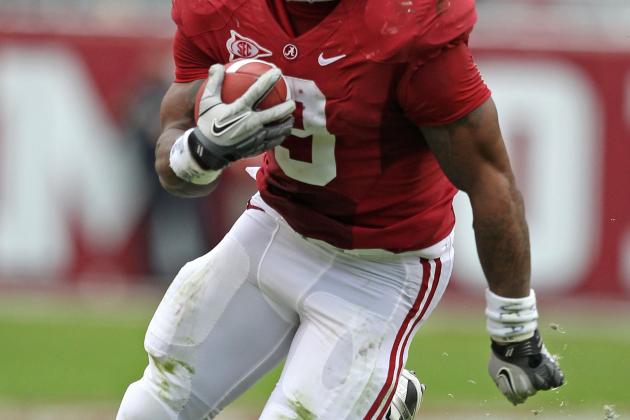 Mike Zarrilli/Getty Images

The biggest need for the Washington Redskins is undoubtedly at the quarterback position. Neither Rex Grossman nor John Beck is a starting calibre NFL quarterback. Unfortunately for Redskins fans, there are no quarterbacks on the board worth selecting at this point. That is a problem when you play in a division that Eli Manning, Michael Vick and Tony Romo call home. The Redskins will most likely have to consider either trading up or look to free agency to fortify this position.
Even if the Redskins do not select a quarterback, they are still likely to use this pick on the offensive of the football. They need to be able to put points on the scoreboard if they are to become competitive in the NFC East. That is why Trent Richardson will be hard to pass up. He is the most talented running back prospect to come along since Adrian Peterson and has the potential to be the best running back in the league if he is put in a Mike Shanahan offense.
This is not necessarily a need for the Redskins after Roy Helu's stellar rookie season, but no other player on the board could hope to have an impact as big as Richardson next season, and the Redskins are in a position where they need to win now after two disappointing seasons.
Alternative Selections - No. 1 Riley Reiff, No. 2 Michael Floyd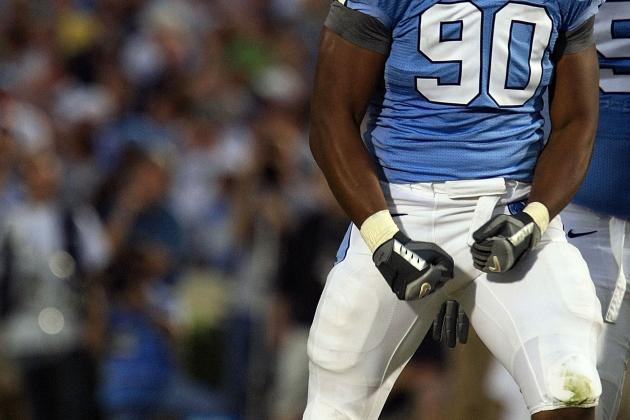 Scott Halleran/Getty Images

Jaguars general manager Gene Smith is under a pit of pressure this offseason after a very disappointing 2011 campaign, which resulted in head coach Jack Del Rio being fired. The offense, led by rookie quarterback Blaine Gabbert, was abysmal and far too reliant on stud running back Maurice Jones-Drew. The Jaguars are rumoured to be very interested in adding a dynamic receiver for their young quarterback to throw to. They could explore a trade-up on draft day to land Justin Blackmon.
With Blackmon long gone in this scenario, the Jaguars would have at other needs with this pick. The best player on the board is senior defensive end Quinton Coples. Aaron Kampman is coming toward the end of his career and has been injury-prone. Jeremy Mincey had a nice season in 2011 with eight sacks, but he is a free agent. Coples could team with the stellar defensive tackle duo of Terrance Knighton and Tyson Alualu to form one of the most promising defensive lines in the league.
Alternative Selections - - No. 1 Riley Reiff, No. 2 Michael Floyd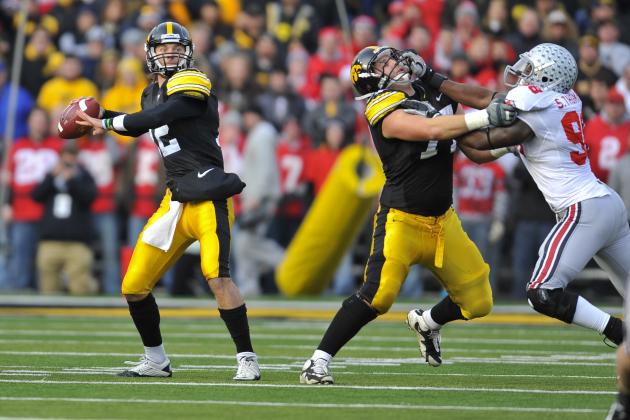 David Purdy/Getty Images

The Dolphins are in a similar position to the Redskins in that they could use an upgrade at the quarterback position, but there is not one available who is worthy of this selection. Matt Moore should return after a relatively solid if not spectacular season. Chad Henne is likely to move on. Miami is likely to be a very interested party should Peyton Manning or Packers back-up Matt Flynn hit the open market.
Other needs which the Dolphins will look to address in the offseason are defensive end, safety, wide receiver and offensive tackle. The highest rated player on the board is Riley Reiff from Iowa. He is a very polished player and could well be the first offensive tackle off the board. His addition would ensure that the offensive line would be a fearsome unit for years to come. He would play right tackle for the Dolphins with Jake Long remaining on the left side.
Alternative Selections – No. 1 Melvin Ingram, No. 2 Michael Floyd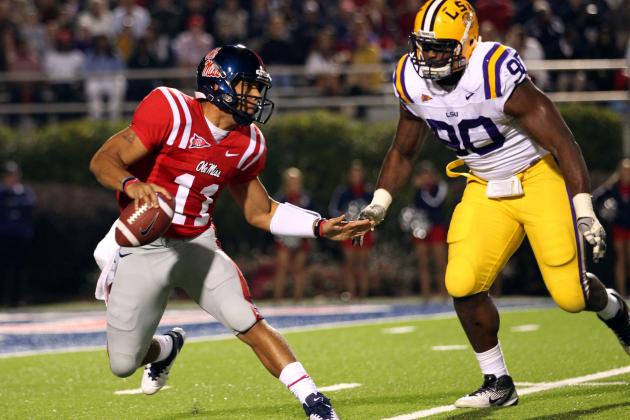 Joe Murphy/Getty Images

Carolina showed a lot of promise in Cam Newton's first season as the starting quarterback. Steve Smith had a career renaissance catching passes from 2011 No. 1 overall pick. The offense should continue to improve as Newton gains more experience. The defense, however, needs to be upgraded, and this is where Carolina will shift its focus in the offseason.
The Panthers have needs at defensive tackle, defensive end and cornerback. Michael Brockers would be a tremendous building block for the Panthers at defensive tackle. He has tremendous size and length. Brockers is only scratching the surface of his considerable potential. His run-stopping abilities would be welcomed on a defense that struggled in this area in 2011. He should continue to develop as a pass-rusher as he gains more experience and gets stronger.
Alternative Selections – No. 1 Dre Kirkpatrick, No. 2 Michael Floyd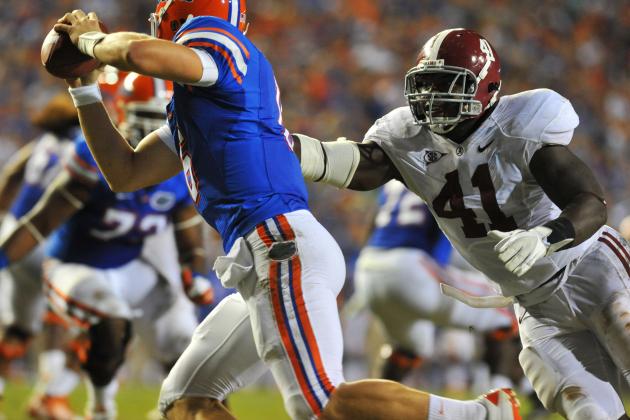 Al Messerschmidt/Getty Images

The Buffalo Bills are a rebuilding team with an awful lot of holes on both sides of the ball. It remains to be seen whether Ryan Fitzpatrick can justify the contract extension he received from the team after his bright start to last season. Wide receiver Stevie Johnson is a free agent whom the team will try to re-sign. He will be tough for the team to replace if he goes.
The biggest need on the defensive side of the ball is at outside linebacker. Shawn Merriman has been a bust for the Bills. Buffalo will jump at the chance to select Courtney Upshaw if he falls to it. The Crimson Tide linebacker was the most dominant player on a defense that carried Alabama to the National Title. Upshaw has versatility, which will appeal to the Bills. He has vast experience playing linebacker in 3-4 defense under Nick Saban but also possesses the size to play defensive end in a 4-3 if the Bills elected to switch their front.
Alternative Selections – No. 1 Jonathan Martin, No. 2 Michael Floyd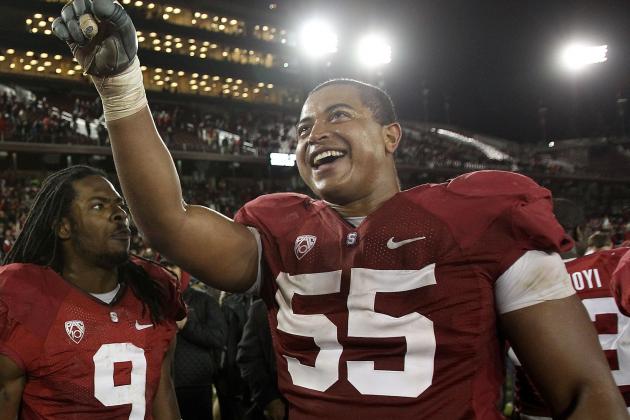 Ezra Shaw/Getty Images

General Manager Scott Pioli enters the offseason on somewhat of a hot seat. The Chiefs seemed to regress last season following a breakout season in 2010 in which they were crowned AFC West division champions. It does have to be taken into account, however, that the Chiefs suffered crippling early season injuries to two of their key players, running back Jamaal Charles and safety Eric Berry.
Pioli has installed his own man as head coach in Romeo Crennel, so the pressure is on for the Chiefs to bounce back. The defense should be good again in 2012, but the offense needs to be upgraded. Jamaal Charles' return to fitness should provide a major boost, but the Chiefs also need help on the offensive line.
Jonathan Martin is a very promising left tackle prospect with a fantastic combination of size and athleticism. He enjoyed a very successful college career serving as the blindside protector for Andrew Luck. His addition would allow the Chiefs to move incumbent left tackle Brandon Albert to right tackle, thus strengthening both positions.
Alternative Selections - No. 1 David De Castro, No. 2 Luke Kuechly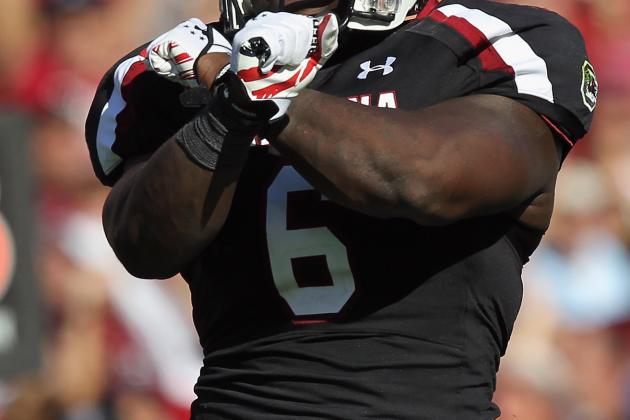 Streeter Lecka/Getty Images

The Seahawks could do with upgrading the quarterback position, though Tarvaris Jackson did perform better than expected last season. They could look at selecting Ryan Tannehill here, with a view to having him sit and gain experience behind Jackson for a year or so. This is probably a bit early for Tannehill though. The Seahawks would be better served packaging picks to move up into the late first if they are interested. They have a chance to select an impact starter here at a number of positions.
The Seahawks defense performed well last season but did struggle to consistently pressure the quarterback. Add in the fact that the line as a whole is aging, and it is apparent that it is a position that could do with an infusion of youth and talent. Melvin Ingram is a versatile pass rusher who has experience rushing from a number of different positions. He has lined up at linebacker, end and tackle for South Carolina, and his size and versatility will appeal to head coach Pete Carroll. Ingram also possesses excellent intangibles.
Alternative Selections - No. 1 Dre Kirkpatrick, No. 2 Whitney Mercilus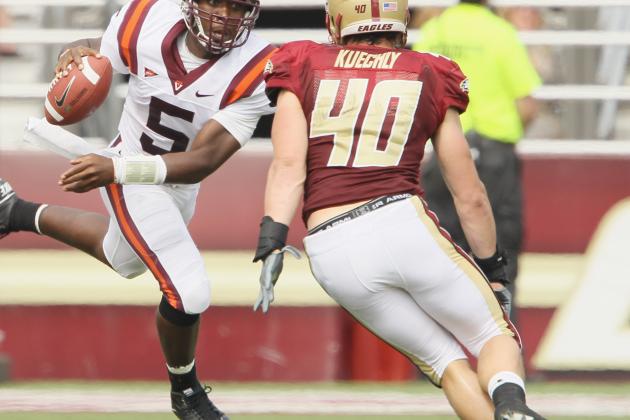 Elsa/Getty Images

Arizona has struggled since reaching the Super Bowl back in 2008. It failed to adequately prepare itself for the post Kurt Warner era. Its struggles at the quarterback position have been well documented. Kevin Kolb is likely to be given another chance to make Cardinals fans forget Warner after his big trade from the Philadelphia Eagles last summer.
Another personnel loss which the team has struggled to recover from is that of Karlos Dansby who departed for the Miami Dolphins. He was a big playmaker for the Cardinals defense, and his leadership has been missed. Luckily for Arizona fans, they have a chance to land an absolutely outstanding middle linebacker prospect in Luke Kuechly from Boston College. Kuechly is a terrific leader and has impeccable football instincts which have enabled him to post absurd tackle numbers during his college career in Boston. His addition would be a massive boost to this defense.
Alternative Selections - No. 1 David De Castro, No. 2 Mike Adams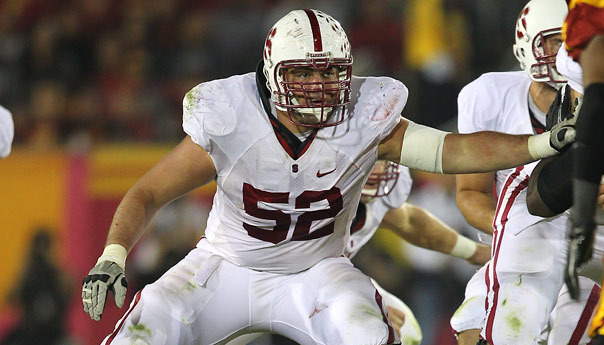 The Dallas Cowboys had an up and down season in 2011. They had some very good performances such as when they went to San Francisco and won. They struggled to maintain consistency though and were ultimately edged out of the playoffs by the New York Giants. That seems to be the story of the decade for the Cowboys – promised much, delivered little. Entering the offseason, the Cowboys have needs along the interior offensive line and at every level of the defense.
The best player available who fits a need for the Cowboys is David De Castro from Stanford. De Castro is one of the better guard prospects to come along in quite a few years and has the potential to become an elite player at the position.
It is debatable, however, whether Jerry Jones will see fit to bestow consecutive first round picks on the offensive line. The Cowboys selected Tyron Smith ninth overall in the 2011 draft. Jones, who has the unique luxury of being owner as well as general manager, is very fond of the splash pick.
Alternative Selections – No. 1 Mark Barron, No. 2 Dre Kirkpatrick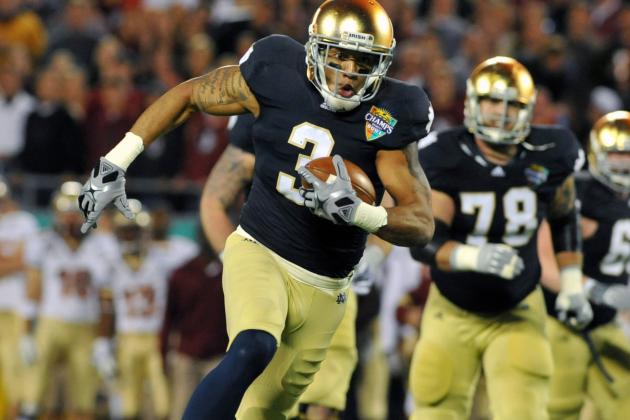 Al Messerschmidt/Getty Images

No team in the NFL received more hype entering last season than the Philadelphia Eagles. Unfortunately for Eagles fans, the team rather spectacularly failed to live up to expectations. The reason for all the hoopla prior to last season is that this roster is loaded. It remains to be seen whether Andy Reid can pull it all together this season.
The Eagles could use an upgrade at linebacker, but with Luke Kuechly off the board, I have them opting for Notre Dame wide receiver Michael Floyd here. DeSean Jackson is out of contract and is unlikely to be brought back. Floyd could come in and take Jackson's starting job opposite Jeremy Macklin immediately. Floyd's size and physicality would be a tremendous addition to the Eagles high-flying offense, particularly in the red zone where they struggled at times last season.
Alternative Selections - No. 1 Mark Barron, No. 2 Mike Adams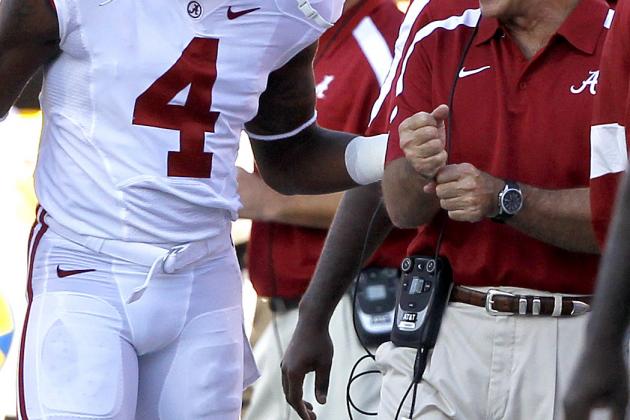 Butch Dill/Getty Images

The New York Jets unravelled as the season progressed and were a team in turmoil by the season's end. Rex Ryan promises to have a very busy offseason trying to right the ship. The Jets have many very talented players on their roster but they also have many holes and questionable depth. The Jets have needs at just about every position with the exception of quarterback, centre and cornerback.
Perhaps the biggest weakness on the team lies at safety. Jim Leonard is a free agent, and Eric Smith should not be starting for any team in the NFL. That is not ideal in a division that houses New England Patriots tight ends Rob Gronkowski and Aaron Hernandez.
Alabama safety Mark Barron is a complete safety who excels versus the run but can also play the deep half of the field. His size will enable him to match up with opposing tight ends. He was a four year starter at Alabama and should contribute immediately in the NFL.
Alternative Selections - No. 1 Mike Adams, No. 2 Kendall Wright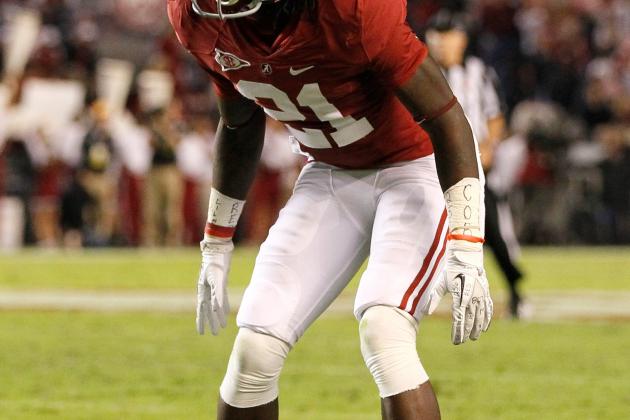 Kevin C. Cox/Getty Images

The Cincinnati Bengals had a tremendous season in 2011, securing a playoff berth in Andy Dalton's first season as the team's quarterback. They enter the offseason in a position of strength. The Bengals have a very good core of young promising players to build their team around. AJ Green, Jermaine Gresham, Geno Atkins, Carlos Dunlap and Leon Hall should ensure this is a franchise trending upward for the foreseeable future. Armed with first round selections in the draft, the Bengals are well equipped to address any weaknesses on the roster.
Jonathan Joseph departed for the Houston Texans last season, and he has yet to be replaced. The Bengals like to be aggressive in their play-calling, so it is important that their corners can hold their own. Kirkpatrick has tremendous size for a corner and offers some positional versatility as well, because he has the size to play safety.
Alternative Selections - No. 1 Kendall Wright, No. 2 Whitney Mercilus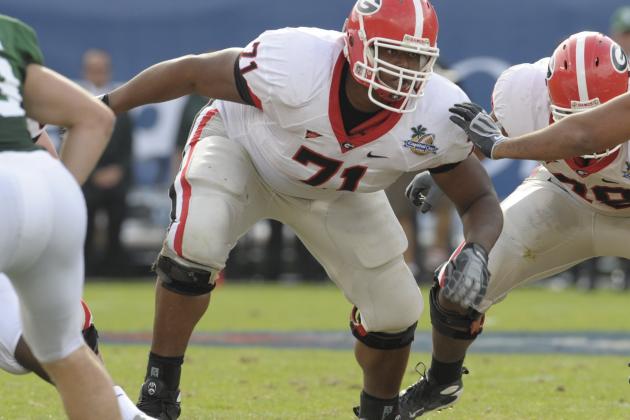 Al Messerschmidt/Getty Images

The Chargers biggest concerns entering the offseason lie on the offensive side of the ball. Vincent Jackson is a free agent. The Chargers have expressed interest in keeping him, but they will have to break the bank to do so. Their three best players along the offensive line (left tackle Marcus McNeill, guard Kris Dielman and centre Nick Hardwick) are all old, injury-prone or both. A major overhaul is needed there. They could also use a safety to pair with Eric Weddle and an outside linebacker to help take the load off Shaun Phillips.
Cordy Glenn would be a tremendous addition to the Chargers offensive line. He has played every position along the line at Georgia, and his positional versatility would be welcomed in San Diego. He showed at the Senior Bowl that he has the tools to play right tackle in the NFL. He also has the size to make a very good guard where he has the potential to develop into a Carl Nicks type player.
Alternative Selections - No. 1 Mike Adams, No. 2 Whitney Mercilus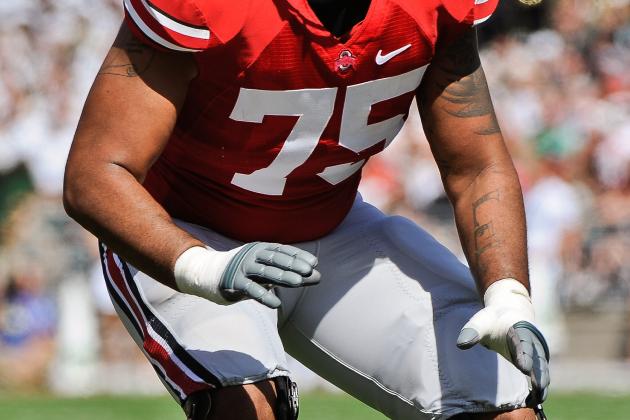 Jamie Sabau/Getty Images

The Chicago Bears have some big issues to address, chief among which is a new contract for star running back Matt Forte. He was exceptional last season as both a runner and a receiver. His loss would be tough to overcome if he was to leave. The offensive line is a weakness. Although the Bears spent a first round pick on tackle Gabe Carimi in the 2011 draft, they need to continue to add talent. A No. 1 receiver for Jay Cutler to throw to should also be a priority.
Mike Adams is a player with tremendous natural ability but comes with some character concerns. He was one of the players involved in the scandal which ultimately led to Jim Tressel being fired. He has done well to rehab his image since though. He played well for Ohio State after serving a six-game suspension. He also had a very good week at the Senior Bowl when he lined against some of the best pass-rushing talents in the country. He could play left tackle for the Bears with Carimi remaining on the right side, giving the Bears a pair of bookend tackles for the next 10 years.
Alternative Selections - No. 1 Kendall Wright, No. 2 Devon Still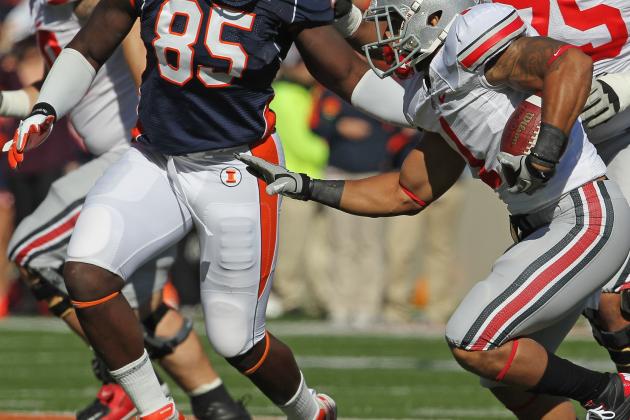 Jonathan Daniel/Getty Images

Chris Johnson surprisingly struggled last season after signing a lucrative contract extension. This has to be concerning for Titans fans because he is by far their best player when playing at his best. Some of the blame for his lacklustre totals has fallen on the offensive line. It is possible the Titans will seek to reinforce it during the draft. There are also issues on defense where the Titans were one of the worst teams in the NFL rushing the passer. 2010 first round pick Derrick Morgan has been a bit of a disappointment thus far. Safety Michael Griffin and cornerback Cortland Finnegan are key leaders in the secondary who are out of contract.
Illinois defensive end Whitney Mercilus had a breakout junior season in 2011, leading the nation in sacks with 16. He is an intriguing prospect with all the tools to be dominant at the next level. The knock on him is he is a late bloomer who had very limited production before last season.
Alternative Selections - No. 1 Janoris Jenkins, No. 2 Devon Still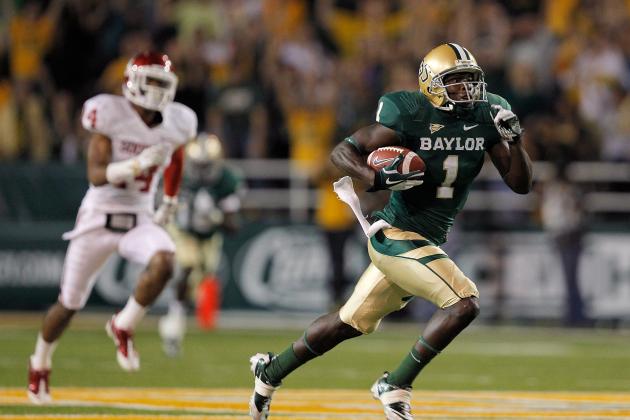 Sarah Glenn/Getty Images

The Bengals filled their cornerback need with their last pick. They can afford to look at offense with this selection. Cedric Benson has not been very dynamic in a Bengals uniform. Running back is a position which the Bengals could stand to upgrade. A wide receiver to play opposite rookie sensation AJ Green is also an option here. Jerome Simpson has been indicted on drug charges and is unlikely to be back with the team next season.
Kendall Wright had a fantastic senior season for Baylor catching passes from Robert Griffin III. He is the most dangerous deep threat in this entire receiving class and would do very well against the single coverage he would see on Sundays with Green on the opposite side. His addition would give the Bengals one of the most explosive offenses in the NFL. He represents better value at this point than any of the running backs available.
Alternative Selections - No. 1 Devon Still, No. 2 Peter Konz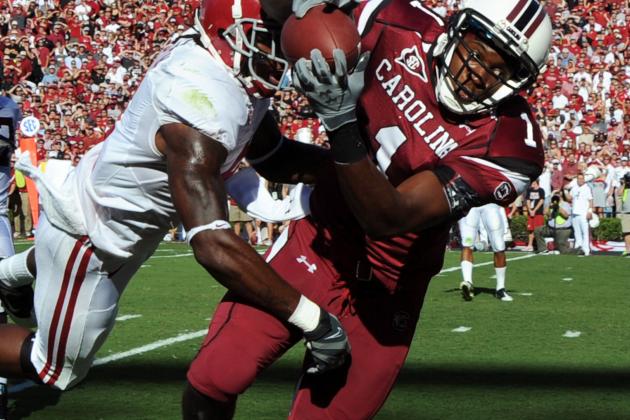 Al Messerschmidt/Getty Images

The Browns got their quarterback of the future with their first pick and now they must provide him with someone to throw to. Greg Little showed promise as a rookie and should continue to improve, but the Browns do not have a true No. 1 receiver on their roster.
Alshon Jeffrey has enormous talent, but his stock has fallen a bit this season. He posted lacklustre numbers this season for South Carolina, though this can partly be attributed to poor quarterback play. His weight and timed speed are two concerns which some scouts have said that he will have to answer at the combine. His talent, however, is undeniable, and he could turn out to be the best receiver in this class if he works to reach his ceiling.
Alternative Selections - No. 1 Janoris Jenkins, No. 2 Devon Still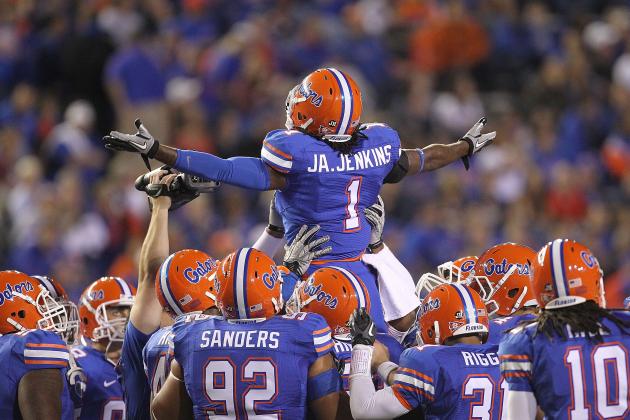 Mike Ehrmann/Getty Images

The Detroit Lions were back in the playoffs in 2011, thanks in large part to their offense, which has become one of the best in the league. Calvin Johnson established himself as best wide receiver in the NFL and Matthew Stafford passed for more than 5,000 yards. The defense, however, despite a fearsome front four, is still a work in progress. This was apparent in the Lions playoff loss to the Saints when the Lions could not contain Drew Brees and co.
The secondary needs to be upgraded, and Janoris Jenkins could help with that. The Lions gave up far too many big plays last season because they did not have anyone capable of covering the opposing team's best wide receiver. Jenkins is a former standout for Florida. He was kicked out of the programme after various off the field transgressions. Character concerns will cause him to fall farther than his talent dictates on draft day, but he would represent great value this late in Round 1.
Alternative Selections - No. 1 Peter Konz, No. 2 Andre Branch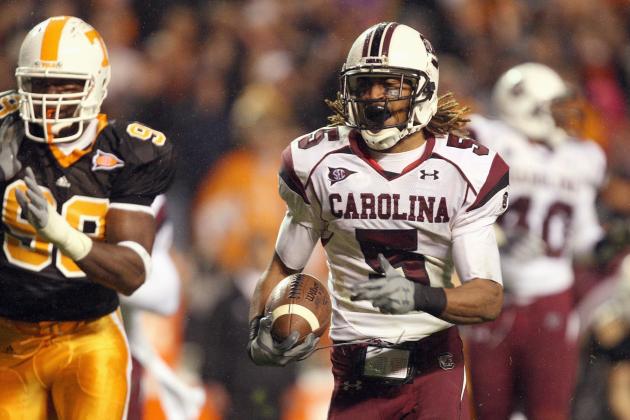 Streeter Lecka/Getty Images

The Pittsburgh Steelers season ended abruptly last season when the team sleepwalked to a surprising loss in Denver. Ike Taylor, Pittsburgh's best cornerback, was torched by Demaryius Thomas highlighting a deficiency in the Steelers defense that was also apparent for all to see in their Super Bowl loss to the Green Bay Packers a year earlier.
Stephen Gilmore is a cornerback whose skill set will appeal to the Steelers. He has excellent speed and size. He is a very physical player who excels in run support. He is a bit raw at times with regard to his techniques in coverage, but this can be improved with sound coaching. With his natural talent, he has the potential to mature into a very good player.
Alternative Selections - No. 1 Nick Perry, No. 2 Dont'a Hightower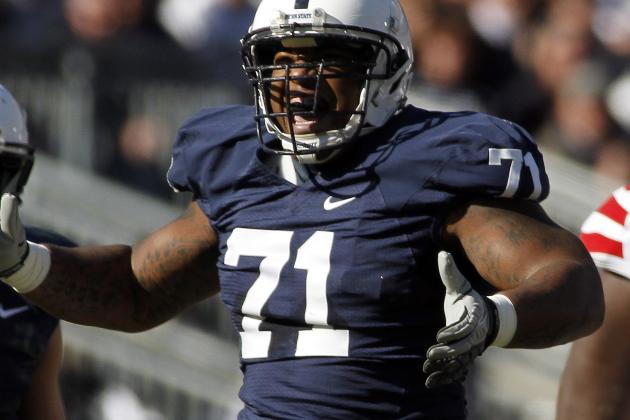 Justin K. Aller/Getty Images

The Broncos had a very promising season in 2011. Von Miller played as well as the organisation hoped he would when they selected him with the second overall pick in the 2011 Draft. He will be a defensive cornerstone for the Broncos for years to come. The introduction of Tim Tebow helped propel the Broncos to the AFC West division title and into the playoffs. However, despite the positives, this is still a roster with a lot of holes. A good draft is essential if the Broncos hope to maintain their progress. Tight end, cornerback and defensive tackle are the key areas the Broncos will be looking to target.
Devon Still represents tremendous value this late in Round 1. He was one of the most dominant defensive lineman in the nation last season at Penn State. His addition would be a big boost to the Broncos run defense. He is a very disruptive player in the passing game and would help to take attention away from Miller and Elvis Dumervil.
Alternative Selections - No. 1 Vontaze Burflict, No. 2 Alfonzo Dennard
Jonathan Daniel/Getty Images

The Texans finally broke through last season, winning the AFC South and making the playoffs for the first time in their history. They did this despite serious injuries to their best players (Andre Johnson, Matt Schaub and Mario Williams) and will be among the favourites to represent the AFC in the Super bowl next season. They have a very strong roster already in place. Williams and centre Chris Myers are both scheduled to become free agents. Williams is likely to receive the franchise tag, but Myers may be too expensive to keep. They could also use an upgrade at receiver across from Johnson and depth in the secondary.
Peter Konz would be an excellent addition to Houston's offensive line. He is by far the top centre in this class and also has the ability to play guard if the Texans resign Myers. He was the key figure in Wisconsin on one of the best lines in the entire country. He has an excellent blend of elite size and athleticism and should develop into a very high calibre NFL offensive lineman.
Alternative Selections - No. 1 Alfonzo Dennard, No. 2 Mohammed Sanu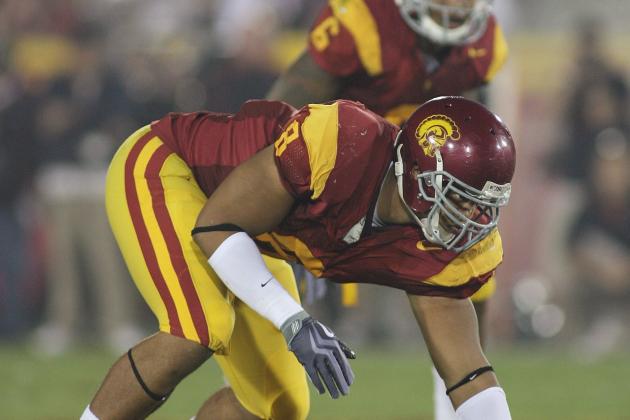 Jeff Golden/Getty Images

The Patriots reached the Super Bowl despite a defense that ranked 31st in the league in yards allowed. Bill Belichick employs a "bend don't break" mentality so their ranking in terms points allowed (15th) is probably a more accurate reflection of their performance during the season. The secondary struggled for much of the season, and reinforcements are needed at cornerback and safety. The Patriots also need to add depth along the defensive line and a pass-rusher. Mark Anderson and Andre Carter, who each recorded 10 sacks last season, are both free agents and are not certain to be back.
Nick Perry had a very strong junior campaign for the USC Trojans, recording 9.5 sacks. He is a very talented pass-rusher, exhibiting an explosive first step and active hands. He is extremely athletic and certainly has the ability to convert from 4-3 defensive end to 3-4 outside linebacker. His versatility will appeal to Belichick who likes to run both defensive fronts.
Alternative Selections - No. 1 Chase Minnifield, No. 2 Andre Branch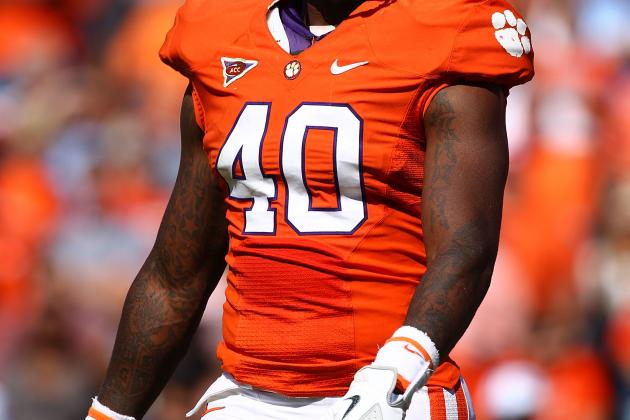 Scott Halleran/Getty Images

As long as Aaron Rodgers is lining out at quarterback, the Green Bay Packers will continue to boast one of the elite offenses in the NFL. They struggled on the defensive side of the ball this season, however, and this caught up to them in their playoff loss to the Giants. Charles Woodson is nearing the end of an illustrious NFL career, and star safety Nick Collins is uncertain to play again after missing the entire season with a neck injury. The Packers also need to upgrade their pass-rush. They struggled to get after the quarterback last season. Clay Matthews is an excellent player, but they do not have much across from him, and he was ineffective at times in the face of constant double teams.
Andre Branch is an explosive pass-rusher out of Clemson with tremendous size. He has all the tools to be a dominant player in the NFL. He struggled at times for consistency during his college career, but the talent is undoubtedly there. He would flourish in the Packers defense opposite Matthews.
Alternative Selections - No. 1 Fletcher Cox, No. 2 Chase Minnifield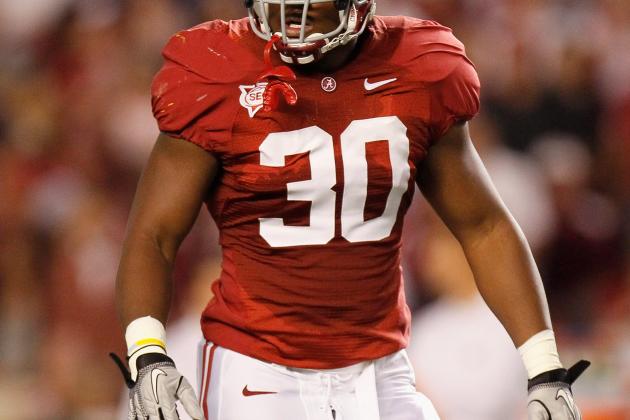 Kevin C. Cox/Getty Images

Future Hall of Famer Ray Lewis is coming to the end of his NFL career, and the Baltimore Ravens need to think about a succession plan for their spiritual leader. The same applies to safety Ed Reed. On the offensive side of the ball, star running back Ray Rice and guard Ben Grubbs are free agents. Rice is likely to receive the franchise tag as he is the best offensive player the Ravens have. Grubbs may be allowed to leave. The Ravens spent gave their other guard Marshal Yanda a substantial contract last season. With new contracts in the pipeline for Rice and possibly Joe Flacco, there may not be enough money to go around.
The pick here is Dont'a Hightower out of Alabama. He is coming off a very successful season as one of the leaders in Alabama's National Championship winning defense. He would be an excellent addition to a Ravens defense looking to add some young talent. He could play alongside Lewis and learn from the master. If that pair were to team up behind Haloti Ngata and Terrance Cody, the Ravens would have the most fearsome run defense in the NFL. Hightower is also a very good blitzer in passing situations.
Alternative Selections - No. 1 Fletcher Cox, No. 2 Vontaze Burflict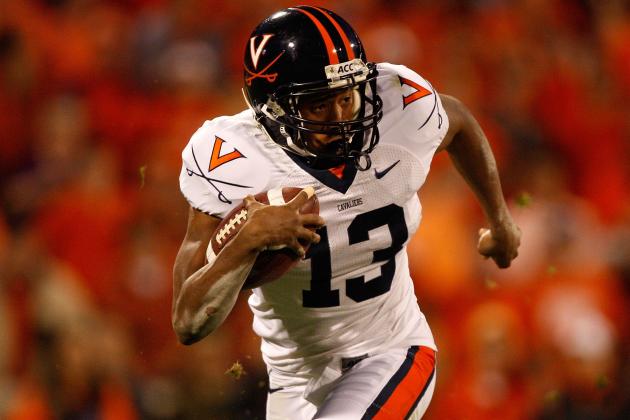 Streeter Lecka/Getty Images

The Niners shocked the NFL last season by going further than any of their most ardent supporters would have envisioned. First year coach Jim Harbaugh did a tremendous job of instilling a winning mentality back into the storied franchise. Harbaugh teamed well with new general manager Trent Balke to make some very good acquisitions prior to the season. They selected Aldon Smith in the draft, re-signed Alex Smith and Dashon Goldson and signed Carlos Rogers and Donte Whitner as free agents. This offseason, their priorities will be to bolster the secondary (Goldson and Rogers are free agents) and find reliable receivers for Smith to throw to.
The best player on the board for the Niners is Chase Minnifield from Virginia. He has impressive size and speed for the position. He possesses good ball skills and has the ability to be a playmaker in the secondary for San Francisco. He needs to get a bit stronger to be able to handle NFL wide receivers but this will come naturally once he gets into an NFL programme.
Alternative Selections - #1 Alfonzo Dennard, #2 Mohammed Sanu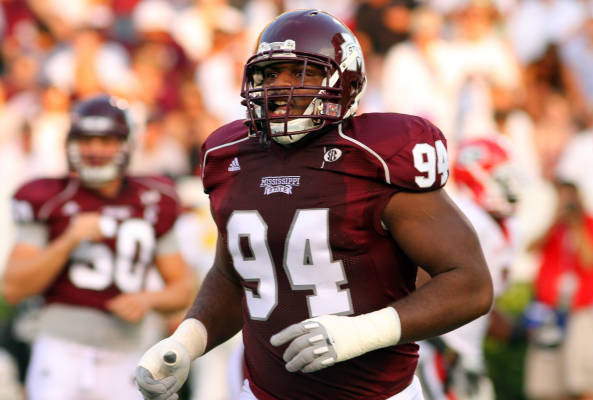 After picking up a pass-rusher with their earlier selection the Patriots can look to fill other needs with their second selection. Vince Wilfork is the only constant on the defensive line for the Patriots. They have some promising young players such as Kyle Love, Brandon Deaderick and Myron Pryor, but there are question marks as to whether any of these can develop into a real impact player. Gerard Warren, Shaun Ellis and the injury-prone Mike Wright are unlikely to be on the roster next year, so reinforcements will be required.
Fletcher Cox had a dominant season in the SEC for Mississipi State. He has the ability to play the five technique in the Patriots 3-4 alignment but also could kick into defensive tackle when the team switches into a 4-3. He has an excellent first step which enables him to be a disruptive force in the backfield. He has the frame to add more weight and become stronger against the run. He could play an effective role initially for the Patriots as a third down rusher as he develops the other facets of his game under Bill Belichick.
Alternative Picks - No. 1 Jerel Worthy, No. 2 Mohammed Sanu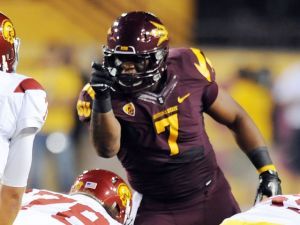 The New York Giants completed a remarkable turnaround in 2011 on their way to Super Bowl glory. After 14 games, the Giants had a mediocre 7-7 record and looked down and out with regard to making the playoffs. The rest, however, as they say is history. Their roster is obviously loaded with talent, but they do have some issues that will need to be addressed. The offensive line as a unit is getting up there in age and will need to be overhauled in the near future. On defense, middle linebacker is a spot where the Giants have had a lot of turnovers since Antonio Pierce retired. They need to solidify that position.
Vontaze Burflict is a fantastic talent who could be exactly what the Giants are looking for. He is an explosive hitter with excellent range. He is a very fiery player who plays the game with a fierce passion. This, however, can lead to him losing control of his emotions on game days and could contribute to him falling a bit on draft day. He is a Pro Bowl calibre talent who would represent excellent value this late in round 1.
Alternative Selections - No. 1 Zach Brown, No.2 Lamar Miller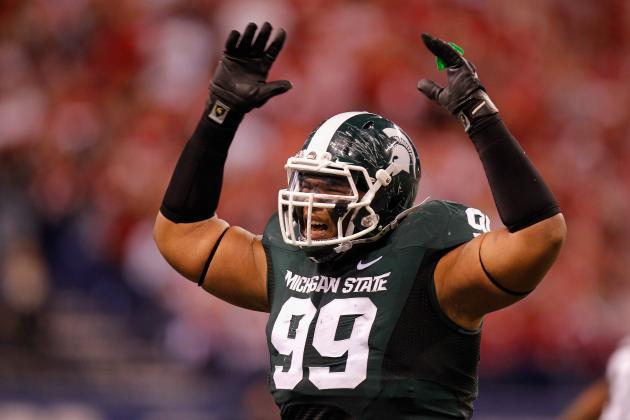 Gregory Shamus/Getty Images

St. Louis Rams – Jerel Worthy, DT, Michigan State
Indianapolis Colts – Alfonzo Dennard, CB, Nebraska (5-10, 205)
Minnesota Vikings – Mohammed Sanu, WR, Rutgers
Tampa Bay Buccaneers – Lamar Miller, RB, Miami
Cleveland Browns – Zach Brown, OLB, North Carolina
Jacksonville Jaguars – Rueben Randle, WR, LSU
Washington Redskins – Ryan Tannehill, QB, Texas A&M
Carolina Panthers – Leonard Johnson, CB, Iowa State
Buffalo Bills – Dwayne Allen, TE, Clemson
Miami Dolphins – Coby Fleener, TE, Stanford
Seattle Seahawks – Brandon Weedon, QB, Oklahoma State
Kansas City Chiefs – Dontari Poe, DT, Memphis
Dallas Cowboys – Vinny Curry, OLB, Marshall
Philadelphia Eagles – Brandon Thompson, DT, Clemson
New York Jets – Juron Criner, WR, Arizona
New England Patriots - Jamell Fleming, CB, Oklahoma
San Diego Chargers – Orson Charles, TE, Georgia
Chicago Bears – Kelichi Osemele, G,
Philadelphia Eagles – Lavonte David, OLB, Nebraska
Tennessee Titans – Joe Adams, WR, Arkansas
Cincinnati Bengals – David Wilson, RB, Virginia Tech
Detroit Lions – Cam Johnson, DE, Virginia
Atlanta Falcons – Andrew Datko, OT, Florida State
Pittsburgh Steelers – Alameda Ta'amu
Denver Broncos – Jayron Hosley, CB
Houston Texans – Kendall Reyes, DE/DT,
New Orleans Saints – Brandon Washington, G, Miami
Green Bay Packers – Jared Crick, DE/DT, Nebraska
Baltimore Ravens – Zebrie Sanders, OT, Florida State
San Francisco 49ers – Nick Toon, WR, Wisconsin
New England Patriots – Harrison Smith, S, Notre Dame
New York Giants – Doug Martin, RB, Boise State