Floyd Mayweather vs. Miguel Cotto: The First in Mayweather's 154-Pound Trilogy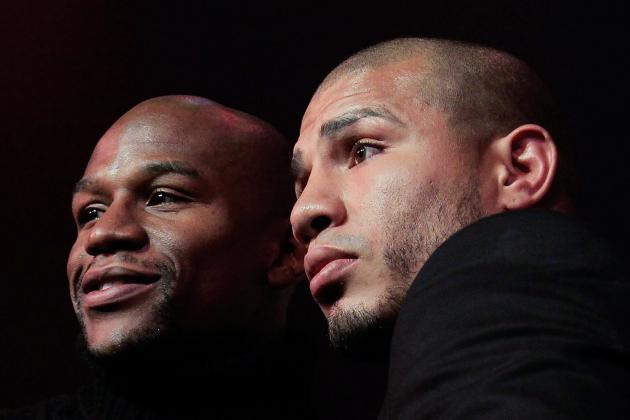 Chris Trotman/Getty Images
Mayweather and Cotto (right)
Floyd Mayweather (42-0, 26 KO) loves numbers. Mayweather loved saying on HBO's 24/7 how he had been "dominating the game 16 years without a loss."
Mayweather loves reciting his perfect record of 42 victories and zero defeats. Is it a coincidence that Mayweather has moved up to 154 pounds to challenge Miguel Cotto on May 5?
Five years ago, on May 5, 2007, Mayweather moved up from welterweight (147 pounds) to junior middleweight (154 pounds) to challenge Oscar De La Hoya (39-6, 30 KO) for a world title.
Mayweather won by split decision, but is a split decision enough to quench a blood-thirsty audience with harsh words for those who don't send their opponents to the canvas?
After De La Hoya, he moved back down to welterweight and knocked out an undefeated Ricky Hatton (45-2, 32 KO) and retired. He would return nearly two years later in 2009.
Mayweather said on 24/7 that he is putting the "finishing touches" on his legacy. If that is true, there is a path that Mayweather could chart this year that could net him new levels of fame, fortune and critical acclaim.
That path could begin and end at 154 pounds, in one year and three fights.
Begin Slideshow

»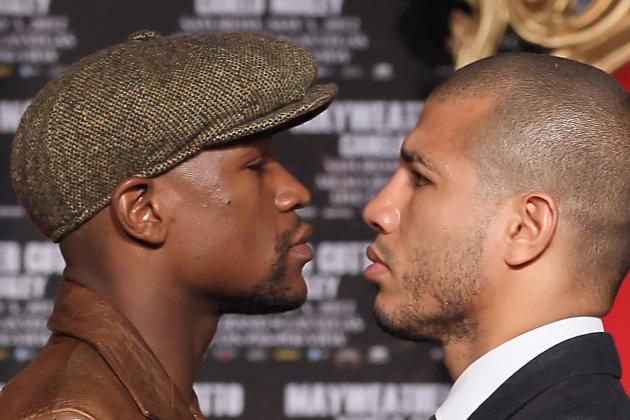 Jeff Gross/Getty Images
Floyd Mayweather (left) vs. Miguel Cotto (right)
Mayweather is facing a 31-year-old Miguel Cotto on May 5. Mayweather is four years older.
When Mayweather first stepped up to 154 pounds, he was 30 years old, facing a 34-year-old De La Hoya.
Mayweather received criticism for fighting what was considered an old De La Hoya. Mayweather, at age 35, has yet to be called old by the media.
Should he defeat Cotto more convincingly than he defeated De La Hoya (perhaps by a late-rounds stoppage?), the critics could give Mayweather a lot of credit going into his June 1 jail sentence.
Cotto is also boxing's third-biggest pay-per-view draw, having sold over 600,000 PPV buys in his last fight against rival Antonio Margarito.
That means that not only will this fight be good for Mayweather's legacy, it'll also be great for his pocketbook.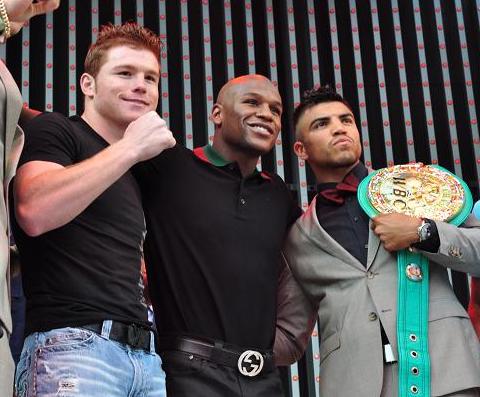 (from left to right) Saul "Canelo" Alvarez, Floyd Mayweather, Victor Ortiz
Mayweather plus an HBO special from prison plus a young and popular undefeated Mexican champion equals money.
Big money.
Saul Alvarez (39-0-1, 29 KO) is possibly Mexico's brightest young star and has stated that he wants to nail down a deal to face the winner of Mayweather-Cotto in September.
But "Canelo" must defeat future Hall of Famer Shane Mosley (46-7-1, 39 KO) in their scheduled bout on the undercard of Mayweather-Cotto, and he must do so in impressive fashion, likely by knockout.
The more impressive the win, the easier it will be to sell to the buying audience that the 21-year-old Mexican can defeat Mayweather. What will make it an easier sell is Mayweather's jail sentence.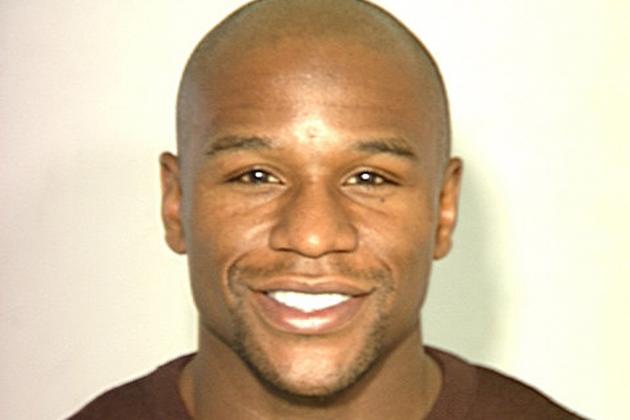 Handout/Getty Images
Floyd Mayweather smiling during a mugshot
Mayweather is sentenced to serve 90 days beginning June 1 for a domestic violence charge, stemming from a September 2010 altercation with the mother of his children.
Mayweather has three days' credit for time already served and could knock 30 days off his sentence for good behavior.
That means Mayweather could be free as early as July 27. Even if he serves his full 87 days, he'll be out by August 26.
HBO could even do a special, longer documentary following Mayweather's training regime and "life epiphanies" from prison.
The special would be similar to the documentary series HBO did for Hall of Fame boxing trainer Freddie Roach called On Freddie Roach.
The show would address Mayweather's ability to train from prison and present an interesting take on his upcoming fight against a 21-year-old Saul Alvarez.
All the while, clips of Alvarez destroying Shane Mosley, as well as Mayweather being wobbled by Mosley in the second round of their May 2010 clash, will be replayed to suggest that Alvarez could be a big problem.
Mayweather's legal team was able to convince a judge to move the start of his sentence from Jan. 6 to June 1, so his team could land extra training time and extended access to coach Roger Mayweather.
The suspense of whether a 35-year-old Mayweather will leave jail the same, mixed with the challenge of an undefeated Mexican warrior like Alvarez, will sell immensely well on pay-per-view.
Mike Tyson sold 1.53 million PPV purchases against a tomato-can opponent in his comeback fight from prison in 1995.
Mayweather's comeback from prison against an actually decent challenge could perhaps inspire enough intrigue to break records as well.
This is not on Floyd Mayweather's radar, but current IBF world champion Cornelius Bundrage (31-4, 18 KO) could set himself up to become a contender by defeating someone he's already beaten once.
Zaubek Baysangurov (26-1, 20 KO) was beaten badly and knocked out in Round 5 during an IBF eliminator vs. Bundrage nearly four years ago. Now, Baysangurov owns the WBO and IBO world titles.
Bundrage complains about none of the other big world champions wanting to face him, such as WBA champ Miguel Cotto or WBC champ Saul Alvarez, but grabbing some extra belts could give incentive.
There are really only four major world titles: WBA, WBC, IBF and WBO. If Bundrage captures the WBO belt to add to his IBF one, then he could lure the WBA and WBC champ into a final unification.
Fighters love racking up accomplishments. Alvarez has already stated that he's seeking to unify with the winner of Mayweather vs. Cotto.
If either Mayweather, Cotto or Alvarez captures and retains the WBA and WBC belts while Bundrage retains the IBF belt and captures the WBO belt, it'll be tempting to do one more fight for all the trinkets.
Sure, Mayweather and Cotto don't NEED any more belts, but why not face one 38-year-old fighter in Bundrage if he's all that stands between having half or having ALL of the major world titles at 154 pounds?
Floyd Mayweather wants fights that redefine his legacy, and if a fight against the almost universally heralded pound-for-pound No. 3 fighter in the world doesn't do it, I'm not sure what will.
Sergio Martinez fights at middleweight (160 pounds) while Mayweather normally fights two weight divisions lower.
With Mayweather moving up one division to face Miguel Cotto, hope for a showdown between Mayweather and Martinez grows. Now it's up to Martinez to meet him in the middle.
Martinez came to fame fighting in the junior middleweight (154 pounds) division only three years ago. Many other experts call Martinez a small middleweight.
If that is so, Martinez could move down this summer or perhaps on the undercard of Mayweather-Canelo to remind the boxing public how effective he can be at 154 pounds.
Erislandy Lara (15-1-1, 10 KO) is a 28-year-old, dangerous Cuban with enough youth and skills to cause Martinez problems, making the fight interesting and giving Martinez a stern test at 154 pounds.
Lara is under the Golden Boy Promotions umbrella, which works closely with Mayweather on the majority of his PPV fights and undercards.
Landing a high-profile undercard slot against Lara on Mayweather-Cotto to generate hype for a future showdown with Mayweather would be quite easy to accomplish.
Martinez is 5'10 with a 75 inch-reach, compared to Mayweather's height of 5'8 and reach of 72 inches. Add the size factor to Martinez's speed, punching power and skill, and an intriguing match is born.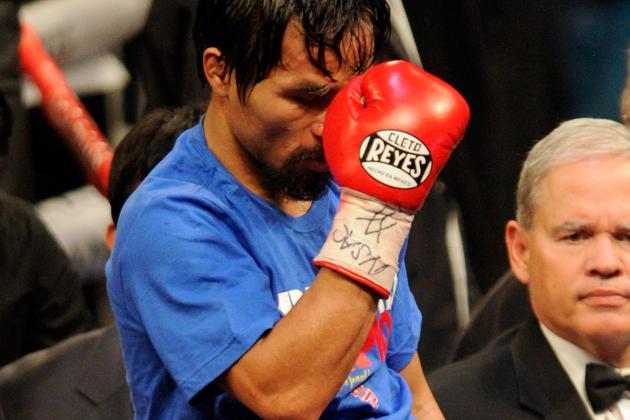 Ethan Miller/Getty Images
Manny Pacquiao
Floyd Mayweather's biggest rival is undoubtedly Manny Pacquiao (54-3-2, 38 KO). This fight could lead to the biggest financial reward of any fight in boxing's history.
The only problem is the egos of the fighters. They both feel inclined to deny the demands of the other, so a meeting between the two is one that may remain in the imagination of boxing fans.
What may happen is a game of one-upping one another in the ring vs. similar or better opponents. Mayweather's 154-pound campaign shows a willingness to compete against bigger competition.
Matchups against this trio of 154-pounders could actually come to fruition, because it would cement Mayweather's name in the history books as the best of this generation without having to even face Pacquiao.
Though boxing fans may always crave a fight that may never happen, they can't be too sad if they can get Mayweather's potentially marvelous 154-pound campaign instead.