NFL Draft 2012: Does Andrew Luck Want to Become an Indianapolis Colt?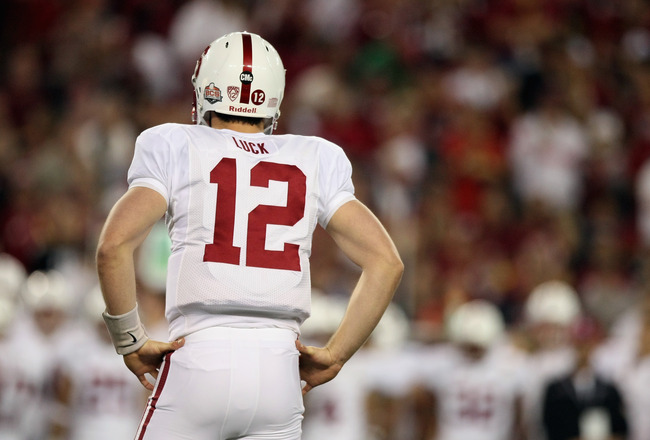 Donald Miralle/Getty Images
Obviously Andrew Luck would like to become this year's No. 1 NFL draft pick. Who in their right mind wouldn't?
Instant fame. Enormous wealth. A lifetime's worth of bragging rights. How many people in the history of the world can say they were a No. 1 draft pick anyway? It's like being one of the astronauts who walked on the moon. Of course Luck wants to join a club that exclusive.
But does he really want to join the Indianapolis Colts too?
The natural downside of going No. 1 overall is that you're practically forced to play for what should by definition be the worst team in the league. It's a downside vastly overshadowed by an abundance of perks and privileges, but it is a downside nevertheless.
Sometimes that handicap proves to be meaningless (Indy's own Peyton Manning is exhibit A). Other times, it wrecks a promising young career before it even begins (Tim Couch, anyone?).
Sure, after the way they played last season the Colts are definitely worthy of their draft position, but is their current state actually so dysfunctional it ought to scare away even the most talented prospect available?
Ultimately that's up to Luck to decide, but that doesn't mean we can't offer to help.
Here's an overview of the situation the best young football player in the nation will likely face this fall, divided into pro's and con's and presented specifically in terms of how they relate to Luck and Luck alone.
When you go No. 1, after all, history has taught us it often helps to look out for No. 1 too, now doesn't it?
Con: The Colts Owner Is Crazy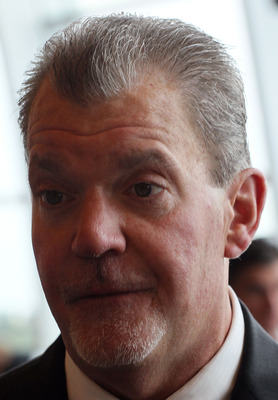 Scott Halleran/Getty Images
Everyone already knew Colts owner Jim Irsay was eccentric, but after all the headline-stealing outbursts he's let loose over the last six months especially, there's now no doubt this guy really is out of his mind.
Ever since Irsay learned quarterback Peyton Manning would not be ready for last year's season opener, he has publicly displayed an attitude and management style that is almost as unprofessional as it is unique.
Irsay creates rumors just as often as he dispels them.
He engages in catfights. He speaks before he thinks. He communicates with the media and fans largely via mysterious jumbled sentence fragments on his Twitter account, and through it he is just as likely to inappropriately break some huge, franchise-altering news story as he is to quote some obscure Grateful Dead lyric for no apparent reason.
If anything ought to scare away a draft prospect with a future as bright as Luck's, it's joining an organization with management issues.
That's not to say Irsay and the Colts haven't been successful. Quite the opposite, in fact, as the run they just buried this past season was one of the most dominant the game has ever seen.
But now that they've transitioned out of that era and into one of rebuilding, now that the flashy win-streaks and deep playoff runs with which the team used to be synonymous are officially a thing of the past, how much confidence can one really have in an owner as unpredictable as Jim Irsay to somehow pull it off again?
For someone like Luck, whose career can pretty much already be labeled greatness-or-bust even at this insanely early stage of it, the answer is probably very little.
Pro: But He Does Make Smart Decisions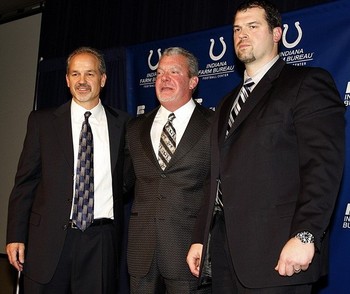 He may be unorthodox, but what Jim Irsay lacks in traditional leadership he makes up for by surrounding himself with wise, trusted experts.
Irsay's best hire was also his first, when he brought in Bill Polian—arguably the best executive in NFL history—shortly after assuming control of the franchise in 1997, but most of his others have been unanimous winners too.
Former coach Tony Dungy, for example, was a huge success in Indianapolis, winning over 75 percent of his games between 2002 and 2008, including a Super Bowl victory after the 2006 season, and Peyton Manning, the last player to be drafted No. 1 overall by the Colts, panned out like few No. 1 picks before him ever have.
Irsay's greatest strength is the quality of personnel around him. He doesn't take chances on risky players and he only drafts guys with character, people he can trust.
Sometimes that means passing up superior talent simply to avoid a potential headache.
Other times that means outperforming an otherwise superior opponent with discipline, determination and cohesion.
Irsay's only priority is what's best for his franchise and he genuinely seems dedicated to making sure it has the tools to succeed. That's why he immediately recognized the need for change this offseason and brought in young, motivated guys like Ryan Grigson and Chuck Pagano to enact it, and that's probably why he considers adding a potential franchise quarterback of the future this April such a necessary acquisition.
Even though Luck might not be overflowing with confidence in Irsay himself at this point, then chances are he at least recognizes this Colts organization has the potential to be great again after the moves the owner has made and the enthusiasm he's displayed throughout this rebuilding process.
So what if that same guy also happens to spend his spare time firing off indecipherable Twitter bombs to the world like an attention-starved 13-year-old?
Pro: You Might Have an Opportunity to Learn from the Best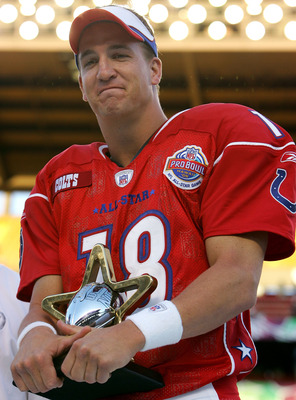 Elsa/Getty Images
It's far too early to say what the Indianapolis roster is going to look like next season, as there's still no guarantee Luck himself will even be on it, but assuming he is and assuming the team is somehow able to shock the world and strike a deal that keeps Peyton Manning in town too, 2012 could prove to be one very interesting year for the young quarterback out of Stanford (like it wouldn't be anyway).
Common sense says there's no way these two can coexist on the same team, purely from a financial standpoint if nothing else.
But if they did, a possibility which just has to still be weighing on Andrew Luck's mind every day with all that's transpired over the last few months, there may be no better situation for a young quarterback to enter than what could be waiting for him in the Circle City this fall.
Peyton Manning is a living legend. He's a record-breaker. A game-changer. An all-timer. The guy has seen it all, he's done it all and he did much of it, after last season we now know for certain, virtually all by himself.
The comparisons between him and Luck are numerous and accurate, and with Manning's guidance, Luck could very well develop into the same kind of indefensible field general Peyton did, possibly even faster than Manning himself.
Manning also performed his stunning weekly little magic show right there in Indianapolis all these years, working with the very same offense Luck is likely to inherent. How convenient is that?
Imagine how seamless this transition could go if No. 18 is still around to show No. 12 the ropes. It'd be like learning how to moonwalk and having Michael Jackson around to offer you some pointers. It's like going to art school with Leonardo Da Vinci. It's such a clear advantage they almost shouldn't even allow it.
And as for Luck, it's an experience that could shape the potential superstar's entire career.
What other team could offer Luck an incentive like that?
Con: You Also Might Have to Battle Him for Playing Time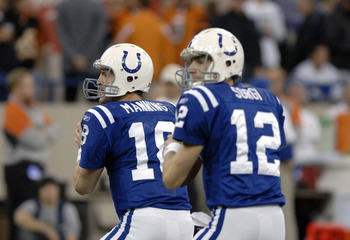 A. Messerschmidt/Getty Images
Of course, as exciting as it must be for a young quarterback to have the chance to play alongside Peyton Manning, let's not forget just what that proposition also implies for Luck's starting status (or lack thereof) next season: Not a chance.
As long as Peyton Manning is physically able to play, no quarterback will be taking snaps ahead of him in Indianapolis, not this year and not any year thereafter.
Peyton Manning is Indianapolis. Take him away and there is no Lucas Oil Stadium, Super Bowl XLVI is played in some other city and Dallas Clark is just some no-name journeyman you've never heard of before.
Peyton Manning is also incredibly reliable. He's overcome injuries before, he's came back from slumps before and unless this team is totally winless heading into December, he will be the starting quarterback and that's just the way it is. The guy is unbenchable. Count on it.
Andrew Luck certainly is, otherwise the young prospect wouldn't already be speculating on how he'd deal with that very situation if he faces it next season.
The opportunity to learn from one of the game's few true masters is great and all, but is it worth sacrificing a year or more of your own precious playing time in order to obtain it?
For a guy as pro-ready as Luck appears to be, the answer just may be "no."
Pro: This Team Is Already Committed to You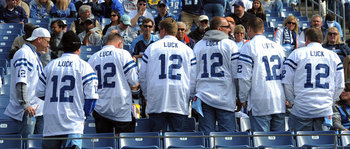 Granted, every team fortunate enough to land a No. 1 draft pick is always excited about its newest member, but rarely has a franchise openly courted a prospect the way the Colts have Luck and never with so much advance notice.
The day we found out Peyton Manning would be missing significant time last season was the day Colts fans first pronounced their love for the versatile Stanford quarterback, whom they already all but knew they'd be welcoming aboard their ship this April.
It was September.
And they were right.
Personalized Andrew Luck Colts jerseys were popping up in Indianapolis as early as October last year, and former Colts Vice Chairman Bill Polian was attending Luck's college games and scouting the sensational prospect as early as September 12th.
For many Colts fans, Luck's arrival in Indianapolis has been inevitable for about six months now and absolutely none of them consider that a bad thing. Luck is an exciting player and Indianapolis, a city used to contending for the Super Bowl year in and year out, is in desperate need of the hope he provides after the way the Peyton Manning empire appears to have crumbled before their very eyes over the past year.
Everyone in Indianapolis is ready to welcome Luck with open arms, and if the guy lives up to even half the hype he's generated as an NFL prospect, he's got a home in Indianapolis for life if he wants it.
Does he?
Con: You'll Have to Follow a Legend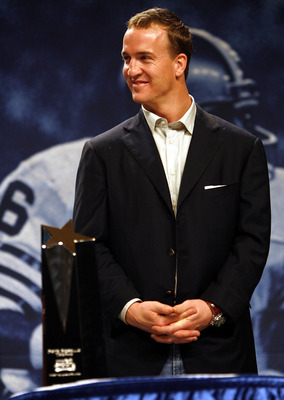 Eliot J. Schechter/Getty Images
Andrew Luck has already been compared to Peyton Manning in every imaginable way, but guess what?
We're only getting started.
If Luck joins the Colts this April, as he almost assuredly will, you should probably go ahead and brace yourself for a good five years of side-by-side analysis comparing these two play-callers right then and there.
Because from that point on, the connections between them will be so strong we'll almost be forced to contrast their careers at every single milestone along the way.
From Luck's standpoint, the comparisons have so far been nothing but flattering.
But will they stay that way nine months from now, after the world will have finally had a chance to see the quarterback play a few games at the professional level, with the stat-line of Peyton Manning's record-breaking rookie season accompanying every throw Luck makes?
Will they stay that way five years from now, after the public will have officially been given the time they need to decide whether Luck is the real deal or not, with the four Pro Bowl appearances, the All-Pro selection and the MVP award Manning had already compiled within that span of his own career lurking in the background?
And even if they somehow do, what happens after that? The longer Luck plays the bigger Manning's shadow comes.
11 playoff appearances. Two Super Bowl appearances. Four MVP awards. More wins over a ten-year span than any player ever, more 4,000-yard seasons than any quarterback ever and enough all-time records to fill an entire wing in Canton.
Before Luck commits to this franchise, he might want to stop a minute and think about just what job it is he's signing up to fill.
If he were to ask a guy like Brian Griese, Quincy Carter or Todd Collins what they would do, for example, he might end up rethinking this whole process.
All three are quarterbacks who took over for future Hall-of-Famers early in their careers (for John Elway, Troy Aikman and Jim Kelly, respectively) and, needless to say, none of them quite matched the success of their notable predecessors.
Does Luck really want to risk going down that same path as Peyton Manning's heir?
Pro: So Will Everyone Else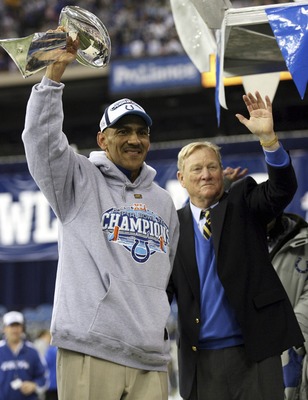 Tasos Katopodis/Getty Images
He may experience more pressure than the others, but Andrew Luck will not be the only Colt with some big shoes to fill if he does join the team this fall.
Indianapolis just finished the most successful regular season run in NFL history and will be operating next season with a completely different cast for the first time in over a decade.
Yes, the challenge Luck potentially faces, replacing the great Peyton Manning, will be inevitably daunting.
But what about Ryan Grigson, the first-time general manager whose predecessor, Bill Polian, is destined to retire as the most talented personnel director in NFL history?
Or Chuck Pagano, a first-time coach who represents Indy's second attempt (so far) to replace Tony Dungy, a universally revered public figure who led the team to playoff appearances all seven years he was in charge and helped bring the city its only Super Bowl championship to date?
Consider too all the voids that might also be left on this team when free agency hits, with established team veterans Reggie Wayne, Robert Mathis and Jeff Saturday all facing potential relocation.
Obviously none of those ventures can compare with what Luck will have in store for him by stepping in for Peyton Manning as the next quarterback of this team, but it has to give the young quarterback comfort knowing everyone else in his new team's locker room will be striving to prove themselves just as much as him.
Pro: This Offense Is Built for a Quarterback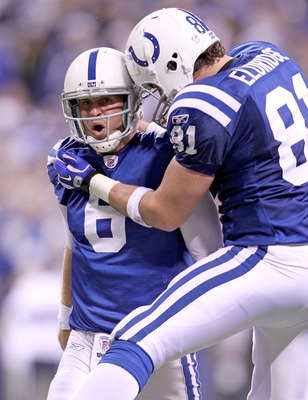 Andy Lyons/Getty Images
As overwhelming as the expectations we all know Andrew Luck will face this fall may be, at least with Indianapolis he'll be joining an offense that's already primed for him to succeed.
2011 was the clearest example yet of just how invested in the quarterback position the Colts organization has been for years.
The general philosophy of this team has been excessively analyzed for quite some time now in the simplest possible terms: Use a high-flying, no huddle offense to build an early lead, then use a speedy defense with a menacing pass rush to maintain that lead.
That philosophy will likely be changing to some degree with the new coaching regime coming in, but to the extent that the team's offense revolves around an excellent quarterback scoring lots of points. With Luck that may not have to change at all.
For some rookie quarterbacks, the notion of running an NFL offense that depends on you to function sounds like a total nightmare.
For others, it's a dream come true.
Look at how well Cam Newton responded last year when Carolina asked him to take the reins of what was the worst offense in the league at the time: All the 2011 No. 1 draft pick did was put together to best statistical season by a rookie quarterback in NFL history and spark the biggest offensive turnaround in franchise history by finishing seventh overall.
Just imagine what Luck will be able to do with an offense that absolutely dominated the last time we saw it play behind a proficient quarterback.
The Colts offense needs a quarterback of Luck's stature in order to succeed and they don't just need him to "manage" the game for them either. They need him to run the show. To play with confidence. To make big plays.
To become a star.
Where else is an opportunity like that going to simply fall into Andrew Luck's lap next season?
Pro: Indy Takes Care of Its Talent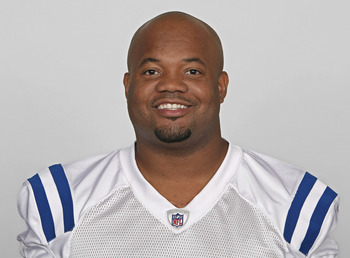 Handout/Getty Images
If you earn your way into Jim Irsay's graces, chances are you're going to stay there for a while.
Peyton Manning would probably be the first to concur, as even though his relationship to the unconventional owner has deteriorated as of late, the superstar quarterback simply cannot deny how openly supportive Irsay has been throughout his illustrious career.
The Colts trusted Peyton so much they gave him a five-year contract extension last summer worth over $90 million even though he'd still yet to heal from his third surgery in three years at the time and even though he'll be 40 years old by the time the deal is up.
Sure, Irsay has no choice but to try and back out of that original agreement now that the situation surrounding Manning has changed so dramatically, but it's not like he's trying to cheat the guy he just agreed to pay a small fortune.
Linebacker Gary Brackett is an even better example of how Irsay, and the Colts, love to take care of their own.
Brackett was an undrafted free agent who joined the team in 2003, worked his way into the starting lineup and eventually became the team's defensive captain in 2006. He's never made a Pro Bowl, you can count his career sacks on one hand and nobody outside the state of Indiana could remember his name even if they wanted to.
But none of that mattered on March 5, 2010, when Brackett was given a five-year contract of his own, his worth $33 million, despite playing a position the Colts have largely ignored with the defensive scheme they've run for years now and despite toiling in relative anonymity outside the Hoosier state throughout his career.
Brackett didn't have to become a household name in order to prove his value, it's something the Colts recognized whether anyone else did or not.
Brackett had notched over 100 tackles in all five seasons as a starter by that point in his career (that streak ended later in 2010). He was a Super Bowl champion with Indianapolis in '06. Plus, off the field he also happens to be a really great guy (he was the 2009 recipient of the Arthur S. Arkush Humanitarian Award for his charity work with underprivileged children). Don't think for a second Jim Irsay didn't notice.
The bottom line is this: When Irsay refers to his personnel decisions as "family" matters, he means it.
And in a cutthroat business like the NFL, that's an environment Luck would be very wise to immerse himself in if he can.
Con: Indiana Is Not Sunny California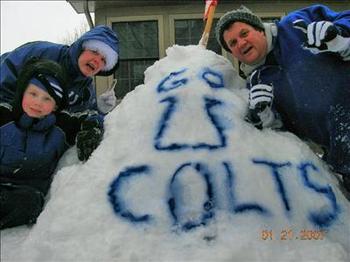 Indianapolis did a fantastic job hosting this year's Super Bowl, but they ought to be sued for false advertising the way they depicted an Indiana February for the whole world to see.
Sorry to burst anyone's bubble, but Indianapolis goes through the same harsh winters every other Midwest city does and sadly, the surprisingly moderate weather conditions it experienced during the Super Bowl were little more than an illusion.
Now the weather conditions near Stanford University that day, where Andrew Luck has been living since 2008, those were what you would call an accurate representation of a local climate this time of year: Partly sunny with a high of 64.
Obviously Andrew Luck has a lot on his mind right now and clearly the last thought he should be entertaining at this point is deciding what part of the country he wants to make his millions of dollars in, but you can't help but assume trivial issues just like this do pop in his head every now and then.
We might talk about him like he's already a pro but let's not forget this kid is still a 22-year-old kid we're analyzing here.
If you were him, how excited would you be about moving halfway across the country to live in a climate far less bearable than what you're used to, fame and fortune aside?
Would it be enough to sway you?
Verdict: A Perfect Fit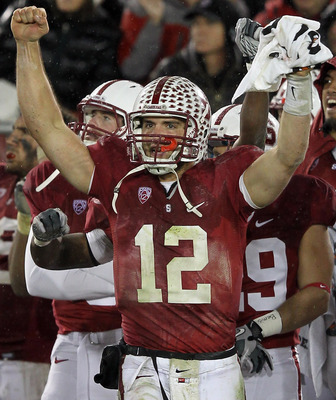 Ezra Shaw/Getty Images
Who knew life as a No.1 draft pick and guaranteed future-millionaire could be so hard?
In truth, it's not.
Andrew Luck is most likely so ecstatic about his future he could probably care less which team gets to field him next season, and there is a distinct possibility he's following this whole Peyton Manning drama with much less interest than we all assume.
More importantly, Indianapolis is actually about as ideal a landing spot as Luck could possibly hope for considering the circumstances and, compared to all the other franchises who typically battle for this No. 1 slot Indianapolis Luck-ed upon (couldn't resist), the Colts are a dream come true.
Luck already seems content with his inevitable placement on the Colts roster. The fan base in Indianapolis is already jumping for joy over his pending arrival. The expectations have been set and the writing, in crossing shades of baby blue and white, is on the wall.
Plus, just in case Luck isn't satisfied with the way the draft order fell, at least he knows things could be worse.
It's not like he's going to the Browns or anything.
Cheer up!
Keep Reading

Indianapolis Colts: Like this team?