Duke vs. UNC: What We Learned About Tar Heels in Loss to Blue Devils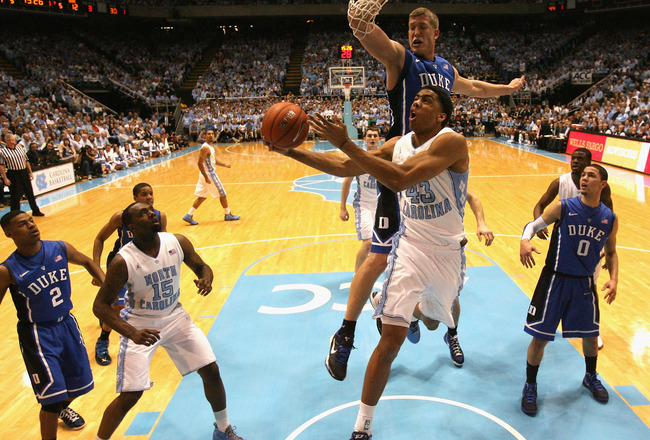 Streeter Lecka/Getty Images
The Duke vs. UNC rivalry holds much for some and little for others.
Last night, it held much for Duke, who made it a three-way tie for first place in the ACC race, and little for Carolina, who took a step back in the battle for the ACC regular-season crown.
The prayers of Blue Devils everywhere were answered when Austin Rivers' shot knocked the air out of the Dean Dome to give Duke the win.
Now it's back to reality for both teams as they still have plenty of conference games left to fight through.
UNC especially needs to refocus after the loss if they have any desire to win the ACC.
The Tar Heels were exposed by Duke, showing some weaknesses that could be a sign of future struggles.
These are some of the issues that plagued the Heels last night:
1. Lack of Killer Instinct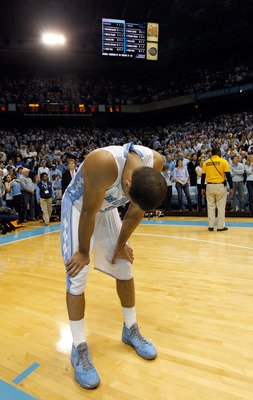 UNC should have closed out in dominating fashion.
Streeter Lecka/Getty Images
This is the big one.
The subject that every media analyst has been harping on since last night's loss is UNC's lack of killer instinct.
It became incredibly clear last night that the Heels, when holding a double-digit lead, were not going to put their foot on the gas and close out the game.
It looked as though it was still in the bag for them to pull out the win, but not in a dominating fashion.
UNC could have and should have won the game by close to 20 points, but complacency late in the second half allowed the Blue Devils to sneak back in the game and steal the win.
2. Perimeter Defense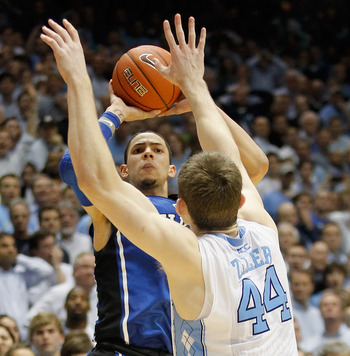 Streeter Lecka/Getty Images
Tyler Zeller cannot be completely blamed for last night's loss, but that doesn't mean he's absolved of all blame.
Duke made three-pointers in bundles and maintained a lead through a majority of the first half.
The Tar Heels didn't make much effort to guard off-the-ball screens, which allowed the Duke guards to get hot and drain some shots from beyond the arc.
Their defense of the three-point line came around in the second half, but wasn't there when they needed it most.
If Carolina is going to make a run in March, they have got to shore up this issue—no excuses.
3. Frontcourt Play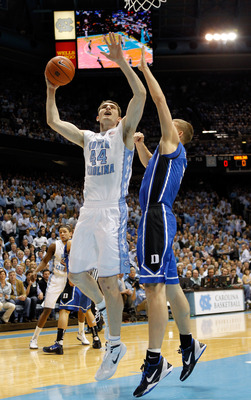 Streeter Lecka/Getty Images
North Carolina's frontcourt is one of the best in the country, hands down.
However, they didn't play like it last night.
There is no reason that John Henson and Tyler Zeller should not have been the stars of that game. Given both had a double-double, which is impressive, but they weren't impressive double-doubles.
They played well, but not at a level we have come to expect from Carolina's big guys.
Zeller and Henson will need to rebound, figuratively, and leave this performance behind them.
4. The Bench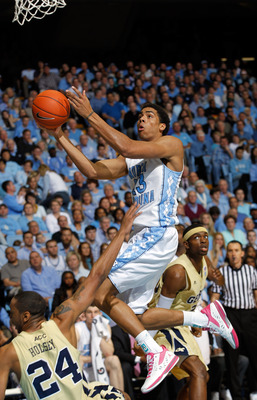 Streeter Lecka/Getty Images
The bench for North Carolina was a non-factor last night, as evidenced by their stat line.
James Michael McAdoo was the only player coming off the bench to score in last night's game.
McAdoo had a solid performance, highlighted with a dunk off of a Kendall Marshall assist.
The flip side of this is that injuries have hurt productivity from the reserves and that is to be expected, but these guys wear Tar Heel Blue because they can play, not because Roy Williams knows their dad.
The reserves will need to play more of a supporting role if the Tar Heels have grand aspirations.
5. Three-Point Shooting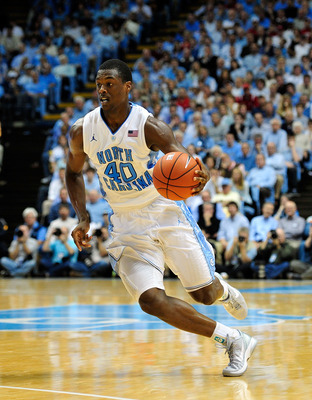 Grant Halverson/Getty Images
This was the shocking stat of the night.
UNC was 1-of-6 (16.7 percent) from beyond the arc.
Recently, Carolina teams have not relied on the three-pointer to win, but have been reliable at it when they took the shots.
Both championship teams in '05 and '09 had solid three-point shooters, which helped them on the way to winning Final Fours.
This team is not as gifted from the three, but that in no way means they can't win a championship
Their focus must be on efficiency from three-point land and making more than one shot in the game.
6. Free-Throw Shooting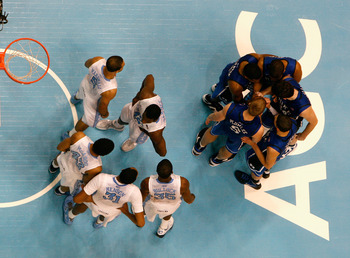 Streeter Lecka/Getty Images
Shooting 21-of-30 (70 percent) from the charity stripe is simply tragic, especially when you lose by one.
The free-throw shooting is a much simpler issue than three-point shooting.
Just make them.
They are not that hard and all it takes is a little practice.
The Tar Heels going 70 percent from the line is unacceptable—even more so when you realize they left nine points out on the floor because of missed free throws.
The trademark of any championship team is that they make their free throws, especially when they count.
With a little dedication, this team could improve on this and be a threat every time they step to the line.
Diagnosis: Refocus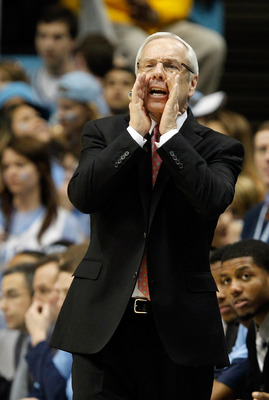 Streeter Lecka/Getty Images
The Tar Heels are a good team and they could become a great team, but they are not there yet.
If they are going to compete with the likes of Syracuse and Kentucky in March, they will need to remedy some of their issues.
They will never be perfect and nor is that a requirement to be champions, but they have to understand their weaknesses and work at improving them, both of which are realistic goals for this team.
Look for Carolina to bounce back from this defeat and close out the season with some marquee wins.
Keep Reading

UNC Basketball: Like this team?