Julian Finney/Getty Images
June 17, 2016
The England national football team is much better off now that Fabio Capello has left and will probably do better at Euro 2012.
Under Capello, the Three Lions never took a step forward, while in reality he should have been dismissed for his steadfast backing of former captain John Terry—the Chelsea centre-back who was a deeply divisive and polemic player not only in the England team, but also among the public.
The former Real Madrid, Juventus, AS Roma and AC Milan coach did qualify for the 2010 FIFA World Cup and Euro 2012, unlike his predecessor Steve McClaren who couldn't get England to a major tournament.
Capello also took England from 11th in the FIFA world rankings when he first took charge, to their current position of fifth ahead of countries such as Brazil, Italy, Argentina, Portugal and France.
Whilst that may seem impressive, the truth is England have failed in his time in charge—no matter what foreign critics say, the players at Capello's disposal had the potential to perform a lot better than they have done.
This is a country that should be competing for major honours again, not struggling to draws with the United States and Algeria.
Post World Cup strides have been made in the England team, and Capello admitted he learnt from the tournament in South Africa.
A disappointing 1-2 home defeat to France at the end of 2010—where debuts were given to Andy Carroll and Jordan Henderson—was followed up by a more convincing 2011.
Impressive wins over Denmark and Wales saw England start well, but they alarmingly lacked urgency as they lethargically struggled to draws against Ghana and Switzerland at Wembley.
They managed to then beat Bulgaria away 3-0 before beating Wales at home and securing Euro 2012 qualification with a point in Montenegro, followed up by friendly wins over Spain and Sweden.
However, there was one thing in 2011 that worryingly stood out from an England viewpoint—these players struggled under pressure.
Widely expected to beat Ghana and Switzerland, just like at the World Cup with the U.S and Algeria, the Three Lions struggled and had to desperately fight for a point.
They started to crumble under the pressure, something Capello was never able to get out of his team.
That was despite the vast majority of his squad being experienced Premier League campaigners.
Ashley Cole, John Terry, Rio Ferdinand, Frank Lampard, Steven Gerrard, Wayne Rooney—all players considered inside the game as some of the best in the world in their positions, yet all failed to live up to the standards they themselves had previously set.
And how did Fabio Capello try to resolve the issue?
Bobby Zamora, Darren Bent, Carlton Cole and even Jay Bothroyd were the type of experienced new players in the England set-up Capello was hoping would shake up the team.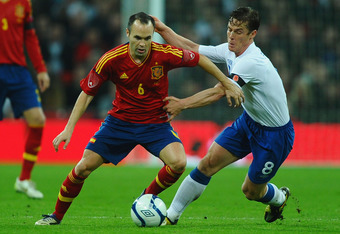 Laurence Griffiths/Getty Images
Needless to say, that strategy backfired, as they too crumbled under the pressure.
Some were successes, though, with Scott Parker proving himself as England captain material and the likes of Ashley Young, Gary Cahill and James Milner becoming key Three Lions players.
However, the Italian maestro refused to place too much emphasis on giving fearless youngsters their chance and presumably thought their inexperience could cost England dearly.
Hence, he blatantly ignored the obvious calls to include Manchester City right-back Micah Richards, who's by far the best right-sided defender England has at the moment.
Capello did place Tottenham Hotspur revelation Kyle Walker in the team, but that inclusion smacks more of the fact there's no other options than the Italian giving youth a chance.
Daniel Sturridge, Danny Welbeck, Tom Cleverley, Jordan Henderson and Chris Smalling are all players who should have had at least three or four caps by now, yet Manchester United forward Welbeck is the highest appearance-maker in that group with three senior England caps to his name.
Capello's stubborn refusal to give youngsters a proper chance lies in stark contrast with Spain, Germany and the Netherlands; three nations who have integrated talented, young players in their team.
The England players mentioned above are 22 barring Henderson and Welbeck.
In the Germany team, ranked third in the world, the players in the current team aged 22 or under who have more caps than the aforementioned Englishmen are—Marco Reus, Toni Kroos, Thomas Mueller, Holger Badstuber, Andre Schurrle, Mario Goetze and Lars Bender.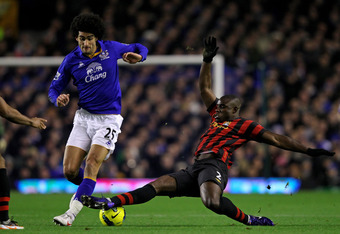 Alex Livesey/Getty Images
The aforementioned England players have seven caps between them—the German players mentioned above have 96 caps between them.
Second-placed Netherlands have five youngsters aged 22 or under in their current team—Kevin Strootman, Luuk de Jong, Jeffrey Bruma, Vurnon Arita and Georginio Wijnaldum.
They have 25 caps between them.
As for current European and world champions Spain, a lot of their main players are at the very peak of their careers, especially the Real Madrid and FC Barcelona players. 
However, the average age of their current team is significantly lower, and they have seven players in their side aged 24 or under, with 142 caps between them.
England also have seven players aged 24 or under in their current team and between them they've amassed 57 caps, which tells its own story.
Under Fabio Capello, the potential of this England team was severely limited.
It's highly unlikely with Capello in charge that promising Arsenal star Alex Oxlade-Chamberlain would have been given a fair chance at senior international level, nor would the likes of Josh McEachran or Ross Barkley been allowed to develop.
His resignation from the England hotseat couldn't have been better for the national team, who now have the opportunity to develop the potential from the country's burgeoning talent pool with the right man in charge.
Harry Redknapp or Newcastle United's Alan Pardew would be great such managers, while current caretaker duo Stuart Pearce and Sir Trevor Brooking would also be ideal with their forward-thinking philosophies on talent.
Either way, Capello's lack of understanding of English players and his antiquated methods to try and resolve issues was hindering the Three Lions significantly.
With a new, hopefully English man in charge, the only way will be up for England.  
Like the new article format? Send us feedback!