Lakers vs. Celtics: Why Marquee Matchup Is Preview of 2012 NBA Finals
February 9, 2012

Ronald Martinez/Getty Images
The Los Angeles Lakers and Boston Celtics meet tonight for the first of two scheduled matchups.
But these two may just be facing one another again after the regular season ends.
That's right, this could definitely be a preview for a NBA Finals matchup.
Each team has just 14 wins right now, but they are loaded with savvy veteran talent that will make sure their respective squads make the postseason.
Plus, it's a whole different set of rules once the playoffs begin.
Here are some reasons why both the Lakers and Celtics are still championship contenders.
Experience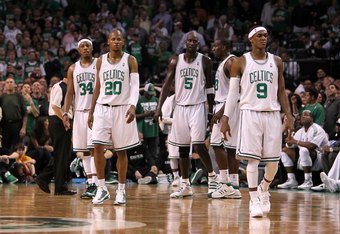 Jim Rogash/Getty Images
In the playoffs, there are no back-to-backs or three games in four-night stretches that hinder these aging franchises and allow younger teams to outrun and outgun them.
You play a game, you get a night off and that will certainly be a major factor in why the Lakers and Celtics, respectively the third- and fourth-oldest teams in the league, will be fresh and ready to compete in every contest come May.
Star Power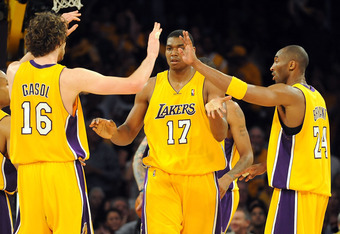 Harry How/Getty Images
Both of these rosters are loaded with talent in their starting five and these teams aren't afraid to give their stars big minutes when their season is on the line. Depth isn't as crucial once the regular season is over.
Boston has their Big Three—Kevin Garnett, Ray Allen and Paul Pierce—along with Rajon Rondo. This group has gone on multiple, deep postseason runs since being assembled in 2007.
L.A. will prove they are still dangerous with Kobe Bryant leading the scoring charge while Andrew Bynum and Pau Gasol dominate in the paint.
If everyone is healthy going into the playoffs, both squads are a force to be reckoned with.
Defense
It wins championships.
The Celtics are first in the league in points against (86.5) while the Lakers are ranked No. 4 (91.0).
When it comes down to it, preventing the opposition from scoring while steadily pouring in buckets is something that both these teams excel at.
It's also what any team needs to do well to make the NBA Finals and a huge reason why this rivalry could be renewed again in June.