UFC on FOX 3: Fights to Fill out the Main Card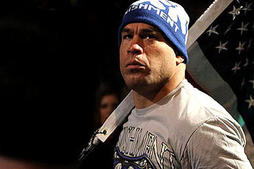 Tito Ortiz/ photo cred: MMAWeekly.com
Recently, the UFC officially announced their third endeavor on the FOX network, where a lightweight encounter between contenders Nate Diaz and Jim Miller will take on main event honors.
UFC on FOX 3 takes place at the Izod Center in East Rutherford, New Jersey on May 5, where a litany of other bouts have already been announced for the card.
Here we will take a look at the bouts that should grace the main card for the organization's pivotal event.
Tito Ortiz/ photo cred: MMAWeekly.com
Begin Slideshow

»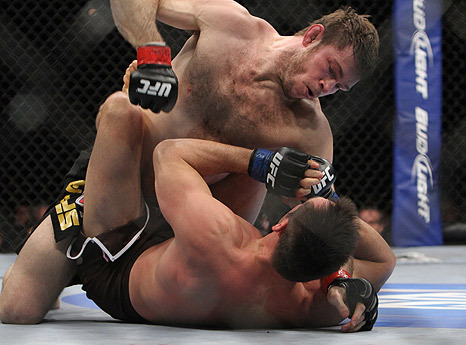 Forrest Griffin (top)/ photo cred: Scott Petersen for MMAWeekly.com
Both men are fairly familiar with one another, and both are on the tail ends of their respective careers.
The light heavyweight rivals first met in 2006, when Forrest Griffin was fresh off his stint on Season 1 of The Ultimate Fighter, where he bested Stephan Bonnar in the show's finale.
Ortiz edged Griffin in a contentious decision, though the TUF vet wowed the MMA world with his incredible performance, which many believed should have resulted in a win for the Las Vegas fighter.
After Griffin had earned the organization's light heavyweight crown, the Xtreme Couture product suffered decisive losses to Rashad Evans and Anderson Silva, though he bounced back when he took his own split-decision victory over Ortiz, besting "The Huntington Beach Bad Boy" in yet another gutsy performance.
Now having split victories, both men should put the finishing touches on their nearly six-year rivalry.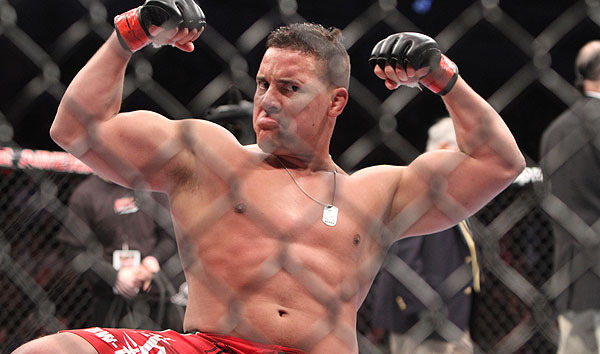 Pat Barry/ photo cred: Jeff Cain for MMAWeekly.com
A previously announced heavyweight collision pitting Pat Barry and Lavar Johnson would be a great addition to the main card for the upcoming FOX event.
Despite neither man garnering the same kind of recognition that fellow peers such as Cain Velasquez, Junior dos Santos, Frank Mir or even Brock Lesnar have cultivated, both Johnson and Barry will quickly become household names should their bout reach the broadcasted portion of the event.
In his UFC debut, Johnson displayed his obvious knockout power when he was able to finish the always-tough Joey Beltran inside of the first round with a bevy of uppercuts.
The "Knockout of the Night" recipient will now be meeting with a K-1 veteran who yields both speed and power in his punches and legs.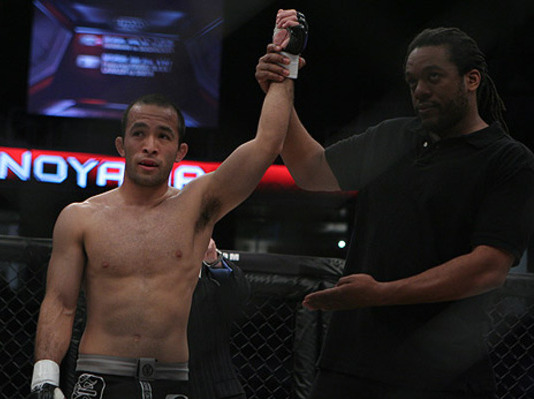 Darren Uyenoyama (left)/ photo cred: Scott Petersen for MMAWeekly.com
Now with the inclusion of the flyweight division, battles such as that of wily fighters Darren Uyenoyama and John Dodson can now be made possible.
The recent winner of The Ultimate Fighter, Dodson has displayed adept striking skills, which mesh perfectly with his overall athleticism, though Uyenoyama has shown that his grappling prowess can neutralize even the most talented of opponents, including Norifumi Yamamoto—whom Uyenoyama defeated in his UFC debut.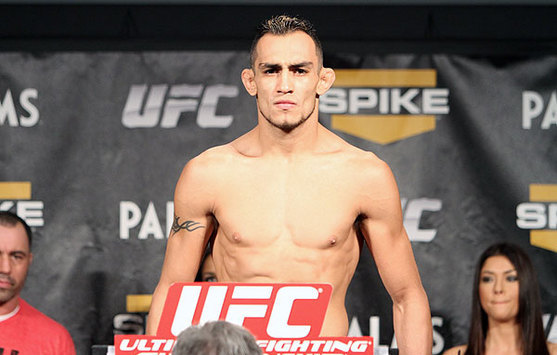 Tony Ferguson/ photo cred: Scott Petersen for MMAWeekly.com
In a lightweight tilt, Tony Ferguson will take likely his last test before moving up to the upper echelon of the division when he takes on veteran Dennis Hallman.
The former UFC title challenger in Hallamn recently defeated John Makdessi—a dynamic and heavy-hitting lightweight who was undefeated before suffering a first-round submission loss to the "Superman."
Ferguson, meanwhile, has remained undefeated inside the Octagon since winning Season 13 of The Ultimate Fighter, when he knocked out Ramsey Nijem in the finale.
Since then, Ferguson has defeated both Aaron Riley and Yves Edwards in succession.