Top 10 Worst Commentators & Analysts of the Past 10 Years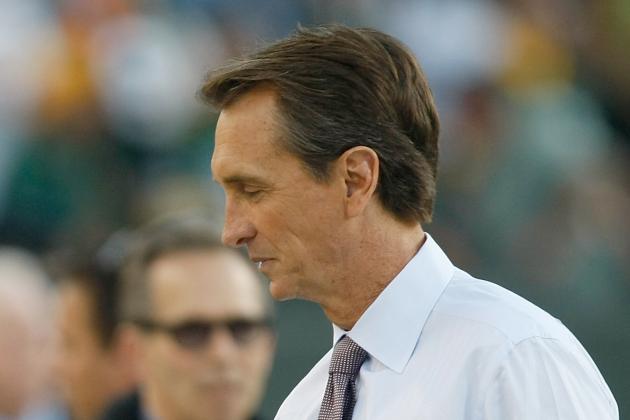 Scott Boehm/Getty Images

We're so familiar with some of them; they may seem like old friends. On game days we invite them into our homes to share their insights as professionals, to describe and enhance the overall viewing product of what it is that's entertaining us. On any other day, they're the analysts that will try to add insight and reasoning to the sports we love. Some have left us with memories that will last a lifetime; many for the wrong reasons.
Any commentator can say something that irritates us, especially if he's talking about our team. Some however, have made themselves stand out among the rest. So here you are America, a salute to the best of the worst, with the top-10 worst commentators and analysts of the past 10 years.
Begin Slideshow

»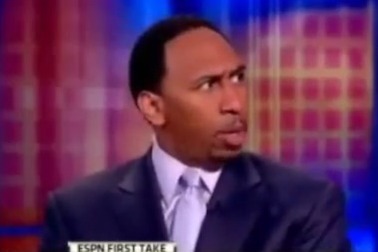 Stephen A. Smith adding dramatics into his reporting style that turn off rather than enhance.
Stephen A. Smith-NBA Analyst, ESPN
Last night was a long night of NBA action. You know that it's looming like a girl with linebacker shoulders waiting for you outside the classroom of your last class of the day. They are at some point, going to go to Stephen A. Smith, and you will be subject to listen to his nasally voice make outlandish judgments about anything from the state of the game to who shouldn't be Tweeting.
Too often, Stephen tries to become the story, rather than report or analyze.
Maybe it was the ending of his short-lived show, Quite Frankly with Stephen A. Smith, where he gave out the wanna-be catch phrase, "It's my house, but you're welcome anytime."
Then again, it could be his declarations that the lockout would end in a week. And then as the weeks pass, he's looking for fresh excuses to try and keep himself from getting buried in the hole he dug. Not the worst, but he found a place on this top 10.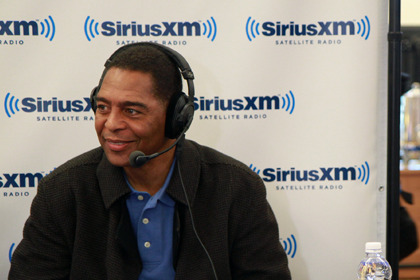 Marcus Allen on the set of SiriusXM's NFL broadcast.
Marcus Allen-College Football Analyst, FOX Sports Net
A great running back in both college and the NFL, Marcus should have perhaps kept his craft reserved for his talents, behind a microphone not being one of them. His non-invigorating elitist attitude would almost be enough in itself to get him ranked on this list, but it is one incident in particular that landed the Heisman winner on this list.
During an in-between game segment of the 2011 season, analyzing who should be playing for the BCS National Championship, Allen's co-host Kevin Frazier asked who should play against No. 1 LSU. Frazier suggested that the country did not want to see a game between two SEC schools and that Oklahoma State or Stanford would be a great matchup.
Marcus was quick and unemotional with his response that it should be the two top-ranked teams, LSU and Alabama. When Frazier proposed to Allen that this game might be frowned upon by fans, Marcus brought up that he was the analyst for a reason. He then asked Fraizer if he'd ever won a Heisman trophy. What followed was several seconds of uncomfortable silence before Frazier gathered his wits and attempted to move on.
Marcus, we know you won a Heisman. Please don't act like this fraternity entitles you to act like an arrogant elitist in front of the whole country. Just stick with what's worked for you in the past.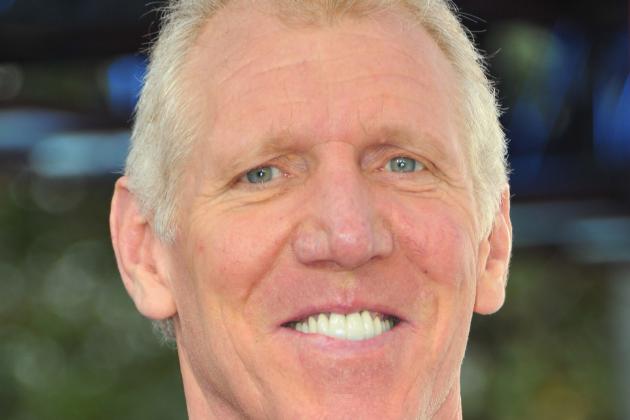 Alberto E. Rodriguez/Getty Images
Bill Walton can ruin any broadcast with his blatant favoritism.
Bill Walton-NBA Color Commentator, TNT
Some people were given natural gifts and abilities for various functions in life. To be a sports broadcaster on television, you either need to have the gift, or be an incredibly hard worker. Bill Walton must have done a lot of work that I don't know about.
His "gooey" voice and presentation style should be enough to keep him off the air, but when you add his history of practically cheering for teams and the wide array of face-in-the-hands quotes to his resume, it's hard to understand what happened. The only thing worse than him being on the air is the guy who decided that he'd be a good fit for TV.
Some of Bill's mangled quotes include:
"If Eric Piatkowski continues playing at this level, he's going to replace Jerry West on the NBA logo."
"John Stockton is one of the true marvels, not just of basketball, or in America, but in the history of Western Civilization!"
"Amar'e Stoudamire! Winner of the genetic lottery!"[1]
Oh Bill, nothing more even needs to be said. You're No. 8.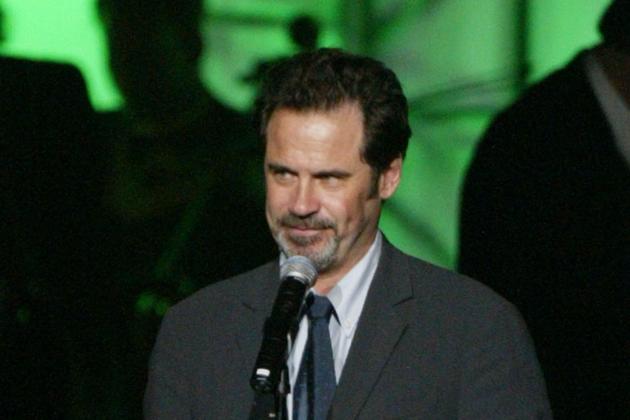 Carlo Allegri/Getty Images
Miller tried to bring a comedic edge to the MNF booth. He was apart of the act, all right.
Dennis Miller-NFL Commentator, ABC Monday Night Football
The move was a train wreck from the start.
The real victim in this situation was veteran announcer Al Michaels, who had to endure the half-hearted shtick of a guy who was totally washed up in the comedic scene.
Miller's relaxed and know-it-all attitude was enough to make anyone just want to pull their hair out. I often times wondered if Miller was more concerned about the game, or which local bar he was going to try and woo some 22-year-old girl at after the show.
Sadly, Dennis sincerely believed that he was bigger than the game being shown. It finally became too much to handle in 2002 after two seasons that the Monday Night Football viewing public will never get back. If we're supposed to learn from history and the mistakes we've made, let us not forget this one.
Miller ends up at No. 7 so that we never forget.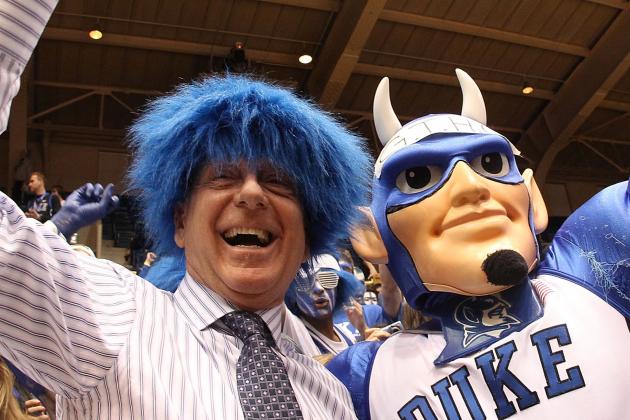 Streeter Lecka/Getty Images
Dick Vitale fishing for a pop from Duke fans at Cameron Indoor Stadium.
Dick Vitale-College Basketball Color Commentator, ESPN
I will give Dick the credit that he is extremely passionate about the game of college basketball, and he was there to help Jim Valvano from the podium after his historic speech at the 1993 ESPY Awards. But that's it.
Cover your ears. For the next two hours, your brain will be subject to the loud, elementary school-level interpretations of the game. "It's awesome baby," or "Ohh! Diaper dandy!" are just some of the "gold" that Vitale has lived by throughout the years.
Sometimes called "Duke Vitale" for his constant sucking up to Duke fans, Dick makes the game nearly unbearable to listen to at times. It's great to know that the game you're watching is the "big game" of the week, but having the mute button handy will help you keep your sanity through the broadcast. Didn't quite crack the top five, but is nestled in quite appropriately at No. 6.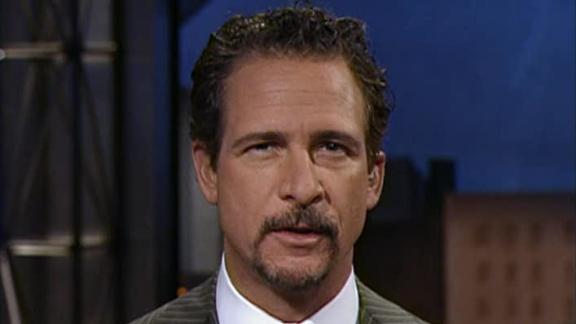 Jim Rome on the set of his show, Jim Rome is Burning.
Jim Rome-Sports Analyst, ESPN
As a viewer on ESPN, I realize that I can't fully grasp what drives Jim and his motivations for his show. But what comes across is that he's a "little man syndrome" guy that hides behind the goatee he'll never shave, while delivering the hard-hitting monotone robot sound. Is he having a hard time reading cue cards, or is he trying to do his best impression of William Shatner? Only Jim knows.
He never impressed as a host on FSN and somehow got a show in the dead zone of midday on ESPN. His fans will say that he holds nothing back, and he tells it like it is. If "like it is" is hearing how you're a sub-standard from a guy who is in a constant state of trying to coin a new catch phrase...count me out.
On a side note, Shaquille O'Neal challenged Rome to a boxing match in August of 2010. O'Neal even offered to donate his entire NBA salary to charity if Rome won. Sadly, still no word out of camp Rome. But I'm sure he's just been pumping iron in the gym since he's such a tough guy.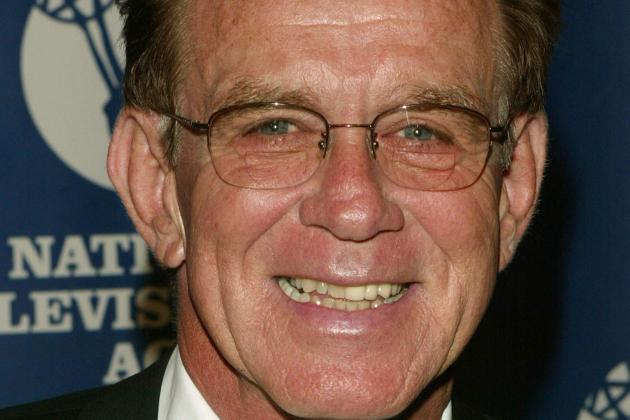 Peter Kramer/Getty Images
Tim McCarver often tries to insinuate a story, that simply just isn't there.
Tim McCarver-MLB Color Commentator, FOX Sports
A good commentator will relay the action of the game to you, often times from an angle that makes you feel like you're apart of the event. McCarver however, is the captain of insinuation. "What the manager is telling the pitcher on the mound right now..." and, "What player X is thinking right now is..." are all apart of his terrible attempts to create something that does not exist.
Perhaps the most memorable of these moments was one that came with immediate justification on the air. During the 1992 MLB Playoffs, McCarver began to criticize Deion Sanders while he was at the plate for playing in both that game and a NFL football game on the same day.
After the game was over, McCarver was in the clubhouse of the NL Champion Atlanta Braves conducting interviews when (after hearing of McCarver's criticism) Deion dumped not one, not two but three buckets of water on McCarver's head. McCarver screamed out, "You're a real man, Deion. I'll say that."[1] Finally, a quote of truth.
McCarver's criticism hasn't stopped there, taking heat for comparing Joe Torre's coaching to how Nazi Germany treated its generals in 2008. Tim was forced to apologize. A solid No. 4 and could be on the move up should he continue his line of work.
[1]"Deion, we hardley knew ye" - ESPN.com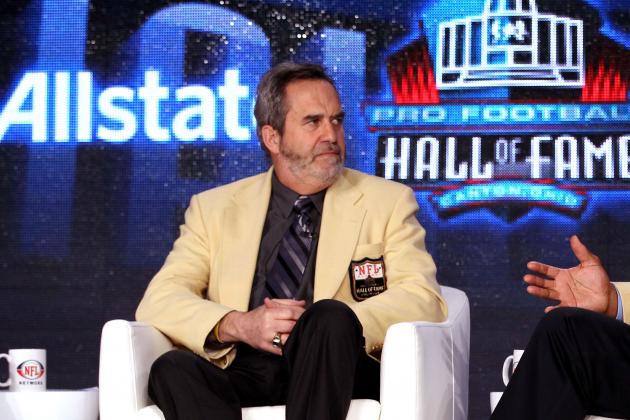 Ezra Shaw/Getty Images
Dan Fouts never won a Super Bowl, but you'd never know that since he may be the best QB ever in his mind.
Dan Fouts-NFL Color Commentator, CBS Sports
It's great to have former players calling the games, as they do introduce a lot of insight as to what is happening on the field, as well as certain situations that they're familiar with. What you get with Dan Fouts, on the other hand, is a self-glorification session in which he is in a constant state of comparing what just happened to a throw he made in 1979.
After bouncing around and not giving it up, Fouts is now on the No. 3 NFL commentating team on CBS[1] with Ian Eagle. He does deliver valid points and stats to fit his arguments, but his constant droning on about his playing career makes him unbearable to listen to and fits in at No. 3 on this countdown as well.
[1]: "CBS Sports to air two NFL preseason games this weekend"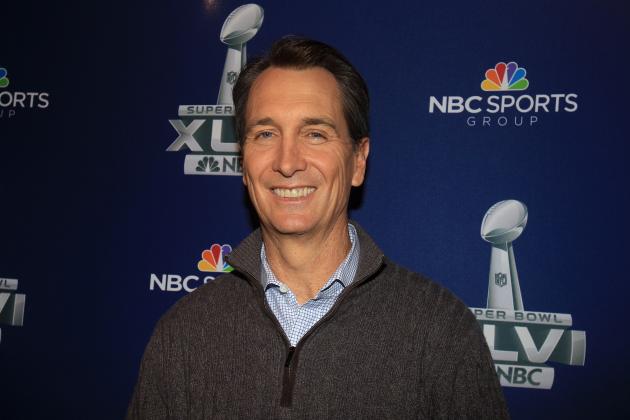 Scott Halleran/Getty Images
Collinsworth is full of failed jokes, terrible analogies, and baseless judgement.
Cris Collinsworth-NFL Color Commentator/Analyst, NBC Sports
You'd be hard-pressed to find a commentator more annoying than the little weasel Cris Collinsworth.
Yes, I realize he played for the Bengals, even making it to the cover of Sports Illustrated. But his physique is more suited to be facing cans on a grocery store shelf. For being on the scene as long as he has, I'm guessing he has to be best friends with the guy who is in charge of his job at NBC.
A great example of Cris can be found on YouTube. The silence after the joke says it all.
In December of 2011, Collinsworth was voted as the worst commentator on television by NFL players in a poll in Sports Illustrated. All we can do is pray that he is removed soon.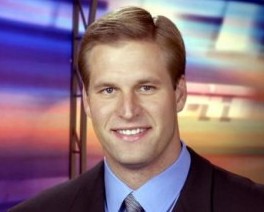 Trev Alberts is the worst TV sports personality of the past 10 years, and maybe all-time.
Trev Alberts-College Football Analyst, ESPN
Nebraska, Nebraska, Nebraska, Nebraska, Nebraska, Nebraska and maybe Nebraska, too.
Hey, did you know he went to Nebraska?
The ultimate delusional homer. You couldn't mention Big 12 sports without him throwing in his opinion about where Nebraska fit in with it. After being fired by ESPN in 2005, Alberts continued to harass the sports viewing public with jobs at TNT and CBS. After failure overtook him on that level, the University of Nebraska-Omaha made a decision they would soon regret by hiring him as their Athletics Director.
In March of 2011, the UNO's regents approved an awful measure from Alberts, who axed their football and wrestling programs, the two programs in which they've won their most recent national championships. Alberts' reasoning was to rejoin the Summit League of Division 1.
Remember how King Midas would touch things and they'd turn into gold? That's kind of how Trev Alberts is, except everything he touches turns into shambles. Trev, your face should be next to "Epic Fail" in some sort of reference book...you are without a doubt, the worst sports television personality of the past 10 years.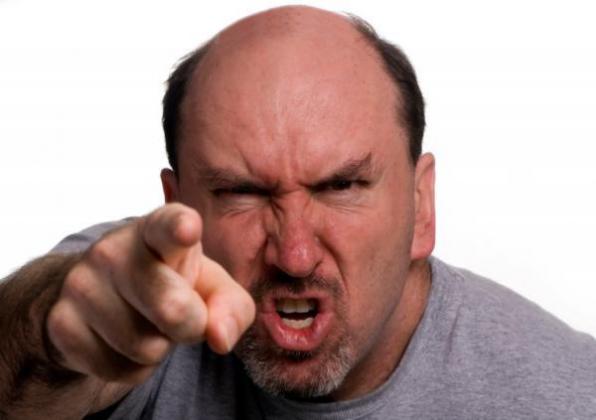 Well, that's the list. Without a doubt, you have seen some commentators that you believe belong on this list, some that were forgotten and maybe you even see one on here that leaves you saying, "But wait, I love that guy!"
Got a problem? Mad? Real mad? Let me know in the comments.