Green Bay Packers: Why Green Bay Should Rebuild Defense in 2012 NFL Draft
February 9, 2012
Jonathan Daniel/Getty Images
The 2012 NFL draft is a little over two months away.
The Green Bay Packers are coming off a 15-1 regular season, and while it may sound crazy to call a 15-1 season a disappointment, getting bounced from the playoffs in the Divisional Round will make people say that.
The biggest issue that the Packers faced over the course of the entire season was their defense. Say what you want about the unit's ability to create turnovers and keep people out of the end zone, the defense is the only reason that Green Bay wasn't hoisting the Lombardi Trophy on February 5th.
This is why the 2012 NFL draft needs to be used to rebuild the entire defensive unit. Every single position needs to be drafted for in this year's draft. 
Of course, outside linebacker is the biggest need. Neither Erik Walden nor Frank Zombo were effective in any facet of the game during 2011. They couldn't put pressure on the quarterback, they weren't overly successful against the run and they struggled in coverage.
Simply put, they need to be replaced.
One prospect that is very intriguing is West Virginia's Bruce Irvin. While raw, he has a fantastic motor and can get after the quarterback.
He reminds me of a rawer version of Clay Matthews as a rookie. He isn't great at anything else, but he can pass rush with the best of them. 
That is exactly what Green Bay needs opposite Matthews. As Matthews becomes a more complete linebacker, the Packers could use a straight pass-rusher that would open up the game for the entire defense.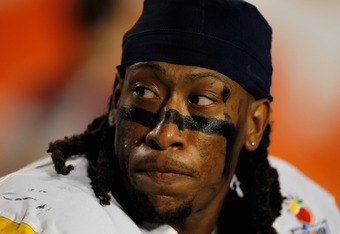 Streeter Lecka/Getty Images
To be honest, I wouldn't mind if Green Bay spent their first two picks on outside linebackers that specialize in rushing the quarterback.
After that, the Packers will still need to address their defensive line and secondary. While these aren't quite as big in terms of needs—especially the secondary—it's still time to revamp both units.
With Mike Neal and C.J. Wilson having a difficult time staying healthy and being effective, a third-round draft pick seems like a smart place to select a defensive lineman. With that pick, I'd also look for a player who excels at getting into an opponent's backfield.
Green Bay mustered only 29 sacks during the regular season, and spending their first three picks of the draft to fix that problem would be wise.
With the secondary, Charles Woodson is getting old and both Sam Shields and Tramon Williams appeared to take a step back in 2011. Plus, Nick Collins' future is still uncertain.
If the Packers don't want to give up another 300 yards per game through the air in 2012, they'll need to draft replacement players. These can be late-round, developmental players who could learn for a year or two before being ready to come in and be effective.
With at least seven picks in the 2012 NFL draft, the Packers would be wise to spend every single one on the defensive side of the football.
Of course, that's only if they want any chance at winning the Super Bowl.