Stefon Diggs: Ohio State? Cog in the Machine. Maryland? Program Savior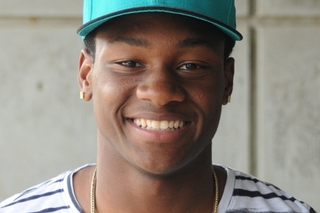 Would you rather be a small fish in a big pond or a big fish in a small pond?
That may be the exact question that wide receiver prospect Stefon Diggs is pondering at this very moment as he tries to find the perfect school to play college football.
Diggs is one of the top wide receiver prospects in this year's class. He has had offers from every top school in the country and would provide an instant impact for any offense. He's a speedy wide receiver, with great hands, elite speed and is a threat to take it the distance every time he touches the football.
The 5-star recruit from Olney, Maryland is a game changer and a play maker. Now he just needs to decide what team should be blessed with his athletic ability.
Diggs will likely make his decision Feb 10 and he is considering schools like Auburn, Maryland, Florida, and Ohio State. Even Virginia has an outside shot. When looking at these schools you see one that really doesn't belong with the others. And of course I'm talking about Maryland.
Auburn, Florida and Ohio State are all big name schools and have a fantastic winning tradition. Maryland has a 13-24 record in the last three seasons combined. If either one of those three schools had a brutal three years like that, you'd think it was the Great Depression all over again. Fans would be jumping off buildings and running into oncoming traffic.
The three powerhouses on Diggs' list have great talent all over the ball. We can't say the same about the Terrapins, who finished the year with only two victories and had a decent, but not great recruiting class. Diggs would by far become the most talented player on the Maryland roster.
For any other team he's considering, he'd just become another player on the field that's talented.
Ohio State has had wide receivers like Santonio Holmes, Cris Carter and Terry Glenn. Auburn counts among its former players guys like Pat Sullivan, Bo Jackson and recently Cam Newton. And of course Florida had some guy named Emmit Smith, Tim Tebow and Danny Wuerffel. Maryland has a long tradition of college sports, but the talent really lacks.
If Ohio State doesn't land Diggs, they'll still be fine as a team. Urban Meyer will put 6'4" Mike Thomas on the field and next season will land another top wide receiver to help quarterback Braxton Miller improve. Maryland isn't that fortunate because they're simply not a school that is able to land great recruits. They'll pick up a couple solid players that want to stay in the area, but game changers don't stop by too often.
Diggs is somebody who is considering staying in the area (As Olney is about a 30 minute car ride to the Maryland campus) but he'd probably be the most talented player the Terrapins have picked up in years. These type of moments are why Randy Edsall was pulled away from Connecticut—to land a few great players and eventually turn Maryland into one of the top teams in the ACC.
This is a football program that hasn't experienced much success, even with their first season ever taking place all the way back in 1892. Keeping Diggs in Maryland could actually change the programs future, and not just for the next three to four years but forever. It would show players that it's okay to stay and play for your hometown team and that you don't have to go to the same prestigious schools to become successful.
We recently saw Dorial Green-Beckham stay home as he picked Missouri over schools like Alabama, Florida, Notre Dame and Ohio State. Diggs could become the next player that sticks it to several top schools for a chance to improve the one at home.
He just needs to decide if he wants to be a little fish in a big pond or a big fish in a little pond.

Randy Chambers is a B/R featured columnist that covers college football and the NFL. You can contact him @Randy_Chambers or Randy.Chambers7@yahoo.com.
This article is
What is the duplicate article?
Why is this article offensive?
Where is this article plagiarized from?
Why is this article poorly edited?