MLB Free Agency: 10 Available Veterans Who Can Be Vital to Postseason Rosters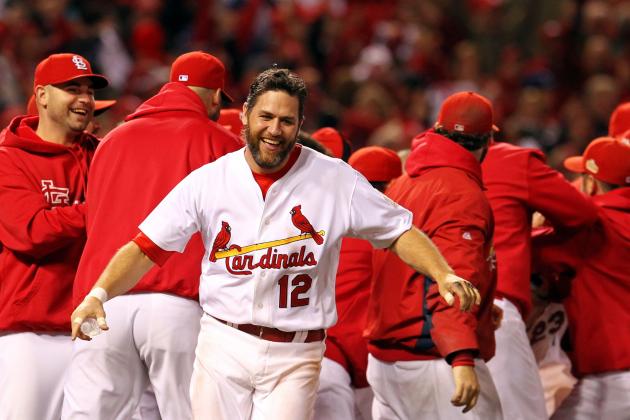 Jamie Squire/Getty Images
Lance Berkman and the Cardinals were flying high after their game 6 World Series win.
Hey, remember how on December 4th, 2010 every single sports media outlet and social media site screamed with news of veteran free agent Lance Berkman signing with the St. Louis Cardinals?
No, well then you probably remember Game 6 of the 2011 World Series. Just in case you don't remember what was one of the greatest postseason games in baseball history, here's a quick refresher.
With two on and two out and a 2-2 count facing elimination and the specter of losing the World Series, Lance Berkman, a slugger who many in baseball felt was past his prime after a down 2010 season, smacked a single to center field which scored the game-tying run.
One inning later, David Freese would lead off with a towering walk-off home run to deep center field to win Game 6 and propel the Cardinals to an eventual Game 7 and World Series title.
When the 2010 season began, Lance Berkman was player who had been a bona fide slugger for 10 years in Houston. With free agency looming and the Astros in a tailspin, he was a prime trade target in the summer of 2010.
We'll never know for sure, but the constant trade chatter may not have sit so well with Berkman—he had a below-average 2010 in Houston, and when he was eventually dealt to the Yankees in midseason, he struggled to adjust to the American League and New York as well.
After the Yankees were eliminated by the Rangers in the 2010 ALCS, Berkman was not re-signed by the Yankees. Instead he accepted a one-year deal with the St. Louis Cardinals. The signing received little in the way of national fanfare, but it was critical to the World Series run that the Cardinals made less than one year later.
As spring training rapidly approaches, the bulk of the big-name free agents have already been signed. There are some remaining veterans who are, for the most part, viewed as "past their prime." Is there another Lance Berkman just waiting to be signed?
Begin Slideshow

»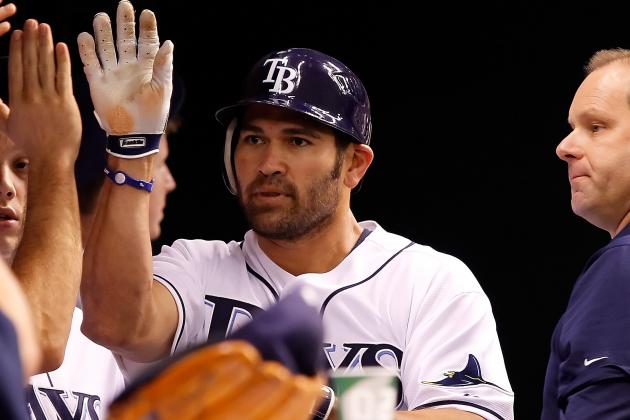 J. Meric/Getty Images
Johnny Damon's bat could come up big in October.
Doesn't it seem like for the better part of this century when you turn on a postseason game Johnny Damon is playing?
That's probably because he has been playing a lot of postseason baseball. Eight times and with four different teams, Johnny Damon has played in the playoffs. His numbers aren't amazing, but he's had some memorable performances.
Red Sox fans, of course, remember his outstanding Game 7 performance in the 2004 ALCS in which he had two home runs and seven RBI, and the Red Sox completed the greatest postseason comeback in baseball history.
Yankees fans remember his heads-up base running in the 2009 World Series. It was the ninth inning of Game 4 and Damon had reached first base after a grueling nine-pitch at-bat against Phillies closer Brad Lidge. Damon would go on to famously steal both second and third base on one heads-up play, and the Yankees would go on to win both the game and the series.
Damon, who was never the greatest outfielder in the game, is now really best utilized as a designated hitter, so the prospect of him landing in the National League seems unlikely.
His bat is still decent. He hit .261 with 16 home runs and 19 stolen bases last season for Tampa. There are plenty of managers who would love to be able to have a guy like Damon coming to the plate in a tight spot in a big game this fall. He'll be signed soon and probably by a team with their sights set on October.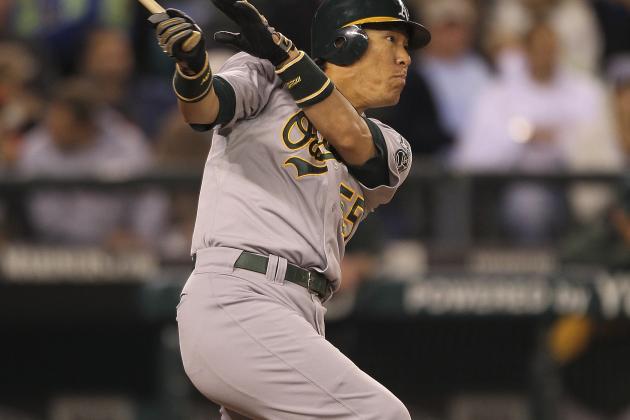 Otto Greule Jr/Getty Images
Hideki Matsui and his bat had a big second half in Oakland last season.
Johnny Damon may have had one of the memorable plays of the 2009 World Series, but the MVP was Hideki Matsui. Matsui hit .615 with three home runs and eight RBI in the series.
It marked the conclusion of a great run by Matsui in pinstripes. Matsui played for the Yankees for seven seasons and was a consistent offensive threat for nearly the whole time.
In 2010, he spent the season in Los Angeles, where he smacked 21 home runs. In 2011, he signed a one-year deal with the Oakland A's.
Playing in an Oakland lineup with very little surrounding offensive support and in a ballpark known for stunting offensive production, Matsui got off to a very rough start in 2011—the kind of start that would cause a lot of baseball observers to wonder if the 37-year-old hitter was nearing the end of the road.
Then the All-Star break happened and all of a sudden Matsui was hitting again. He hit .295 in the second half of the season, and while his power numbers were still off a bit, Matsui finished the season in a groove.
Now he's a free agent again. Matsui is exactly the type of left-handed bat that could flourish in a solid lineup. He'd be a hitter most pitchers wouldn't want to face in a tight spot in a big game. Could he end up back in New York? Would Jim Leyland welcome him to Detroit? Perhaps Mike Scioscia would invite him back to Los Angeles. Odds are he'll latch on to a decent team by the time Opening Day rolls around.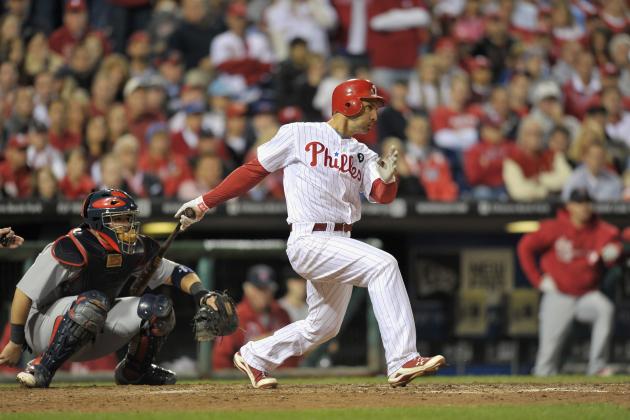 Drew Hallowell/Getty Images
Raul Ibanez hit over 20 home runs last season in Philadelphia.
At 39 years old, Raul Ibanez would seem like a player on the downside of his career. His best years aren't in front of him, but aside from a slip in batting average, his power numbers haven't declined that much over the last couple of years.
He still seems capable of hitting 20 home runs, and in the right lineup could probably approach the 100-RBI mark.
While most teams would prefer to have him as a designated hitter, it's worth mentioning that unlike the previous two veterans listed, Johnny Damon and Hideki Matsui, Ibanez spent most of last season playing left field.
That may have been a product of his spot on a National League roster, and he may end up as a DH this coming season, but he will give whatever team signs him a little more flexibility than Damon or Matsui will. That flexibility could be especially important in a World Series scenario when games in National League stadiums don't feature a designated hitter.
Ibanez has a career OPS over .800 and 20 home-run-power—he's a guy some team will sign for a low-cost contract and get a decent return on.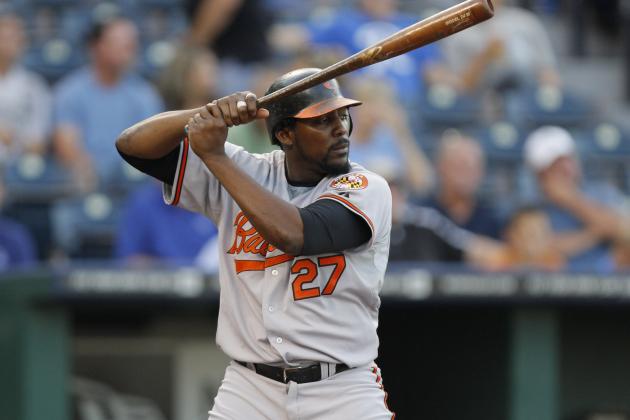 Ed Zurga/Getty Images
Vladimir Guerrero still swings a potentially lethal bat.
He's only going to be a designated hitter, so that's really going to limit his options. Vladimir Guerrero was, at one point, one of the more feared hitters in all of baseball.
That time has passed and, additionally, Guerrero's free-swinging style makes him a bit dated when contrasted with the emphasis on plate discipline and working the count, which many teams expect of their hitters these days.
Guerrero really experienced his first real drop-off in power last season. He had a full season of plate appearances and hit less than 20 home runs. Through 16 major-league seasons, it was the only time he's ever appeared in more than 100 games and hit less than 20 home runs.
At 37 years old, last season could signal the beginning of a decline in Guerrero's production. Then again, maybe Baltimore just wasn't the right place for him? Perhaps if he played in a lineup with more offensive threats he'd see a few more pitches to tee off on and get himself back into the groove he was in in 2010 when he was with the Rangers.
That season he hit .300 with 29 home runs and 115 runs batted in. Guerrero is an intriguing possibility to any team that needs a right-handed bat with some power. More importantly, Guerrero still hit .290 last year, and as a career .318 hitter, he still seems to be able to get enough hits to justify taking a chance on him.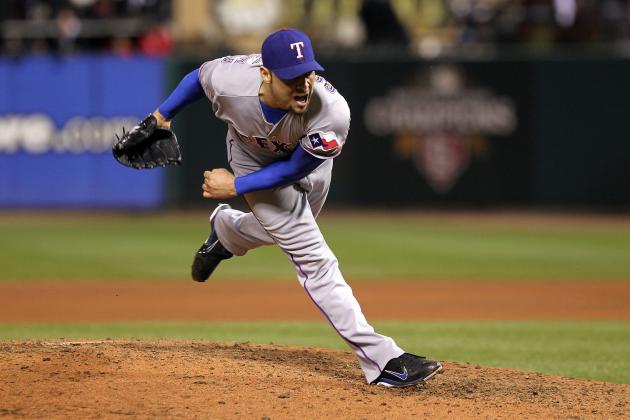 Ezra Shaw/Getty Images
Playoff teams never can seem to have enough bullpen depth.
Every season as the trade deadline approaches, teams on contention seem to be lining up to acquire pitchers. Those pitchers aren't always starters or closers either.
In fact, in recent years it's been middle-relief pitchers who teams in contention seem to be clamoring for. With the ranks of free-agent pitches extremely thin right now, there is still one potentially decent middle-relief pitcher sitting out there unsigned.
Mike Gonzalez has closed before. He hasn't held that role for a full season since back in 2006 for Pittsburgh. He won't be closing again unless it's on a team that has no designs on the postseason. He could still be a decent option in the sixth, seventh or even eighth innings, though.
Gonzalez struggled with both Baltimore and then Texas last season. In the postseason he had only limited success, and that has probably contributed to some of the lack of interest in the offseason.
Still, as spring training draws near, don't be shocked if a team with its eyes on the postseason takes a flier on Mike Gonzalez. It won't be a high-priced contract, but he'll latch on somewhere because there's got to be a team out there that would rather solve, or try to solve, a middle-relief problem now as opposed to in late July.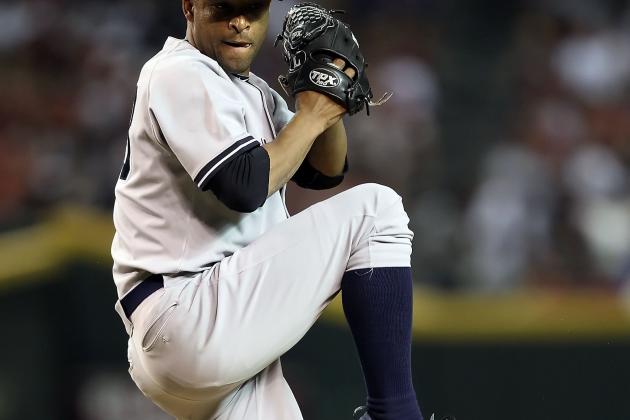 Christian Petersen/Getty Images
Add Damaso Marte onto the short list of decent left handed relief pitchers available.
Damaso Marte was great after the Yankees acquired him from the Pittsburgh Pirates.
He made seven postseason appearances in 2009, and had an earned run average of zero.
Then he started 2010 off a little shaky. He had a serious shoulder problem that required major surgery. That surgery would cause him to not just miss the majority of 2010, but all of the 2011 season as well.
Now Marte is healthy. The Yankees declined their option so he's also a free agent. At 36 years old, Marte won't get big bucks nor will he arrive with big expectations—but if his shoulder is truly recovered, then he's shown throughout his career that he can be an important left-handed presence out of the bullpen.
There's almost no such thing as a baseball team that doesn't want a few decent left-handed pitchers in their bullpen. At some point, Marte will be worked out for a few teams and scouts—if those scouts deem his shoulder healthy and his velocity up to standards, then expect Marte to be signed not too long after.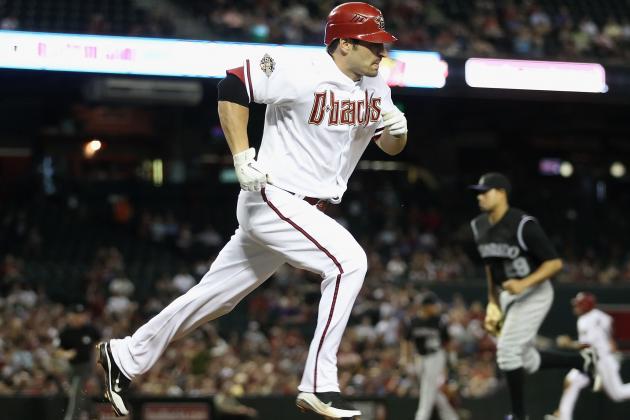 Christian Petersen/Getty Images
Xavier Nady is coming off two lackluster seasons in Chicago and Arizona.
When Xavier Nady was dealt from the Pirates to the Yankees in 2008, he was known as a pretty good hitter.
That was a well deserved reputation, too. Nady had 12 home runs and 40 RBI in only 59 games for the Yankees in the second half of the 2008 season. Then an injury caused him to miss nearly all of 2009.
Nady still hasn't really bounced back from that injury. He returned to baseball as a Chicago Cub in 2010 and experienced only moderate success. He was on the Arizona Diamondbacks last season and played a part-time role in which he started only 54 games.
He's only 33 years old, so there's still enough time for Nady to experience a bit of a resurgence. As a veteran who has been on teams both good and bad in the postseason, and on the outside looking in, Nady could provide a decent clubhouse presence.
Coming off an injury and two lackluster seasons, Nady seems more likely to initially catch on with a non-contending team. However, if he were to get off to a good start, then that non-contending team may look to capitalize on Nady's hot bat and deal him in the summer for a younger prospect to a contender that might be able to use his hitting ability.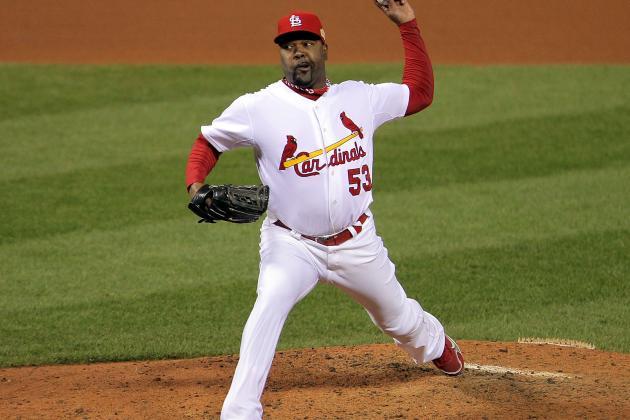 Doug Pensinger/Getty Images
Arthur Rhodes got a World Series ring after helping the Cardinals to a title last season.
Nine different teams and a 20-year major-league career—after last season, Arthur Lee Rhodes has officially "seen it all" in baseball. He finally won a World Series last year after making it to the postseason for the sixth time.
Rhodes is 42 years old, but as of now he doesn't appear to be retiring. He's available and you only need to look back to the year 2010 when Rhodes played for the Cincinnati Reds to discover that he was an All-Star.
All of that means that Rhodes is going to end up on a major-league roster. It's going to happen, and don't be shocked if it's on a decent team. He may be 42 but, for now, it's too soon to officially declare him over-the-hill.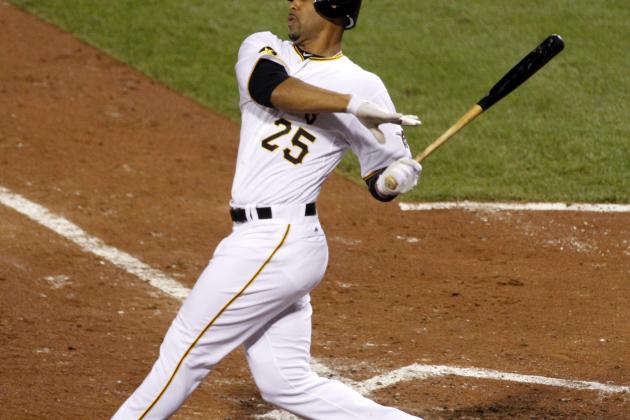 Justin K. Aller/Getty Images
Derrek Lee can still hit for some power.
Lee, who was a serious offensive machine when he spent seven seasons with the Chicago Cubs, struggled after being dealt to the Atlanta Braves back in the summer of 2010. Lee signed as a free agent with the Orioles last year and his decline continued, but then he was dealt back into the National League, and in Pittsburgh Lee seemed to find his offense again.
He hit .337 with seven home runs in only 28 games before an injury caused him to miss the bulk of the rest of the season. Now Lee is a man without a team, but for how much longer?
It seems logical that Lee would get snatched up by a National League team given his drop off in production when he played in the AL.
In spite of his advanced age, a healthy and focused Lee could still be a major offensive asset to a team in need of power at the first-base spot.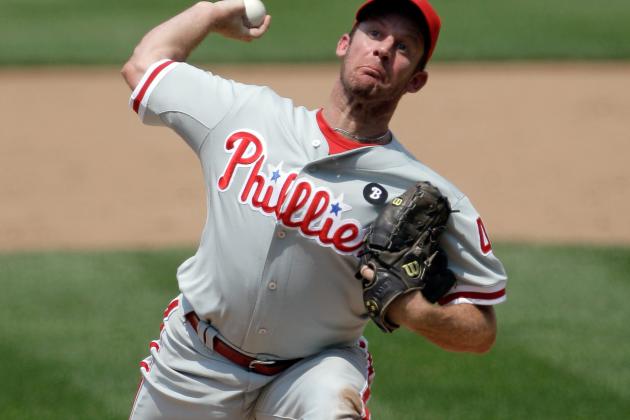 Rob Carr/Getty Images
Roy Oswalt is the highest profile remaining free agent starting pitcher on the market.
Roy Oswalt has not been the free-agent attraction that he probably thought he would be when the Houston Astros shipped him off to the Philadelphia Phillies in the summer of 2010.
He finished up 2010 on a roll for Philadelphia, and entered his contract year of 2011 with high expectations for both himself and his team.
Unfortunately, they both fell short.
Philadelphia was bounced in the first round of the playoffs from the eventual champion Cardinals. Oswalt suffered through an inconsistent and injury-plagued season that saw him with a career-worst for production and cast doubts about his ability in the future.
Those doubts have likely played a role in Oswalt's current situation.
As of now, he has yet to sign a free-agent contract. He's now willing to accept a one-year deal, and it would be expected that Oswalt would like to use 2012 to reassert his place among the better starting pitchers in the National League.
Now he just has to find a team willing to take that chance and willing to give him a decent one-year salary in the process.
Oswalt has been linked to many teams such as the Reds, Red Sox, Rangers and Cardinals. So far, no team has emerged as a clear-cut favorite to sign him.
Oswalt's back injury from last year is no doubt making teams nervous, but if a team were to sign Oswalt and he were to perform at or around the levels he's used to over the majority of his career, he could be a real find for a team that needs starting pitching.
With no real American League experience, Oswalt may be a bit less appealing to teams like Texas and Boston. Eventually, a team will either pony up the money Oswalt and his agent are seeking or Oswalt and his team will decrease their salary demands. Once that happens, you can be sure he'll get signed quick.