Los Angeles Dodgers: Can They Win the NL West in 2012?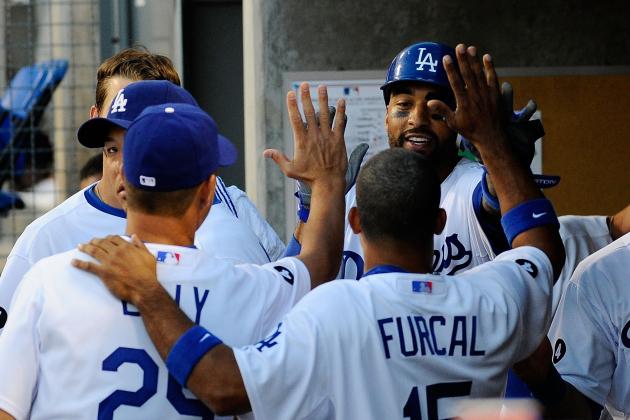 Kevork Djansezian/Getty Images

With spring training just around the corner, you can almost smell the fresh-cut grass and hear the crack of a bat colliding with a baseball. The calendar is racing towards another season and with each spring comes a sense of cleansing. A season is upon us where all things are considered anew; the pallet is cleansed.
It is time for some baseball—Los Angeles Dodgers baseball.
While the Dodgers finished third in the National League West last season posting a record of 82-79, things have changed this winter. Players and fans alike still remember their first-place finish in 2009. This team is good—real good.
The question is, how will they fare against an increasingly talented NL West in 2012?
Surely the 2011 NL West-winning Arizona Diamondbacks can be considered top tier, while the San Francisco Giants will likely be back strong as well. Thinking back to the 2010 season, the San Diego Padres gave all others a shock finishing second, and you still can never truly count out the Colorado Rockies.
If nothing else, this season is going to be vastly entertaining. The Dodgers will have new ownership. With that, manager Don Mattingly could very well be replaced if the Dodgers start slowly, among other potential changes that could happen.
For now, let's take a look at the Dodgers and their competition heading into the 2012 season and see how things stack up.
Begin Slideshow

»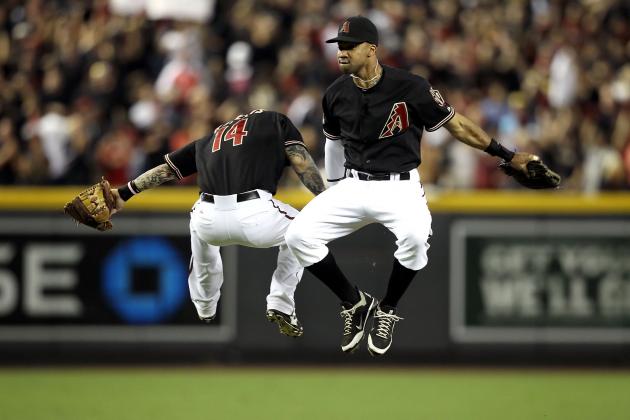 Christian Petersen/Getty Images

The Arizona Diamondbacks were one hell of a team last season. They had an amazing turnaround from their 2010 campaign where they finished last in the NL West, a full 27 games out of first place.
Last to first is a pretty improbable and impressive feat to accomplish. The question for the D-backs is, will they be able to sustain their success from 2011?
Key Additions
The biggest splash the Diamondbacks made this winter was the addition of Minnesota Twins slugger Jason Kubel. While many D-back fans feel that ownership shelled out too much coin for him, Kubel adds a solid bat to the middle of their lineup.
The funny thing is, as of this morning Kubel is only listed as the backup left fielder behind Gerardo Parra, who could be used as trade bait to bolster their pitching. However, Kubel could also see time playing first base for the Snakes.
Speaking of pitching, bringing back Joe Saunders was a wise move for the D-backs. The team also traded for Oakland A's pitcher Trevor Cahill, a move that could pay big dividends. One last notable pitching move: The team also signed free-agent pitcher Takashi Saito, a move that will help to shore up their bullpen.
Key Losses
Jason Marquis and prospects.
Grade: Solid B
What the Diamondbacks did during the winter was address a few areas of concern that kept them from making it to the big dance last season. It is hard not to see them finishing strong in 2012.
However, they should keep their eye on Ryan Roberts and the health of Stephen Drew. Perhaps trading Parra to get them some infield help would be a wise move.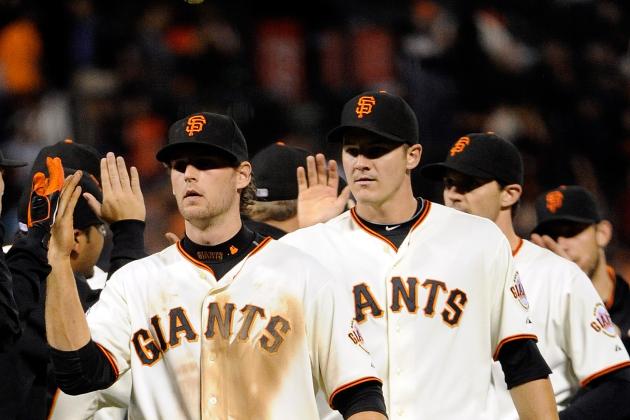 Thearon W. Henderson/Getty Images

The Giants finished second in the NL West in 2011 with a record of 86-76. Arguably, they have the best pitching staff of all five teams. This makes them exceptionally scary with a front three consisting of Tim Lincecum, Matt Cain and Madison Bumgarner.
Key Additions
It is no secret that the Giants have difficulty scoring runs. They have had all the pitching in the world over the past couple of seasons, but lacked the bats to get them over the top. This winter they added a couple of bats via trade: Melky Cabrera from the Kansas City Royals and Angel Pagan from the New York Mets.
While many believed the Giants would do what they could to bring back Carlos Beltran, that did not happen, leaving them to look at other avenues for offense.
Another move that came late in the winter was the signing of free-agent shortstop Ryan Theriot. While Theriot is no Barry Bonds by any means, he is capable of getting on base, which is something the Giants needed desperately. Also a solid defender, Theriot should complement the lineup nicely.
Key Losses
The trade to bring in Cabrera from the Royals cost their starting rotation somewhat heavily in the form of Jonathan Sanchez. While his 4-7 record in 2011 was less than impressive, he was just one season removed from a 13-win season for an offense-deprived Giant team.
The bullpen took a hit while trading Ramon Ramirez as well as Andres Torres to the New York Mets to acquire Angel Pagan. The Pagan trade could prove to be a nice one, if he can return to his 2009/2010 form.
Cody Ross also will not be trolling the outfield in 2012, having signed with the Boston Red Sox as a free agent.
Grade: B-
I like what the Giants did this winter. They shook things up a bit and I wouldn't be surprised to see them going either way this season. Perhaps losing Sanchez proves to be a bad move for them, or the offense helps to carry them.
One thing is for sure: They will be a hard team to beat, regardless of how they finish in 2012.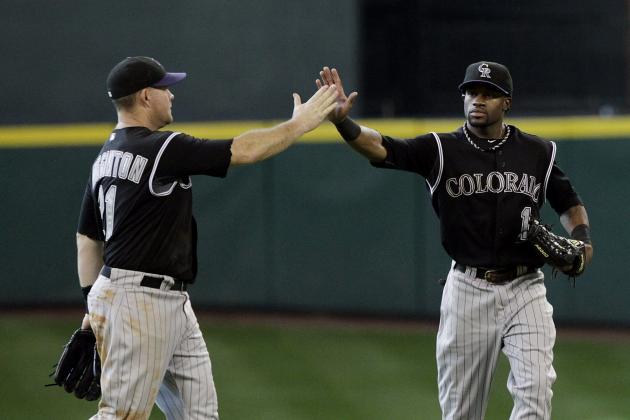 Bob Levey/Getty Images

The Colorado Rockies had a bit of a perplexing offseason in my mind. They appeared, on paper, to be just a piece or two away from being serious contenders. While they made a couple of moves that appeared (outwardly) to make a lot of sense, they lost a lot of talent as well.
Key Additions
The signing of Michael Cuddyer felt like a pretty big deal. They bolstered their offense with a 20/80 guy that has a reputation of being a great clubhouse guy and provides veteran leadership. While the price tag may have been steep, Cuddyer, to me, is worth the money.
The other big deal came in the form of a trade with the Boston Red Sox, adding veteran infielder Marco Scutaro. While Boston fans were upset at this move, Rockies fans should be quite happy. Scutaro was one of the few Red Sox players that maintained integrity during their September collapse and played at a high level. Adding Scutaro to play second base, opposite Troy Tulowitzki should prove to be a nice upgrade.
Key Losses
The Rockies lost a lot of pitching. A lot of pitching: Huston Street, Matt Lindstrom and Jason Hammel. That's practically half of their bullpen, as well as their impressive closer. Any time a team loses pitching it is a real crap shoot, especially that much.
On the heels of a trade that sent their ace, Ubaldo Jimenez, away during the 2011 season, this seems like a risky move. However, they must have significant faith in their younger arms moving forward.
The team also lost Ty Wiggington, Ian Stewart and Chris Iannetta.
Grade: C
While I think the offensive moves bode well for the Rockies, losing three arms is tough to cope with, especially Street. With a young rotation, having that proven closer would have been a nice thing to retain.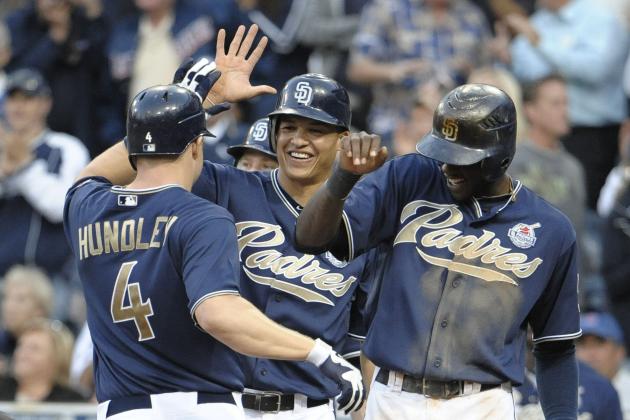 Denis Poroy/Getty Images

Speaking of Huston Street...the San Diego Padres made a few really nice moves this winter that could very well make them quiet contenders.
Key Additions
Street is now closing games for the Padres; a little change of weather and scenery and he could very well do well in San Diego.
While the team is still reeling from the loss of Adrian Gonzalez, they did bring in another bat that could do pretty well in filling an offensive void: Carlos Quentin. Perhaps switching from the AL to the NL could give him the boost he needs to bounce back as the formidable player he has been historically.
Lest we forget that their replacement at first base could come in the form of one of two young talents in Jesus Guzman or Yonder Alonso. It should prove to be an interesting spring for the Padres. New uniforms, new year...
Key Losses
Heath Bell, Wade LeBlanc, Aaron Harang and Mat Latos are all gone. Remember what I said about losing pitching? This hurts quite a bit, especially Latos, as he had ace potential.
Grade: C-
The Padres lost a lot of pitching and picked up a couple of bats. While they do have a pretty good farm system and 2012 will see young arms like Casey Kelly on the roster, outwardly it seems like a big hit to the team.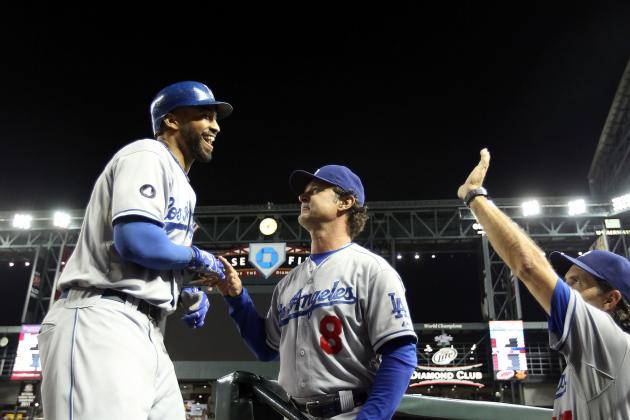 Christian Petersen/Getty Images

That brings us to the Dodgers. The team had a fairly quiet winter, but made some solid moves to keep them competitive. With the ownership issues being hammered out, there was no way the boys in blue would be able to make any huge splashes, but what they did seemed to make a lot of sense.
Key Additions
Aaron Harang and Chris Capuano join the pitching staff behind ace Clayton Kershaw. The team also added infield depth by signing veteran second baseman and familiar name in California Mark Ellis, as well as adding utility man Jerry Hairston Jr.
Key Losses
The hardest hit comes in the form of Hiroki Kuroda, who signed with the New York Yankees as a free agent. Kuroda provided a solid arm in the rotation and gave the Dodgers 42 wins in his four seasons with the team.
The team also lost reliever Jonathan Broxton and utility man Jamey Carroll.
Grade: B
While the Dodgers lost starting pitching in Kuroda and a reliever in Broxton, they brought in two solid starters in Harang and Capuano to fill the void in the rotation. The addition of Ellis brings forth veteran leadership while adding Hairston negates the loss of Carroll.
The other huge component to the winter for the Dodgers was the extension of Matt Kemp. Keeping him in Dodger Blue is imperative for the overall success of the franchise in the future. Having him locked up as well as locking up Kershaw for two more years were significant moves to keep the team competitive.
The Dodgers have the bats—Kemp, Andre Ethier, James Loney and Juan Uribe, to name a few. They've bolstered their pitching staff as well.
2012 could very well be the season in which the Dodgers win the division once again and a step towards bringing the franchise back to glory.