NBA: Kobe Bryant's Top 5 Scoring Games of His Career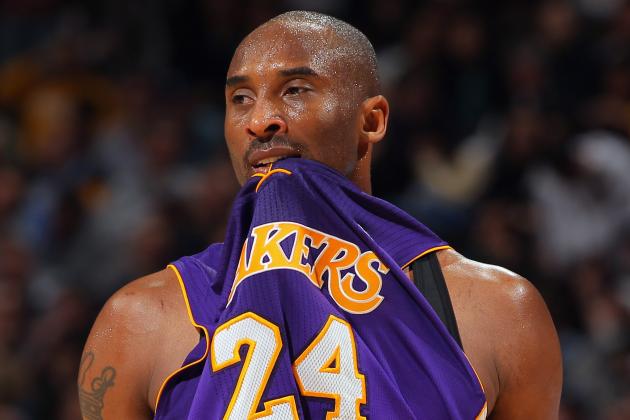 Doug Pensinger/Getty Images

Kobe Bryant has had some memorable scoring games throughout his 16-year career. On Feb. 6, 2012, Kobe "Bean" Bryant passed his former teammate and nemesis, Shaquille O'Neal, for fifth in all time scoring in NBA history.
Kobe has had a memorable career—and it is far from over. Kobe may have three to four years left in the tank, and if Kobe is able to score around 20 to 23 points a game for that span—he will undoubtedly compete with Kareem-Abdul-Jabbar for honors as the highest scoring player in NBA history.
Only time will tell if Kobe could catch up to the top spot, but in Kobe's mind, he just wants to pass Michael Jordan in number of rings—with the way he is playing now it seems like it may be possible, especially if the Los Angeles Lakers could bring in some more help for Kobe.
With all that being said, let's take a look at the five best scoring games in Kobe's career.
Begin Slideshow

»
This game will always be remembered as the game where Kobe Bryant dunked on Yao Ming—but it was much more than that. Kobe had a complete game with 52 points on 19-of-38 shooting from the field and a perfect 11-of-11 from the free throw line—he also had eight rebounds and seven assists.
This was also the sixth game in a row where Kobe scored 40 points—this was arguably Kobe's best game during his most memorable season as a scorer.
Kobe was in pain during this game, but that pain will never stop Kobe—it will only push him to the edge, like it did in this game. Kobe made sure the Lakers came out victorious in this game against the newly resurged Houston Rockets team—Kobe always makes sure to play his best every night—especially against the best teams in the NBA.
In this battle between Kobe and Michael Jordan, Kobe won. This was the final matchup between Michael Jordan and Kobe Bryant on the court, the debate by the watercoolers and on the playgrounds will live forever.
Kobe was able to score 55 points on 15-of-29 from the field, make 16-of-18 free throws from the field and 9-of-13 from three-point land. The reason why this was so impressive is because Kobe was in foul trouble most of the game.
Kobe scored 41 points in the first half, one can only imagine how much more he would have scored if he was not in foul trouble.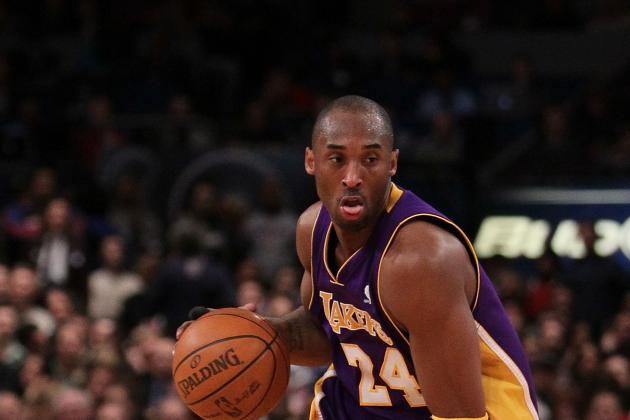 Al Bello/Getty Images

Madison Square Garden is one of the most historic stadiums in sports—on Feb. 2, 2009, Kobe added his own piece of history to the stadium—when he scored 61 points on 19-of-31 shooting from the field, he also perfect 20-of-20 from the free throw line and 3-of-6 from downtown.
Kobe decided to put the Lakers on his back because they were without Andrew Bynum because of an ACL injury—Kobe delivered and helped the Lakers beat the New York Knicks in MSG.
Kobe and Jordan's success has always been compared with one another—in the battle of scoring record in MSG, Kobe wins. Kobe's 61 points at MSG topped Jordan's 55 he scored in 1995.
During the 2006-2007 season, the Lakers were as good as Kobe was—luckily for everyone associated with the Lakers—Kobe was very good throughout that year.
Kobe's best game in that season was against the Portland Trailblazers on March 16, 2007.
Kobe put on a show for the fans in attendance by scoring 65 points on 23-of-39 from the field and scoring 8-of-12 three-pointers from downtown—Kobe was on fire that day, and he was the sole reason why the Lakers were able to defeat the Portland Trailblazers.
Kobe's night was so incredible that he was able to make the stoic Stu Lantz yell, "ARE YOU KIDDING ME?!"
Kobe scored more than a professional basketball team—luckily for the Mavericks, head coach Phil Jackson did not allow Kobe to play in the fourth quarter.
By the end of the third quarter, Kobe had 62 points and the Dallas Mavericks had 61. Kobe was very efficient by shooting 18-of-31 from the field and 22-of-25 from the free throw line. This game will always be known as the game where Kobe outscored a whole team.
One can only imagine how many points Kobe would have scored if he were able to play a full game while scoring at will—the whole world found out less than two weeks later.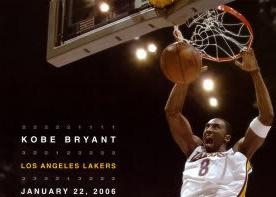 Was there any doubt that this would be No. 1?
Kobe was able to score 81 points against the Toronto Raptors—the second best single game point total in NBA history. Kobe was an astonishing 28-of-46 from the field with 7-of-13 shots made from the three-point line—Kobe also netted 18 out of the 20 free throws he attempted.
Kobe and the Lakers found themselves in a early hole against the Raptors—Kobe made sure to score enough points to put the Lakers in a position to win. The Lakers eventually won the game by 18 when they were down by just as many early in the third quarter.
Kobe scoring 81 points is one great accomplishment—but I am sure if you ask Kobe, he would have traded that 81 points for another championship ring.