2012 NFL Mock Draft: Assessing Mel Kiper's First-Round Picks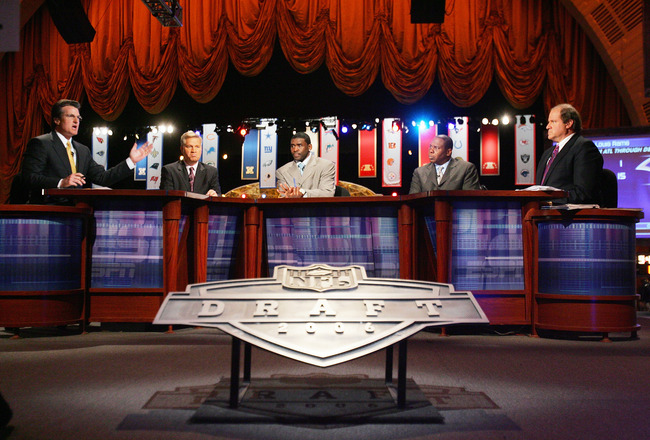 Chris Trotman/Getty Images
The 2012 NFL draft is only a couple of months away and ESPN's Mel Kiper has released his mock draft.
Kiper's mock draft may be the most waited upon mock out of all sports writers. More often than not, Kiper is accurate with his selections and knows a lot of inside information that helps him make his choices.
As we all know, the first round of the NFL draft is the most exciting and includes the best talent of the rookie class. A team can make or break their future with the player they pick in the first round of the draft.
Kiper released his draft a few weeks ago and some things have changed as far as the draft order goes. However, for the sake of this article I will keep Kiper's selections in the same spot and focus more on the team and player that he has paired together.
With that being said, let's take a look at who Kiper thinks each team will be drafting in April.
1. Indianapolis Colts: Andrew Luck, QB, Stanford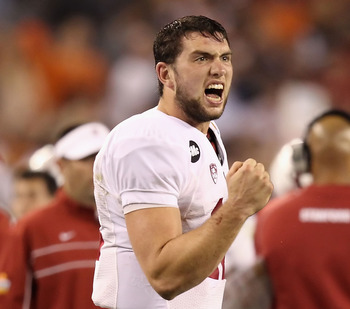 Christian Petersen/Getty Images
Just about everyone, except Peyton Manning, has the Indianapolis Colts picking quarterback Andrew Luck with the No. 1 overall draft pick, including Mel Kiper.
Kiper, as most other analysts, believes that Luck is the best quarterback prospect since John Elway. Everyone believes that Luck will be able to start, and succeed, day one in the NFL.
This selection makes sense for the Colts.
Yes, they do have Peyton Manning, potentially the greatest quarterback to ever play the game of football, but this team is looking to get young. There are numerous free agents that have said they will not return, as well as a couple players considering retirement.
It is time for the Colts to begin to rebuild, and Luck is the perfect player to build around.
I think that Manning will no longer be a Colt after this offseason and Indianapolis will begin the Luck era in 2012.
2. St. Louis Rams: Justin Blackmon, WR, Oklahoma State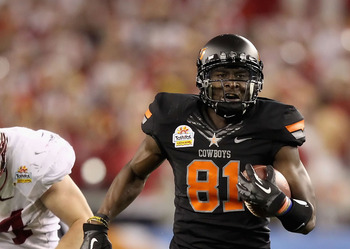 Christian Petersen/Getty Images
Mel Kiper has the St. Louis Rams taking Oklahoma State wide receiver Justin Blackmon with the second overall pick of this year's draft.
Kiper says that the Rams may choose to trade down a few spots and still try to draft Blackmon, but if they stay in the No. 2 spot, then they will pick Blackmon.
I believe that this young receiver would fill a glaring need for a young Rams team.
Quarterback Sam Bradford struggled in 2011 and needs help from his receiving corps. The Rams went out and got Brandon Lloyd, but they can definitely use some more talent in that group.
Blackmon possesses the skills to be an elite receiver in the NFL, and that is exactly what St. Louis needs. If the Rams choose to keep their pick instead of trading it, then I would expect to see them go with Blackmon here.
Kiper also mentions that the Rams could go with an offensive lineman with the second overall pick, but I think that it will be tough for St. Louis to pass up Blackmon if given the opportunity to draft him.
3. Minnesota Vikings: Matt Kalil, OT, USC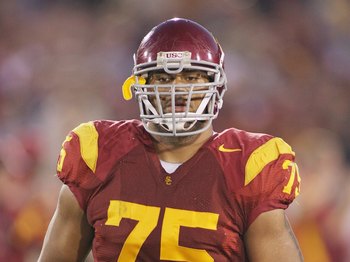 Jeff Golden/Getty Images
As the third overall pick in the 2012 NFL draft, Mel Kiper has the Minnesota Vikings picking offensive tackle Matt Kalil.
This pick makes all the sense in the world. Kalil is a talented enough player that you could justify picking him No. 1 overall if Andrew Luck wasn't in the picture.
People have compared Kalil to Miami Dolphins' left tackle Jake Long, and we all know how well Long has done since he came into the NFL.
The Vikings drafted quarterback Christian Ponder last year and Kalil would be a great piece to add to that team. He and Ponder could team up and play together for years to come.
Kiper states that many players that started at left tackle in college are moved to right tackle in the NFL, but he also says that Kalil has the talent to start at left tackle day one.
I think that is accurate. We could just as likely see Kalil go second overall in the draft. Any team would love to have this player.
4. Cleveland Browns: Robert Griffin III, QB, Baylor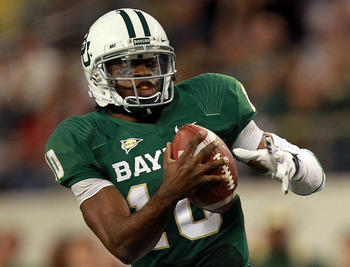 Ronald Martinez/Getty Images
Kiper has the Cleveland Browns taking quarterback Robert Griffin III with the fourth pick in the 2012 NFL draft.
He agrees that the possibility of a team moving ahead of Cleveland to get RG3 is very likely, and says that they may also go after a player like Blackmon or Trent Richardson.
However, if Griffin is available whenever the Browns pick, then they have to select him.
Everyone in the country saw what Cam Newton did in Carolina in 2011 and there is not doubt that Newton's play improved Griffin's draft stock.
Griffin is a very similar player to Newton and many people suggest instant success in the NFL for the Heisman trophy winner.
There is no doubt that Kiper has this pick nailed. For a team with uncertainty at the quarterback position, the Browns better select Griffin if they are able to.
5. Tampa Bay Buccaneers: Trent Richardson, RB, Alabama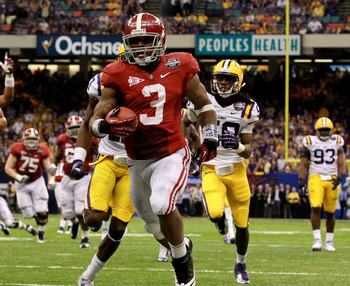 Ronald Martinez/Getty Images
With the fifth overall selection in the NFL draft, Kiper has the Tampa Bay Buccaneers selecting Alabama running back Trent Richardson.
This move makes sense for the Buccaneers.
They are not entirely sure what they can expect from current running back LaGarrette Blount and his contract ends after next season. Even if Blount does turn out to be a great back, most teams in the NFL need at least two quality runners to succeed.
Richardson has every talent and ability needed to come into the league and play well immediately. The Buccaneers would love to see Richardson fall into their laps at the No. 5 spot in the draft.
6. Washington Redskins: Morris Claiborne, CB, LSU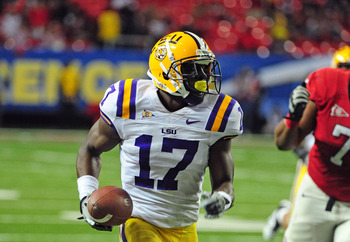 Scott Cunningham/Getty Images
Kiper has the Washington Redskins selecting LSU cornerback Morris Claiborne with the sixth overall pick in the NFL draft.
I completely agree that the Redskins should select Claiborne with the sixth pick in the draft. However, I believe that the Redskins will try to make a trade with the St. Louis Rams for the No. 2 spot and draft Robert Griffin III.
To be fair, Kiper states at the beginning of his mock draft that he will not account for any trades being done since he does not know if any will actually take place or not.
I can understand that and if the Redskins do not trade out of the sixth spot, then Claiborne is obviously their best bet at this spot.
Washington will be playing against some elite receivers in the NFC East, and they need a guy that can consistently shut down opposing team's wideouts.
7. Jacksonville Jaguars: Quinton Coples, DE, North Carolina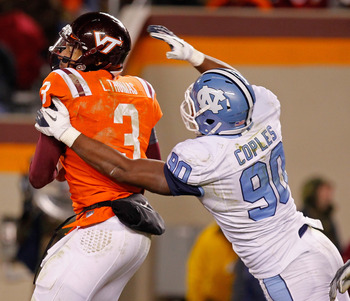 Geoff Burke/Getty Images
According to Kiper's mock draft, the Jacksonville Jaguars will select former North Carolina defensive end Quinton Coples.
I believe that this is a smart pick for the Jaguars.
They are in a tough spot because they need an elite wide receiver. However, Justin Blackmon will more than likely already be off the board by the time Jacksonville gets to the board and it would be too early to see Alshon Jeffery drafted.
I think that the Jaguars could try to trade their pick in this draft. I do not think they will try to trade up for Blackmon, although it is a possibility.
I believe that if they decide to move they will trade down in hopes of picking up a few more draft picks and selecting Alshon Jeffery or Michael Floyd later in the first round.
If the Jaguars do decide to stay at the No. 7 spot, then Coples make a lot of sense. He is the best 4-3 defensive end in the draft and should immediately improve a weak Jacksonville defensive line.
8. Carolina Panthers: Dre Kirkpatrick, CB, Alabama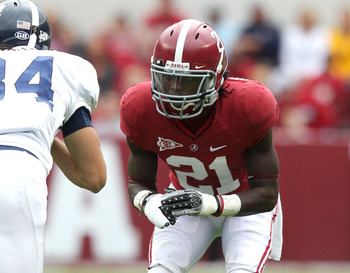 Mike Zarrilli/Getty Images
Kiper has the Carolina Panthers selecting cornerback Dre Kirkpatrick with the eighth overall pick and I completely agree with this selection.
Kirkpatrick is a great cover guy with astounding size at 6'3" and almost 200 pounds. The only issue with this player is that he may come with some baggage.
There have been a couple off-the-field issues with Kirkpatrick, but I believe that Ron Rivera, Cam Newton and company could straighten him out in the NFL.
The Panthers could use another elite corner to pair alongside Chris Gamble because of the offensive talent they face every year in the NFC South. The Panthers play offenses like the New Orleans Saints and Atlanta Falcons twice a year, both of which have numerous targets on offense that are difficult to stop.
Kirkpatrick brings an immediate physical presence to the Panthers and would be a capable starter immediately.
9. Miami Dolphins: Riley Reiff, OT, Iowa
David Purdy/Getty Images
Kiper has the Miami Dolphins taking offensive tackle Riley Reiff out of Iowa with the ninth overall pick in the draft.
I frankly love this pick. Could you imagine the Dolphins if they were to add another elite offensive lineman to their already talented line? Miami was one or two pieces away from being a good team in 2011, and Reiff can definitely help this team compete at a high level.
I think that there are a couple other spots that the Dolphins may choose to fill, but there is a good chance they'll take Reiff if he falls into their lap.
10. Buffalo Bills: Courtney Upshaw, LB, Alabama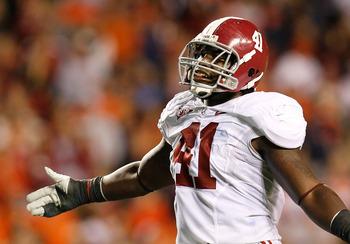 Kevin C. Cox/Getty Images
Courtney Upshaw, a linebacker out of Alabama, is the player that Kiper has the Buffalo Bills selecting with the 10th pick in the draft.
Upshaw would immediately improve a porous Buffalo pass rush and he would be re-joining former teammate Marcell Dareus. These two wreaked havoc at Alabama and it is very likely that they would to the same for the Bills.
Buffalo runs a 3-4 scheme and Upshaw is the best outside linebacker prospect for that scheme. It makes total sense for the Bills to take this future superstar with the 10th spot in the draft.
11. Kansas City Chiefs: Devon Still, DT, Penn State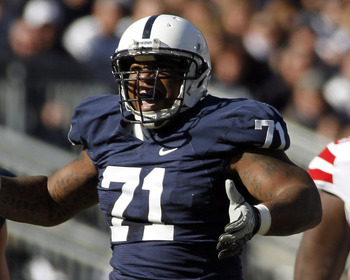 Justin K. Aller/Getty Images
Kiper has the Kansas City Chiefs selecting Devon Still with the 11th pick in the draft, and I believe this is precisely what the Chiefs will do.
Still could be the missing piece for the Chiefs in regards to their defense. They showed flashes of being an elite unit last year, but they were missing a few guys with injury and could use some more pressure for the interior line.
Still can provide a pass rush from the middle and is also able to occupy blockers to create opportunities for the linebackers to make plays.
The Chiefs could definitely pick Still in this spot and it would not be a bad choice at all.
12. Seattle Seahawks: Melvin Ingram, DE, South Carolina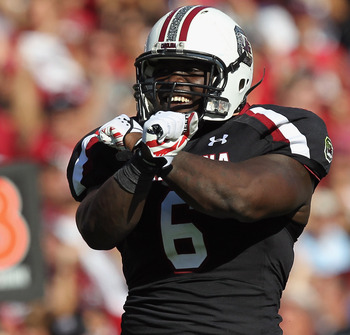 Streeter Lecka/Getty Images
Melvin Ingram is the player that Mel Kiper believes the Seattle Seahawks will take with the 12th overall pick in the draft.
This Seahawks team is very young and has a great defensive secondary and an upcoming linebacking corps. It makes sense for Seattle to add one last piece to the defensive line.
They could try to pursue some other holes on offense if a player drops to them, but they will more than likely go after Ingram or a similar player.
I think that the Seahawks will try to draft a player to help their defensive line in the pass rush game and Ingram may be the best available player for that position when Seattle is put on the clock.
13. Arizona Cardinals: Johnathan Martin, OT, Stanford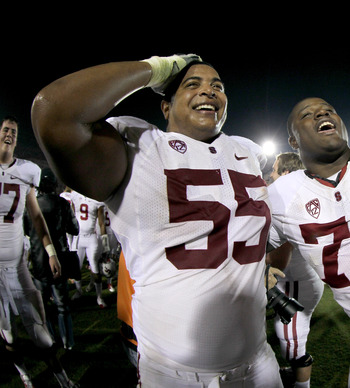 Stephen Dunn/Getty Images
Mel Kiper's mock draft has the Arizona Cardinals drafting offensive tackle Johnathan Martin in the first round of the 2012 NFL draft.
This pick really makes a lot of sense for the Cardinals.
They have some uncertainty at the quarterback position, but there is not much that they can do about that with the 13th overall pick in the draft.
Kiper points out that they can sure up the offensive line for whoever is behind center.
Martin will be able to come into the NFL and be a day-one starter. The Cardinals picking Martin would not be much of a surprise.
14. Dallas Cowboys: David DeCastro, OG, Stanford
Christian Petersen/Getty Images
Kiper has the Dallas Cowboys drafting offensive guard David DeCastro in the 2012 NFL draft, and I could not agree more with the pick.
The Cowboys have a good amount of holes that they could fill, but they should definitely begin with protecting quarterback Tony Romo some more. DeCastro would also help a pretty good run-blocking unit become one of the better ones in the league.
The Cowboys have the offensive talent to be an elite group but have never seemed able to put it all together. DeCastro may be able to come in and immediately help the Cowboys reach their potential.
15. Philadelphia Eagles: Luke Kuechly, LB, Boston College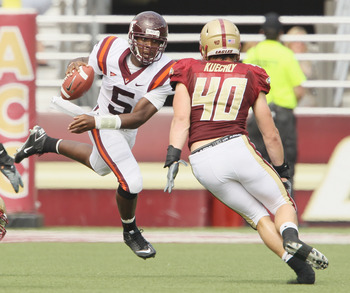 Elsa/Getty Images
Kiper's mock draft has the Philadelphia Eagles taking linebacker Luke Kuechly with the 15th overall pick in this year's draft.
The Eagles had a very weak linebacking corps in the 2011, so this pick makes a ton of sense. Kuechley would be able to come into Philly and make an instant impact as a playmaker at the inside linebacker spot.
However, I would personally much rather see the Eagles draft former Alabama safety Mark Barron.
The Eagles have not been the same at that position since Brian Dawkins left a few years ago and Barron has the potential to be Dawkins' replacement.
Barron is a very talented, physical player and he'd be able to match up against the bigger targets in the NFC East. Barron would immediately improve a unit that has struggled as of late.
16. New York Jets: Mark Barron, S, Alabama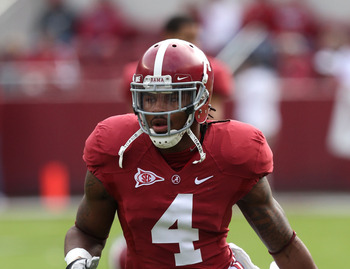 Mike Zarrilli/Getty Images
For the 16th pick in the 2012 NFL draft, Kiper has the New York Jets taking safety Mark Barron.
Obviously, I agree with Kiper as far as Barron's value in this draft. I expect to see him go in the middle of the first round, but I would like to see the Eagles pick him up.
However, if Barron does get past the Eagles, then it would make sense for the Jets to draft him.
They have been abused by taller targets in the passing game because of the lack of size in their safeties. At 6'2" Barron has the height to compete with the taller players that the Jets will have to match up against.
If Barron is not available, then I would expect to see the Jets continue to try to improve their pass rush.
17. Cincinnati Bengals (from Oakland): Alfonzo Dennard, CB, Nebraska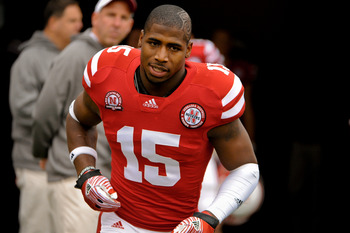 Eric Francis/Getty Images
In the 2012 NFL draft, Kiper expects to see the Cincinnati Bengals select cornerback Alfonzo Dennard.
I think that this pick would definitely help the Bengals. They lost All-Pro corner Johnathan Joseph last offseason and need a replacement.
The Bengals have a great, young defense and Dennard should be able to step in and help improve that unit.
Cincinnati currently has Leon Hall and Nate Clements as its corners, and these veterans still have some ball left. It is reasonable to believe that Dennard can come in as the nickel for a year or so before taking over as a starter.
He has the ability to be a great corner in the NFL and the Bengals would not be upset with picking him in this year's draft.
18. San Diego Chargers: Cordy Glenn, OG, Georgia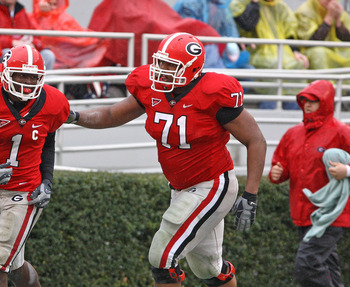 Mike Zarrilli/Getty Images
In Kiper's mock draft, the San Diego Chargers are going with offensive guard Cordy Glenn in the 18th spot in the NFL draft.
The Chargers' problems in 2011 pretty much begins and ends with the offensive line.
This unit absolutely fell apart last season, primarily because of injuries, but that cannot happen again in 2012. San Diego has to do something to repair the damage that was done last year and drafting Glenn can do just that.
19. Chicago Bears: Michael Floyd, WR, Notre Dame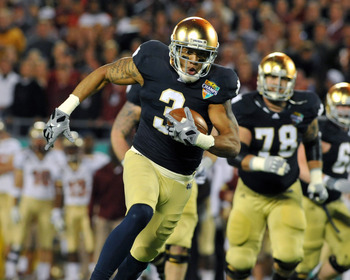 Al Messerschmidt/Getty Images
This is a pretty obvious position for the Chicago Bears to target in this year's NFL draft. It just depends on which receiver they actually take in the draft.
Mel Kiper has the Bears selecting Michael Floyd out of Notre Dame with the 19th pick in the draft.
Floyd is a great choice for the Bears and I would not change the selection at all.
Chicago has plenty of speed with receivers like Devin Hester and Johnny Knox, but they lack a reliable possession receiver, and no, I do not consider Roy Williams a valuable possession receiver.
Floyd would help this team greatly if they are able to draft him in the first round. The offensive line is another worry area for the Bears, but they will be getting some guys back from injury and they could also fill some holes there in the later rounds.
20. Tennessee Titans: Nick Perry, DT, USC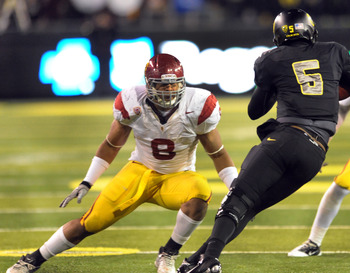 Steve Dykes/Getty Images
The Tennessee Titans could use some help in the pass-rushing game and Kiper suggests that they will pursue just that in this year's NFL draft.
He has the Titans selecting USC's Nick Perry with the 20th overall pick.
Perry should add a consistent pass rush to Tennessee's defense and he could quickly become the team's best defensive end.
As of right now, he can stand to bulk up some to become an ideal 4-3 defensive end, but he should be able to get to the pass-rusher with his current frame.
This would be a great pick by the Titans.
21. Cincinnati Bengals: Lamar Miller, RB, Miami (Fla.)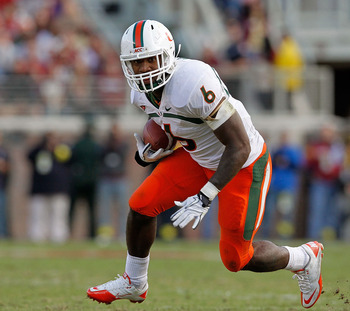 Mike Ehrmann/Getty Images
Kiper has the Cincinnati Bengals choosing running back Lamar Miller with the 21st pick in the NFL draft.
This would be another great pick from the Bengals in 2012. Miller would immediately offer the Bengals something they never got with Cedric Benson: the explosive play.
Benson has been good during his time with the Bengals, but he has not been very explosive.
Miller should be able to come in and offer a change of pace to the Bengals, which should have a great affect on the team.
22. Cleveland Browns (from Atlanta): Kendall Wright, WR, Baylor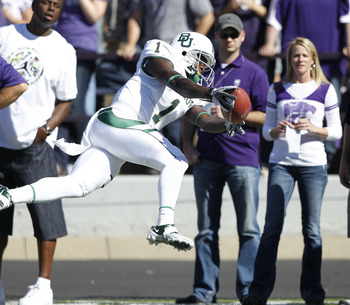 Joe Robbins/Getty Images
With their second pick in the first round of the 2012 NFL draft, Kiper has the Cleveland Browns selecting wide receiver Kendall Wright.
Regardless of what happens with the Browns' first pick, this is a good selection.
Cleveland needs to add more weapons to their offense and Wright has a great start.
Last year, the Browns were able to add receiver Greg Little to the team and he will continue to develop into a great possession target. Wright, on the other hand, will be a valuable deep threat for whichever team he joins in 2012.
If the Browns somehow manage to get Robert Griffin III with the fourth overall pick in the draft, then it would make extra sense to go after Wright with their 22nd pick.
Either way, Wright would help a developing Cleveland offense.
23. Detroit Lions: Zach Brown, LB, North Carolina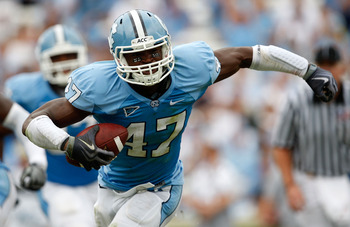 Streeter Lecka/Getty Images
For the 23rd pick in the 2012 NFL draft, Kiper has the Detroit Lions selecting linebacker Zach Brown out of North Carolina.
As Kiper points out, the Lions have arguably the best defensive front in the NFL and their secondary improved drastically because of that fact.
However, their linebacking corps can definitely use some help. Brown makes sense because of his ability to run sideline to sideline and keep up with speedy tight ends.
However, I believe that the Lions would benefit more from drafting an offensive lineman in this spot. The Lions had a horrible running game in the 2011 season and part of that was due to the porous run blocking.
Most of the top tackles may be gone at this point, but it would be a no-brainer for the Lions to select one of those guys if they are available. If not, then I would have to agree with Kiper in the fact that Brown would be a reasonable pick for Detroit.
24. Pittsburgh Steelers: Dontari Poe, DT, Memphis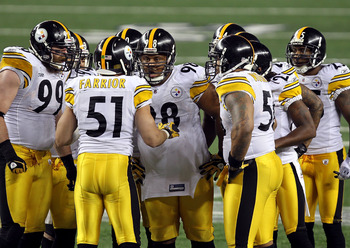 Mike Ehrmann/Getty Images
It was obvious in 2011 that the Pittsburgh Steelers need to get younger on defense and Kiper has them doing just that in the first round of the 2012 NFL draft.
Kiper has Pittsburgh selecting defensive tackle Dontari Poe out of Memphis with the 24th pick in the draft.
Poe is a type of player that you don't see very often. He resembles Casey Hampton in the fact that he can take up space and occupy blockers, which is paramount in a 3-4 scheme.
The Steelers should be able to draft Poe and allow him to play a role before he is ready to take over after Hampton leaves or retires.
25. Denver Broncos: Fletcher Cox, DT, Mississippi State
Butch Dill/Getty Images
Kiper has the Denver Broncos selecting defensive tackle Fletcher Cox with the 25th overall pick in the draft.
This pick makes sense for the Broncos, but there are also a couple other choices that Denver could make. They may decide to pursue another position such as cornerback or offensive line instead of defensive tackle.
However, if the players available are similar to the way that this draft has gone, then Cox is the obvious choice for Denver.
He can provide a consistent pass rush from the inside of the defensive line that will compliment the outside pass rush very well.
26. Houston Texans: Mohamed Sanu, WR, Rutgers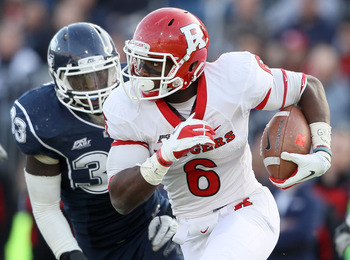 Elsa/Getty Images
According to Mel Kiper's mock draft, the Houston Texans will select wide receiver Mohamed Sanu in April's NFL draft.
The Texans are one of the lucky teams that do not have a glaring need and will be able to draft based on the best player available.
Sanu would be a great weapon for an already talented Texans offense. They do not have many holes on offense or defense, but Sanu may be able to take this team's production to the next level.
The Texans do not really have a true, reliable deep threat, and Sanu would be able to fill that spot immediately.
27. New England Patriots (from New Orleans): Michael Brockers, DL, LSU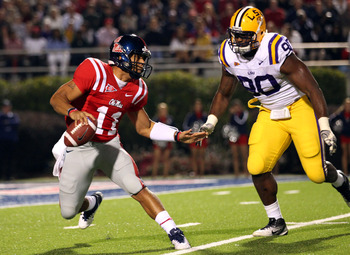 Joe Murphy/Getty Images
The New England Patriots need to add some talent to their defensive line, and, as Kiper suggests in his mock draft, they will do just that in 2012.
Kiper believes that the Patriots will draft defensive tackle Michael Brockers in the first round of the draft, and if Brockers is still available, then this is an obvious choice.
I believe that Brockers' stock will continue to rise and by the time the draft comes he will not be anywhere near New England when they get on the clock.
With that being said, Brockers is certainly a player that could help the Patriots on defense. He would provide a pass rush from the interior of the line and could give the Patriots explosiveness like they haven't seen in a while.
28. Green Bay Packers: Whitney Mercilus, LB, Illinois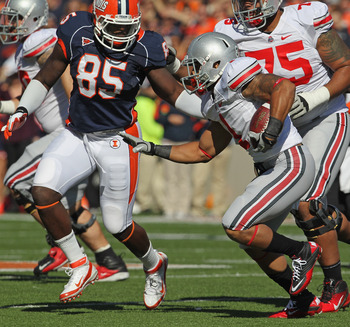 Jonathan Daniel/Getty Images
Kiper believes that the Green Bay Packers will draft linebacker Whitney Mercilus in the first round of the 2012 NFL draft.
This pick seems to be a good one because Mercilus will be able to add a much-needed pass rush to the Packers, but I believe that Green Bay would be better off pursuing a defensive lineman with their first pick in 2012.
I highly doubt that he'd be available, but if a guy like Brockers is still there then there is not doubt the Packers choose him. I would even suggest that the Packers should consider moving up for Brockers.
However, if Green Bay sits at where they are and Brockers is off the board, then a guy like Mercilus or Andre Branch makes sense.
29. New York Giants: Zebrie Sanders, OT, Florida State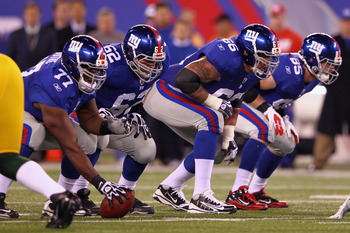 Al Bello/Getty Images
Despite the reputation that these guys get, the New York Giants' offensive line is not quite as dominant as people believe.
Obviously, they did okay because the won the Super Bowl. However, they could use some young talent in that unit and Kiper believes that they will pick offensive tackle Zebrie Sanders with their first-round selection.
Assuming that Sanders is still available when the Giants pick, it would be a good choice.
They have done a good job of pass-blocking for Eli Manning, but the run-blocking can definitely improve. I believe that a guy like Sanders could come in and help this team.
They may also consider adding some depth at cornerback considering what all happened this year with the injuries. The Giants will be a team that can may their decision based off of the players left on the board instead of drafting for position.
30. Baltimore Ravens: Vontaze Burfict, LB, Arizona State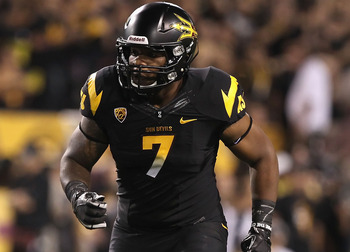 Christian Petersen/Getty Images
This is certainly a match made in heaven and might make the most sense out of any other pick in the draft.
Mel Kiper, like many other analysts, sees the Baltimore Ravens drafting inside linebacker Vontaze Burfict with their first-round pick.
Burfict has drawn a ton of comparisons to Ray Lewis and what better player to learn from than Lewis himself?
If Burfict is available at the time that the Ravens pick then it is obvious that they should select him. He can definitely be the eventual replacement for Lewis.
Both players have a tenacity like no others and Burfict can learn how to control that while spending time with Lewis in Baltimore. Burfict would also make an immediate impact on special teams and possibly as a role player on the defense.
31. San Francisco 49ers: Alshon Jeffery, WR, South Carolina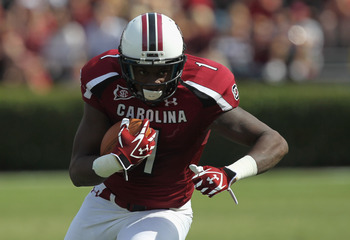 Streeter Lecka/Getty Images
The San Francisco 49ers, according to Kiper's mock draft, should take receiver Alshon Jeffery in the 2012 NFL draft.
I like this pick and I believe that it would greatly help the 49ers offense.
Let's face it, the defense in San Francisco is absolutely ridiculous and unless they get picked apart in free agency, there are no holes to fill there.
The offense is pretty good as well, but they could use a big receiver like Jeffery for the red zone and those tough catches over the middle on third downs.
At 6'4", Jeffery definitely has the size to become an amazing possession receiver in the NFL. That is exactly the type of player that the 49ers need right now.
32. New England Patriots: Andre Branch, LB, Clemson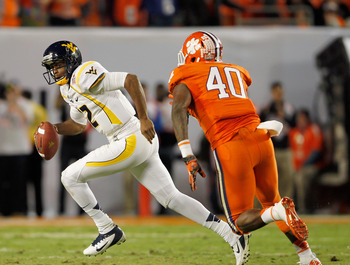 Streeter Lecka/Getty Images
Mel Kiper has the New England Patriots drafting Andre Branch out of Clemson and converting him from a defensive end to an outside linebacker.
I believe that this transition could work very well for both Branch and the Patriots.
Branch has the talent and athleticism to play either position well in the NFL and I think the Patriots would do a fine job of coaching him up and developing him.
Branch makes a lot of sense for the Patriots with their second pick in the first round, especially if they are able to land defensive tackle Michael Brockers with their first pick.
Keep Reading