Jeremy Lin's Emergence Should Mean Less Shots for Carmelo Anthony
February 9, 2012

Rob Carr/Getty Images
Watching the New York Knicks just got exciting again, thanks to an undrafted sophomore from Harvard named Jeremy Lin. 
Jeremy Lin may not be Steve Nash, but he is thriving in Mike D'Antoni's system just like the two-time Most Valuable Player did. And watching Lin playing pick and rolls with Tyson Chandler is a joy to behold. 
Here comes the issue, though: Lin has taken 50 shots in his past three games, and his usage rate (the percentage of offensive possessions used by a player during his time on the floor) is now at 29.10—the second highest behind only Carmelo Anthony on the team (Courtesy of Hoopdata).

So when Anthony and Amar'e Stoudemire return from their physical and personal issues, should and will Lin continue to get the chance to have the ball in his hands and shoot as much as he did? 
In my opinion, he should and he will. 
Lin shot over 50 percent in all three games, which is always an indication of efficient shooting. While he did miss all but one of his 10 three-pointers, shooting them allows the defense to respect his outside game—hence it is a non-issue until the defense adjusts.
Stoudemire and Chandler are both terrific finishers off pick and rolls, and they should be happy that Lin can run the play with the best of them. The two-frontcourt men will now get their points easier. 
The issue remains with Carmelo, however. 
Anthony is notorious for shooting the ball at will. While this is usually a non-issue given that his game revolves predominantly around shooting and scoring, he didn't seem to be aware that he was playing alongside another great finisher in Stoudemire when he arrived in New York last season—and is still continuing to take the shots he used to take in Denver.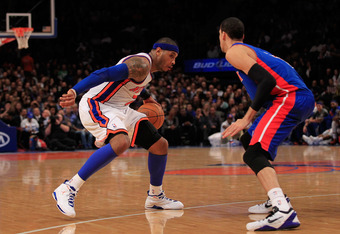 Chris Trotman/Getty Images
Where is the issue, you might ask?
Carmelo is shooting just below 40 percent for the season, versus a career average of 45.7 percent shooting. 
With the emergence of Lin and the amazingly high field-goal percentage of Chandler (he leads the league shooting 70.8 percent), it is time for Carmelo to start passing the ball—and not only when he is getting double teamed. 
He needs to realize that he is the least efficient scorer out of himself, Lin, Stoudemire and Chandler, and that passing the ball often would free up spaces for not only shooters like Steve Novak and Landry Fields, but also for himself. 
If Lin continues his good form and the ball is distributed evenly among the main players, New York is going to be a very difficult team to beat.
It all depends on whether Carmelo is willing to share.