Virginia-Wake Forest: Cavaliers Within One in ACC Race After Rout of Deacons
February 9, 2012

Grant Halverson/Getty Images
One minute and six seconds into the game between Wake Forest and the University of Virginia, Demon Deacon Travis McKie scored to give Wake Forest a 2-0 lead. 
It is hard to believe that would be the high point of the Wake Forest evening, but it was.  Virginia had five players score in double figures for the first time this season as the Cavaliers' dismantled the Demon Deacons 68-44.
Leading candidate for the Atlantic Coast Conference Player of the Year Award, Virginia forward Mike Scott, was a single missed free throw from having every shot that left his hand go through the hoop, finishing the game with a game-high 19 points in just 26 minutes of play.  His perfect nine-for-nine evening from the field tied Jeff Jones (1982) and Kenny Turner (1989) for the best shooting performance ever by a Cavalier. 
Virginia shot a blistering 70.8% in a first half that saw them close on a 12-0 run over the last 2:58 to take a 40-19 half time lead.  A 14-2 run to open the second half gave the 'Hoo's their biggest lead of the night at 56-23 with 14:00 to go. 
UVA cruised home from there.
Forward Akil Mitchell was the only starter to see extended minutes for the Cavaliers, responding with 10 points, equaling his career high.  He also grabbed a team-high six rebounds and had a career-high four assists.
Other Cavalier players to reach double-digits were Joe Harris with 11, and Jontel Evans and Malcolm Brogdon with 10 points each.
Wake Forest was led by Travis McKie's 16 points, while C.J. Harris was the only other Deacon to reach double figures with 10 points.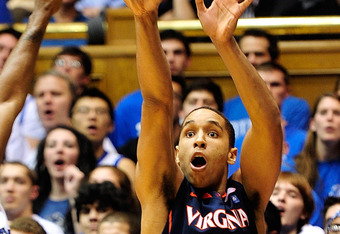 Grant Halverson/Getty Images
This marked the tenth time that Virginia has held an opponent to under 50 points this season, and Wake's 19 points in the first half was also the eighth time a team has failed to reach 20 points in a half against the Cavaliers.
Prior to yesterday's game, the Cavaliers had fallen two games behind a three-way tie for first place in the ACC after a loss in Tallahassee to Florida State last Saturday.  But suddenly, with Duke's loss to Miami on Sunday, tonight's buzzer-beating victory by the Blue Devils over North Carolina, and Florida State's stunning loss to Boston College, there are six teams within a game of the conference lead.
Virginia travels to Chapel Hill on Saturday for the first of two meetings with the North Carolina Tar Heels.  Wake Forest goes home to face the Clemson Tigers