Lefty Grove Was the Greatest Pitcher in History: The Incontestable Proof
February 9, 2012

One of the timeless traditions of baseball is discussing who is the greatest player among any given category.
And although the exercise can provide hours of enjoyment and fruitful conversation—often as older fans bring firsthand observation to bear against younger enthusiasts' enlightened sabermetric analysis—it's ultimately futile because of drastic changes in the game over a century and a half and, of course, personal bias.
Besides, what chance does a 105-year-old, fuzzy-memoried aficionado of Honus Wagner stand against a young Turk weaned on ESPN highlights of Barry Bonds?
Still, debate will forever rage over who holds the top spot as a hitter: Babe Ruth or Ted Williams; the superior all-around weapon: Mickey Mantle or Willie Mays; the most incendiary fastballer: Walter Johnson or Nolan Ryan…
But now, at least one argument once and for all can be laid to rest, for I possess incontrovertible proof of baseball's greatest all-time pitcher.
You can contend that Walter Johnson, with his—as Ty Cobb described it—hissing fastball and 416 victories, stands supreme on the history of the mound.
Or you may advocate Greg Maddux, winner of four consecutive Cy Young Awards, as most deserving of the honor.
Perhaps you consider zero-time Cy Young Award winner Cy Young the preeminent moundsman to take the field.
The sabermetrically inclined might even select Pedro Martinez as baseball's premier hurler.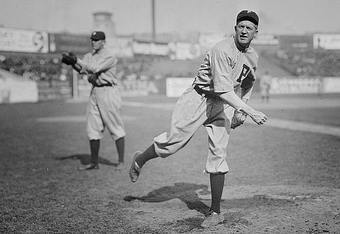 Some grandfathers will swear that Bob Feller or Grover Cleveland Alexander warrant the title.
Each would, until now, be thoroughly deserving. The Big Train mowed down the most batters in the American League for a dozen seasons, and, had he worn the jersey of a team more talented than his Washington Senators, likely would have surpassed Cy Young's unsurpassable victory total.
Despite trading in his stirrups for Navy bell-bottoms in the prime of his career, Bob Feller still amassed numbers that make one blink.
And in an era when 300 victories are becoming a rarity, Greg Maddux and Roger Clemens eye-poppingly reached the nearside of 400.
Yet Lefty Grove clearly ranks higher than any other man to take the mound in Major League history.
But not for the reasons that you think.
Yes, Grove's record and exploits measure up to virtually any other hurler: a 300-141 record, good for a glittering .680 winning percentage—the highest for any Hall of Famer (and that's after winning 108 games over five seasons in the high minors, because Jack Dunn, owner of the Baltimore Orioles, refused to sell him to a Major League team—so who knows how many more big-league victories Grove could have added to his total?).
Grove also snared seven consecutive strikeout titles, a mesmerizing nine ERA championships—a mark no one will ever match—and a four-year run of 108-27—a stretch of dominance that dwarfs anything post-war baseball has seen.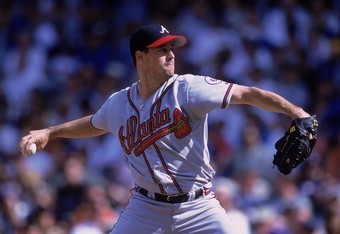 Jonathan Daniel/Getty Images
Perhaps even more scintillating than his back-to-back 28-5 and 31-4 seasons (with an ERA each season more than two full runs below league average) is the fact that, with 441 career decisions, Grove never once finished a season in the top 10 in losses—a feat unequaled by any other 300-game winner.
A sore arm in 1934, from which he never fully recovered, kept Lefty from climbing into the upper reaches of the all-time victory list, even though he won 105 more games in the southpaw's hell of Fenway Park.
But forget all the numbers, raw or normalized. Forget that Walter Johnson tossed a stupefying 110 shutouts and that Grover Cleveland Alexander captured three pitching triple crowns and that Warren Spahn reached the 20-victory circle 13 times.
Lefty Grove is the greatest pitcher of all time for one single reason.
After receiving well-earned induction into the Hall of Fame in 1947, Grove garnered an additional six votes from the Baseball Writers' Association of America (BBWAA) in the 1960 election. This was not only good enough to collect 2.2% of the vote, but placed the long-enshrined Grove ahead of such future Cooperstown neighbors as Ralph Kiner and Addie Joss.
Now, I have no intention of endorsing the BBWAA as the unquestioned authority on baseball immortality. Yet that some members were so convinced of Grove's greatness that they felt compelled to vote for him 13 years after he took his rightful place in Cooperstown bronze—well, that carries the weight of a white elephant, for sure.
I queried the Hall of Fame about this almost six years ago. A research associate responded in June 2006 that "there is no listing for the voters' reasoning behind the write-in votes."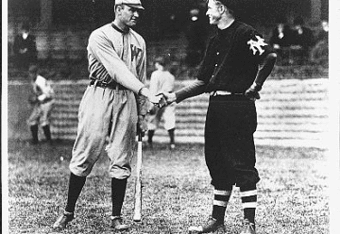 So, the only hint to be gleaned beyond this confirmation is that Grove's name did not errantly appear on the ballot—which means that, unprompted, six members of the BBWAA took it upon themselves to write in a vote for an already-immortalized player at the expense of many other worthy candidates.
And it's likely that some of those writers already had contributed to Grove's actual election in 1947.
One writer voting for a player who already received induction is either a careless mistake or a mark of ignorance that begs the BBWAA to revoke his membership.
Six writers voting for a player whose likeness already graces the Hall of Fame's Gallery is a grassroots mandate of unparalleled greatness.
For all of the generational lionizing that Walter Johnson receives as the greatest pitcher ever—and Bill James as well ranks him No. 1 in his Historical Baseball Abstract—the Big Train never received a single vote after his induction into Cooperstown. And as a charter member of the Hall, he—along with fellow charter member, Christy Mathewson—has had longer than any other pitcher in history to receive one.
Ditto Tom Seaver, Bob Gibson, Grover Cleveland Alexander, Sandy Koufax, Satchel Paige, Nolan Ryan and any other Hall of Fame pitcher you care to name. Clearly, none of them were looked on by baseball cognoscenti as that good. 
So, like New York, New York—so good they named it twice, as Gerald Kenny sang in 1978—until some BBWAA or Veterans' Committee member names on the ballot another pitcher already enshrined in Cooperstown, Lefty Grove remains so good that no other pitcher in history rivals him.