The Problem with Recruiting: Is College Football Hurting Its Athletes?
February 9, 2012

Kevin C. Cox/Getty Images
With another Signing Day behind us, college football fans are taking stock of their recruiting class and measuring each player's talents in future wins and losses.  But lost in the pomp and circumstance of all-day television coverage and up-to-the minute twitter feeds is the troubling escalation of recruiting. 
In the last decade, coaches have targeted recruits at an increasingly young age, fawning over adolescents with little regard to the emotional repercussions and handing out scholarship offers like antacids.  They've even taken to monitoring recruits' Facebook pages, sheepishly exerting resources on capricious teenagers with every inch grown and tenth of a second shaved off a forty time.
By the time Signing Day arrives, players have offered verbal commitments with the same indiscriminate behavior.  The "flipping" of recruits has become so commonplace, in fact, that many coaches fear the task of having to ward off predatory suitors. 
This year's class showed just how tenuous a commitment could be.  Prized defensive line recruit Arik Armstead went from a USC-lean, to Cal, Notre Dame, then Oregon.  Jordan Payton followed suit with a dizzying final two weeks in which he committed to Cal, Washington and UCLA.  And Darius Philon proved that even signing-day decisions aren't guaranteed, pledging to Alabama in the morning and Arkansas in the evening. 
But what they lack in certainty, recruits make up for with flash, often shelving the now antiquated hat roulette for more immodest displays, with television networks, streaming video and all-star games providing ample forums. 
All this, and yet we're incredulous when an athlete prematurely leaves school for NFL spoils.  We're frustrated by alarming graduation rates, incensed by showboating and exasperated when a player puts individual accomplishments above the team.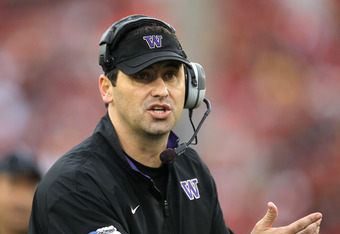 Stephen Dunn/Getty Images
Even the allowable has taken on new absurdities.  Former Cal defensive line coach and Rivals 2010 Recruiter of the Year, Tosh Lupoi, was offered twice his salary for his recruiting talents by the Washington Huskies.  When that didn't work, the aptly named "Dawgs" upped the ante to $500,000 and threw in a boat--that's right, a boat-- for good measure.    
But as grating as the coaching carousal can be, the more pressing issue involves recruits.  After years of having their egos stroked and talents lauded, it's little wonder their identity becomes wrapped up in their athletic achievement.  And when success on the field ends, as it inevitably does, these once 17, 18-year-old prospects struggle transitioning to other vocations. 
So who's to blame?  Coaching staffs?  Sure, they lobby unethically for players and make logical villains, but they answer to trustees, university presidents and alumni with deep pockets, all hell-bent on winning.  Fans?  OK.  They do, after all, constitute the majority of ticket buyers and television viewers.  But should fans be expected to police a sport?  Shouldn't its governing body do that?  What about the media?  It's hard to refute that we perpetuate recruiting wars with every star awarded and comparison made.  But doesn't the media enable schools to turn unbelievable profits, profits that are poured back into the universities, even those that underperform on the gridiron?
Frustratingly, the layers of culpability make prescribing corrective measures difficult.  The fact is there may just be too much symbiosis to restore order.
So am I planning to spend my Saturday afternoons differently this fall?  Not by a long shot.  But maybe that's the problem.  Fully aware that with every ticket bought we're giving sanction to unsavory recruiting methods, we keep hoping someone else will start treating kids like kids.