Pittsburgh Steelers: Order Restored with Todd Haley Hire, but for How Long?
February 9, 2012

Dilip Vishwanat/Getty Images
With Todd Haley's hire as offensive coordinator, the Pittsburgh Steelers have corrected their course and will benefit from it.
More can be derived from what the Steelers didn't say, and to whom, than what they did say in public. In the release and hiring of of the offensive coordinators, Steelers president Art Rooney II didn't consult with his quarterback and didn't abide by his head coach's desires to keep the embattled Bruce Arians.  The move sent a message throughout the organization that the Steelers franchise is Rooney's team and he'll do what he thinks is best for it.
And it was the right thing to do. 
Upon hearing the news of Arians' demise as offensive coordinator, Steelers quarterback Ben Roethlisberger was upset, miffed or any other word you would choose to explain his feelings of frustration at Rooney's unilateral move to send Arians adrift. Roethlisberger suggested that upon returning from the Pro Bowl in Hawaii, he would "go up to Mr. Rooney's office and ask him what he wants from me, what he wants from this offense, because I think that's a viable question for him."
Neither the Arians firing nor the Haley hiring were discussed with Roethlisberger beforehand, nor should they have been. When given the keys to the Steelers car, Roethlisberger has shown brilliance, but also a fair dose of immaturity both on and off the field. He's enjoyed years of "gun slinging" and sanctioned improvisational play that has led to mixed results given the talent he's been provided.
Haley will make the most of Roethlisberger's brilliance outside the pocket, but will demand he grow as a drop-back quarterback, the way he did with Kurt Warner during their time in Arizona. 
Roethlisberger's custom-tailored playbook needs to be tweaked to diminish his high-risk moves that have resulted in injury and losses. Big Ben has shown he can take a beating, but the wear and tear on his body is starting to catch up to him. There's a higher-than-average probability he suffers a career-ending injury simply due to his percentage of scrambles outside the relative safety of the pocket.
Look for Haley to demand more of Roethlisberger inside the tackles, which will extend his career and thus the Steelers' winning ways.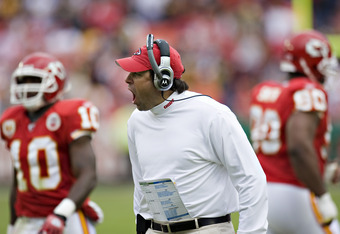 Wesley Hitt/Getty Images
Roethlisberger will turn 30 years old and hasn't shown much improvement in his game since 2009. He had his second-best season in terms of passer rating and completion percentage the year following Ken Whisenhunt's absconding for Arizona in 2007. His time with Arians has been professionally up and down, and over the last three seasons his quarterback rating has continued to decline. Roethlisberger's arc seems to have plateaued over the last few seasons, but Haley will push him to be improve. Roethlisberger will go up or out.
Either way, that change is what the Steelers need to get to the next level. Haley's been known to dust it up with people up and down the hierarchy, and should that continue it will be a stark contrast to the relationship that existed between Roethlisberger and Arians. In short, the Haley hire is sure to bring more tension to the sideline than during Arians tenure, but there's a strong likelihood it brings wins as well.
Another beneficiary of the Haley hire will be coach Mike Tomlin. Although Haley's win-loss totals don't overlap with Tomlin's, they share a passionate and outspoken demand for excellence that makes them kindred spirits. Haley has proved he can win and will benefit from a tough, defensive-minded leader in Tomlin. 
In bringing in someone from the outside, Tomlin will have the chance to grow into his coaching leadership in a way he's yet to do. He walked onto a team with older and more experienced coordinators in place and benefited from that dynamic as he gained comfort in his new position. In his early years as the Steelers coach, he led the team flanked by that strong coaching cadre, and so grew in a safe environment and enjoyed an accelerated learning curve.
In Haley, who will be a peer more than a mentor, Tomlin can exercise the new leadership muscle he's now ready to use. Their mutual passion for the game will push each other to new heights, perhaps with some sparks along the way. 
Whether Haley's so successful he ascends back into a head coaching job, or too bristly to get along with other strong-willed leaders in the long term, don't be surprised if he's gone within four years. That kind of passion tends to burn out, rather than fade away.