Boston Celtics' Youth: Building Blocks or Trade Chips?
February 8, 2012

Elsa/Getty Images
JaJuan Johnson was the last to join the group. The rookie power forward opened eyes with an 11 point, two rebound performance in garbage time against Toronto. But it was the 10 point, four rebound, one assist and two block encore filling in for Brandon Bass that sent the message home—Johnson can play in the NBA.
He joined Boston's Bridge consisting of players with two years of experience or less. Avery Bradley, E'Twan Moore, Greg Stiemsma and Johnson all flashed the ability to play in a game or two, giving reason for optimism for the future.
Now what? Celtics' vice president of basketball operations Danny Ainge holds Boston's future in his hands. Since assembling Kevin Garnett, Ray Allen and Paul Pierce, Ainge has never had this much young talent on the roster.
The question becomes whether Ainge holds on to the young players or uses them as currency towards productive veterans for a last stab at a championship. Which is more important to Ainge?
Each of the young four had their moments. Including Johnson's star turn: 
Stiemsma, the former D-League defensive player of the year, first opened eyes with six blocks in mop-up duty against New Orleans. Stiemsma trumped that in his first start against Washington, as he showed off a reliable mid-range jumper to compliment his innate shot-blocking ability.
Bradley, forced into the starting lineup because of a Rajon Rondo wrist injury, set the tone with tenacious full court defense that helped turn the Celtics' season around. Boston went 6-2 with Bradley starting and went from 5-8 to 11-10.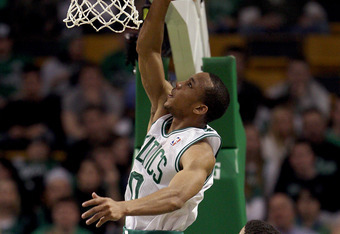 Elsa/Getty Images
Moore struggled offensively playing behind Bradley until Moore lit up Orlando for 16 points, including 4-4 on three pointers, in a 27-point comeback win on the road.
But being realistic, even if they all fulfill their potential, none are expected to become stars. Maybe one or two become starters, but their futures are in supporting roles.
If these players aren't considered leaders for the next generation, it might be worth more to exchange them for productive veterans that can help now.
Each of the young players had the opportunity to shine when veterans missed games. Rondo, Jermaine O'Neal, Chris Wilcox, Keyon Dooling, Paul Pierce, Ray Allen and Bass have missed 43 games combined this season. When the team is healthy, Bradley's minutes will be reduced, while the remaining youngsters will log repeated DNP-CDs or only see garbage time minutes.
The security the young players provide for "in case of emergency" situations is valuable, but not as much as veterans that head coach Doc Rivers would trust at any time.
In order to trade any of the young players, Ainge would have to include them as part of a package that includes veterans to make the money work. Reportedly Ainge is interested in a Pau Gasol for Rondo trade. Because there is an $8 million difference in salaries, Boston either has to include additional players to make up the difference or get a third team involved.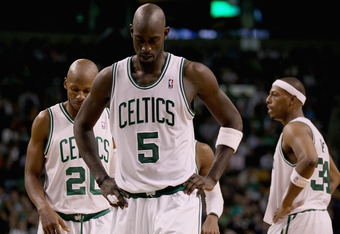 Elsa/Getty Images
If throwing in an inexpensive youngster or two is the difference that gets a deal done, Ainge won't hesitate to get what he wants.
Granted Ainge's perspective can change quickly. As the Celtics got off to a 4-8 start, the talk was whether or not to break up the Big Three and begin the rebuilding process. The suggestion has died down as Boston has gone 10-2 since then, including five straight wins. They've rebounded from worst in the Eastern Conference to seventh.
The question remains whether the Celtics' record is genuine. Boston's record was built by trampling the league's meek. The last 10 wins came against teams with a combined 79-119 record by February 8. Only three of those wins (Indiana and Orlando twice) were over teams currently in the top eight in the East.
Against the best in the league, Boston is 0-3. To Ainge's relief, the Celtics are a different team now than when they lost to Chicago, Miami, and Oklahoma City.
Ainge will find out if the Celtics are real soon. Beginning with the next chapter of the Boston-Los Angeles rivalry, the Celtics play 18 games before the NBA March 15th trade deadline. Out of the 18 games, 10 of them are on the road. There are 11 games against current playoff qualifiers, including two each against the Lakers and Chicago, Dallas, The Thunder, Milwaukee, Houston, Philadelphia, Portland, and the Los Angeles Clippers.
How the Celtics perform against the NBA steel could determine which direction Ainge leads Boston. Ainge has a gambler's mentality so he isn't afraid to take a huge risk and go all in.
But Ainge also said he would break up the Big Three if he has enough reason to do so.
With Stiemsma's contract guaranteed for the rest of the season, all four youngsters are available for whatever Ainge desires. They have a little more value with proof of what they can bring to a team. For which team will be determined by how well the Celtics play against current playoff teams.
Question? Comments? Send to talktome@randolphc.com.