Arkansas Football: Power Ranking the Program's Top 7 Returning Players for 2012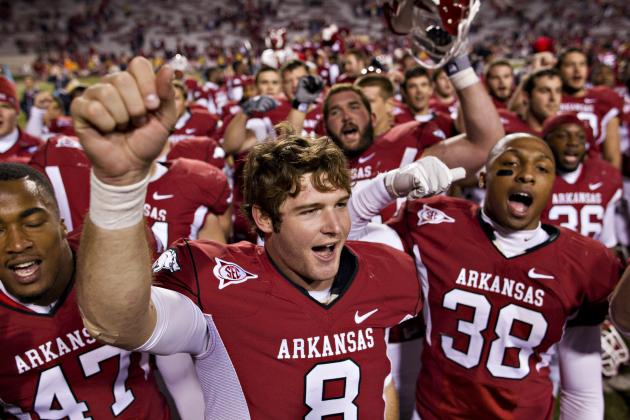 Wesley Hitt/Getty Images

The Arkansas Razorbacks have made huge strides under Bobby Petrino, and he has this program going into the right direction.
The Razorbacks finished last season 11-2, and had a big win over Kansas State in the Cotton Bowl.
With Alabama and LSU losing a load of talent, 2012 may be the best chance for the Razorbacks to win a SEC championship. However, with Jarius Wright, Joe Adams and Jake Bequette leaving for the NFL Draft, Arkansas has their own holes to fill. So Arkansas' returning players will need to step up and lead this team to next level.
Here are the top seven players returning for the Hogs in 2012.
Begin Slideshow

»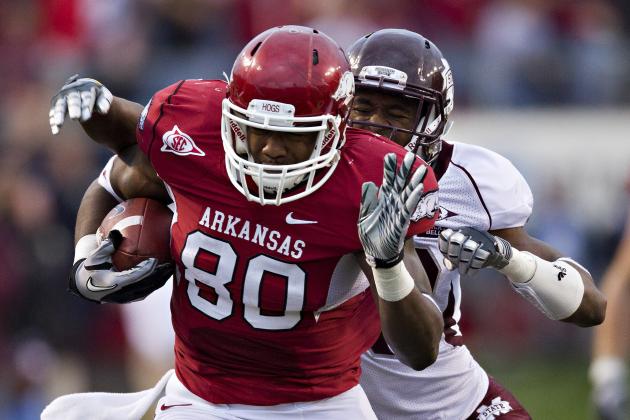 Wesley Hitt/Getty Images

Bobby Petrino has coached in the NFL, and he teaches an NFL offense; therefore, he knows how effective the tight end position can be.
Chris Gragg was the starting tight end for the Hogs last year, and he was third on the team with 41 receptions. He will be the leading receiver returning next year. He only caught two touchdowns, but he had 518 yards. With Arkansas losing Greg Childs, Joe Adams and Jarius Wright, Gragg will be have to step up to keep this offense going at a high level.
Gragg will have an NFL-ready quarterback, Tyler Wilson, throwing to him next year so expect big things from the Razorback tight end.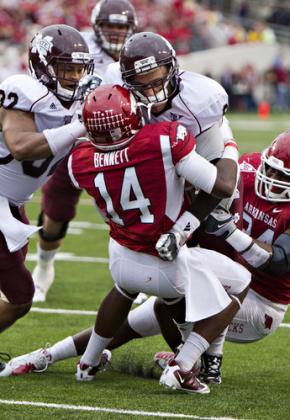 Arkansas is losing a total of four defensive backs to graduation in Jerico Nelson, Elton Ford, Greg Gaston and Tramain Thomas.
Experience is the key to playing well on the defensive side of the in the SEC.
Eric Bennett will be the lone starting defensive back returning in 2012, so he will have to step up and be the captain for the Razorback defense. Bennett is a big safety at 6'0" 200 lbs. He can read the quarterback's eyes real well, and he is not afraid to come up in the box and hit the ball carrier.
Bennett will be a junior next year, and with his experience, he will need to put the new starting defensive backs in the right spot before the ball is snap.
If Arkansas wants to make a run at the national title, its defense needs to step up. Bennett will be the leader in the secondary, so his play on the field will tell how far the Hogs will go.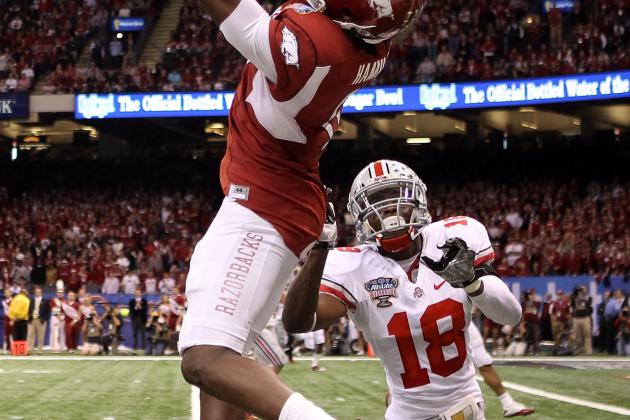 Matthew Stockman/Getty Images

It is no secret that Petrino knows how to develop big, play-making receivers.
Joe Adams and Jarius Wright led the receiving corps last year as they combined for 120 receptions, 1,769 yards and 15 touchdowns. How will the Hogs replace that?
Well it is easy when you have guy like Cobi Hamilton. Hamilton is a big receiver listed at 6'3" 210 lbs. He had 34 receptions last year going for 542 yards and 4 touchdowns. Hamilton has already been listed as the No. 1 receiver for the 2013 NFL Draft by many of the experts.
Tyler Wilson and Cobi Hamilton showed they had chemistry last year, but with spring practice and a whole summer to get ready, they will likely become one of the scariest QB-WR duos in the nation.
Expect Hamilton to be the go-to guy next year, and he will be a household name when he starts to light up SEC defenses.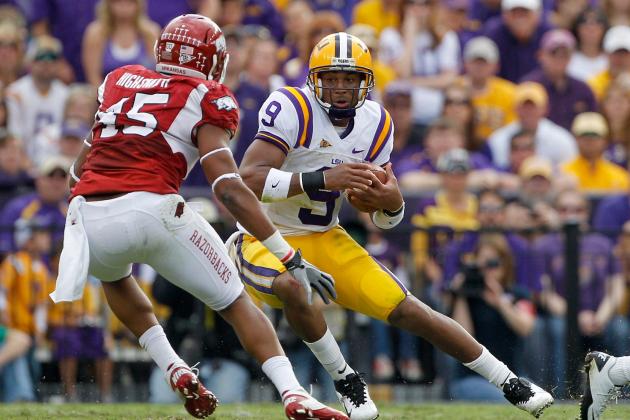 Chris Graythen/Getty Images

To compete for a national title, Arkansas will have to get through Alabama and LSU.
Arkansas will likely have the best offense in the SEC, but the Razorbacks will need defense to take them to the next level.
Alonzo Highsmith is a big time player that will set the tone for this defense. Highsmith is a bit undersized at 6'1" 230 lbs, but he plays a lot bigger. Highsmith is tough up the middle, and he can run sideline to sideline.
Highsmith had four sacks last year, and he led the Razorback defense with the most tackles for loss. Arkansas lost Jake Bequette and Jerry Franklin on defense, but Highsmith will step up and play bigger and better next season.
Highsmith will have to play as one of the top linebackers if he wants to help this team get over the hump and beat Alabama and LSU.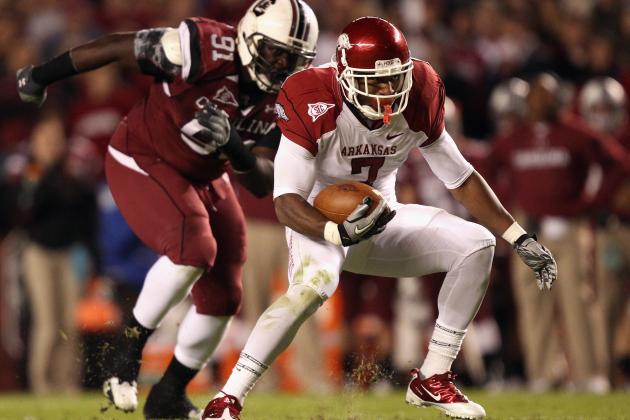 Streeter Lecka/Getty Images

I put both of these players on the same slide, because they need each other to make an impact in 2012.
Knile Davis was to challenge Trent Richardson the be the best running back in the SEC, but Davis broke his ankle a couple of weeks before the season started. That is when Dennis Johnson became the starter, and he did fairly well rushing for 670 yards and three touchdowns. Johnson lost a lot of carries to Ronnie Wingo, but Johnson looked quicker and he ran a lot tougher.
Davis showed he can run in the SEC as he led the league in rushing in 2010. Now that he says is he healthy, Davis and Johnson will look to be one of the best running back duos. Davis will likely be the starter, but due to his ankle, Johnson will get plenty of playing time. When Davis comes off the field, Johnson will need to step up and make some plays.
If Davis is back to his 2010 form, and if Johnson can run really when he gets his chance, SEC defenses are going to wear down and have trouble stopping these two backs.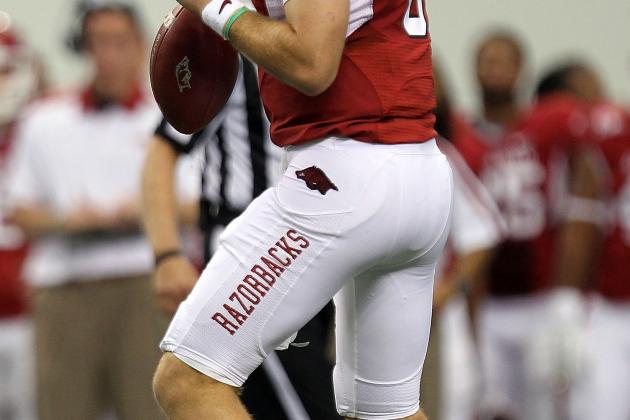 Ronald Martinez/Getty Images

I think everyone in the nation knows that Tyler Wilson will be the most important player for the Hogs in 2012.
Wilson had a breakout year last season throwing for 3,638 yards and 24 touchdowns. Most importantly he only threw six interceptions. That is one phenomenal year.
Wilson has great size for a QB listed at 6'3" 215 lbs. He is already projected to be a top 3 QB for the 2013 NFL draft.
Wilson lost his two favorite targets, but that will not slow him down one bit, as Arkansas has plenty of talented receivers ready to make an impact.
Wilson has shown he can light up SEC secondaries, but with another year, Wilson will be unstoppable. Expect Wilson to be in the middle of the Heisman race as he tries to lead Arkansas to a national title.