NBA Rumors: No Harm in Working out Gilbert Arenas for Los Angeles Lakers
February 9, 2012

Kevin C. Cox/Getty Images
You miss 100 percent of the shots you don't take.
That seems to be the aphorism making the rounds through the Los Angeles Lakers' front office with regard to Gilbert Arenas.
According to CBSSports.com, Lakers GM Mitch Kupchak is "open-minded" about attending Free Agent Zero's workout in LA this week, pending the divulging of details. Arenas was cut loose by the Orlando Magic before the season via the one-time amnesty clause in the new collective bargaining agreement and has yet to find a new home for his services.
At this point, the Lakers have nothing to lose by sending some of their personnel folks to Arenas' upcoming showcase, if/when it happens. Their situation at guard this season has been nothing short of deplorable, an untenable concoction of injuries, inexperience and age.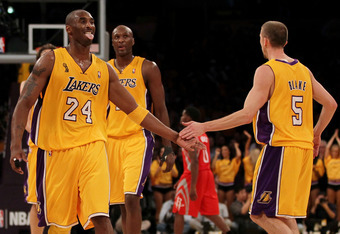 Jeff Gross/Getty Images
The offseason departure of Shannon Brown has left the Lake Show without a viable backup for Kobe Bryant, forcing the Black Mamba to play big minutes with an injured (but allegedly healed) wrist amidst a compressed schedule. Steve Blake has been out since January 11th with a cartilage fracture, though he may be back in time to face the Boston Celtics on Thursday.
As a result, first-year coach Mike Brown has had to dish out big minutes to 37-year-old Derek Fisher and second-round rookies Darius Morris and Andrew Goudelock.
Not exactly a sound strategy for a team hoping to contend in the wide-open Western Conference, especially with Kobe's days as an elite player being as numbered as they are and the league as a whole being as stacked as it is at the point guard position.
That's not to say that Agent Zero is necessarily the answer to the Lakers' prayers, or even the best available option with which to bolster their backcourt. The Purple and Gold have also been mentioned in connection with Jonny Flynn of the Houston Rockets and Ramon Sessions of the Cleveland Cavaliers, both of whom are far younger than Arenas and, as such, have the potential to grow with the team going forward.
And with Blake and Kobe on the mend, the Lakers might not need another body in the backcourt.
But simply having eyes on Arenas and seeing if there's any truth to the 30-year-old being slim and healthy can't hurt. 
Nor would signing Arenas for the veteran's minimum if they like what they see. You don't think Arenas would relish the opportunity to shine for his hometown team and prove that he's capable of being a productive player on the court and a good citizen off of it?
It's a low-risk, high-reward situation that the Lakers would be smart to explore and likely will once Arenas nails down a time and place for his private showcase.
Though, if he's smart, he won't enlist Terrell Owens' help in setting it up.