Minnesota Twins 2012: Breaking Down the Twins' Starting Rotation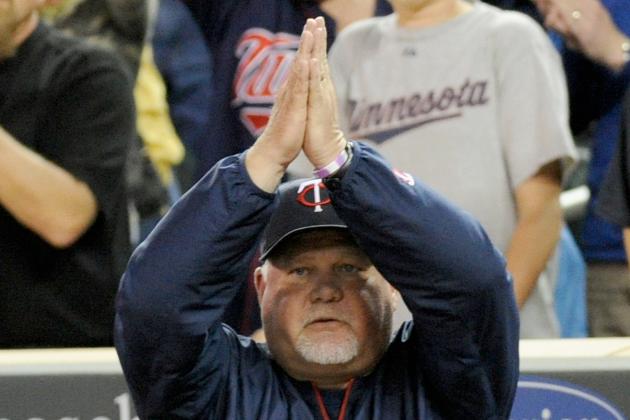 Hannah Foslien/Getty Images

The Minnesota Twins are expecting a big lift on offense with the return of Joe Mauer and Justin Morneau. Those two guys should improve an offense that if not for the Seattle Mariners would have been the worst in the American League.
Unfortunately for the Twins, they still have to pitch. Let's take a look at the expected starting rotation going into spring training.
Begin Slideshow

»
Jason Miller/Getty Images

The Good
Carl Pavano has proven to be a workhorse for the Twins, having thrown for 220 innings in each of his last two seasons. He also had almost 200 innings in 2009, the year he split between the Cleveland Indians and Twins. Aside from his injury-plagued stint in New York, Pavano has thrown for nearly 1,100 innings in his last five full seasons.
Pavano was so durable that he tied for the AL lead in complete games with seven in 2010.
The Bad
Like every other pitcher the Twins have, Pavano pitches to contact and is coming off a career low of 4.14 K/9. The problem with that for Pavano is he needs ground balls and good defense to be successful.
Look at the difference between 2010 and 2011: In 2010 he had a ground-ball percentage of 51.2 percent, a BABIP of .281 and his left-on-base percentage was 74 percent. The result was the second-best season of his career.
Contrast that to 2011 where his ground-ball percentage dropped to 50.6 percent, his BABIP shot up to .306 and his left-on-base percentage dipped to 67.3 percent. Those numbers helped lead to the most hits given up by any pitcher in baseball, a tie for career high in losses at 13 along with four fewer complete games from 2010.
The Reality
On just about every other team Pavano would be a No. 3 or No. 4 starter because of his ability to limit walks and eat innings. For the Twins he is their No. 1 based mainly on his durability. That's not Pavano's fault though, so don't blame him.
The problems with the Twins rotation are just beginning.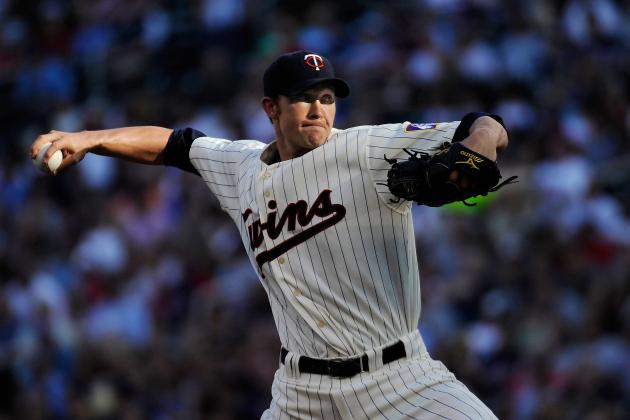 Hannah Foslien/Getty Images

The Good
Scott Baker was about as good as you could get at home in 2011. He was 5-1 at Target Field with a 2.34 ERA, 1.04 WHIP and 57 K's in 57 IP. At one point he had won four games in a row and was starting to be called Big Spot Scott for his ability to pitch a good game when the team needed.
Although Baker did benefit from a 79.4 left-on-base percentage last year, he also had a career high in K/9 with 8.22, ahead of Cole Hamels and Jered Weaver.
The Bad
Baker can't stay healthy. Elbow injuries derailed him in 2010 and again in 2011 while in the midst of his best season. He has only thrown for 200 innings in a season once in his career.
We also can't overlook that he is an extreme fly-ball pitcher who only induces a ground ball 34.3 percent of the time. This can lead to the other nickname of Moon Shot Scott for his tendency to give up the long ball.
The Reality
If Baker can stay healthy and build off his 2011 campaign, he can certainly be a front-end type guy and potential ace. His K/9 has climbed in each of the last two seasons and he has very good control.
That's the kind of combination that makes a pitcher successful on his own without having to rely on defense and luck.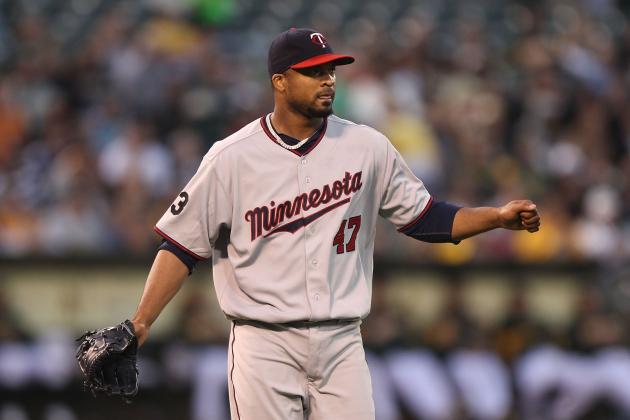 Jed Jacobsohn/Getty Images

The Good
In 2006 Francisco Liriano burst onto the scene and had all of baseball fearing a one-two punch of Liriano/Johan Santana for the next decade. However, fate would be cruel to the Twins with Liriano having Tommy John surgery in 2006 that would sideline him until 2008.
Santana later forced his way out in a trade to the New York Mets after the 2007 season.
After struggling to get himself back together for two seasons, it appeared Liriano had finally regained some of that swagger in 2010. He posted a K/9 rate of 9.44, had a career-high 14 wins and produced a ground-ball percentage of 53.6. He was starting to look like the ace the Twins needed.
The Bad
2011 was the worst season of his career. He posted his lowest K/9 at 7.50 and had the highest BB/9 of all pitchers that threw at least 130 innings with a staggering 5.02. He should have received some benefit of having the second-lowest BABIP of his career, but his control was awful, which helped his ERA get into Jason Marquis-like status of 5.09.
A shoulder strain and trip to the DL essentially finished his season in late August as he did not start another game the rest of the year.
The Reality
Despite his disastrous 2011 season, Liriano threw a no-hitter in May. As ugly as it was with six walks and only two strikeouts, it should have helped build some confidence. Instead Liriano withered and the Twins are left wondering if he can ever become the ace they expected.
There is hope, however. Liriano is scheduled to become an unrestricted free agent after the 2012 season which should give him plenty of motivation to pitch well in 2012.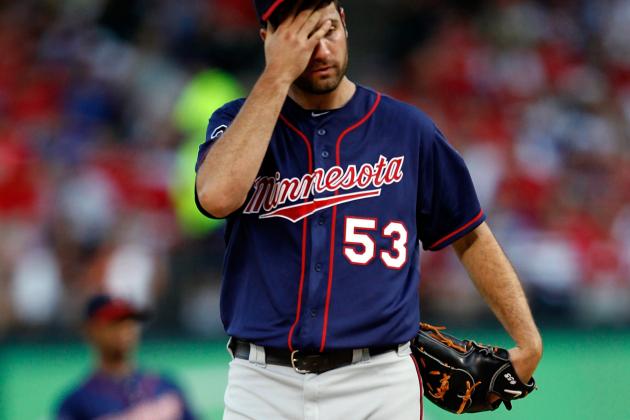 Tom Pennington/Getty Images

The Good
Somewhere inside Nick Blackburn there is a pitcher the Twins used to love. I'm talking about the guy who after his first two seasons was exactly the type of starter the Twins coveted. He threw strikes, ate up innings and didn't walk anyone.
The Twins then rewarded him with a four-year $14 million contract going into 2010. This is where the good part ends.
The Bad
Blackburn, or Blackie as Rob Gardenhire likes to call him, has never been a strikeout pitcher so I won't hold that against him. He has, however, become the opposite of what the Twins thought they were buying two years ago at this time.
Since 2009 his BB/9 has gone from 1.79 to 3.28 and his HR/FB has gone from 9.4 to 14.1. His low point came in July 2010 when he was demoted to Triple-A after compiling a 6.66 ERA over 18 starts. In 2011 he battled the injury bug again as he did in 2010, and was not able to regain the form from the '08 and '09 seasons.
The Reality
Blackburn has two years remaining on his contract but he might have only two months of patience from the Twins to start 2012. Blackburn needs to find his stuff from three years ago if he wants to win the trust of his team and support of their fans.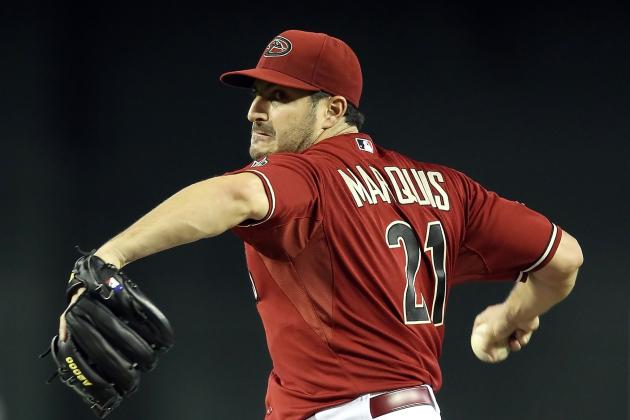 Christian Petersen/Getty Images

The Good
Jason Marquis is the latest example of the pitch-to-contact type guys the Twins want in their rotation. I'm convinced that he and Pavano exist just so the Twins can show Blackburn the path he should follow in his career.
Marquis owns a career winning record and has pitched for a lot of good teams in his career.
The Bad
In 2006 Marquis led the NL with 16 losses, 6.02 ERA and 35 home runs allowed, which led to the St. Louis Cardinals leaving him off the playoff roster that year. In 2009 he made the All-Star team with the Colorado Rockies but pitched so poorly in the second half that he was left off the playoff roster.
In 2010 Marquis was on his way to the worst season of his career with a 6.60 ERA, 3.68 BB/9 and 15.3 HR/FB percent before surgery to repair bone chips in his elbow ended his season. In 2011 he was pitching well enough that the Arizona Diamondbacks acquired him for their postseason run before a broken right leg ended his season in August.
The Reality
If the Twins can get back to playing good defense, Marquis should at least give the bullpen a breather. If not, Marquis, Pavano and Blackburn are going to struggle even more than their limited skill sets would suggest. I suspect Marquis will leave an imprint on Twins history like that of Ramon Ortiz and Livan Hernandez.