Seminoles: Predicting 2012 Stat Lines for 'Noles Impact Players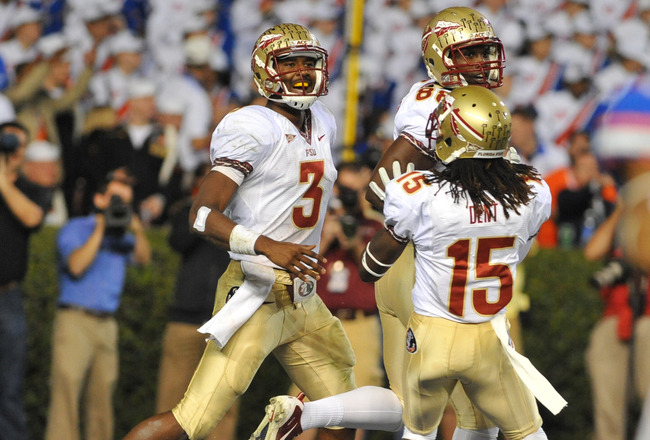 Al Messerschmidt/Getty Images
As an FSU fan, I cannot wait for next season. I was part of the fans vigorously tracking recruits on NSD and analyzing top commitments and such. Needless to say, I am excited for next season.
The Seminoles are returning a lot of top-tier talent and are still bringing in top recruits. These players all compete with each other for starting jobs, so the roster when the season starts may not be the same as the ones in preseason.
Either way, these are the impact players that will fuel the FSU team on its way to (hopefully) an ACC or even national championship.
Now let's break down those numbers!
*As a side note, I am including sacks into the tackles for loss category for the defensive players
E.J. Manuel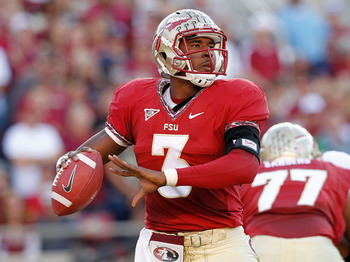 Mike Ehrmann/Getty Images
Manuel silenced all the critics who questioned his ability to lead this Seminoles team in the 2011 season. He finished with a very nice 18 touchdowns, eight interceptions, 2,666 yards and 151.2 overall rating.
That doesn't even factor in his rushing stats, which are also very good. Had he not gone down to injuries in the middle of the season, the 'Noles would have been much better. No time to dwell on the past though.
E.J. has consistently improved from year to year, so I don't doubt that he will continue to improve this season.
Prediction: 2950 YDS, 24 TD, 7 INT, 65.5% CMP
*As an added bonus, I'll include rushing stats: 100 ATT, 240 YDS, 2.4 AVG, 6 TD
Devonta Freeman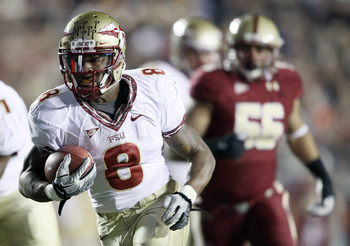 Elsa/Getty Images
The running back position for the 'Noles has so many great candidates, so it was hard to decide which one was going to get the starting job. I ultimately decided on Freeman because of his good showing as a true freshman.
Freeman didn't have the greatest season, especially after he was expected to help the offense a lot more than he did. But the advantage that Freeman has is his experience and speed. The offensive line was marred with injuries too, so I expect a better showing from Freeman this year.
Prediction: 150 CAR, 750 YDS, 5.0 AVG, 9 TD
Rashad Greene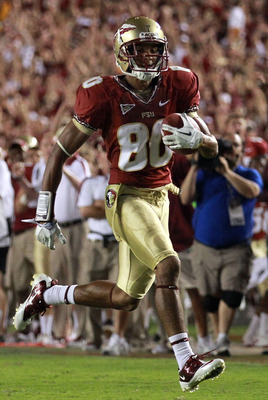 Ronald Martinez/Getty Images
Yet another true freshman to join the ranks of the impact players for FSU. Greene showed up big for the Seminoles in 2011, including a crucial touchdown in the Champs Sports Bowl to propel the 'Noles to victory.
Perhaps the best part of Rashad Greene is that he presents a big play threat in this group of receivers. His stats would have been a lot better had he not missed time due to an injury. I think Greene stays healthy this season and battles for the No. 1 receiver honor.
Prediction: 50 REC, 700 YDS, 14.0 AVG, 8 TD
*On a side note, I will never forget Greene's touchdown catch versus Oklahoma. One of the craziest moments I have ever seen in Doak.
Rodney Smith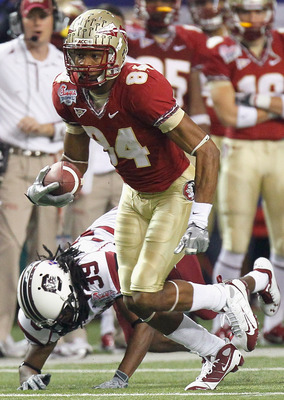 Kevin C. Cox/Getty Images
While he was the leading receiver, Rodney Smith would sometimes just up and disappear during the season. He is a talented receiver, but he needs to find consistency in his game if he wants to continue to be a starting wide receiver.
That being said, I still expect Smith to be the leading receiver for the 'Noles in 2012. Since he is a senior, he knows that this is his last year to really impress and compete for the ACC title. I think Rodney Smith has a great year in 2012 that sends him off on a great note.
Prediction: 55 REC, 800 YDS, 14.5 AVG, 6 TD
Nick O'Leary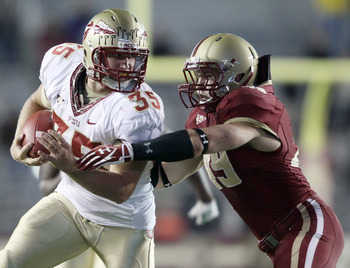 Elsa/Getty Images
Out of this whole FSU offense, I picked O'Leary to be the one to have a breakout season in 2012. It may seem crazy at this point, but once you analyze, it is not hard to see this happening.
O'Leary can really go nowhere but up. As a freshman, he was thrust into a position he hadn't fully mastered. Manuel needs a backup receiver guy that can power through people for a few extra yards.
If O'Leary can learn to block better and can get off the line quicker, I have full trust in his abilities and my predictions for next year.
Prediction: 25 REC, 300 YDS, 12.0 AVG, 4 TD
Bjoern Werner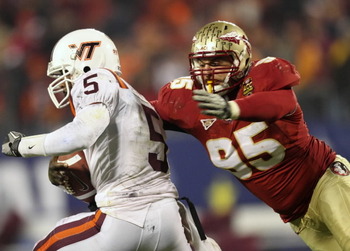 Werner was the surprise of this defense last year, breaking out for 8.5 tackles for loss, seven passes defended and six sacks. Some were tossing around the idea of him being an All-American candidate.
I could certainly see this possibility, as Werner is a dominating force on the defensive line that terrorizes offenses. He is a big guy, plain and simple. The strength he possesses is just too much for most offensive linemen he faces.
I feel that Werner does even better in 2012, showing everybody that this 'Noles defense means business.
Prediction: 35 TOT (25 SOLO, 10 AST), 11.5 TFL
Brandon Jenkins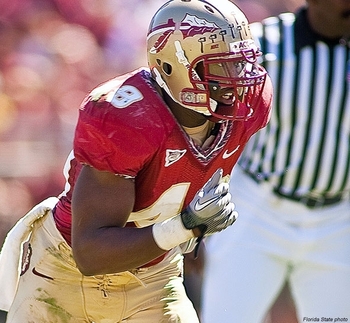 One of the biggest stories of this NFL draft was when Brandon Jenkins said that he would be returning for his senior season at FSU. The buzz it created was huge in the athletic department, and for good reason.
Jenkins had a disappointing 2011 after his monster season in 2010. He finished 2011 with only 41 total tackles and eight sacks, a long ways from his 63 total tackles and 13.5 sacks in 2010. Jenkins has some unfinished business at FSU, which is why he is returning.
I see Jenkins returning to his 2010 form and having a top 10 pick worthy season in 2012.
Prediction: 65 TOT (40 SOLO, 20 AST), 30 TFL
Timmy Jernigan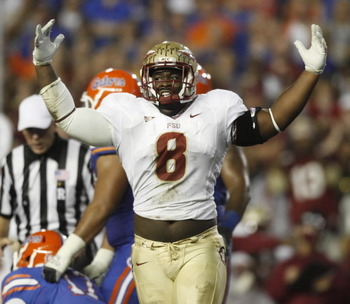 Jernigan might be pushed hard for the starting job, but I think he still keeps it. Especially after a pretty good season for a freshman in 2010.
The speed is what really wows people with Jernigan. He is very quick off the line, which is pretty good considering he is a defensive tackle. Since he has more experience and more competition for the job, I feel that he will step up and perform better than last year.
Jernigan keeps his job with some very solid stats for 2012.
Prediction: 40 TOT (20 SOLO, 20 AST), 10 TFL
Xavier Rhodes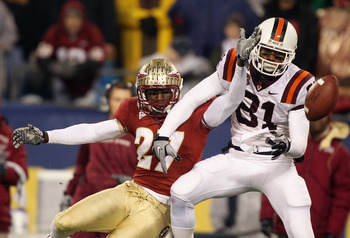 Streeter Lecka/Getty Images
This was another player that didn't live up to expectations this year. The difference is that Rhodes really showed us his talent late in the season, especially versus Notre Dame. Rhodes had hot-shot receiver Michael Floyd on lockdown for almost the whole game.
Rhodes has huge play making ability, he just didn't have a very good season. NFL scouts still looked at him even in a down year. Rhodes chose to return to FSU because he wants to show everybody that he can play consistently and fulfill the hype surrounding him.
2012 looks like a great year for Xavier Rhodes to improve his stock and continue to be the dominant cornerback he is.
Prediction: 55 TOT (40 SOLO, 15 AST), 4 INT
Greg Reid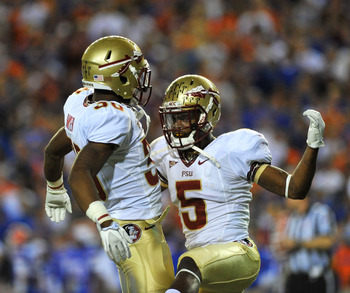 Al Messerschmidt/Getty Images
Greg Reid is one of the first names that people notice on this FSU defense. His awareness, instincts and power are prized skills that have NFL scouts forgetting about his small stature and instead looking at his athleticism.
I haven't even mentioned Reid's talent as a return man. He has garnered at least one punt return for a touchdown each year and has always made it over 300 yards returning. Needless to say, he is a dynamic player.
Straight up, Reid is a playmaker. He knows what to do with the ball in his hands, and that is something I hope he can capitalize on in his senior season with FSU.
Prediction: 45 TOT (40 SOLO, 5 AST), 2 INT, 4 TD (Punt Returns)
Lamarcus Joyner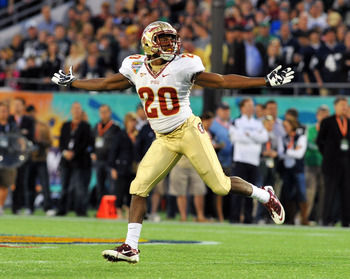 Al Messerschmidt/Getty Images
Joyner, like Reid, also doubles as a return man, but has most impact on the defensive side of things, where he has constantly improved during his tenure at FSU.
The word to describe Joyner is: machine. Ever since stepping onto the field in 2010, Joyner has constantly done better and it shows. He racked up 54 tackles and four interceptions in 2011, which is very good for a safety.
I have no reason to doubt that Joyner once again improves on his play and becomes a staple of this defense. Expect huge things from Joyner next season.
Prediction: 65 TOT (45 SOLO, 20 AST), 5 INT
Keep Reading

Florida State Football: Like this team?