The Buffalo Bills season was a roller coaster for the team and their fans. Not in the sense of the ups and downs, but in the sense that it made your stomach turn and gave you the odd feeling of nausea by the end.
With a few weeks to digest the season, the Bills now have to clear up some business that hits close to home.
Exclusive Rights Free Agents (2)

RB Bruce Hall
K Brandon Coutu

Restricted Free Agents (2)

OL Chad Rinehart
OL Kraig Urbik
LS Garrison Sanborn - Signed to three-year extension

Unrestricted Free Agents (13)

RB Tashard Choice
WR Derek Hagan
WR Steve Johnson
WR Ruvell Martin
WR Roscoe Parrish
TE Scott Chandler
OT Demetrius Bell
LB Andra Davis
LB Kirk Morrison
LB Reggie Torbor
CB Reggie Corner
S Bryan Scott
K Rian Lindell - Agreed to contract extension
K Dave Rayner
What does it all mean?
Wide receiver in focus
The big name on the list is Stevie Johnson. The Bills have been at odds with Johnson about a contract since the beginning of the regular season. He wants to be paid like a true No. 1 receiver, upwards of $8 million per year, but the Bills are hesitant to pay that much.
Johnson has been their best receiver by a landslide over the past two seasons, hauling in 158 passes for 2077 yards and 17 touchdowns in that time.
Three other receivers are also due up for a pay day. Ruvell Martin, Roscoe Parrish and Derek Hagan aren't nearly as high priority as Johnson though, as the three combined for 21 receptions, 236 yards and a touchdown with the Bills in 2011.
Parrish has been injury-prone over the past two seasons and could be on his way out.
Scott Chandler an important piece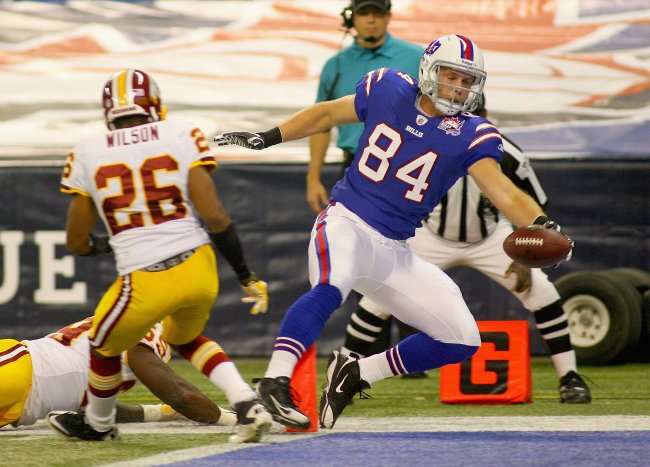 Rick Stewart/Getty Images
As dynamic of a playmaker as Stevie Johnson is, perhaps no one is as reliable as tight end Scott Chandler was this season.
According to Pro Football Focus
, he caught 38 of 43 passes aimed in his direction and none of the passes thrown his way were picked off.
That's a testament to a good deal of chemistry between Chandler and quarterback Ryan Fitzpatrick.
As long as Chandler isn't demanding top-end tight end money (which he shouldn't), there's no reason that Chandler shouldn't be back in a Bills uniform. The future is bright for him with Chan Gailey running the offense, and now with new tight end coach and former Bills tight end Pete Metzelaars on staff.
Demetrius Bell turns it around, but injuries may affect his long-term status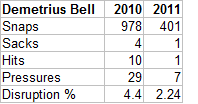 The Bills have been hurting for some solid pass protection, and Bell offered it to them in his limited time last year. He took big steps to improve over his performance from 2010, and according to Pro Football Focus gave up just one sack in 2011.
The Bills must assess whether they are comfortable with him as their long-term starter at tackle, and Bills GM Buddy Nix has already said that the team will likely draft a tackle at some point in the 2012 NFL Draft.
"We're going to draft a tackle if we can," he said, according to the team's official website. "If there's one there is what I mean. If there's one there that we think can play we're going to draft a tackle. You can never have too many tackles."
Who is the most important free agent for the Bills in 2012?
That's especially true since Bell is coming off an injury. Nix added that although Bell has all the tools, his history of injuries will be a factor in the decision process.
Make your case
Who is the biggest offseason priority for the Bills? Did I get it right, or am I dead wrong? Vote in the polls and make your case in the comments section below.