Euro 2012: Who Should Replace Fabio Capello as the Next England Manager?
February 8, 2012

Julian Finney/Getty Images
Fabio Capello resigned as England manager Wednesday night in London after a meeting with the FA. It's believed Capello thought his authority had been undermined after the FA stripped John Terry of the captaincy despite Capello's insistence that Terry remain in the position.
The drama and hoopla surrounding a change in England management is nothing new. Much was made of Capello being the FA's second choice behind Jose Mourinho four years ago. Steve McClaren's appointment some 18 months prior to that was heralded as the return of an English manager and the end of Sven Goran-Erikkson's England playboys.
What makes this particular circus different is the timing. Capello took over after England failed to qualify for the 2008 European Championship, giving him some two years to prepare for the 2010 World Cup. McClaren took over for Goran-Erikkson after a quarterfinal exit from the 2006 World Cup, allowing him a similar two years to prepare for the 2008 Euros.
Whoever succeeds Capello is looking at the start of the 2012 European Championship in two months' time. Regardless of who takes over the circus that is the English National Team, they'll have their work cut out for them.
"Who might this successor be?" you may be asking yourself. After consulting with SkyBet and factoring in a little common sense, these seem to be the most likely candidates to lead England to Euro 2012 in Poland and Ukraine.
5. Alan Pardew SkyBet odds: 14/1
Just more than a year ago, Pardew's appointment at Newcastle was one of the questioned and criticized moves in football. A man with a career track record of mediocrity at Reading, West Ham and Charlton, as well as close ties with Newcastle owner Mike Ashley, few thought his appointment was anything more than an exercise in cost savings.
A year on, Pardew has led Newcastle to fifth-place in the league, just one point behind Chelseafor the final Champions League place. Points earned against Manchester United (four, to be precise), Arsenal and Tottenham prove their quality.
And he hasn't done it by blindly spending money, either. Newcastle have spent £29 million under Pardew, while raising £47 million in sales in the same span of time. Despite his success at the ultra-pressurized St. James' Park, his big-club credentials don't look sufficient to appease those at the FA.
4. Roy Hodgson SkyBet odds: 14/1
Had Capello chosen to quit four months prior to the 2010 World Cup rather than two years later, Hodgson's odds would've been much shorter. Even if he'd chosen to quit after the World Cup, Hodgson would've had odds right up there with the leaders.
In fact, if this would've happened any time in the two years leading up to Hodgson's appointment at Liverpool, he'd have been a serious contender.
But Hodgson moved to Liverpool 18 months ago and his nightmare lasted just 31 matches, the shortest managerial spell in club history. He moved to West Brom just a month later, where he guided Albion to 11th in the Premier League and is on pace to stave off relegation again.
The man who took Fulham to a European final less than two years ago is in the frame, but not anywhere near as in-focus as at that point.
3. Jose Mourinho SkyBet odds: 12/1
The last time Mourinho was linked with the England job, he'd just been sacked from Chelsea in 2007. Fast-forward to today, and not only is he being linked to the England job again, but he's also believed to be the No. 1 candidate at Chelsea should they sack Andre Villas-Boas.
The more things change, the more they stay the same.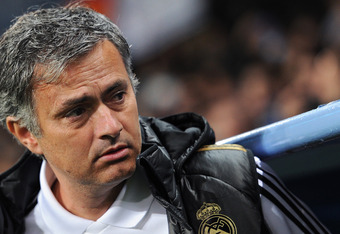 Jasper Juinen/Getty Images
Since being courted by the FA three-and-a-half years ago, Mourinho spent time in Milan and Madrid, becoming more nostalgic for life in England at each stop. There's no doubt Mourinho will return to manage in England someday soon, but he's always loved the everyday work associated with club management and that hasn't changed.
2. Stuart Pearce SkyBet odds: 5/1
Pearce has been in charge of England's U21 program since 2007 and will manage the British team in the upcoming summer Olympics in London. His experience within the FA was reason enough for him to be named interim manager of England after Capello's resignation. Pearce will oversee England's friendly with the Netherlands at Wembley in three weeks' time.
Despite some high regard within England for being able to nurture young talent with the U21s and now Olympian U23s, Pearce lacks experience managing any sort of big club. His two-plus years managing Manchester City received mixed reviews at best.
His permanent appointment would likely be little more than a band-aid until a bigger name can be had.
1. Harry Redknapp SkyBet odds: 2/7
Redknapp has been the central figure in reviving Tottenham since his appointment at White Hart Lane in 2008. He took over a Spurs side who propped up the Premier League table early in the 2008/09 season and led them to a quarterfinal run in the Champions League last season, and they are well on course to finish third in the Premier League this season.
Not only has Redknapp molded Spurs into one of the best teams in European football, he's done so by making his side the most exciting in England. Perhaps not the tiki-taka kings of England like Arsenal, but what good are hundreds after hundreds of lateral passes if they don't result in a goal?
Redknapp has poached speed, creativity and his responsibility from his midfield, highlighted by England internationals Scott Parker and Aaron Lennon. That magic has evaded every England manager for the past decade.
'Arry's abracadabra could be precisely what England need for a deep run in this summer's tournament.