Fabio Capello's Departure Could Destroy England's International Future
February 9, 2012

Michael Regan/Getty Images
Yesterday, it was announced that Italian manager Fabio Capello had resigned from his managerial post of the English national team.
Capello went to an FA meeting yesterday due to his public support of John Terry. Terry had just lost the English captaincy, which angered Capello because the Italian believed Terry should not have lost his captain's armband.
It was not Capello's decision to strip Terry of his captaincy due to his alleged racial abuse of Queens Park Rangers defender Anton Ferdinand and the upcoming court case that involves the two English defenders. Instead it was the FA's decision to remove Terry of his privilege.
With the departure of Fabio Capello, England has lost one of its most successful managers in its history. Capello has the best winning percentage of any full-time England manager and certainly helped England's program get stronger.
During their qualification for the last two tournaments, England was able to secure automatic berths into both the 2010 World Cup and Euro 2012.
Capello opened the doors for young players such as Jack Wilshere, Phil Jones and Joe Hart to become starters for the Three Lions in a way that would not harm the chemistry of the team. After hearing the news, Wilshere said on Twitter that he was "gutted" by Capello's decision to resign.
Right now, England find themselves at a crossroads. England has started to move away from their old broken philosophy of "kick and rush" that was practiced by the national team for years. This idea is a broken strategy that will not stand up against the best international sides.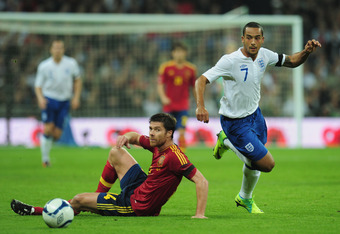 Shaun Botterill/Getty Images
Yet England remained backward through the 1990s by using this plan. Only when Sven-Göran Eriksson took over the national team did England start to reach its potential by playing a more free-flowing style.
That new style allowed England to be one of the best sides in the three international tournaments that they qualified for during Eriksson's tenure. All three of those sides reached the quarterfinals, with both the Euro 2004 and 2006 World Cup sides falling on penalty shootouts.
When England went back to a domestic manager in Steve McClaren, England failed to reach Euro 2008, the first international tournament that England failed to qualify for since the 1994 World Cup.
It's not a coincidence that both Capello and Eriksson have the two highest winning percentages for any England manager during the national team's history. Both managers were able to find success with a talented squad by introducing modern methods of playing the game instead of using backward principles.
Right now, England find themselves in a state of transition. These next few years can be some of the greatest years that the national team has ever been a part of with a strong group of young players coming through their system with many players from the "Golden Generation" probably retiring from international football after Euro 2012.
These players have grown up playing football with more awareness toward the foreign game than any previous generation has. This is a great development for England, which nationally has seen cities such as London become massive international hubs.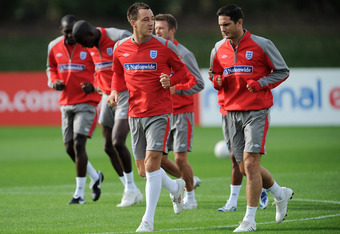 Shaun Botterill/Getty Images
Football wise, there have been some fantastic imported talents that have graced in the Premier League throughout the last decade, which has only helped enhance the international game. When players like Thierry Henry, Cristiano Ronaldo, Patrick Vieira and Gianfranco Zola (among many other players) play in your top flight, it is only natural that children pick up the habits of these players.
These young players will be given an opportunity to shine with England over the coming years. Yet we will never see these future stars achieve their full potential if an English manager takes over. If U-21 stars like Will Keane, Alex Oxlade-Chamberlain or Jordan Henderson are playing under a domestic manager with England during the next several years, these players will fail.
They will not fail due to their ability. Instead they will fail because they will be using traditional English tactics that are outdated.
When you look at the results of the U-21's attempt to qualify for the European championship during the 1990s, you can see the results of how that generation of players were unable to perform to their best due to England's isolation from European football during the 1980s.
England were unable to qualify for any U-21 European championship between 1990 and 1998. These players were unable to adapt to their European rivals due to the development of the European network that was rapidly changing European football.
Between 1978 and 1988, England dominated the U-21 circuit. England reached the semifinals in all six of the tournaments in that stretch, including European U-21 championships in both 1982 and 1984. During this stretch, England was still a center of football knowledge, which allowed them to succeed in these tournaments.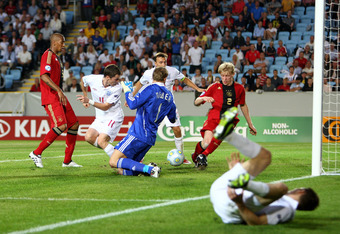 Phil Cole/Getty Images
England's U-21's have recently started to rebound from this lack of knowledge. England reached a semifinal in 2007 and a final in 2009 during their European championships. Even though they failed to advance from the 2011 group stage, England's young players do have better future's in store than previous generations.
There is a way to prevent this from happening. England needs to hire a strong foreign coach to manage the national team. This manager cannot be afraid to make tough decisions and it is a good thing that England's players are uncomfortable with his style (at least for the first several months).
It is not a bad idea to wish that foreign managers like Guus Hiddink or Jose Mourinho should take over the national team. Both managers would bring in a strong international style that would revolutionize the English game and allow the Three Lions to perform well in Euro 2012 along with other international tournaments in the future.
Of course, hiring these manager would be much better than hiring Harry Redknapp. Redknapp is a good manager in the Premier League, but there are plenty of flaws that are in place in case he were to take over England.
Redknapp has never managed in an international match before. The most important title that Redknapp has achieved is the Intertoto Cup he won in 1999. Redknapp has very little success in domestic leagues.
But the two most important features that hurt Redknapp are that he is English and players will be comfortable with him.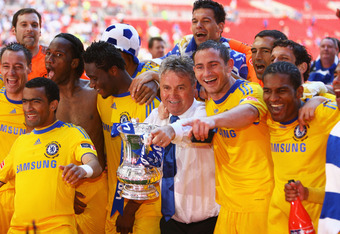 Alex Livesey/Getty Images
Redknapp has seen these English internationals before. It can be a good feature because he will understand the strengths and weaknesses of these players, but it also can be a liability.
If he were to take over, Redknapp would certainly play favorites and not give any fringe players a chance to become an important part of the squad. That means the youth movement will be abandoned in order to achieve international glory, something that will not happen this summer in Poland and Ukraine.
Already you have Wayne Rooney coming out and endorsing Redknapp for the job. That is all that you need to know about how England's atmosphere will be like with Redknapp in charge. Certain players will be favored and a "country club atmosphere" will exist.
Of course Redknapp will probably not leave Spurs considering how great they have been this year. Spurs will most likely finish in third this season, which would be a fantastic finish for the North London side.
Yet having a manager manage both a domestic and international side at the same time will be a heavy task, especially for someone who has never managed internationally before. Of course Redknapp will need to take care of the international side and will need time to develop it in his mold.
Basically, either Spurs or England will suffer if Redknapp is given the England job in the present (with a strong chance that both sides will suffer during the next several months).
Spurs have already saw their form drop recently with Redknapp at court for his tax trial. Imagine what would happen to Tottenham if they lost their manager that has helped them to do so well this year.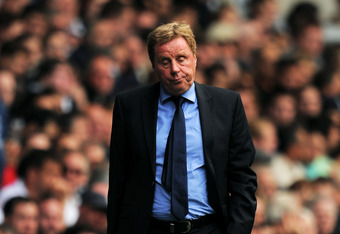 Michael Regan/Getty Images
England can do some great things with the talent that is starting to bud. In order to reach their full potential, England must get a manager that is not only willing to shake things up with many senior players, but also give young players a chance.
Right now, England and their fans will need to make an important decision. Do they want to have a manager who is an established winner at the highest level like a Guus Hiddink or Jose Mourinho, or do they want a person like Harry Redknapp, who has not won anything major take the job.
That alone will determine where England considers themselves at this stage in their international redevelopment.
Follow me on Twitter @Andrew_Jordan