Terrell Owens: Does Racism Partly Explain TO's Huge Child-Support Obligations?
February 8, 2012
Former National Football League star Terrell Owens reportedly is almost broke, the victim of poor investments and other financial downturns. According to a recent profile in GQ, Owens must pay $44,600 a month in child support—for four children he has by three women.
The court-ordered payments apparently are a major reason that Owens, 38, is on a financial precipice, now that his football career seems to be at an end. Owens' plight raises this disturbing question: Do American courts practice flagrant racism in making child-support orders?
It's a reasonable question when you compare Owens' child-support payments to those of Ted Rollins, the white CEO of Campus Crest Communities and a member of one of the nation's wealthiest families. The comparison is even more reasonable when you consider that both Owens and Rollins have strong ties to Alabama and the deep South in general. (In fact, Owens' financial troubles stem in part from an investment in the failed Country Crossing development near Dothan, according to a recent report by Gus Garcia-Roberts in Miami New Times.)
Owens, who grew up in Alexander City, Alabama, pays $44,600 a month for four children—and if our math is correct, that comes to $11,150 per child. As we have reported numerous times, Ted Rollins has an ex-wife (Sherry Carroll Rollins) and two teenaged daughters (Sarah and Emma Rollins), who live in Birmingham. According to a final judgment of divorce in Shelby County, Alabama, Ted Rollins pays $815 a month in child support for two children. That comes to $407.50 per child.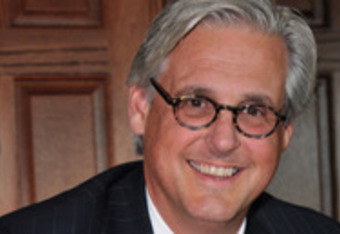 Owens pays more than 27 times the amount that Rollins pays, per child. How can that be?
I can think of only one explanation: Owens is black and comes from a relatively poor background, with no ties to the large law firms and corporations that control our courts; Rollins is white and comes from a background of extreme privilege, with deep ties to corporate elites (his cousins, Randall and Gary Rollins of Atlanta-based Rollins Inc., are billionaires) and powerful law firms, such as Bradley Arant of Birmingham.
It's difficult to compare Owens' wealth to that of Rollins, but let's give it a shot. According to GQ, Owens has made at least $80 million in his career. By all accounts, he has earned it, starting in obscurity at the University of Tennessee Chattanooga and growing to become an NFL receiver with Hall of Fame credentials.
Rollins came by his wealth in a slightly different manner. His father, John W. Rollins Sr., was a corporate titan, successfully developing and leading companies in a variety of fields—broadcasting, advertising, pest control, vehicle leasing, energy, motorsports, hospitality and more. To retool a line that the late Ann Richards once used about George W. Bush: "Ted Rollins was born on third base and thinks he hit a triple."
The Rollins clan appears to be in the same financial stratosphere with the Du Pont family—and they both have strong ties to Delaware and Republican Party politics.
How wealthy is Rollins? It's hard to say. We know that his current venture, Campus Crest Communities, completed a $380 million Wall Street IPO in late 2010. We know he owns a company that owns three private planes. We know that he went in with Randall Rollins on a venture called St. James Capital—and Randall Rollins plays in the major leagues of Atlanta finance, with people like Warren Buffett (Coca-Cola) and Ted Turner (Turner Broadcasting). There are no financial leagues higher than that one.
Is Ted Rollins worth more than Terrell Owens and his paltry $80 million? My educated guess is that the answer is yes, by quite a bit.
So why, again, does Rollins pay $407.15 per child in child support, while Owens pays $11,150 per child?
Is it possible that our courts are horrifically racist and elitist? Can you think of another explanation? I can't.