Duke vs. UNC Predictions: Tyler Zeller's Post Presence Will Destroy Blue Devils
February 8, 2012

Grant Halverson/Getty Images
North Carolina's Tyler Zeller has already proven that he is capable of dominating the Duke Blue Devils over the previous three seasons, but on Wednesday night he will have the best game of his college career. 
There are few rivalries in college basketball that match the intensity and fury of Duke vs. North Carolina. This game has single-handedly made legends in the state of North Carolina. Jerry Stackhouse might be thought of as an average NBA player, but he is revered in Chapel Hill. 
Zeller is going to join the ranks of Stackhouse and Tyler Hansbrough tonight. He is already having a season to remember, averaging 15.3 points and 9.6 rebounds per game. He has been the best and most consistent player for a deep Tar Heels team. 
The Blue Devils don't have anyone on the roster that can match up with Zeller down low. Mason Plumlee has been trying to defend Zeller for two years, with no success. He allowed 38 points and 18 rebounds in two games against the Tar Heels forward last year.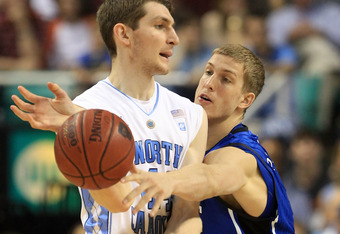 Streeter Lecka/Getty Images
In addition to what he will be going up against defensively, Plumlee is going to have to try and attack the basket with Zeller draped all over him. He only scored eight points against North Carolina last year, so he is not exactly brimming with confidence right now. 
This has been a common problem for Duke in this rivalry lately. They usually have the guards to keep up with North Carolina on the outside, but lack of size and presence in the paint has been their undoing. 
The Blue Devils did sweep the regular season series last season, so it is not like all hope is gone. But the Tar Heels are better equipped to handle the smaller, guard-oriented offense that Mike Krzyzewski has working this year. 
Plus, there is the matter of who is playing better right now. Zeller has led the Tar Heels on a five-game winning streak after losing to Florida State on January 14. He has scored at least 17 points in his last four games and grabbed 56 rebounds during that span. 
Duke, meanwhile, is just 3-2 in its last five games. Miami went into Cameron Indoor Stadium on Sunday and pulled off the upset. This team is reeling and needs to figure out how to be consistent on both sides of the ball. 
Forgive me if I don't see that happening against Zeller and a loaded North Carolina offense on Wednesday night.