Knicks-Wizards Preview: Calling Mr. Lin's Number Again
February 8, 2012

Chris Trotman/Getty Images
Even without Stoudemire and Anthony, this is a game the Knicks should win.
The Wizards are in a four team race for the best shot at Anthony Davis (or Andre Drummond if he shows some commitment to the game). They have three players that, dare I say, have a negative basketball IQ in Andray Blatche, JaVale McGee (see http://www.youtube.com/watch?v=GkKJvqMTbrA), and Nick Young. John Wall's development seems to have stagnated. The team does not get to the free throw line and they are the worst defensive rebounding team in the NBA.
All that being said, that does not mean that the Knicks will run away with this game. As this Knicks team has shown, it is the best in the NBA at playing to the level of the competition (they beat the Wizards by 3 the last time they played). So here are the things to look for tonight:
Tyson Chandler Foul Trouble
If there is something that the Wizards front line has, it is size and athleticism. It is that combination that makes the Wizards an above average team when it comes to offensive rebounding.
This is where Tyson Chandler fouls become an issue. Without Stoudemire and Josh Harrellson, Jerome Jordan and Steve Novak are the bigs coming off the bench. While Jordan has size, the term raw comes to mind when describing him as a basketball player. Steve Novak is a one dimensional (albeit a great dimension) stretch 4.
If Tyson gets into foul trouble, then JaVale McGee will be able to run riot on the glass. Not only does it give a poor shooting team extra possessions to score, but, with the lack of depth the Knicks have, the increased energy expenditure is not something the Knicks can afford.
GET BACK ON DEFENSE!!!!
In his short injury plagued career, John Wall has made it readily apparent that there is one thing that he excels at; the one man fast break. The Wizards have the third worst eFG% in the NBA and struggle in the half court. Along with offensive rebounds, the last thing you want is to give them easy hoops in transition.
It is imperative that the Knicks hustle back on defense to prevent John Wall from going 90 feet and laying it up or creating an easy look for somebody else in about 5 seconds. If the Knicks stop transition buckets and force the Wizards to operate in the half court, it could be a long night for John Wall and Co. (Also limiting turnovers is important—but that's a bit like saying, "It's important to drink clean water to stay healthy.")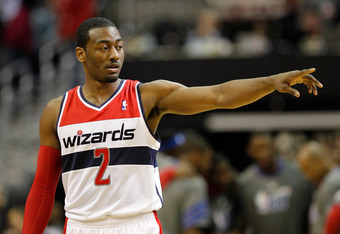 Rob Carr/Getty Images
Landry Fields/Iman Shumpert Off The Ball Defense
While I would not want Nick Young on my basketball team, the man can heat up quickly and drop forty (think extremely poor man's Jamal Crawford). If there is someone who could kill the Knicks in the half court, it would be an on fire Nick Young. You need to make sure he does not get into a rhythm.
Thats why Fields and Shumpert need to make sure he does not get wide open looks off screens or lay ups off backdoor cuts. While both have shown themselves to be solid on-ball defenders (Iman having the potential to be elite), they both struggle following guys off screens and both get caught ball watching.
Both Fields and Shumpert (and anybody checking Nick Young) need to contest every jumper, fight through screens, not get caught backdoor, and communicate on off-ball switches (which is something the Knicks have improved on in the last seven quarters they have played). If the Knicks do that, they will cause Young to fire up contested shots that will kill the Wizards offense because Nick Young doesn't seem ever to have seen a shot he didn't like.
Jeremy Lin Part III
Much like the Godfather Part II, Aliens, Spider-Man 2 etc., the Jeremy Lin sequel did not disappoint and in some ways was better than the original. However, like the three films I mentioned, the third chapter of the saga could see huge regression (though I refuse to acknowledge the existence of Spider-Man 3).
Jeremy Lin has played two great games for the Knicks. He sees the angles on the court properly; he knows how to run a pick-n-roll in all its facets (setting the defender up for the pick, coming off the pick, creating a passing lane for the roller, etc.); he held his own defensively against Deron Williams; he has been able to penetrate consistently, and the team ball movement has increased exponentially.
Most importantly, he is the only player on the Knicks roster (except Baron Davis) who has a point guard's mentality and a feel for the position. However, there are some things that you should look for when watching Jeremy Lin tonight.
How will he fare when they take away the right hand?
How will he deal with the trap on the pick-n-roll?
How many minutes can he go?
Will he be able to knock down perimeter shots?
Will he be able to finish against shot blockers?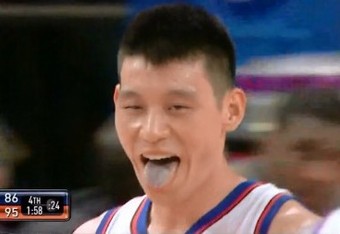 When defenses have forced Lin to his left, his dribbling has suffered. This makes it more difficult for him to split the double team and makes the transition from dribble to passing (particularly bounce passing) less fluid. As Knicks fans have seen, timing and placement of the pass on to the roller is critical for success. Hopefully, his struggles are more a product of small sample size or fatigue (most of the denying the right side has occurred in the second half).
Without Carmelo and Amare, Lin should see a hefty amount of trapping off the pick. With more athletic trappers in Wall and McGee, will Lin be able to split the double or deliver the pass? Will he be able to avoid turning the ball over and giving Wall easy fast break opportunities?
Lin played almost 45 minutes against the Jazz. During stretches in the third quarter he looked completely gassed. If Mike D'Antoni is going to ride him like Secretariat, will this guy be able to hold up in this game playing against John Wall and down a close stretch run?
Concerning his jump shot, it looks fine. There isn't something in his form that makes you think it is broken like John Wall's jump shot. Hopefully his poor perimeter shooting can be explained by a small sample size. However, if teams start to play off Lin then they could be making the same mistake teams do against Rondo. By giving Lin or Rondo all that space, you give them a running start potentially making them more effective at penetrating, not to mention increasing their ability to see the floor.
Sagging off of Rondo does work when you have the ability to protect the rim (see 2010 NBA Finals when Kobe was matched up on Rondo). The two teams that Lin has played against have little shot blocking presence (Jazz: Millsap, Jefferson, Favors (athleticism does not always equate to shot blocking presence), Enes Kanter and Nets: Shelden Williams, the former Mr. Kim Kardashian, Johan Petro, and Jordan Williams).
This game will be a better test to see how Lin deals with a legitimate shot blocker like McGee.
The plan for the Knicks right now is to work their way back to .500, and they have a good chance of doing so over the next six games. However, needing to steal a game against the Lakers or Timberwolves, the Knicks need to take care of business against teams like the Wizards.
They need to hold down the fort until the reinforcements come in (healthy Melo, Davis, and JR Smith?) because the schedule gets tougher in the end of February and becomes hellacious from March 4 to March 17 (at BOS, at DAL, at SA, at MIL, PHI, at CHI, POR, IND, at IND).