Kansas City Chiefs: Why Looking at Brian Daboll's Record Is a Mistake!
February 8, 2012

NFL Photos/Getty Images /Getty Images
The talk began as soon as the rumor started, and most of the talk has been negative.
Beginning with Adam Schefter's tweet that the Kansas City Chiefs had hired Brian Daboll as offensive coordinator, fan reaction has been, to use the lingo of the phone text crowd, WTF!
It is very apparent that most of the fan base for the Chiefs has almost no knowledge about Daboll and maybe that is the reason for the negative reaction. It certainly has not been reason enough not to cry foul.
There were also rumors that the Chiefs were talking to Al Saunders, a name that every Chiefs fan knows well. The Chiefs had a pretty good offense under the guidance of Al Saunders, to state the case mildly. That may also explain the negative fan reaction to Brian Daboll's hiring.
It is easy to remember success. It is a little more difficult to envision success before it happens. I would have to go back and thumb through some old newspapers to be sure, but the hiring of Al Saunders by the Chiefs in 2001 was not met with any fanfare either.
If memory serves, there was somewhat the same reaction, that Dick Vermeil was transporting the Ram's scheme to Kansas City. Of course the Ram's had won the Super Bowl under Vermeil, and everyone hopes that success can be transported also.
That was not the case. The Chiefs brought together a great offense under Saunders and Vermeil, but only made the playoffs in one of the four years Vermeil was here, and they lost that playoff game to the Colts.
Brian Daboll has served as offensive coordinator for two teams prior to his hiring by the Chiefs, and those two teams did not perform well while he was there, although the Miami Dolphins did manage to finish this past season with a 6-3 record in their final nine games.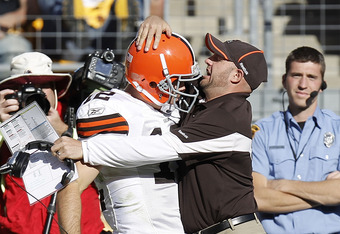 Gregory Shamus/Getty Images
The facts are simple and history proves the facts over and over. Every situation is different than the one before it, and most importantly, success creates reputations. Reputations do not create success.
No one knows what will happen with the Chiefs' offense under the guidance of Brian Daboll. Some time in December of 2012 we will have a pretty good idea of what that answer will be. He has some good talent to work with in Kansas City.
What we do know, or at least what we should know, is that offensive coordinators, just like head coaches, defensive coordinators, etc., can only work with the tools that are given to them, and success or failure is at all times a combination of scheme, talent, and a certain amount of luck.
If things in the real world were as good as they are on paper, this year's Super Bowl parade would have taken place a little further west, in some place like Wisconsin.
I do know this! A lot of people in south Florida are sorry to see Brian Daboll leave. That tells me way more than whether the Dolphins led the league on offense or how many games the team won or lost.
Brian Daboll had one year in Miami, and as I said above, the final nine games for the Phins turned out pretty good this year.
I will take Daboll as offensive coordinator for the Chiefs and I will be happy about it for several reasons. He has a relationship with Matt Cassel, his inherited starting quarterback. He has a relationship with both his head coach and the head coaches' boss having worked with Romeo Crennel and Scott Pioli in New England.
He worked only one season for a very average team, the Dolphins, and helped that team win six of their final nine games against some pretty tough competition. The Dallas Cowboys and the New England Patriots walked out of their home stadiums breathing a sigh of relief after barely escaping with wins against those same Dolphins.
There would be a lot of happy people around Chiefs-country had the Chiefs finished the year 6-3 in their final nine games. And a bit of playoff talk to throw around.
The Kansas City Chiefs have built a solid team of young talented players, a very good coaching staff with a solid head coach, as well as a general manager who does a pretty good job of bringing those parts together. Brian Daboll is the latest addition to that process.
Like I said, success and failure breed reputation, not the other way around. Come January of 2013, reputations will have been made. This is February of the year before! It might be just a bit early to throw in the towel. How about we at least let the fighter crawl into the ring?