UFC: The Top Fighter of Each Martial Art in MMA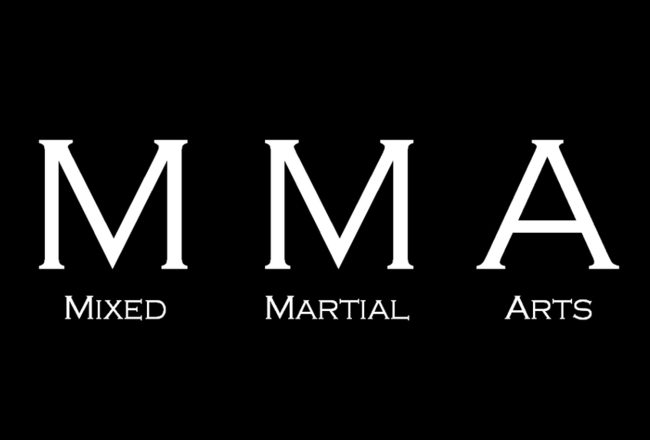 photo from soundonsight.org

Mixed Martial Arts is fundamentally defined by its first word. The sport of MMA was built upon, and features athletes of mixed styles from many different disciplines of martial arts. This mixture has created a phenomenon in competition. MMA started off pitting two different styles against one another, but has now evolved into producing well-rounded fighters who study in many disciplines.
The game has changed, and athletes have adapted themselves in order to compete in the ever-changing sport. New competitors have come in, already training in many martial arts. The sport is truly MIXED with many fighters knowing many disciplines.
Still, there are those who stand out in a particular field. While being substantial at other styles, these fighters truly excel at one, and have had success using their foundational style.
This slideshow contains just eight of many styles, but these styles are very prevalent in MMA. These are all UFC fighters that are at the top of the heap in their respective discipline. This is not a conclusive list of all who are notable, but those who are both popular and who are arguably the best at their craft.
Join the MMA Facebook Page and follow the @FightersCreed on Twitter!
JUDO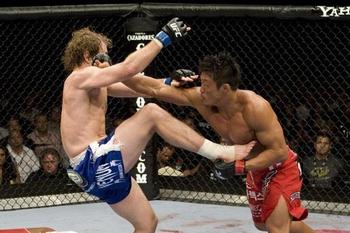 photo from cageradio.com
Yoshihiro Akiyama
Judo is a Japanese art that involves grappling and takedowns, but truly focuses on throws. Throws are flashy and exciting to the fans, and also prove to be very advantageous to the fighter using them. Akiyama poses a very high-level Judo game and has implemented it throughout his career. Karo Parisyan must be noted in this, since he is widely known for his Judo, but unfortunately is no longer in the UFC. Both fighters though have used the art of throwing their opponents and using their own weight against them to become victorious in their careers.
KARATE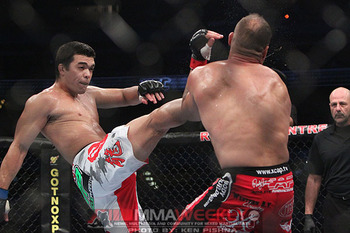 photo from mmaweekly.com (Ken Pishna)
Lyoto Machida
This should come as no surprise. Lyoto Machida is a Shotokan Karate fighter, and one of the few to implement the art in MMA competition. Lyoto is known for his patient style of sitting back at the hips and waiting for his opponent to give him an opening. Once they do, he strikes fast and precise. Still one of the least hit and most elusive fighters in MMA today, Lyoto's reflexes and adaptation are responsible for his success in an area where others have failed.
An honorable mention for this style is UFC newcomer Stephen Thompson, who also holds great success with his Kempo Karate. Also is worthy to note Georges St. Pierre for his Kyokushin Karate.
BOXING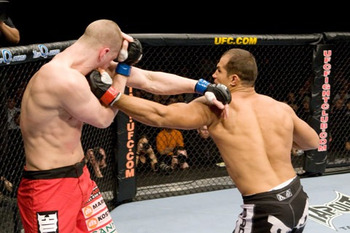 photo from cagepotato.com
Junior Dos Santos
Boxing has been around for a long time, and is the cornerstone of combat sports in North America. Boxing is purely using your hands, aiming anywhere above the belt to try to knock down or knock out your opponent.
The Gracie family is responsible for forcing stand up fighters to adapt and learn a ground game if they were to compete in MMA. Boxing is at the heart of most fighters' style and is essential to an MMA fighter's training.
Junior Dos Santos has shown great skill with his boxing and is now ruling over the UFC's heavyweight division because of it. Knocking out Cain Velasquez and winning the title, he showed once again than his hands are deadly and all it takes is one punch to end the fight. Notable for this style is Nick Diaz, who demonstrates his well versed boxing style in an unorthodox manner.
KICKBOXING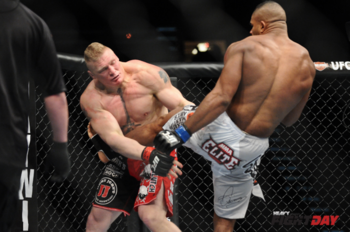 photo from Heavy.com
Alistair Overeem
While kickboxing can be grouped with boxing, the art is much more easily implemented into MMA. The legs are two extra weapons in a fighter's arsenal. Kicks generate power from larger muscle groups and can hit with knockout power.
Overeem is one fighter who has created a name and career due to his striking. While he has earned submission victories, he has remained active in the kickboxing circuit and had great success there, winning the K-1 Grand Prix. Mirko Cro Cop is very worth noting when considering kickboxing, since his career is a highlight reel of taking out his opponents with his massive legs in a single blow.
TAE KWON DO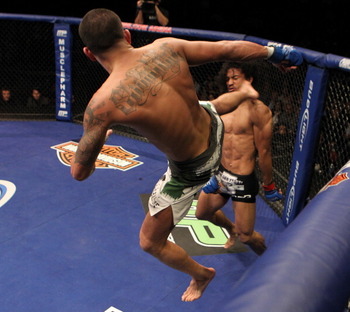 photo from bloodyelbow.com
Anthony Pettis
This Korean art is a mixture of different strikes, but is widely known for its focus on kicks. While there are punches and takedowns in the base of tae kwon do, MMA fighters have utilized its style of kicking to help them climb the rankings. Anthony Pettis holds a third degree black belt in TKD, and is known for his improvised kick off the cage against Benson Henderson back in the WEC. Benson Henderson himself, and Anderson Silva are also notable for this style as well.
MUAY THAI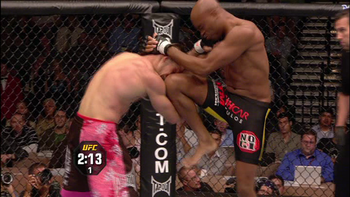 photo from bloodyelbow.com
Anderson Silva
Originating from Thailand, this art is a mixture of striking and clinching. While it does bring vicious elbows and kicks, Muay Thai is famed for its unique use of clinching and kneeing. Anderson Silva is highly regarded as having one of the best muay thai plum clinch games and has been far more successful than anyone in employing it in his MMA career.
His two fights with former UFC Middleweight Champion, Rich Franklin, were a testament to the power Silva wielded with his Muay Thai style. The discipline is all about close proximity, and no man wants to be in close proximity of "The Spider" when in the cage.
BRAZILIAN JIU-JITSU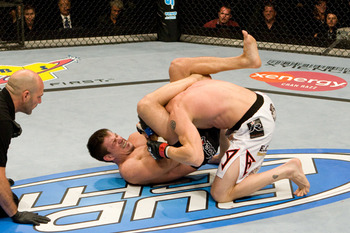 photo from news.fightmagazine.com
Demian Maia
BJJ is probably one of the most common of styles amongst MMA fighters. Most of them have training in the art, and with the surplus of Brazilian fighters in MMA, many are experts at it. The Gracie family brought this art into the UFC, and built the sport to what it is today.
Jiu-Jistu had no answer to the styles which seek to counter and neutralize it. Demian Maia is a third degree black belt in BJJ and has used the art to win over half of his fights in his career. He is a fighter that has now started to focus more on his striking, but at his core he is one of the most dangerous men on the ground in MMA today.
WRESTLING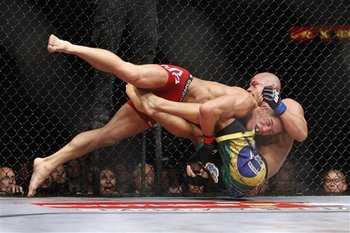 photo from sportsnickel.com
Georges St. Pierre
Wrestling is a great sport in America, one that is substantial in schools and is widely popular in the "professional" setting. Truly dating back to the earliest of competitive sports, wrestling is a powerful form of control and positioning. Every fight starts standing, but takedowns are significant in MMA.
GSP has no wrestling background, but has learned the discipline and used it to become one of the greatest fighters of all time. He has used his wrestling to reign over the Welterweight division, and is very effective at it. His takedowns are almost certain, and his ground control is dominant.
Worthy to note in this style are three others. Chael Sonnen is a man that has shown that pure wrestling can be quite a problem for some. Nate Marquardt and most notably, Anderson Silva, had great trouble with the wrestling ability of Sonnen.
The second man is Brock Lesnar. While he may or may not be gone for good, his wrestling background is one very few in the MMA world can match with. He was a phenom in college and then later in entertainment wrestling, before coming into the UFC and showing he had skills as a real fighter. Honorable mention has to go to Randy Couture, whose Greco wrestling and catch wrestling served him very well in his career.
Keep Reading