Kevin Shattenkirk Proud of What St. Louis Blues Have Built
February 8, 2012

Dilip Vishwanat/Getty Images
Over a 26-game span with St. Louis last season, Kevin Shattenkirk managed to impress his teammates and coaching staff with his play. In 2011-12, the Blues' blueliner has been even better.
It was one of the biggest trades of the 2010-11 campaign, a deal, almost one year ago, that saw the swap of four former first-rounders. Shattenkirk, Chris Stewart and a conditional second-round pick, came to the Blues for Erik Johnson, Jay McClement and a conditional first-round pick.
For Shattenkirk, the 14th overall selection of the Avalanche in 2007, the change in uniforms and cities proved to be an ideal move.
In his first game with St. Louis, a home debut at the Scottrade Center, he recorded an assist in a 9-3 victory over the Anaheim Ducks.
Not a bad way to kickstart his career with the Blues.
"It's really fun how tight-knit we are, how loose things are in the dressing room," offered Shattenkirk, who had 17 points with St. Louis in 2010-11, after 26 points in 46 games with Colorado. "It was apparent right from the start that was the atmosphere. As a new guy coming in, it was just what you would hope for," he told NHLPA.com.
His comfort level has translated into an even more impressive showing in 2011-12, a season in which the Blues have recovered from a slow start to become one of the Western Conference's most consistent clubs.
The former standout at Boston University, who helped the Terriers win the National Championship 4-3 against the RedHawks of Miami University, assisting on the overtime, game-winning goal, is proud of the reputation the Blues have earned around the league.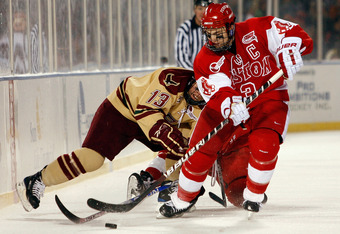 Elsa/Getty Images
Flattery, in this instance, takes the form of dislike.
"If I'm texting with some of the guys I know around the league, a lot of them will say that they hate to play us because we are a hard-working team," said Shattenkirk, who was named as co-captain, along with Brian Strait, of Boston University for the 2009–10 season.
He then became sole captain of the Terriers, and the first junior sole captain since 1961–62, after Strait turned professional. "That's something you appreciate hearing because that's what we've strived to be as a team."
Shattenkirk is also proud of how he and his teammates responded to their difficult start to the season.
"The last thing you want to do, especially with how close things always are in each conference, is fall out of touch early," said the native of Greenwich, Connecticut. "When (coach) Ken Hitchcock came in, things started to change and we didn't give up hope."
While they find themselves sitting in a comfortable playoff position, Shattenkirk, who won silver with Team USA at the 2007 IIHF Under 18 Championships in Finland, is keeping a level-headed approach as the intensity picks up leading into the post-season.
Trying not to look too far ahead isn't always easy.
"It's tough, especially if you are playing well," admitted the defenseman, who recently celebrated his 23rd birthday. "Things fluctuate so quickly. One game, you've moved up to the top part of the West and a few games later, you find yourselves dropping several spots. The way we've looked at it is to roll with the punches. I think the only way to look at it is game-to-game."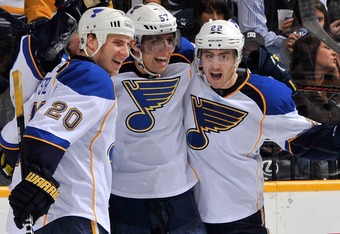 Frederick Breedon/Getty Images
Shattenkirk, who stands 5'11" and weighs 195 pounds, was able to ruminate about his game plan for the second half of the season during the All-Star break.
"I'd like to contribute more to our power play," he noted. "I think that's something we all want to do better. Capitalizing on the man advantage can play a big part in the outcome of a game. It's something I thought about when we had a few days off."
He also had some time to reflect on his first full season in St. Louis.
"I feel lucky to have this opportunity," said Shattenkirk. "We've brought in new guys who have fit in perfectly. The chemistry is great.
"When you look at the quality people and players we have, it's a great situation. (Teammate and fellow defenceman) Barret Jackman is someone who has been in the league for a while and if I need to talk about something or ask advice, he's fantastic. I can say that about all the guys."
And there's plenty that can be said about the significant contributions Kevin Shattenkirk brings to the Blues.
Unless otherwise noted, all quotes were obtained firsthand.
Related Content
Video: Meet the World's Toughest Directors - Player's Playbook
Video: Brian Elliott - 2012 NHL All-Star Skills Competition
Gabriel Landeskog Right At Home in Colorado
Video: Meet The Rookies - Jake Gardiner