Green Bay Packers: Donald Driver Would Not Be the First Legend to Leave
February 8, 2012

Jonathan Daniel/Getty Images
Donald Driver of the Green Bay Packers has played with the team since 1999 and is the all-time leader for the Packers in terms of receptions (735) and receiving yardage (10,060).  Driver has also been named to four Pro Bowl teams.
Driver has 59 TD receptions, which is the third-best mark in Green Bay history, only behind Don Hutson and Sterling Sharpe.
Driver is also the all-time leader for the Packers in postseason receptions, as he now had 49 catches.
The 13 seasons that Driver has spent with the Packers only puts him behind notable legends such as Bart Starr, Brett Favre, Ray Nitschke and Forrest Gregg.
But there is a real chance that Driver will not be with the Packers in 2012. 
The Packers have a lot of talented depth at the WR position.  Greg Jennings is the true No. 1 WR, while Jordy Nelson has definitely moved up to No. 2, based on his breakthrough 2011 season.
Behind those two this season, the Packers also had James Jones and talented rookie Randall Cobb.  Plus you had Driver.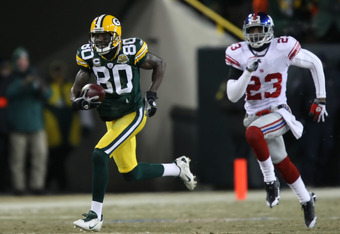 Jed Jacobsohn/Getty Images
Driver had only 37 receptions in 2011, which was his lowest total since 2001, when Driver had 13 catches.  Driver also had six TD receptions this past season, and he definitely came on down the stretch, when he had four TD catches in the last five games of the season.
Driver also had a TD catch in the 37-20 playoff loss to the New York Giants.  In fact, if there was one player from the Packers who really caught my eye in terms of his stellar play from that somber day in Green Bay, it was Driver.  Driver had three very difficult catches that game for 45 yards.
Besides the quality depth that was on the roster at WR, the Packers also had two very talented receivers on their practice squad—Diondre Borel and Tori Gurley. 
Both turned down opportunities to go to other teams and actually get on a 53-man roster in order to stay with the Packers and to compete for a WR job in 2012.
The Packers also had another talented rookie WR that they had placed on IR in 2011—Shaky Smithson. 
We know that Driver wants to come back to play in 2012 for the Packers. 
Whether or not that will happen is anybody's guess.  Ted Thompson and Mike McCarthy will have some very difficult decisions to make regarding roster spots because of all the talent they have at the WR position.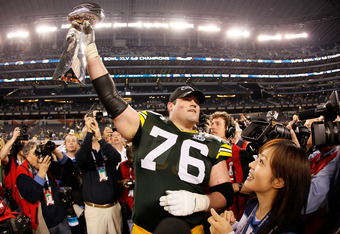 Kevin C. Cox/Getty Images
The Packers will have a similar situation regarding the status of LT Chad Clifton. The two time Pro Bowler has played with the Packers since 2000 and has been the primary blindside protector, first for Favre and then for Aaron Rodgers, on the offensive line.
But Clifton missed most of the 2011 season due to a severe hamstring injury.  The 35-year-old Clifton has missed 14 games since 2009 due to injury. 
Time will tell what will happen with Clifton, but like Driver, the team will take a hard look at his contract situation as the team tries to figure out a financial game plan for the 2012 NFL salary cap.
The last time the Packers had a situation like this was at training camp in 2008, when Favre decided he wanted to come back and play after first retiring in March earlier that year.  That led to a messy and very public divorce between Favre and the Packers.
The Packers ended up trading Favre to the New York Jets, where Favre played for one season before signing with the hated Minnesota Vikings the following year.  Favre played with the Vikings for two years before really retiring in 2011. 
This is not the first time a legend has left Green Bay, nor perhaps is it the first time a legend has gone to a team close in proximity to Green Bay.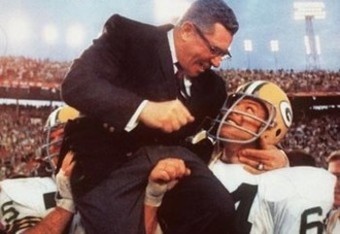 Team founder and coach Curly Lambeau left the Packers after a dispute with the executive committee in 1950 to coach the Chicago Cardinals.  Lambeau coached the Packers from 1921 to 1949, winning 209 games with a .656 winning percentage and six NFL championships.
 
But even with that, Lambeau had issues with the executive committee. 
Lambeau's last two teams in Green Bay were a collective 5-19.  Plus, Lambeau ticked off members by purchasing the Rockwood Lodge north of Green Bay for $25,000 for the Packers to practice at from 1946 to 1949.  The facility burned down on Jan. 24, 1950, and Lambeau resigned a week later to coach the Cardinals.
 
The Cardinals were considered a very talented team when Lambeau arrived there.  The Cardinals had won the NFL title in 1947, and next to the Chicago Bears, were clearly the next-biggest rival to the Packers at the time.  Needless to say, people in Green Bay were not pleased when Lambeau joined forces with the Cardinals.
Then another coaching legend arrived a few years later—Vince Lombardi.  The result of his tenure?  Five NFL championships in seven years, including the first two Super Bowls. 
Included in that tenure was three straight NFL titles (1965-1967), something that was never done in NFL history except once, when Lambeau did it from 1929-1931 with his Packers.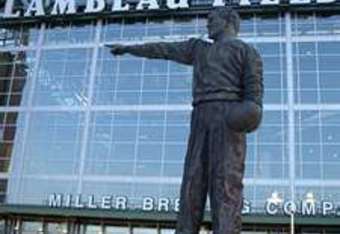 Lombardi left the Packers after the 1968 season (Lombardi was a GM-only that season) to coach the Washington Redskins.  The Packers had stopped Lombardi from leaving a couple of times before, as the New York Giants had tried to get Lombardi back to his hometown and back with his close friend and college buddy Wellington Mara, who owned the Giants.
 
Together, Lambeau and Lombardi brought 11 world championships to Green Bay, with Lambeau winning six titles and Lombardi five in seven years, including wins in Super Bowl I and Super Bowl II.  The Super Bowl trophy is now named the Lombardi Trophy.  
 
Other legends have moved on as well, including legendary players.
 
Reggie White played six seasons with the Packers, helping them win Super Bowl XXXI with a Super Bowl-record three sacks of the Patriots' Drew Bledsoe.  White finished his career in Green Bay by winning the NFL's Defensive Player of the Year in 1998. 
After a year of retirement, White finished his career in 2000 with the Carolina Panthers, a team the Packers had defeated in the 1996 NFC Championship game.
 
There was also Jim Taylor and Paul Hornung.  That tandem was the force of the Packers' vaunted ground game in the Lombardi era from 1959 to 1966.  Taylor and Hornung won MVP awards and helped the team win four world championships. 
However, in 1967, Taylor left as a free agent for the New Orleans Saints, and Hornung was claimed by the Saints in the 1967 expansion draft but never played because of a neck injury.
 
Other great performers have left the team in the latter portions of their careers, including Forrest Gregg, Jim Ringo, Herb Adderley, James Lofton and Ahman Green.
I'm sure it was very hard for many fans to see Favre wearing purple and playing for the Vikings.  I'm sure Bears fans were not too pleased when they saw Jim McMahon in a Packers uniform, either. 
But Jimmy Mac was just a backup to Favre.  Favre was a starter for two years with the Vikings.
Bottom line, legends do indeed leave Green Bay from time to time to finish their NFL careers.  Yes, legends leave, but the warm and glorious memories of those legends never do.
After all, the Packers do play at Lambeau Field, which is located at 1265 Lombardi Avenue in Green Bay.