MLB Trade Rumors: A.J. Burnett's Future Shouldn't Be with the New York Yankees
February 8, 2012

Patrick McDermott/Getty Images
A.J. Burnett has been a source of harsh criticism for the last two years. The New York Yankees wanted him to be a co-anchor in their rotation along with CC Sabathia, but after two years with an ERA over 5.00, he has worn out his welcome in the Bronx. 
According to Joel Sherman of the New York Post, a lack of funds and a need at designated hitter has led the Yankees to "quietly" shop Burnett around to other teams:
They know no team will take all of Burnett's remaining two years at $33 million. But if they could save, say, $4 million this year and next year, it would provide some wiggle room to finish off their roster heading into spring training.
There are other obstacles standing in the way of any potential deal besides financial. The biggest one being a limited no-trade clause Burnett has in his contract. There are 10 teams he can veto going to. 
He has never been the most mentally strong pitcher, which is why his overall numbers don't match his electric stuff. It doesn't matter where he pitches, he is just one meltdown away from being lost for the entire season. 
According to Tim Dierkes of MLB Trade Rumors, there are a few possible landing spots where he might be able to thrive, especially considering the low-pressure environments he would be in. 
Pittsburgh Pirates and Baltimore Orioles
If ever there was a low-pressure situation for Burnett to pitch, it would be in Pittsburgh or Baltimore. He would be able to anchor either rotation without having to worry about pitching well in order to blend in. 
The Orioles seem like a better fit simply because new general manager Dan Duquette doesn't seem to have a good plan to get this team out of the basement, and Burnett has pitched in the American League East for the last six years. 
The Pirates could use a power arm in their rotation, but it's difficult to imagine them paying him $8 million over the next two years. They could find someone much cheaper than that for what Burnett brings to the table.
But it appears there is interest, because Ken Rosenthal of FOX Sports says that the Pirates have had conversations with the Yankees about Burnett already. 
Chicago White Sox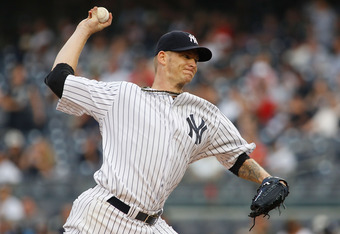 Mike Stobe/Getty Images
This would be a disastrous fit for so many reasons, but general manager Kenny Williams continues to make moves that puzzle everyone. U.S. Cellular Field is a bandbox, so he would be giving up home runs left and right. 
The White Sox need to start rebuilding, not taking on other teams spare parts. 
Oakland A's
This is where I believe he would be the best fit. The A's play in a huge ballpark, they are rebuilding and need an innings eater at the top of their rotation just to get them through the season. 
There is no media pressure or scrutiny at all in Oakland. Burnett could spend the next two years re-establishing some value, and Billy Beane could deal him for prospects next summer if everything works out. 
No matter what happens, Burnett has to get out of New York. The experiment worked well in the first year of the contract, with both sides getting a World Series. Everything has come undone since the start of the 2010 season. 
It is going to cost the Yankees a lot of money to get rid of him, but both they and Burnett will be better off because of it.