New York Giants: 7-Round NFL Mock Draft Predictions, Post-Super Bowl Edition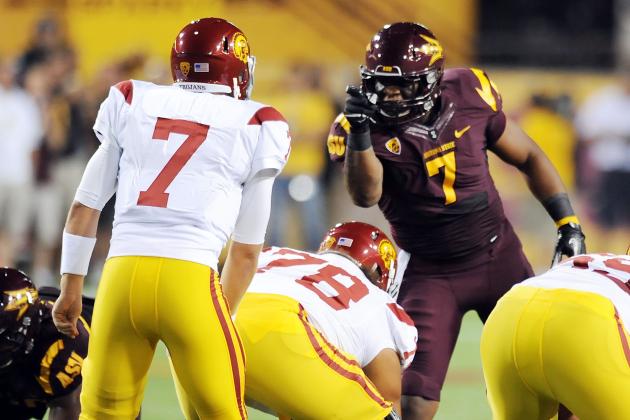 Norm Hall/Getty Images

Just days after an outstanding Super Bowl victory for the New York Giants, it's hard to turn the focus to the future. The draft is quickly forthcoming though, and it will be before we know it.
As in Super Bowl XLII, the Giants' Super Bowl squad was comprised of numerous former draft picks, such as Hakeem Nicks, Mario Manningham and Jason Pierre-Paul. For the Giants' success to continue, they will need to have a big year in the 2012 NFL Draft with many holes to fill in the offseason.
With Jerry Reese's obvious eye for talent calling the shots in the war room, there is no question the Giants should piece together another top-notch draft class boasting a promising future for the New York franchise.
Here's a look at how things might shape up in this year's NFL draft.
Begin Slideshow

»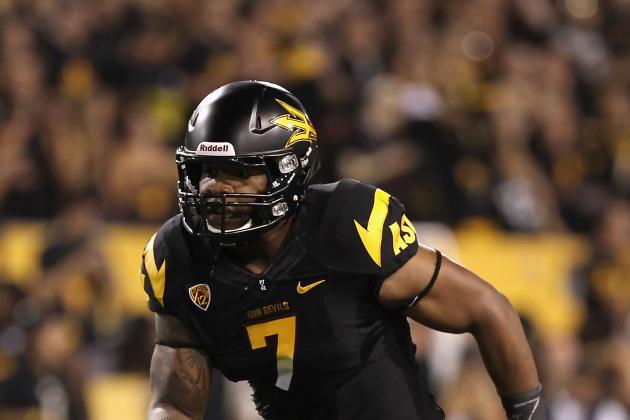 Christian Petersen/Getty Images

In Super Bowl XLVI, the New York Giants had a clear weakness exposed by the New England Patriots at the linebacker position.
Michael Boley struggled mightily in coverage for the second time against the Patriots and, despite an interception, Chase Blackburn was not too impressive against the pass himself.
Insert Vontaze Burfict.
Arguably the top linebacker prospect in the NFL draft this year, Burfict's stock has taken a beating due to major character concerns and a lackluster 2011 campaign for the Sun Devils.
Burfict's athletic ability makes him a versatile talent who can play both the middle and outside linebacker positions in the Giants' defensive scheme.
Burfict is a top 20 talent, but his troubles off the field play right into the benefit of the Giants. Giants GM Jerry Reese has not shied away from players like Burfict before. Reese drafted both Ahmad Bradshaw and Marvin Austin, each whom had questionable character traits coming out of college.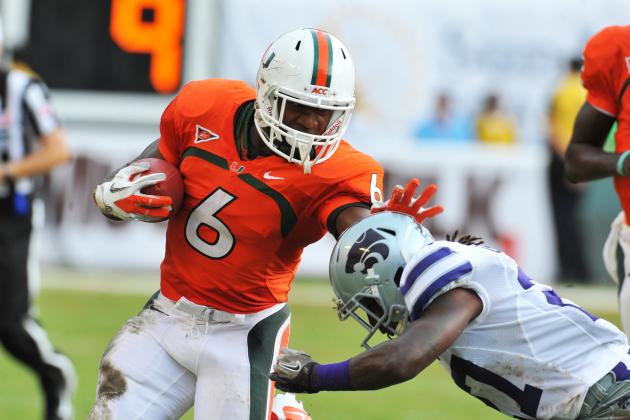 Al Messerschmidt/Getty Images

Despite helping to bring a Super Bowl trophy to New York, running back Brandon Jacobs' future with the team is inauspicious.
Miami's Lamar Miller is a tremendous talent and the second-ranked running back in this year's class. Miller compares similarly with Giants starting running back Ahmad Bradshaw, boasting solid 4.4 speed and stellar change-of-direction skills.
Miller won't break any tackles, but is tough to get a hand on when he breaks runs to the outside. The type of shifty run he displays, combined with Bradshaw's similar skill set, could really wear on opposing defenses without the presence of a fierce power back like Brandon Jacobs.
The former Hurricane's ability to return kicks could be a positive for a Giants team in desperate need of a productive return man.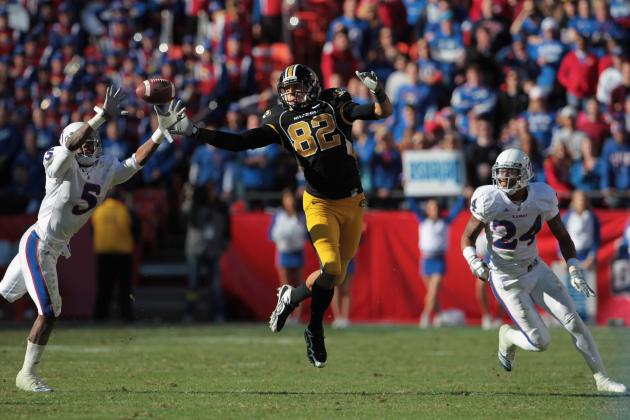 Jamie Squire/Getty Images

With both Giants tight ends Jake Ballard and Travis Beckum going down with ACL injuries in the Super Bowl, a replacement is an even greater need for Big Blue than it was heading into the offseason.
Michael Egnew is a productive player who could turn out to be a major steal in the middle rounds of the draft. Egnew fits the mold of elite receiving tight ends dominating the NFL these days with 4.6 speed and some of the best hands in the 2012 class.
The First-Team All-Big 12 tight end saw his production slip in his senior season, but still posted impressive numbers with 47 receptions for 484 yards and three touchdowns. The Giants will hope to get his junior season in return for their third-round pick. Egnew caught 90 passes from 2011 first-round draft pick Blaine Gabbert for 762 yards and five touchdowns.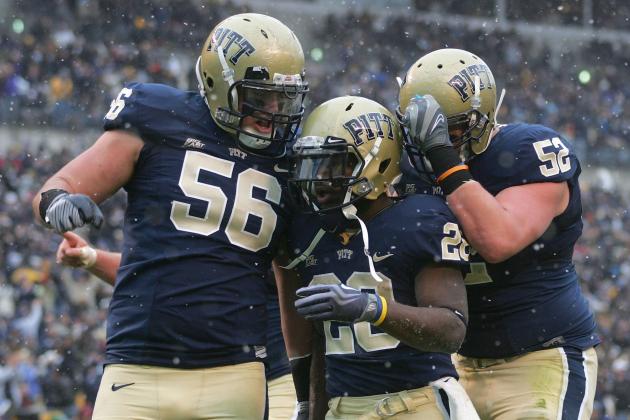 Jared Wickerham/Getty Images

Two rounds back from where I originally predicted the Giants to pick him up, Lucas Nix is still a great choice to fill New York's left guard position when David Diehl calls it quits.
Nix is a solid run-blocker and will boost an offensive line that regressed dramatically in that facet of the game. His ability as a pulling guard makes him a favorable selection to break plays open for outside runner Ahmad Bradshaw and potential second-round pick Lamar Miller.
A year behind Diehl will be beneficial for Nix. But he would be productive the moment the Giants plug him into the lineup.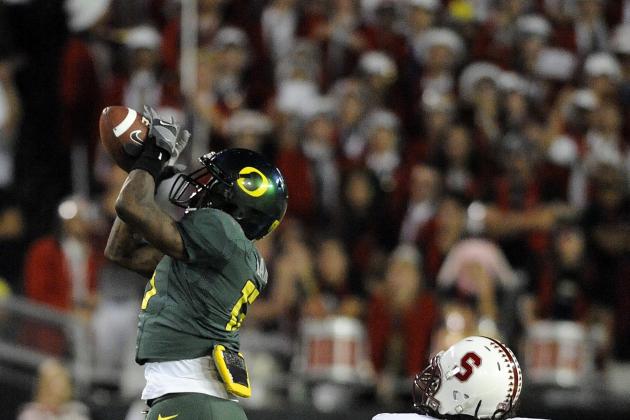 Steve Dykes/Getty Images

With cornerbacks Terrell Thomas, Aaron Ross and Will Blackmon all becoming free agents, the New York Giants will need to fill a hole at the position even if they do resign one or two of those players.
Oregon's Cliff Harris is one of the best cornerbacks coming out of college. Only trouble is he isn't exactly coming out of college.
Harris' on-field success has been marred by issue-after-issue off the field. He was kicked off the Ducks football team after a run-in with the cops for the third time in the 2011 season.
Despite this, Harris could be worth the trouble if Coughlin and company can sway him to shape up.
In his sophomore season, Harris played spectacularly for Oregon with 33 tackles, six interceptions and a nation-leading 23 passes defended. His ability in punt returns should be a desirable factor for the Giants as well
But he will need to prove he's matured in a short amount of time and deserves an opportunity in the NFL.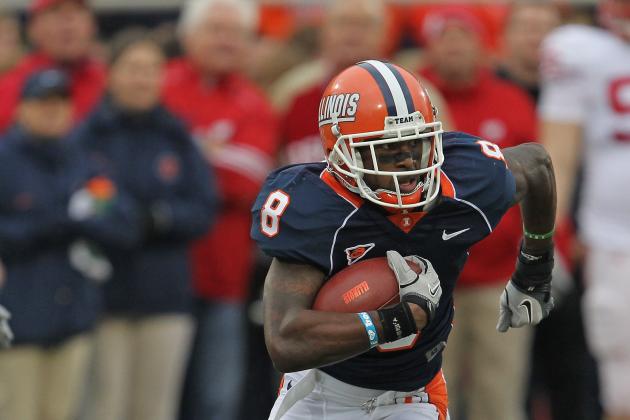 Jonathan Daniel/Getty Images

Coming from the Big Ten, A.J. Jenkins brings a similar skill set to fellow former Big Ten receiver he would likely be replacing, Mario Manningham.
Jenkins doesn't have the most desired size of an NFL receiver. But he has loads of talent and potential to become a solid No. 3 option at the receiver position.
Like Manningham, Jenkins can drop some easy balls but also has the ability to break a big play on at any time. He runs sharp routes and knows how to find soft spots in zone coverage when needed.
Like another Giants receiver, Hakeem Nicks, Jenkins can get loose with his ball carrying and has been prone to fumbles in the past.
Jenkins did put a strong senior campaign together, leading the Big Ten in receptions with 84 for a poor Illini passing attack. He recorded at least four receptions in every game of 2011.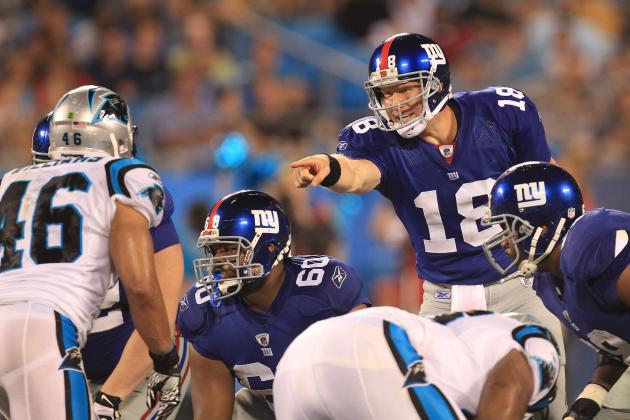 Streeter Lecka/Getty Images

The New York Giants traded a conditional 2012 draft pick along with a fifth-round pick last season to the Minnesota Vikings in return for quarterback Sage Rosenfels and running back Darius Reynaud. For the purposes of this mock, this seventh-round selection went to the Vikings for that trade.